Regardless of whether you sail on one of today's mega ships or one of the oldest cruise ships at sea, you will be impressed by the offerings on these impressive vessels, the largest of which have the capability of transporting thousands of passengers and crew members across the globe while offering seemingly endless dining and entertainment options onboard. 
Newer ships, of course, tend to be larger with some of the most technologically advanced and thrilling offerings, including robotic bars, skydiving simulators, roller coasters, go-karts, and more. Older ships, however, are still relied on by cruise lines to cater to specific demographics, such as those who want to visit more unique ports of call. 
I remember the first time I sailed on an Oasis Class ship in 2014 and was amazed at how something that large was able to float on the water! It sure was not the size of my first cruise onboard Disney Magic in the early 2000s. Yet, I thought that was impressive, too. 
Even today after six cruises onboard Oasis Class ships, I never truly am able to comprehend how large a cruise ship actually is. They are true engineering feats that continue to get bigger, bolder, and better than ever before. 
If you are wondering just how big modern-day cruise ships are, you have come to the right place! 
What is the biggest cruise ship at sea?
Image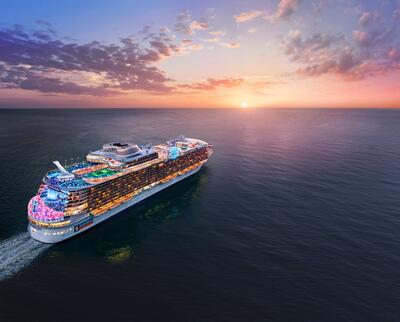 Measuring 1,188 feet in length and 210 feet wide with a capacity to hold almost 7,000 passengers, the largest cruise ship at sea is Royal Caribbean's Wonder of the Seas. When you take into consideration the crew members onboard, Wonder of the Seas can have up to about 9,300 people onboard at once! 
Her gross tonnage, or the measurement of the internal volume of a ship, is 236,857. In comparison, Royal Caribbean's smallest ship, Grandeur of the Seas, measures 73,817. 
Of course, both of these ships fall on opposite ends of the spectrum, with many cruise ships falling somewhere in between. There are even cruise ships that are more yacht-like and can carry less than 100 guests! 
The title of largest cruise ship in the world will be taken from Wonder of the Seas when Icon of the Seas debuts in January 2024. Upon her completion, the brand-new ship will measure 250,800 gross tons, making her 6% bigger than Wonder. Plus, she will be able to carry around 10,000 passengers and crew at maximum capacity. 
When thinking about my first cruise onboard the 84,000 gross ton Disney Magic, I sure did not think that I would one day be going on ships double, even triple, that size!
Read more: Disney Cruise Ships by Size
MSC World Europa 
Image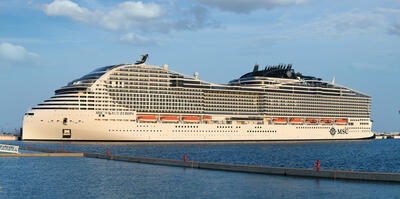 Following all five Oasis Class ships (Wonder, Symphony, Harmony, Oasis, and Allure of the Seas) is MSC Cruises' World Europa. The 205,700 gross ton ship is 1,092 feet; however, she is not as wide as the five biggest cruise ships in the world, as her beam measures 154 feet. At full capacity, she can accommodate over 6,700 guests!
World Europa is the first ship in the cruise line's World Class. She will be joined by a sister ship, World America, in April 2025. 
How big is the average cruise ship?
Image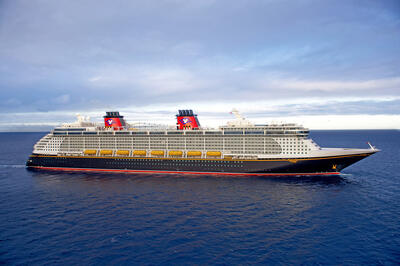 The average cruise ship is the same length as three football fields, or 1,000 feet long, and can accommodate around 3,000 passengers. 
While they may not have as many dining, entertainment, and activity options as today's mega ships, they are a great choice for those who may not want to be surrounded by 5,000+ other people during their vacation. Plus, they often offer more unique itineraries to destinations that are unable to accommodate larger ships either because of dock size, the depth of the water, or staffing limitations at the port. 
Do not be fooled, though--they are still like floating "cities!" 
As the average ships are not as wide as their mega ship counterparts, their gross tonnage is less. Disney Fantasy, for instance, measures 129,600 gross tons, which is almost 100,000 gross tons less than Wonder of the Seas! This is close to the average gross tonnage for cruise ships, or 120,000-125,000 gross tons. 
What are the smallest cruise ships at sea like?
Image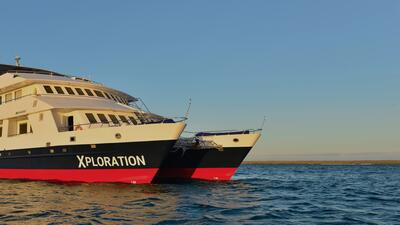 The cruising industry is constantly striving to outdo themselves, with Icon of the Seas being the most anticipated example. On the other end, though, are ships that lack some of the thrills that make the biggest cruise ships so appealing. 
They cater to a different demographic that is more interested in luxurious, intimate experiences and once-in-a-lifetime destinations. For that reason, they can be thought of more like a yacht that a cruise ship. 
Celebrity Xploration measures 319.5 gross registered tons and is less than 100 feet long. That is about 98% smaller than Wonder of the Seas! Due to the ship's size, she lacks most of what people love about bigger ships, including a variety of stateroom options. 
Onboard, guests can choose from one of eight staterooms, each of which is equipped to only hold two people. That means the total passenger capacity for Celebrity Xploration is sixteen! 
Read more: 10 of the Smallest Cruise Ships in the World
How big are modern day cruise ships compared to the Titanic?
Image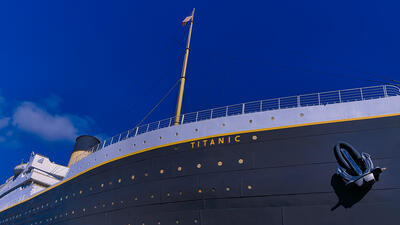 While not a cruise ship in the traditional sense, RMS Titanic is one of the most famous ships in history, albeit not for positive reasons. The ocean liner was built to transport passengers across the ocean, rather than solely for leisure. 
At the time, Titanic was considered massive. She was able to hold around 3,320 people, which included 900 crew members. The internal volume, or gross tonnage, of the Titanic was a mere 46,428, and in terms of the length, Titanic was 882 feet long, which is about 35% shorter than Wonder of the Seas. 
She, however, was actually longer than some of today's operational cruise ships, including Norwegian Sun, which measures 848 feet long. This ship was launched in 2000 and is one of Norwegian Cruise Line's oldest ships at sea. 
Similarly, the aforementioned Grandeur of the Seas measures 915 feet long, which is only 33 feet longer than Titanic was.  
Finally, the width of RMS Titanic was 92.5 feet. Today, most cruise ships are around 120 feet wide. Oasis Class ships, however, are an outlier, as Wonder of the Seas clocks in at 210 feet wide, which is over double the width of the Titanic!
Read more: Titanic compared a cruise ship today
Cruise ships compared to famous landmarks and objects
Empire State Building
Image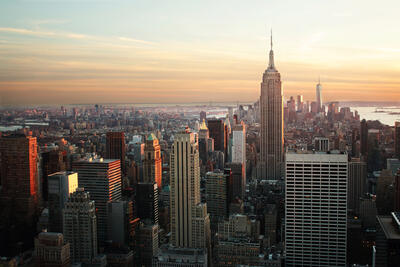 The Empire State Building is one of New York City's most iconic landmarks--the towering skyscraper can be seen throughout the city! 
No cruise ship is quite as tall as the building, though. The building stands 1,454 feet tall, including the antenna. If you do not count the antenna, it is 1,250 feet long. As a reminder, Wonder of the Seas is 1,188 feet long. 
Eiffel Tower
Image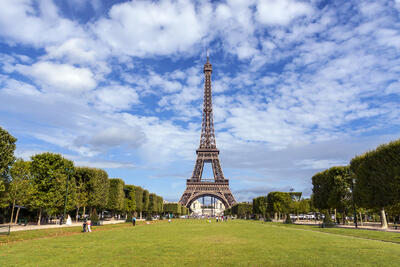 When most people think of Paris, they think of the Eiffel Tower that stands at the bank of the Seine River. The world's largest cruise ship, Wonder of the Seas, is taller than this impressive landmark by 105 feet, as the Eiffel Tower is 1,083 feet tall, including the tip. Without the tip, the Eiffel Tower is 984 feet tall, which is shorter than the average cruise ship. 
Washington Monument
Image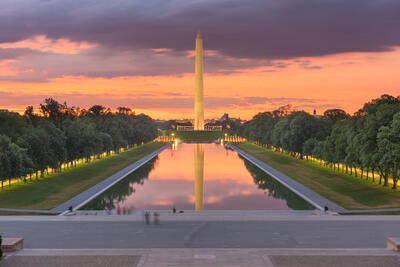 At only 555 feet tall, the Washington Monument in Washington D.C. is shorter than most cruise ships. In other words, most cruise ships are around double the height of the monument!
Carnival Cruise Line's smallest operating cruise ship (as of 2022) is Carnival Paradise, and this ship measures at 860 feet long, or about 55% taller than the Washington Monument!
It is, however, taller than Celebrity Xpedition, which is only 98 feet long! Of course, this ship is not what most people think of when they think of a cruise. 
Read more: Carnival ships by size
Airbus A380
Image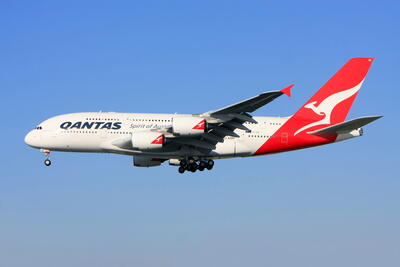 The Airbus A380 is the world's largest and heaviest passenger airliner. As of December 2022, there were 237 of these two-story aircrafts in operation throughout the world. Shorter than the Washington Monument and most cruise ships, they measure 239 feet long. 
The aircrafts are, however, longer than some small ships, including the 207 foot long Chichagof Dream and 220 foot MS Monet. 
How large are cruise ship parts?
Image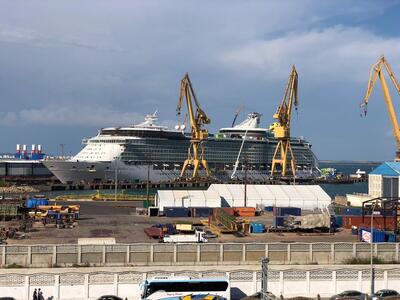 With how big cruise ships are, it makes sense that their components are big, too. Starting with the Azipod propellors, they can be as tall as 20 feet! 
These propellors are different than traditional propellors in that the way that they function "...increase[s] maneuverability and operating efficiency, with the proven ability to cut fuel consumption by up to 20 percent compared to traditional shaft line propulsion systems," according to an independent study conducted by marine consultancy Deltamarin.
While many cruise lines are building new ships that run on (liquefied natural gas) LNG, many still are reliant on diesel-powered engines. Engines for cruise ships that are between 900 and 1,100 feet long have tanks that can store between one and two million gallons of fuel! 
Image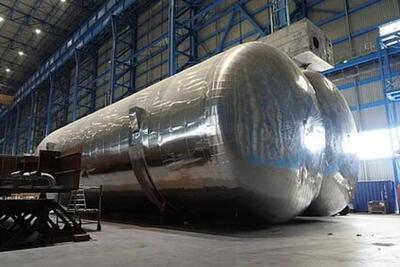 New builds that use LNG-powered fuel are better for the environment, as they help to reduce a cruise ship's carbon emissions by approximately 30%! These tanks are usually about 115 feet long and 26 feet wide. 
We cannot forget about one of the most important parts of the cruise ship: the engine. Today's ships have anywhere between four and six engines that are able to generate 18.5 megawatts each and help the ship move at an average speed of 18 to 22 knots. Sizing can vary; however, they can be as large as 45 feet long and 27 feet high! 
Read more: How fast is a 'knot' and why is it called that?
Finally, there is the anchor. Did you know that most modern day cruise ships actually have two anchors, each of which weighing anywhere from 10 to 20 tons (that is 40,000 pounds!)? In terms of their length, the anchors are usually 10 to 20 feet long.