The cruise line industry is ever growing and expanding. It seems like every year there are new ships and shinier vessels hitting the high seas, and this year is no exception! With the debut of brand new mega and modern cruise ships such as the Norwegian Viva, what is it like to cruise on an older ship in 2023? 
I recently returned from an awesome cruise adventure with great friend and fellow Cruise Blog writer Allie - read all about our thrilling standby cruise adventure here! Additionally read here about how we packed for this spontaneous escapade in only a backpack! 
While on this trip we sailed with one of the oldest ships in the Norwegian Cruise Line fleet, the Norwegian Sun. Our itinerary was a very quick 2-night sailing that took us from Malaga Spain, to Lisbon Portugal. The Norwegian Sun is Norwegian Cruise Line's second oldest ship and we were intrigued to see how it would compare to some of the other ships we've sailed on. 
Come along with me as I explore my thoughts and opinions on the Norwegian Sun ship. A Norwegian Cruise Line ship built over 20 years ago! I'll be going over 10 things that I liked and disliked about this ship and what it had to offer its passengers. These opinions are just that, my personal thoughts about this experience! 
#1: Liked - Destination Focused
Image
The Norwegian Sun ship is among the oldest cruise ships in the cruise line industry, and by far one of the oldest in the Norwegian Cruise Line fleet. I have previously sailed on the Norwegian Getaway and the Norwegian Bliss, and I was interested to see how the much smaller Norwegian Sun would compare to two of Norwegian's newer vessels. 
On our sailing we quickly came to the conclusion that this ship is rather minimal. The Norwegian Sun lacks many of the popular "frills" that can be found on more modern large scale cruise ships today. 
Because the ship is smaller in size, it means that there is not a whole lot of room for activities and entertainment. Because of this, I believe that Norwegian Cruise Line has chosen to give this ship some intriguing and tempting itineraries instead to make up for the lack of activities onboard. 
Image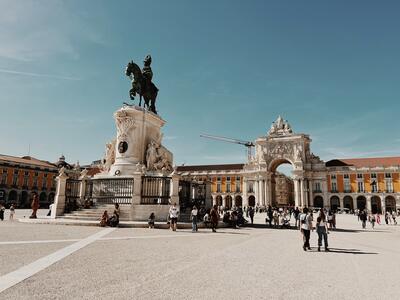 With destinations such as Spain and Portugal, most guests will be off the ship exploring these beautiful, historical, and culturally rich ports of call for most of the day during their vacation. Due to the many hours that are likely to be spent exploring, guests do not necessarily need all of the "bells and whistles" that are associated with larger and newer cruise ships. 
I personally loved getting to explore Cadiz Spain and Lisbon Portugal! These ports of call were so much fun and truly offered endless possibilities to their visitors. Allie and I had a wonderful couple days exploring these beautiful cities, and it did not necessarily feel like an older ship hindered our experience at all! 
The Norwegian Sun visiting fun, interesting, and unique ports of call is definitely a win in my book for this ship! 
#2: Disliked - Limited Food Offerings
Image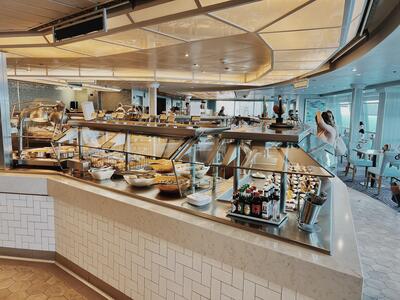 As I stated previously, before this sailing with Norwegian Sun I had sailed on two other Norwegian Cruise Line ships - the Norwegian Getaway and the Norwegian Bliss. 
Because I have two previous sailings with Norwegian Cruise Line under my belt so to speak, I had a good idea of what to expect from the brand in general. I was interested to find that this older ship has a much different layout than its newer sister ships. 
The buffet onboard was much smaller than what I have seen on other Norwegian Cruise Line ships, and had much less to offer in terms of food choices and variety. 
I did however appreciate that there was a portion of the buffet located outside, near the 'Great Outdoors' venue - a covered deck area outside, located at the very back of the ship. I also appreciated that there was a crepe station during some meal times at the buffet! This was something I had not seen on newer Norwegian ships and I thought was rather unique and fun. 
I also felt that the quality was not exactly up to what I have experienced previously with Norwegian Cruise Line. Some of the menu items were familiar Norwegian classics, yet they seemed to be not quite as good as some of the same dishes I have had on other Norwegian ships. 
Image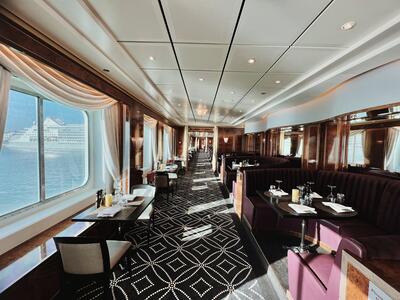 Considering this is a much smaller and older ship in the Norwegian Cruise Line fleet, I do still think that the ship offered many food options that most guests will enjoy. It seemed that there was at least something onboard that passengers would find appetizing for their meals. 
#3: Liked - Unique Venue Onboard
Image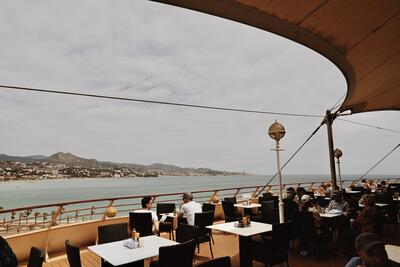 One of my favorite spots onboard the Norwegian Sun was 'The Great Outdoors'. This fun spot is something really unique to the Norwegian Cruise Line fleet. I thought this space offered a great place for guests to grab a bite to eat or a drink and enjoy the beautiful views off the back of the ship. 
Image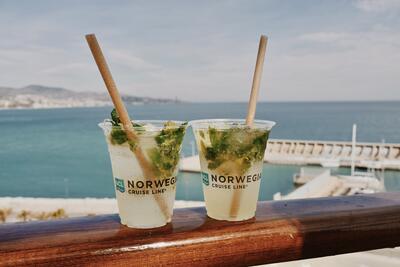 Allie and I visited this location on the first day of our cruise and we had a lot of fun ordering mojitos from the bar and taking in the views of Malaga as we prepared to depart! 
#4: Disliked - Limited Entertainment
Image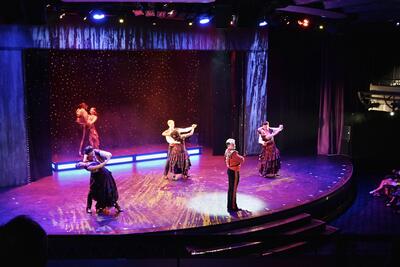 Because the Norwegian Sun is an older ship, it has a relatively small theater for the size of the ship. This meant that there was less room and possibilities for large scale entertainment onboard. 
Entertainment is almost always included in the price of a cruise fare. When you keep this in mind, the value for money when it comes to entertainment is usually better onboard newer cruise ships. This is because newer and more modern cruise ships are able to provide and put on rather extravagant entertainment for their guests, in addition to more entertainment options in general. 
Our sailing onboard the Norwegian Sun was very quick, just two nights. Upon booking our cruise I read on the Norwegian website that there would be two main entertainment shows, one for each night. However, we found this to not be true for our particular sailing. The ship did not put on a show in the theater the first night. However, We did get to see the show 'World Beat' the second and final night of our cruise. This show was great and a lot of fun! This show is described by Norwegian Cruise Line as, "a musical voyage around the world! Feel the percussive beats of Irish tap dancing, the soulful cadences of New York streets, the haunting drums of Africa, the dramatic Kodo rhythms of Asia and more."
There was live music onboard in several of the bars and lounges throughout the two nights. However there was not some other forms of entertainment that frequent cruisers will have become accustomed to, such as comedians or magicians onboard. 
I really did enjoy the 'World Beat' show, and thought it was a great show that I recommend guests of the Norwegian Sun catch! However, I do wish we had been able to see the two advertised theater shows during our sailing. 
Again, the destinations and fast pace of this cruise meant that we did not necessarily need a lot of entertainment onboard. We felt that the lack of shows did not impact our overall enjoyment, as we were spending long days out and about exploring on this particular itinerary. 
#5: Liked - Relaxed Atmosphere
Image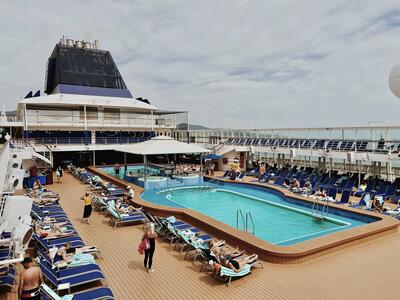 This ship was definitely the most relaxed of the three Norwegian Cruise Line ships that I have sailed on so far. I thought that the atmosphere of this ship was quieter and more subdued that the Norwegian Bliss or the Norwegian Getaway. This ship seemed like it catered to an older crowd of guests, as we did not see very many children onboard. 
Because the ship was rather basic in its offerings, it provided a lot of space for guests to relax and simply hangout. For a European itinerary, I rather liked this relaxed atmosphere. It meant that after a long day of exploring ports such as Cadiz and Lisbon, we could come back to the ship and simply relax and enjoy our floating hotel at sea without feeling guilty that we were missing some must-see entertainment. 
#6: Disliked - Strange 2-Night Sailing
Image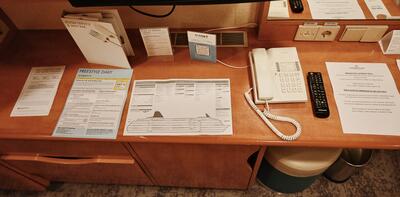 This was the first time that both Allie and I have sailed on a two night sailing with Norwegian Cruise Line. We have never experienced anything like it, and we had some thoughts about the experience. 
This very cheap 2-night itinerary was marketed as its own unique sailing. However, from the moment we entered the cruise terminal to board the Norwegian Sun, we quickly realized that this "sailing" was actually an itinerary sandwiched between two others. 
Sometimes cruise lines do this in order to fill more rooms onboard a ship throughout a longer sailing. This is totally understandable, however, I was expecting it to feel similar to a normal Norwegian Cruise Line sailing in terms of the boarding process and the activities, and it did not. 
Norwegian Cruise Line provides every guests a printed copy of the ships' itinerary, called the 'Freestyle Daily', every day of a sailing. When we arrived to our stateroom, we immediately saw that our Freestyle Daily stated it was Day 13 rather than Day 1 for us. Additionally, there was not sail-away party, or other classic day 1 activities onboard the ship. 
Something that was not advertised that we thought was very interesting, was that for this 2-night sailing, passengers could not purchase an internet package or a drink package. This meant that all guests onboard the Norwegian Sun for the 2-night cruise had to purchase drinks al-a-carte and if they wished to have access to the internet onboard, they had to purchase minutes and did not have the option to purchase an unlimited internet package. 
As Allie stated, it felt like we were late to the party on this cruise. Clearly there were many other passengers who had been onboard for a week or more. Do not get us wrong, for many reasons we really did enjoy this quick sailing. Check out why we loved this 2-night itinerary here! 
#7: Liked - Cheap Price for a Cruise
Image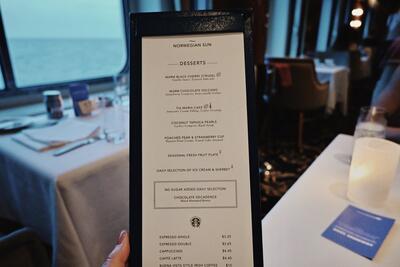 A great perk of this cruise was the very cheap price. For a cruise during the spring break season, this sailing was extremely cheap, about $300 for two people for two nights. 
Many other cruises during the same time of year are much more expensive. Spring break can be one of the most popular times of year for prospective cruisers to book a sailing. Because of this, the price of cruising during the springtime can often rise to be rather pricey. 
In my opinion, this cheap sailing was definitely worth the cost. When you factor in that unlimited food is included, some entertainment, and the unique experience of being on a cruise, the price is absolutely worth it. 
#8: Disliked - Stateroom Bathroom
Image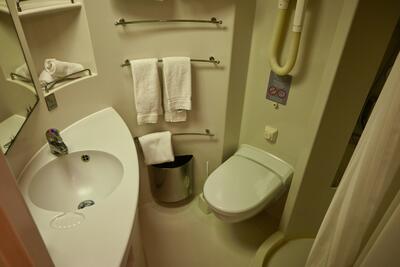 Because the Norwegian Sun is over 20 years old, and the sailing was very cheap, we had relatively low expectations for that to expect. In some ways we were pleasantly surprised and thought some things exceeded our expectations, and in other ways this ship lined up with its older age and cheap price. 
One of the ways that this ship really showed its age was the stateroom bathroom. Allie and I stayed in a standard interior stateroom, and upon seeing our room for the first time, we immediately noticed the bathroom. This bathroom had a prominent lime green color and a cloth shower curtain. 
The bathroom was definitely our least favorite part of this cheap stateroom, however it was very clean and provided the necessary amenities for the 2-night cruise!
#9: Liked - Easy Boarding and Disembarkation
Image
It might have been due to the nature of this 2-night cruise, but the boarding and disembarking process was extremely easy and proficient. 
Upon boarding we waited in no lines, breezed through a quick security check, showed our passports, and were on the ship in under 10 minutes. 
Image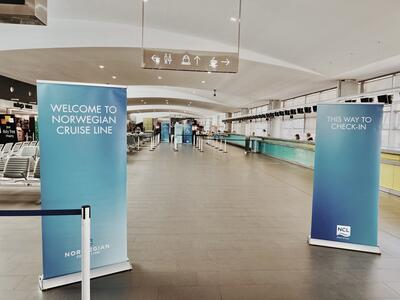 When disembarking, the process was even quicker. After leaving our room with our luggage, we passed by Norwegian Cruise Line's disembarking facial recognition technology and were able to leave right away. We especially liked the fact that our ship had docked right in the city of Lisbon on this cruise and upon leaving the ship we were easily able to explore this fascinating city! Read about how we stored our luggage in a souvenir store closet in Lisbon here and why we would do it again! 
Image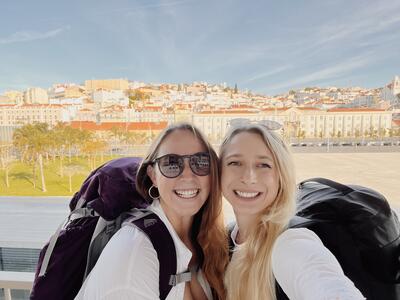 I appreciated that the boarding and disembarking process was so easy with the Norwegian Sun. I have experienced some more difficult disembarking processes with Norwegian, such as onboard the Norwegian Bliss.  
#10: Disliked - Unheated Pool
Image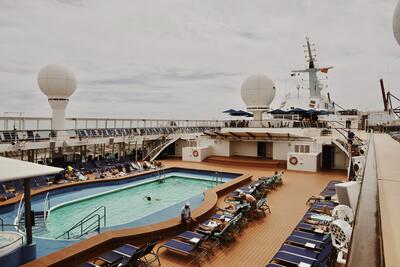 Something I have not experienced on a cruise so far was the extremely cold pool onboard the Norwegian Sun. The main pool onboard the ship was not heated and remained cold throughout our sailing. 
I would have appreciated if the pool onboard had been heated. As I've stated previously, the atmosphere onboard was very relaxed, Allie and I enjoyed hanging out by the pool and it would have been nice to be able to use the pool. Due to the main pool being so cold, the two hot tubs onboard were always crowded and filled with guests. 
We did however enjoy laying by the pool in the sun on the pool deck. We were pleasantly surprised to discover that there was always available lounge chairs, as well as complimentary fruit water to sip on after an afternoon of exploring Europe. 
Conclusion
Image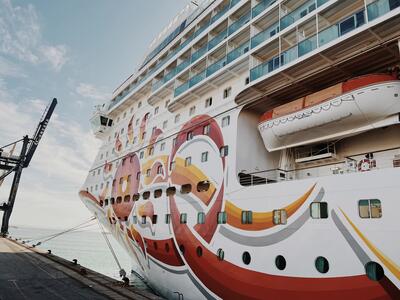 This cruise and the standby journey that it took to get to it was truly one of the best adventures I have ever been on! I know that those who choose to sail with Norwegian Cruise Line, no matter the length of sailing or the destination will find something they like onboard. I am thrilled to have finally tried out one of Norwegian Cruise Line's oldest ships. 
Traveling with a great friend with a great cruise line will always make for a wonderful vacation! Even though Norwegian's oldest ships show their age in some fields, they are well maintained and sail to some really cool and interesting destinations. Because of this, I definitely recommend checking out these older ships despite their age. 
Keep a lookout for how I compare this older Norwegian vessel to some of the cruise line's newer ships in a future article! Until then, here's to smooth sailings!