With the introduction of Norwegian Cruise Line's newest class of ships, the Prima Class, that brings Norwegian Cruise Line's ship classes to a total of 7. Before the Prima Class, the Breakaway Plus Class was Norwegian Cruise Line's most recent class of vessel. 
These vessels are large, capable of hosting nearly 4,000 guests. The Breakaway Plus class ships are similar to their predecessor class, the Breakaway Class. However, they do have some notable differences, come along with me as I explore some of these differences.  
I have just returned from my first sailing onboard one of Norwegian Cruise Line's Breakaway Plus Class ships; the Norwegian Bliss! 
This was my second sailing with Norwegian Cruise Line. I had previously sailed onboard the Norwegian Getaway. The Norwegian Getaway is a Breakaway Class ship with Norwegian Cruise Line, and I was interested to see how the Norwegian Bliss would compare to the Getaway. 
The Norwegian Bliss ship is relatively new to the Norwegian Cruise Line fleet, and it certainly gives that impression to its guests. This ship offers an atmosphere of relaxed sophistication that fits very well into Norwegian Cruise Line's 'FreeStyle' mantra and aesthetic. 
Come along with me as we explore more about the Norwegian Bliss! 
Ship Facts
Image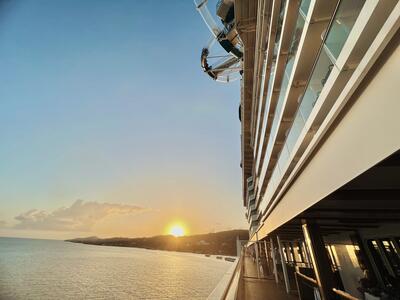 The Norwegian Bliss is one of Norwegian Cruise Line's newer ships, being the second to the newest ship in the cruise line's Breakaway Plus Class. 
The Norwegian Bliss ship was built in 2018, but recently received a refurbishment in 2021, giving this vessel a new sparkle that is sure to last for years to come. 
This ship is one of Norwegian Cruise Line's biggest ships; measuring at 168,028 gross register tonnage, and spanning 1,094 square feet in its overall length. 
This vessel is capable of accommodating up to 4,004 guests at double capacity. With a further 1,716 crew members. 
The Norwegian Bliss sails on a variety of different cruise itineraries. However, this ship primarily sails within and around the Caribbean and the west coast of the United States, including Alaska. 
Guests can visit destinations such as Sitka Alaska, Cabo San Lucas Mexico, Juneau Alaska, Harvest Caye Belize, San Fransisco California, Puerto Vallarta Mexico, the Panama Canal, and Victoria British Columbia, with the Norwegian Bliss. On my particular cruise sailing I had the privilege of sailing the Caribbean and making stops at Roatan Honduras, Harvest Caye Belize, and Cozumel Mexico. 
This ship is large, and has plenty to do, see, and explore onboard. This vessel features 20 bars and lounge spaces, 4 complimentary dining locations, and 12 specialty dining venues. Guests will have copious amounts of dining options to choose from while onboard, able to accommodate every style and taste. 
Similarities
Image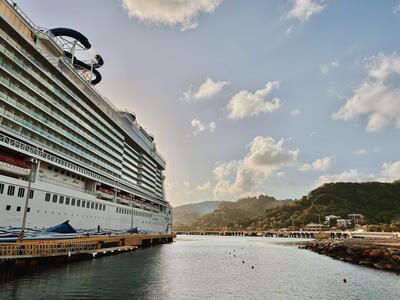 Because I had sailed on only one other Norwegian Cruise Line ship, it was natural for me to compare the Norwegian Bliss to my previous experience onboard the Norwegian Getaway. 
These two ships have many similarities, but some pretty big differences as well. The Norwegian Bliss is part of the Breakaway Plus Class and the Norwegian Getaway is part of Norwegian Cruise Line's previous Breakaway Class. 
These two ships have similar design elements overall such as their modern aesthetics, the Water Front area of the ship, and the decor and layout of the complimentary restaurants; 'Taste' and 'Savor'. 
Both the Norwegian Bliss and the Norwegian Getaway feature areas designed specifically for kids and the younger members of the family. Each of these Norwegian Cruise Line ships have designated rooms for kids, such as the teens clubs and Splash Academy (specific area meant for kids where they are monitored, watched, and given activities by crew members). Both of these ships also have specific water areas for kids as well, including a splash pad near their pool decks. 
Both of these Norwegian vessels are large and can accommodate nearly 4,000 passengers. Because of their sheer size, both of these ships have plenty to explore and discover onboard. Including large theater venues and regions of the ship designed specifically for adults and those over 18 years of age.
One of my personal favorite areas onboard many Norwegian Cruise Line ships, including the Norwegian Bliss and the Norwegian Getaway, is The Waterfront. This is a wrap-around deck of the ship that features expansive outdoor spaces including comfy seating to take in beautiful ocean views, outdoor bar areas, as well as outdoor dining spaces that are part of several specialty dining restaurants.
I firmly believe that any guest who decides that they want to sail on either of these ships will have a wonderful cruise vacation! If you have sailed on the Norwegian Getaway before, I recommend trying out the Norwegian Bliss, and visa versa!  
Unique Activities
Image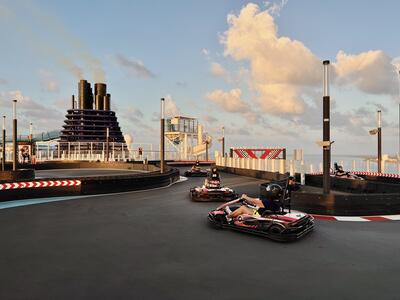 When Norwegian Cruise Line introduced their Breakaway Plus Class, they introduced some truly revolutionary and unique onboard activities to the cruise line industry. 
One of the most unique and thrilling onboard activities that I have ever seen on a ship, is Norwegian Cruise Line's Speedway. Specifically onboard the Norwegian Bliss, this activity is called the Bliss Speedway. 
"Zoom around hairpin turns in excess of 20 mph as you race for the checkered flag on a thrilling, two-level race track in the middle of the ocean," states Norwegian Cruise Line about the Bliss Speedway. 
From firsthand experience, I can say that this activity is truly thrilling and probably the most unique onboard activity that I have ever seen or participated in onboard a cruise ship. I highly recommend checking out this speedy activity! 
To participate in this activity it will cost guests an extra charge. Guests can pay either $15 USD for about 10 minutes of racing, or guests can purchase an unlimited pass that allows them to race as often as they wish throughout their cruise voyage, costing $199 USD. To note, guests must weigh in at less than 265 lbs in order to ride and are not permitted to bring cameras or phones with them into the race cars. 
Another fun and very unique onboard activity is the outdoor Laser Tag course located on the top deck of the Norwegian Bliss.
"Get ready for a laser tag battle of galactic proportions under the stars," states Norwegian Cruise Line. This activity does come at an extra charge to guests, at $9.95 USD for both children and adults, per game. This laser tag arena is probably the most themed I have ever personally seen, especially on a cruise ship. We witnessed many families, adults, and teenagers enjoying this activity. I believe this would be a fun and interactive activity for guests to try out during their voyage. 
Pool Areas and Water Slides
Image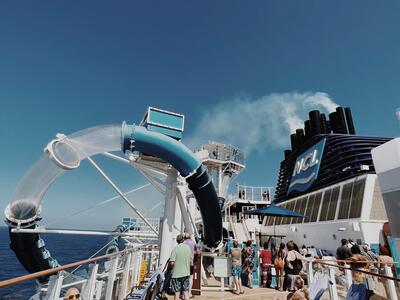 So far in my cruise travels and experiences, I would say that the Norwegian Bliss has one of the most intense and thrilling waterslides that I have ever experienced. 
Norwegian Bliss' water slide, Ocean Loops, is a large and thrilling slide that extends over the side of the ship. This attraction features a vertical free-fall drop, and two gravity-defying loops that guests are propelled over after the floor drops out from under them. 
One of the most interesting facts about this slide that we witnessed is that not every guest actually makes it over the loops! Often the force of the launch is not enough to fully propel guests over the gravity-defying loops. When I spoke with a crew member about why this happens, they said it was because it was necessary for guests to keep their legs crossed in order to decrease the friction their bodies cause as they go down the slide, and over the loops. When I tested out this breath-taking waterslide myself, I did indeed discover that if you keep your legs crossed you are sure to zoom quickly over the loops! 
Something I greatly appreciated onboard the Norwegian Bliss was the multiple main pools, and the copious amount of public hot tubs available for passengers to enjoy.
On the main pool deck of the Norwegian Bliss, passengers can find two large pools. One is designated as adults-only, and one is designated as child and kid friendly. Both of these pools are about the same size, giving plenty of space to those who wish to enjoy some pool time either as a family or with adults only. 
Additionally there are not two, but seven public-use hot tubs onboard! Four of these can be found above the main pool area, one can be found on the Sun Deck, and two can be found in the Spice H2O venue onboard at the very back of the ship. I appreciated that there were so many of these hot tubs onboard, because it gave more guests the opportunity to enjoy them. I also appreciated that some of these hot tubs were open later into the evening, until about 11pm at night. 
Theater Style Shows
Image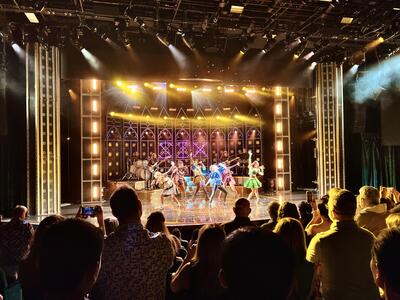 During our particular sailing, the Norwegian Bliss had two of the best theater-style shows onboard that I have seen on a cruise ship. 
The two main theater-style shows onboard at the time of my sailing were; 'Six' and 'Jersey Boys'. Both of these shows are musicals, featuring engaging theming and exceedingly talented vocals. 
Located on Deck 7, the Bliss Theater conducts these shows throughout the course of a sailing. For example, during our 7-night cruise both of these shows were performed on two different days, at two different times each. Meaning that guests will have four opportunities to catch each of these shows. 
"From Tudor Queens to Pop Princesses, the six wives of Henry VIII take to the mic to tell their tales, remixing five hundred years of historical heartbreak into a 75-minute celebration of 21st century girl power," Norwegian Cruise Line describes 'Six' the musical. 
'Six' is an engaging, fun, and dynamic performance that cleverly blends historical themes, elements, and humor, along with modern fashion, music, and talent. As someone who loves history I was very excited to be able to see this show onboard the Norwegian Bliss - and it did not disappoint. This show was truly fabulous, and I would highly recommend it to anyone. My travel companion, who was not particularly interested in history, still said that they thoroughly enjoyed this show as well. 
"Journey from the gritty streets of Jersey to glamour and international fame as you follow the incredible true story of Fankie Valli and The Four Seasons," states Norwegian Cruise Line about this show featured on the Norwegian Bliss. 
'Jersey Boys' was an equally entertaining performance that lasted nearly two hours. This show featured incredibly talented performers and I would also highly recommend that guests of the Norwegian Bliss catch this show. 
Buffet Food
Image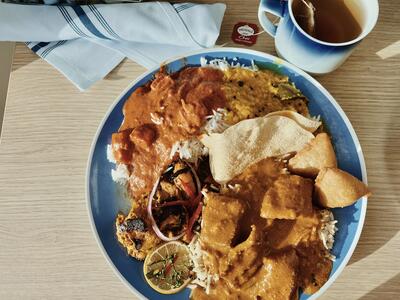 (Pictured above, some choices from the Indian Cuisine section of the Norwegian Bliss buffet)
I was pleased to discover that Norwegian Bliss' selection of buffet food was some of the best I have yet to see on a larger sized cruise ship. 
This ship has a well laid out and organized buffet, and has a large variety of foods that are sure to appease and satisfy every guest onboard. 
The buffet offers a large selection of both healthy choices of food and more indulgent options. Guests are able to select from a spread of both changing and classic options throughout a cruise sailing for both breakfast, lunch, and dinner.
One of my personal favorite options at the buffet was the Indian Cuisine section. I was pleased to discover that the head chef onboard the Norwegian Bliss is from India, and takes great pride in the selection of Indian food offered onboard, particularly at the buffet. If you have the opportunity to cruise onboard the Norwegian Bliss, I highly recommend checking out this area of the buffet, which serves flavorful selections both during lunch and dinner times. 
Main Dining
Image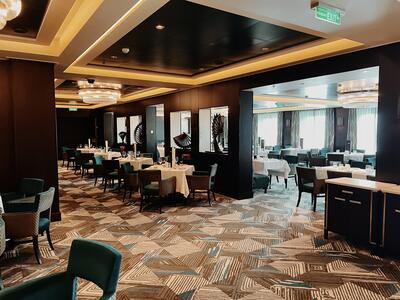 (Pictured above, the Savor Restaurant, complimentary main dining)
Norwegian Cruise Line does an excellent job at offering several forms of main, complimentary dining to its guests. And the Norwegian Bliss is no exception. 
The Norwegian Bliss features three main dining venues onboard, the 'Taste' and 'Savor' Restaurants, and 'The Manhattan Room', which is the ship's largest main dining room. 
Because there are three main dining venues onboard, it gives guests the option to choose the atmosphere they most enjoy for their dining experience. It is important to note, all of the menus throughout the main dining venues are the same each night as each other, while they change throughout the voyage. 
Guests also have the option of enjoying a seated breakfast and lunch in these dining spaces as well as dinner each evening. 
My personal favorite of the three complimentary main dining venues, is either the 'Taste' or 'Savor' Restaurant. These venues offer a more intimate atmosphere, making them feel more like a beautiful restaurant, than a large dining room. If guests are on a romantic trip, or simply want to dine in a quieter space, I recommend these two complimentary dining restaurants. 
Norwegian Cruise Line is well known for its Freestyle cruising. This means that there is no assigned dining times for guests, giving passengers the opportunity to dine at any time, and anywhere, they wish during the restaurants' daily hours. 
Overall Design
Image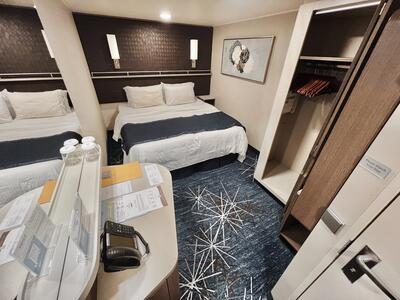 (Interior Stateroom onboard Norwegian Bliss)
The Norwegian Bliss is similar in its decor and style to that of its predecessors, the Breakaway Class ships. Much of the layout of the Norwegian Bliss is similar to that of the Norwegian Getaway, which meant that it was relatively easy for me to find my way around this large-scaled ship. 
This ship has a modern and contemporary design throughout giving it a feel of relaxed and fun sophistication that is sure to appeal to a wide variety of passengers onboard. 
I found this ship to be fairly convenient to navigate, and am positive that fans of Norwegian Cruise Line are sure to find their favorite spaces onboard quickly. 
On this voyage we stayed in a standard Interior Stateroom. This room had a very modern design, featuring a larger bathroom for an interior room, complete with a sizable glass, walk-in shower. 
Prospective guests of Norwegian Cruise Line do not need to worry about storage in their interior staterooms. There is plenty of storage built into these rooms that will allow guests to fully unpack and make their cabin truly their home on the sea. 
One of my favorite things about Norwegian Cruise Line vessels, including the Norwegian Bliss, is the copious amount of outdoor spaces that allow guests to take in the beautiful ocean views. Including The Waterfront, the Norwegian Bliss also features an adult-only area onboard called Spice H2O located at the very back of the ship with plenty of lounge chairs, hot tubs, bar, and stunning views of the sea beyond the ship. 
Unique Spaces
Image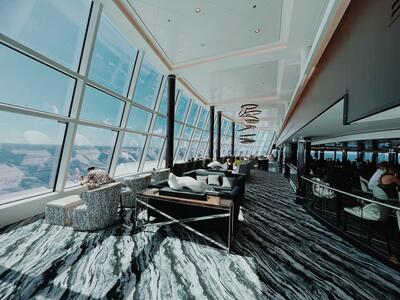 The Norwegian Bliss has plenty of unique and themed areas and spaces onboard for passengers to explore. From brewery-themed bars, to a venue that specializes in Mojito cocktails - when it comes to fun drinks, Norwegian Bliss has something to offer guests of every taste. 
One of my personal favorite unique spaces onboard the Norwegian Bliss is the Observation Lounge. The Observation Lounge is located on Deck 15 and is open to all guests onboard. This space features an extensive amount of comfy chairs, lounge spaces, and spots for passengers to relax. As well as huge floor-to-ceiling windows, this venue features small buffet areas for guests to enjoy snacks, as well as a smaller-scaled breakfast, lunch, as well as tea and coffee. 
While on our voyage, we visited the Observation Lounge several times, and found it to be a very relaxing space that allows guests to enjoy some relaxation and peace away from some of the noisier areas of the ship. I highly recommend checking out this beautiful space should you sail on the Norwegian Bliss! 
One of my other favorite spaces onboard the Norwegian Bliss that is relatively unique, is the District Brew House, located on Deck 8. "Settle in with your friends beside floor-to-celing windows and order one of more than 50 different bottled beers or any of the 24 draft beers on tap," states Norwegian Cruise Line about this space. I found this venue to be a fun place to hangout at night onboard the ship, and think it would be a great place to enjoy a drink with friends. 
Another fun location for guests to visit onboard the Norwegian Bliss is the Social Comedy and Night Club located on Deck 7. This space is host to a variety of late night entertainment onboard, including comedians and DJs. We very much enjoyed the acts of the two comedians onboard our sailing - in fact they were the two best comedic acts I have seen on a cruise ship thus far. We also visited this space when they hosted a Silent Disco event that was quite fun. I highly recommend checking the Freestyle Daily, the ship's onboard schedule, to see when this venue is hosting events. 
Harvest Caye
Image
Something entirely exclusive to Norwegian Cruise Line guests, is the ability to visit two of the cruise line's private islands; Great Stirrup Cay and Harvest Caye. 
On this recent sailing with Norwegian Bliss I had the opportunity to step foot onto Harvest Caye. I found this private island resort to be even more fun that I had anticipated, and can say that it is now one of my favorite cruise line private islands that I have visited. 
Harvest Caye has plenty to offer its guests. In fact my travel companion and I remarked several times that Harvest Caye could in fact be an over-night destination should Norwegian Cruise Line ever choose to make such a decision. 
Harvest Caye is made up of both white sand beaches and vibrant greenery. This small island lays just off the coast of Belize, and although it is a private resort-like island, it does retain its Belizean character.
I am looking forward to reviewing this private island more in depth in an upcoming article, stay tuned for more on Norwegian Cruise Line's Harvest Caye!
Conclusion
Image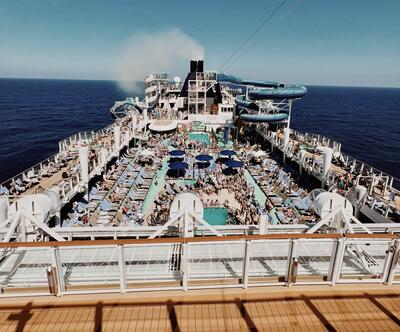 If my above remarks do not already give it away - we had a wonderful sailing onboard the Norwegian Bliss! This ship while similar to Norwegian Cruise Line's Breakaway Class ships, does have some big, key differences that set it apart. 
While every guest and passenger will have things they both like and dislike about every cruise ship, I am certain that every guest of the Norwegian Bliss is sure to find something onboard that they enjoy.
Norwegian Cruise Line has made some big steps with its Breakaway Plus class of ships, and it has expanded on these successes with its brand-new Prima Class of ships. We are sure to see even more innovation with the debut of Norwegian Cruise Line's newest ship, the Norwegian Viva this August 2023. 
Please keep a keen eye out for our further articles on our experiences onboard the Norwegian Bliss. This ship has much to offer its guests and we are excited to share everything we learned in depth with our readers! 
As I have stated previously, one of the best things about cruising, is that there is a cruise line and ship to fit nearly every personal taste, style, and schedule. Those who choose to sail with Norwegian Cruise Line onboard the Norwegian Bliss, are sure to find their vacation bliss indeed!