On any cruise vacation you're bound to come across things you enjoyed and, unfortunately, those things you would rather forget. Regardless of whether you book the cheapest or most luxurious cruise, no cruise vacation is perfect, after all.
I recently returned from a 7-night Western Caribbean cruise on MSC Seaside. For the most part, I enjoyed everything about my week onboard, from the food to tropical destinations and fun activities.
Like any cruise, though, there were a few things I disliked, such as aspects of the ship's design, the entertainment, and a seemingly unnecessary extra fee at MSC's private island.
Here are 8 things I loved and hated about my MSC Seaside cruise.
Loved: Having an MSC drink package
Image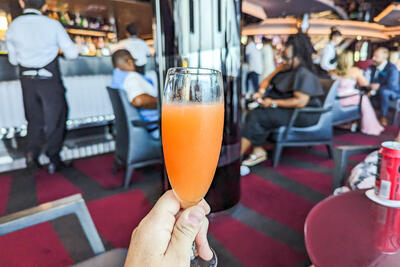 While booking my MSC Seaside cruise, I came across an amazing booking promotion on a drink package. For just $130 extra per person when booking two adults in a cabin, you could book an Easy Plus drink package along with a 2-device wifi package.
Seeing this deal, I immediately booked the drink package.
I loved having a drink package during my week onboard, as I could order drinks without worrying about the individual cost per drink. It really helped put me into "vacation mode" and, at such a low price, it was a fantastic value.
Related: Overview of MSC Cruise Drink Packages and Prices
Even if guests didn't have a drink package, they could enjoy a few drinks on a budget. Many cocktails on MSC are priced at just $10. This is significantly cheaper than other mass market cruise lines that often charge $14 or $15 per drink.
Plus, bartenders were walking around the atrium on formal night offering a selection of complimentary drinks on a tray. I found this to be a nice touch, and I especially would have enjoyed this if I were cruising without a drink package.
Hated: Line to enter the dining room for dinner
Image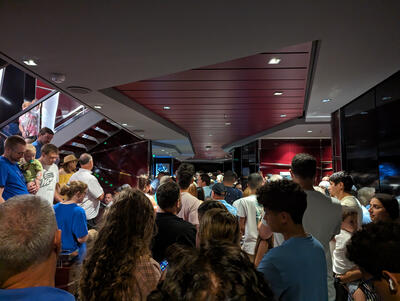 On the first evening of my cruise, I headed to the dining room only a few minutes before my scheduled dinner time of 7:15PM.
Upon arriving at the entrance to the dining room, I could describe the experience as none other than a train wreck. Even though the dinner time was scheduled to begin in just a few minutes, the doors were closed to the dining room. As a result, hundreds of passengers crowded in the hallway and stairwell waiting to be let inside.
It was uncomfortable, hot, and sticky, and to make matters worse, the doors did not open at 7:15. We waited around ten more minutes to be let into the dining room, and it was not a good start to what should have been a relaxing meal.
I noticed that this line formed a few other times during the cruise, so I made sure to always show up to the dining room 5-10 minutes late to avoid being caught in the crowd.
Loved: Food
Image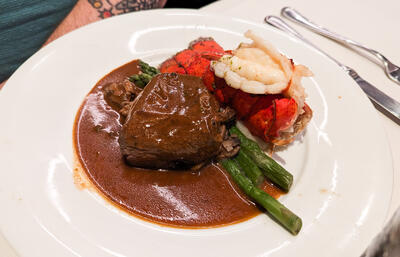 MSC Seaside had some of the tastiest food I've eaten on any cruise ship thus far. From perfectly al dente pasta to mouthwatering pizza, filling soups, and scrumptious sticky buns, I didn't have a bad meal during my cruise vacation.
During the week, I mainly split my meals between the buffet and dining room, where I encountered a vast selection of choices. Although an Italian cruise line, I found MSC to offer a wide variety of cuisine choices, from American to Mexican, Indian, Chinese, and Italian fare.
Related: What's included on an MSC cruise?
My favorite dishes were the Italian choices, such as the pasta marinara offered daily in the dining room along with mushroom tagliatelle, spaghetti aglio e olio, and an endless supply of pizza.
Image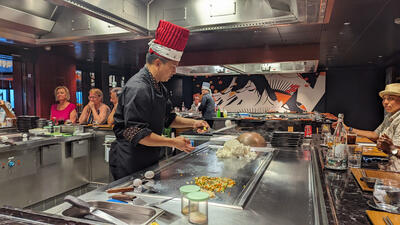 I purchased one specialty dining meal at Kaito Teppanyaki, the ship's Japanese hibachi restaurant, and this ended up being my favorite meal all week. For $40, I found the price reasonable for dinner at a specialty restaurant, and the performance was just as impressive as the food itself.
Although not everything I ate onboard was perfect—a few items could have been warmer—my meals onboard were much better than I expected.
Hated: Production shows in the theater
Image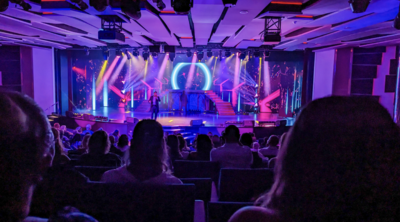 Prior to cruising with MSC, I read negative reviews of the cruise line's entertainment. Critics stated the entertainment was unprofessional, with amateur, out-of-sync dancing and no storyline.
However, when I sailed on my first MSC cruise on the MSC World Europa back in May, I didn't find this to be the case at all. If anything, I found the production shows to be better than those I had seen on other cruise lines, with mind blowing acrobatics and stunts at the forefront of the shows.
Because of a great first experience, I came into my MSC Seaside cruise with high expectations on entertainment. Unfortunately, though, I wound up disappointed in the production shows.
The first show I watched was, frankly, underwhelming. With no set changes, mismatched choreography, and no storyline to speak of, I found myself counting down the minutes until the show was over.
Perhaps I just picked the wrong show to attend (I later heard great things about the ship's Elvis Tribute Act), but I wasn't eager to attend many entertainment shows during my week onboard.
Loved: Onboard activities
Image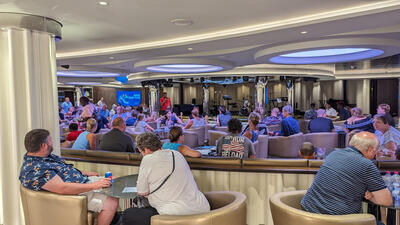 Something I loved about my MSC Seaside cruise were the onboard activities. Everything from adrenaline-pumping sports activities to trivia sessions were offered around the ship, and it was fun to try a variety of programming while onboard.
The ship has four water slides, three of which jet off the side of the ship with nothing but the ocean below. Equal parts thrilling and terrifying, I loved riding the slides over and over again when on the pool deck.
Related: 10 things MSC Cruises does well
Image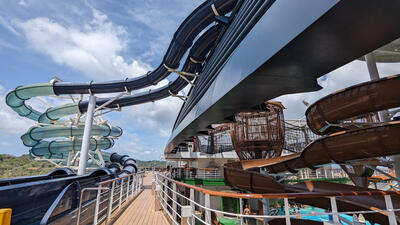 Indoors I enjoyed attending karaoke, geography trivia sessions, live music performances, arts and crafts sessions, and more. No matter the time of day, there was always a way to stay busy on the ship, which helped to prevent boredom throughout the week.
Although most activities were included in the cruise fare, a few came at an extra cost, but I found the extra costs relatively reasonable. You could fly across the pool deck on a zipline, for example, but it came with a charge of $11 per guest.
For me, trying the zipline once was worth the small cost, but I can see how the prices would easily add up when cruising with a family.
Hated: Atrium-style layout
Image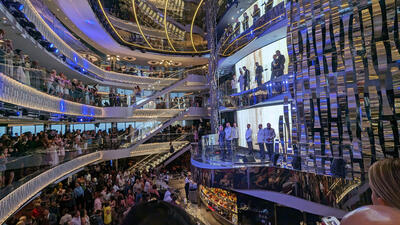 While hated is a bit strong of a word here, I was not impressed with MSC Seaside's layout.
MSC Seaside has an atrium-style layout. This means there is a large central hub spanning several decks, and each deck has a few bars, lounges, restaurants, and other venues overlooking the atrium.
An atrium-style layout is the way cruise ships were traditionally designed, but I find them to be a bit cramped. Today's most modern ships often feature a longer thoroughfare, often called a promenade, instead of an atrium. This design improves passenger flow and provides a more open feeling to the ship.
Some of MSC's newest ships, such as MSC Meraviglia and MSC World Europa, have a thoroughfare over a traditional atrium, so I was disappointed in the more traditional design of MSC Seaside.
While I certainly loved the variety of venues and ocean-facing design elements of the ship, I simply prefer a more open layout when I cruise.
Loved: Visiting Ocean Cay
Image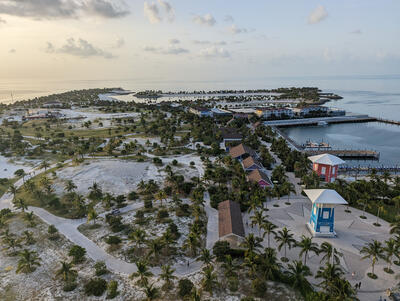 One of my favorite days on my MSC Seaside cruise was the day I visited Ocean Cay Marine Reserve, MSC's private island in the Bahamas.
Ocean Cay is a 95-acre island located just 65 miles east of Miami. It's surrounded by crystal clear waters and white sand beaches, making it a picture-perfect beach day for the thousands of passengers visiting the island each day.
Related: Ocean Cay MSC Marine Reserve: What you need to know before going
I arrived at Ocean Cay with no expectations, but I was pleasantly surprised by how much I enjoyed my time on the island.
Image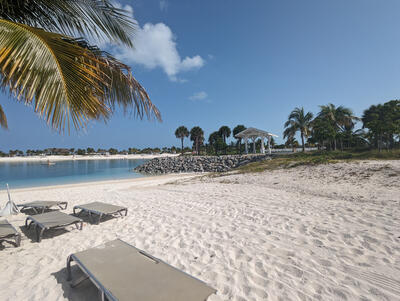 The island had a tranquil beach vibe, which was much different from the loud party atmosphere I've encountered at Royal Caribbean's private island, Perfect Day at CocoCay. The island was quiet, peaceful, and, despite hosting thousands of passengers, did not seem crowded.
Our visit even included an evening party on the beach, and watching the sunset from the island was a highlight of my Caribbean vacation.
If I book another MSC cruise departing from North America, I'll be sure to select one with a day at Ocean Cay.
Hated: Charging for umbrellas at Ocean Cay
Image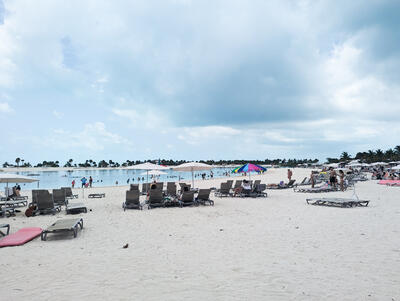 Although I loved having the opportunity to visit Ocean Cay Marine Reserve, I hated having to pay for a beach umbrella.
When visiting a cruise line's private island, I expect most aspects of the experience to be included in my cruise fare—certainly chairs and umbrellas. This is the case at private islands like Disney Cruise Line's Castaway Cay.
Yet at Ocean Cay, visitors who want a shady seat must rent a beach umbrella for around $15. While somewhat inexpensive, I found this to be a total money grab for MSC, especially since other cruise lines offer umbrellas for free.
Our group ended up renting two umbrellas and enjoyed having access to shade, but paying for an umbrella was not something I particularly liked about visiting the island.