When most people think of cruise ships, they think of vacations with friends and family. What happens, though, when there are no passengers onboard? It is true-- sometimes, crew members get to sail on an empty cruise ship!
Not all ships stay at the same homeport throughout the year. In fact, many will actually reposition from one place to another in order to offer guests a wider variety of itineraries. If you have ever wondered why a ship will sail from Miami to Europe, this is why! Transatlantic and transpacific voyages allow cruise lines the ability to offer voyages in different regions, such as Europe, the South Pacific, and Alaska. 
Recently, Oasis of the Seas sailed from Miami, Florida to Cape Liberty, New Jersey. She will return to Florida for a couple of months before crossing the Atlantic Ocean in April 2024, after which she will offer seasonal cruises throughout the Western Mediterranean. 
Image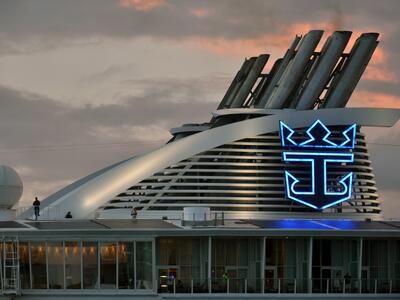 As the ship voyaged from Miami to New Jersey, they did so without any passengers onboard. This meant that the entire crew had the massive 226,838 gross registered ton Oasis Class ship to themselves for three days!
Thanks to crew member Lera Synchro, who has been working for Royal Caribbean for five years, we're able to get a view into what this looked like for everyone onboard, as she posted a YouTube video documenting what activities they got to do. 
A mini-vacation for crew members
Image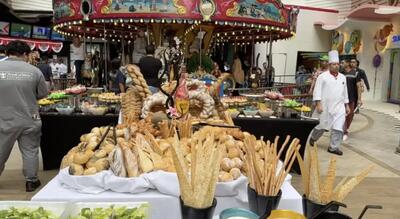 In total, crew members onboard Oasis of the Seas got three days to enjoy the ship's amenities without any guests onboard. According to Synchro, it felt like a mini-vacation. Before the fun could begin, though, they had to complete a crew drill. After that, the festivities kicked off with a sail away party in the Royal Promenade.
HR also organized events for them, too, such as a street food festival on the Boardwalk. Crew members from different countries around the world took the time to prepare national food for everyone else to try! Synchro said that her favorite dishes were those from Romania, Mexico, and South Africa! 
Image
It was neat to see crew members walking around in normal clothing, as they were not required to wear their uniforms. It would be easy to mistake this as a unique event for passengers!
They could also try their luck playing arcade games, both on the Boardwalk and in the ship's arcade on Dec 15. Plus, bingo was available in the main theater!
Image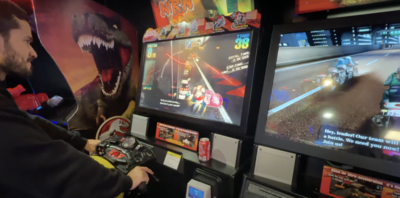 Synchro said these moments are the most priceless, especially after spending nine months onboard working as a crew member!
Read more: What are the crew areas like on a cruise ship?
Passenger cabin auction
Image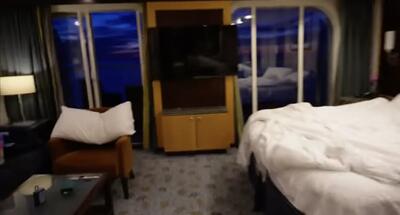 If you know anything about crew life, it is that their accommodations are usually the smallest onboard. Yes, that means they are even smaller than a standard interior cabin! 
While the ship sailed along the East Coast, crew members had the opportunity to bid on a stay in guest cabins. Synchro did not participate in this, as she said that she spent a lot of time in passenger cabins during the pandemic, meaning that she did not feel like the needed to spend money to stay in one again. 
Image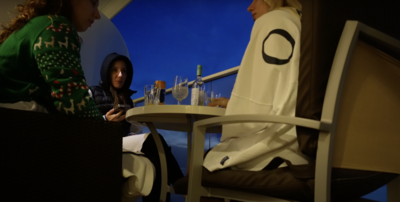 Some of her friends won a stay in Grand Suite 9260. She showed them having a mini dance party and sipping wine on the balcony while taking in a sunset. She also did a mini-tour of the stateroom, showing the large bathroom that featured a dual sink and bathtub. 
Synchro posts more videos on her YouTube channel that showcase her crew accommodations, day in the life vlogs, and more! As of September 2023, she has amassed a little over 8,000 followers. 
Read more: Take a look inside a cruise ship captain's living quarters