As Hurricane Lee continues to strengthen, cruise lines are forced to adjust their plans. In some cases, they have already modified entire itineraries!  
On the morning of September 8, Hurricane Lee reached Category 5 strength, which is the highest category on the Saffir–Simpson scale. The day before, it was a Category 1. A few hours after reaching Category 5 status, the storm did weaken back into a Category 4. As of the morning of September 11, the storm is now a Category 3. 
Read more: Cruising during hurricane season: Should you do it?
Image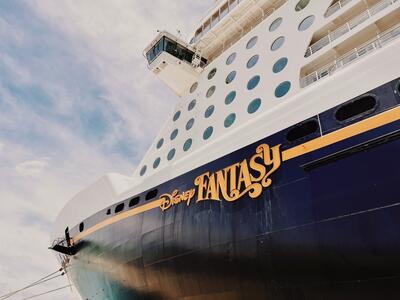 Disney Cruise Line was the first cruise line to make changes to one of their sailings. @ThemeParkExpress posted a picture of the modified itinerary on their X page on September 6, 2023. 
Rather than set sail on a 8-night cruise to Bermuda from Port Canaveral, Disney Fantasy will instead sail to the Western Caribbean, stopping at Cozumel, Mexico; George Town, Grand Cayman; Castaway Cay for two days; and Nassau. The original itinerary included four days at sea, with stops in Bermuda, Castaway Cay, and Nassau. 
Recently, Hurricane Idalia wreaked havoc on the cruising industry, too, causing Disney Fantasy to sail to the Western Caribbean, rather than visit Tortola and St. Thomas. When sailing during hurricane season, it is important to remain flexible, as your plans may change without any warning! 
Read more: I tried the cheapest Disney Cruise line cabin I could find and here's how it went
Image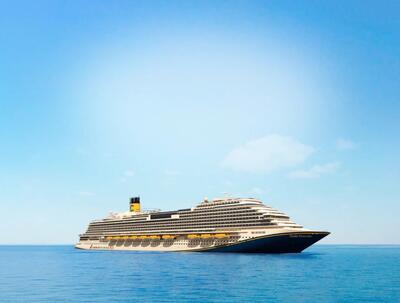 Carnival Venezia, Carnival Cruise Line's newest ship that's part of their Costa by Carnival initiative, will no longer be visiting the Eastern Caribbean. Instead, the ship will sail from New York to The Bahamas. During this 8-night cruise, guests can expect to visit Half Moon Cay, Nassau, and Freeport. 
The ship was initially supposed to dock in San Juan, Puerto Rico; St. Thomas; and Grand Turk, Turks and Caicos. 
Life with Flavor posted the change on their Facebook page early on September 8. 
Image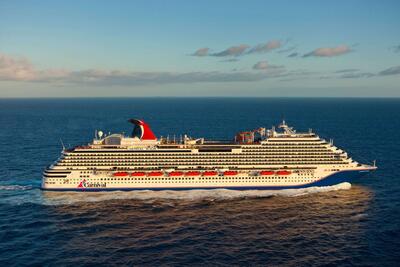 Carnival Magic will not be visiting Bermuda. She's sailing from Norfolk, Virginia to Half Moon Cay, Bahamas; Nassau, Bahamas; and Freeport, Bahamas. 
Image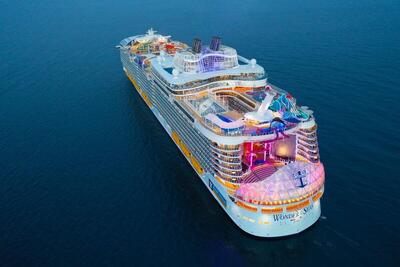 Royal Caribbean's Wonder of the Seas September 10th sailing is no longer a 7-night Eastern Caribbean cruise visiting Perfect Day at CocoCay, St. Thomas, and St. Maarten. Now, the world's largest cruise ship will visit CocoCay on September 11; Cozumel, Mexico on September 13; and Roatán, Honduras on September 14. 
Like with Disney Fantasy, Wonder of the Seas was also impacted by Hurricane Idalia. Because of that storm, she had to skip her visit to Honduras and spend the day at sea. The ship also had to push back their visit to Cozumel by a day. 
Prior to making the change, guests onboard the cruise received an email from Aurora Yera-Rodriguez, the Assistant Vice President of Guest Experience for Royal Caribbean International, that read: "Along with our Chief Meteorologist and nautical experts, we're closely monitoring the development of Hurricane Lee and any potential impacts to our itineraries."
"We'll keep you updated every step of the way and will contact you and your travel partner directly by tomorrow evening, September 8th, 2023 once details are finalized."
"Please know being onboard a ship is one of the safest places because we are faster and can move out of the way of any inclement weather. Your safety and well-being are always our highest priority."
Image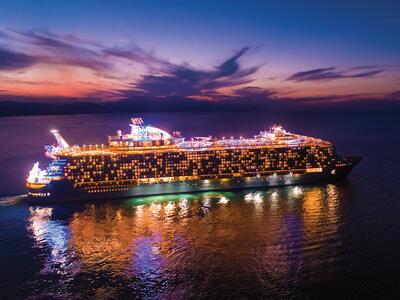 Harmony of the Seas revised their September 9th Eastern Caribbean sailing. Now, she will be sailing to the Western Caribbean, visiting Roatán, Honduras; Cozumel, Mexico; and Perfect Day at CocoCay. 
"To ensure we have a safe and smooth journey, and to stay well away from Hurricane Lee's path, we've adjusted our itinerary," said the email sent to booked passengers. 
Image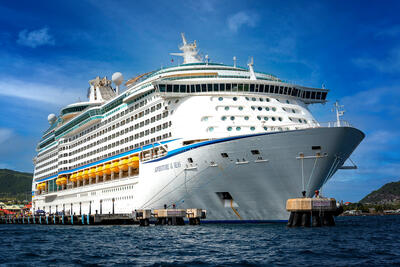 Adventure of the Seas departed from Fort Lauderdale, Florida on Saturday, September 9th as planned. The itinerary, however, was modified. Now, the Voyager Class vessel will visit Roatán, Honduras on Day 3 and Cozumel, Mexico on Day 4. 
Image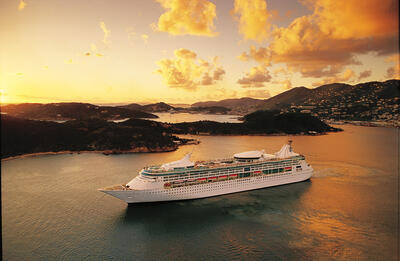 Similar to Disney Fantasy, Vision of the Seas' Bermuda sailing was changed to visit Perfect Day at CocoCay and Nassau, Bahamas. She'll also return to Baltimore one day earlier than expected, docking on September 13th. Guests, however, are able to stay onboard until September 14th. 
Guests onboard the September 14th sailing should expect some changes, too. Rather than depart on the 14th, the departure date has been pushed to the 15th. All passengers, however, are required to board on the 14th as scheduled. 
After leaving Baltimore at 3pm on the 15th, the ship will have two days at sea before docking in Port Canaveral, Florida; Nassau; and Perfect Day at CocoCay. Following two more days at sea, Vision of the Seas will return to Baltimore on September 23rd. According to Cruise Mapper, the original itinerary was a 9-night cruise to Canada and New England. 
Image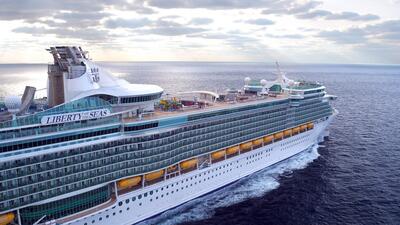 The September 7th sailing onboard Liberty of the Seas had been adjusted. Initially, the ship was scheduled to visit Saint John, New Brunswick (Bay of Fundy). Now, they'll be returning to Cape Liberty, New Jersey for an overnight stay. Additionally, the departure time from Halifax, Nova Scotia was changed from 5pm to 3pm on September 13th.  
Liberty is expected to arrive in Cape Liberty at 11pm on September 14th, where guests can remain onboard until the scheduled disembarkation date of September 16th. While docked, however, the casino and all onboard shops will be closed, and all guests will have to clear customs the morning of September 15th. 
In addition to refunding all prepaid shore excursions, Royal Caribbean is offering onboard credit, too:
$75 USD for interior and ocean view cabins
$100 USD for balconies
$200 USD for suites
$25 USD for the third and fourth guests in each stateroom
Image
The September 14th sailing onboard Jewel of the Seas will no longer visit Halifax, Nova Scotia. Guests will board on the 14th in Cape Liberty, New Jersey, departing around 5pm. Then, the ship will sail into Manhattan, where it will remain until 8pm on September 15th. 
"Sightseeing in Manhattan excites and amazes like nowhere else - and every neighborhood presents a fascinating, unique personality," reads the email sent to booked passengers, "Tour Rockefeller Center and catch a show at Radio City Music Hall. Walk the High Line and soak in the urban buzz of Times Square. Experience the Big Apple - by tour bus, subway, or on foot. Whatever you decide to do, we know you'll have a memorable time." 
Image
Oceania Cruises changed the September 13th sailing onboard Insignia. Rather than cruise to Bermuda, they will be cruising to The Bahamas. Similarly, luxury cruise line Regent Seven Seas modified the itinerary for Seven Seas Mariner. She departed from Venice, Italy on August 24 for a transatlantic cruise, and instead of calling in Bermuda on September 14th and 15th, the ship will sail straight to New York. 
Where is Hurricane Lee headed?
Image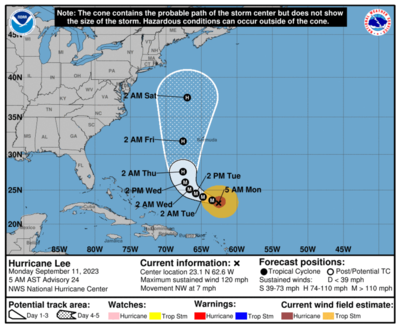 (Image taken from the National Hurricane Center's website on September 11, 2023 at 8:55am EST. Please check the website for the most updated information, as it is subject to change)
According to the National Hurricane System, Hurricane Lee is slowly traveling northwest in the Atlantic Ocean with sustained winds near 120 miles per hour. 
As of Monday morning, there are no coastal watches or warnings in effect for the United States. That being said, the nortern Leeward Islands, Virgin Islands, Puerto Rico, Hispaniola, Turks and Caicos, The Bahamas, and Bermuda will impacted by dangerous surf and life-threatening rip currents this week.