Despite having a relatively small fleet size at just five ships, Disney Cruise Line is one of the biggest names in the cruise industry. It is no surprise that they're known for delivering a premium vacation experience to families. 
Image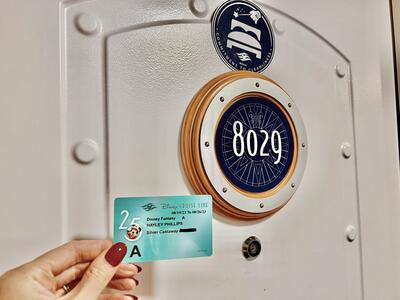 I recently returned from a 7-night voyage onboard Disney Fantasy, the second newest ship in the Disney Cruise Line fleet. Over the course of the weeklong cruise, we found our standard inside stateroom cabin to be not only cozy but also very functional. 
Here's what it is like to stay in the cheapest and most affordable room category onboard Disney Fantasy! 
The cabin
Image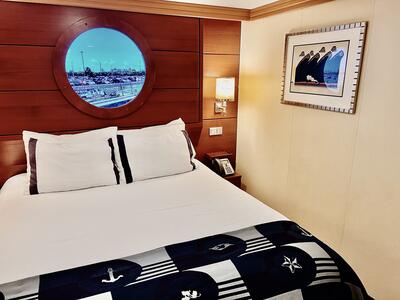 We were pleasantly surprised to discover that the staterooms were available relatively early on embarkation day. Oftentimes, staterooms may not be available for guests to access until around 3:00pm or later. This is because the cabin attendants are preparing staterooms for the new passengers. 
On this trip, our room was ready shortly after we made it onboard, and we were able to check out our room almost right away. I can imagine this would be very helpful for guests traveling with children, and we appreciated getting to drop off our carry-on bags early on in the day.
Image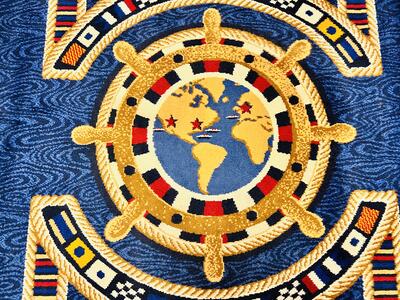 As we made our way to the cabin, I noticed how full of detail the carpet in the hallways was! If you look closely, you can see four Disney ships pictured: Disney Magic, Disney Wonder, Disney Dream, and Disney Fantasy. 
Upon first looking at the room, I immediately noticed the subtle details that incorporated classic nautical design and sailing elements, as well as a sprinkle of Disney fun. The room was very cozy and quite spacious for an interior cabin. There was definitely plenty of room for us to spread out and ample space under the bed to store luggage and large bags for the duration of the cruise. 
Image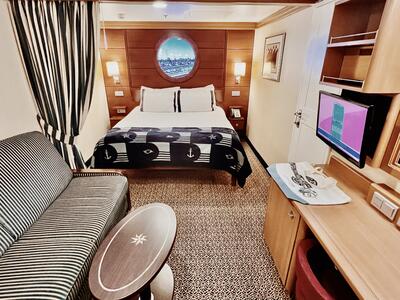 The bed is about the size of a standard queen bed, and we thought it was super comfortable! We slept soundly each night of the cruise. Because the bed is a standard queen bed, it means that it cannot be split into two twin sized beds, which is common for some interior staterooms on some other cruise lines. 
Image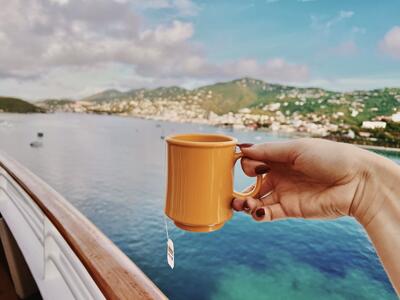 While the main bed itself cannot be split into two separate beds, the standard inside stateroom does have sleeping accommodations for up to four guests. 
On either side of the bed, there is a bedside table complete with a small drawer to store belongings. On one of the bedside tables is the stateroom phone, which can be used to call various locations onboard the ship. On the other bedside table there is an outlet to charge a cell phone or other device during the night. 
Image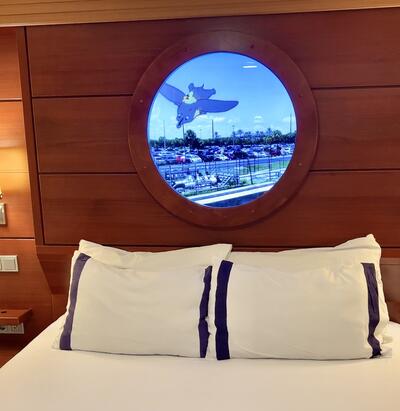 One of the most notable and interesting features of this cabin is the virtual porthole window, which displays a live view of outside, allowing guests to "look outside" even from within their interior cabin.
To make it even better, this virtual window has a touch of Disney magic to it! Every 10-15 minutes or so, an animated Disney character will stop by and make an appearance. This little detail was a lot of fun, and we enjoyed seeing which character would pop up on our virtual window next. Not every room category has this magical virtual window. Onboard the Disney Fantasy, they can only be found in interior rooms. 
Image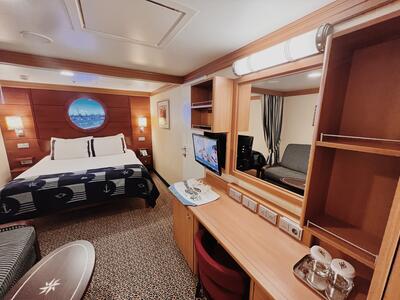 Every stateroom has a television for guests to use, and it can be positioned so that guests can watch shows or movies either on the couch or while in bed. Because it is a Disney cruise, each TV has a great selection of Disney shows and movies. 
One of my favorite things during our cruise was to put on old classic animated Disney movies in the mornings while we were getting ready for the day and again at night while we were getting ready for bed. It was so much fun to hear music from classic films such as Cinderella, Peter Pan, Dumbo, and more.
Image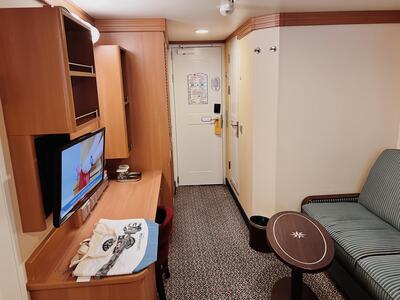 Something relatively unique to Disney Cruise Line is the ability to have up to four passengers inside one standard inside stateroom. 
The large couch inside the room can be turned into a pullout bed for up to two more guests to sleep on. Because it was just me and my husband traveling on this cruise sailing, we did not choose to turn the couch into a pullout bed. However, for families with children this is a great amenity available to them. The couch is rather large for an inside stateroom and comfortable. There is also a small coffee table for guests to place their belongings. 
Image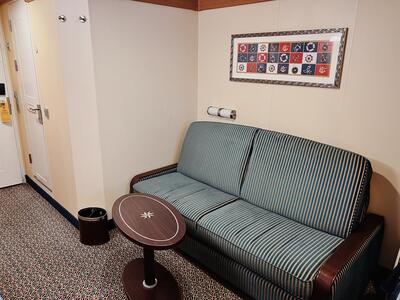 One of my favorite little touches was the small reading light next to the couch area!
There was also a floor-to-ceiling curtain that divided the stateroom. Again, this is a feature put in place with families in mind. It's used to divide the main bed area of the room from the couch area of the room, effectively turning the stateroom into two spaces. 
Bathroom
Image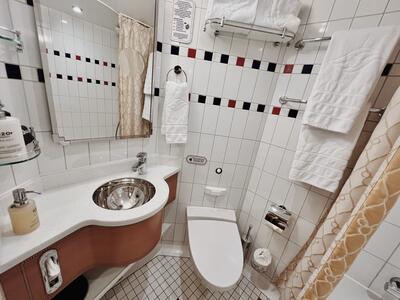 The bathroom inside the standard interior staterooms feature something rarely seen on a cruise ship: a shower tub. 
Image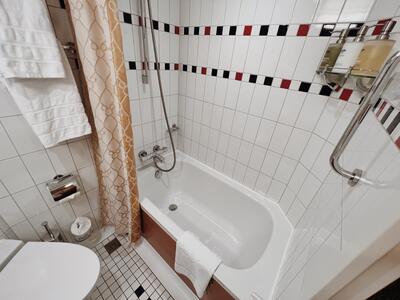 This shower tub is great if you are a family traveling with small children and can be a helpful amenity when getting kids ready for bed. In all my cruising so far I have never seen a shower tub on any other cruise line in standard rooms and thought this was a great feature for families.
Image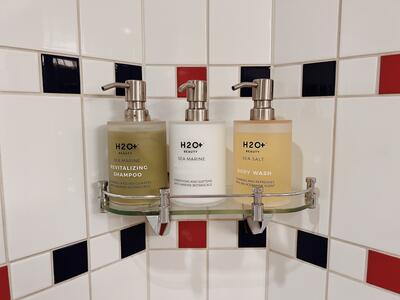 The bathroom has H2O bath products, which are the same featured throughout the Walt Disney World resorts in Orlando. Guests will not have to worry about running out of shampoo or soap, as these bath products are now supplied inside each stateroom in larger glass bottles. Along with H2O products, Disney Cruise Line also supplies dark colored makeup wash cloths for guests to use when washing their face before bed. 
Of course, these are not meant to be taken home and are Disney Cruise Line's property. 
Image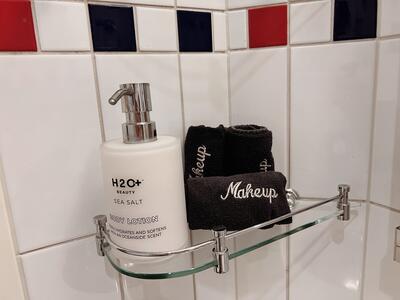 In the bathroom, there is also a small sink with some counter space, as well as several shelves and two large mirrors. I found the shelves next to the sink to be a helpful spot to store my toiletries and sunscreen for our journey. 
Image
I also greatly appreciated the large full length mirror on the inside of the bathroom door. I found it helpful to open the bathroom door all the way to use the mirror to help pick out what I was going to wear for the day. 
Image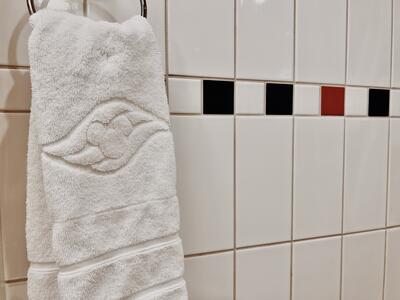 The little touches and subtle nods to Disney throughout the ship were truly one of my favorite things about this cruise. These small details were not left out anywhere, and that includes the stateroom bathrooms! Each towel features the Disney Cruise Line logo. 
Image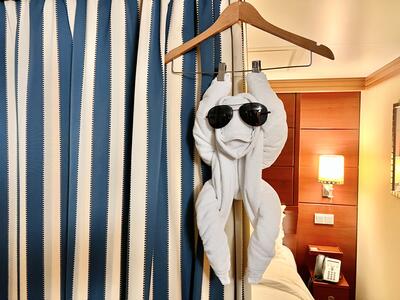 One of the coolest things about the towels in the staterooms is that each night they magically turn into different towel animals! The awesome cabin stewards onboard Disney Cruise Line have some pretty impressive skills and are able to create some incredibly cute and detailed towel animals for guests to enjoy and appreciate. 
Image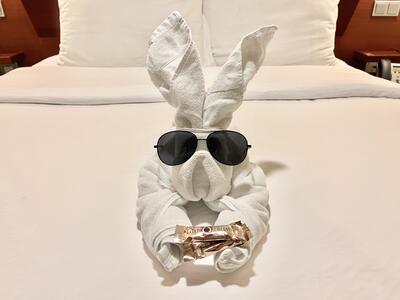 Along with the towel animals, cabin attendants leave little complimentary chocolates for guests to enjoy. 
Desk area and closets
Image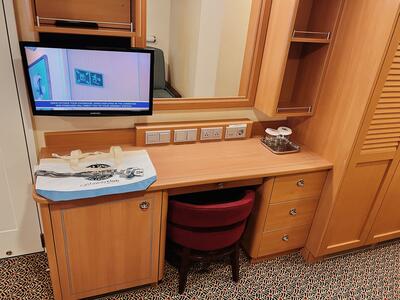 As with most cruise lines, the desk area is a great place to organize and store belongings, as well as charge electronic devices. 
This area of the room features a lot of storage for passengers to utilize, such as three large drawers and several large shelves. Guests will have no trouble storing their things and keeping their room organized!
Image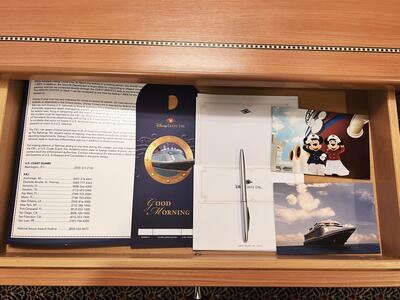 Make sure to check the very top drawer in the desk, where you'll find two complimentary postcards and a sheet of Disney Cruise Line stationary and an envelope. These small complimentary features can be used to write home to family and friends about your awesome adventures onboard. 
Inside this drawer is also where guests will find the menus for breakfast room service. Guests can fill out these forms and hang them on the outside of their stateroom doors to get breakfast delivered to their room in the morning. 
Image
Similarly to the drawers, the closets inside the standard interior staterooms also offer plenty of space for guests to store their clothing and items. In fact, the closet inside our room was divided into two parts. One side was a bit larger and had our life vests inside, as well as plenty of space to store shoes and hang clothes. There were a couple of several small shelves, too. 
Image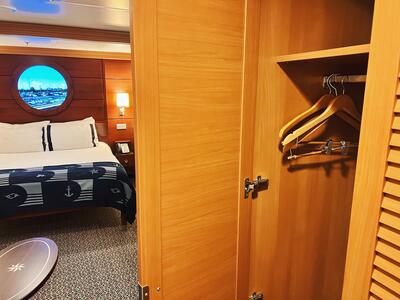 The other closet was a bit smaller but also had plenty of space. It had an upper shelf to store belongings and also plenty of space to hang clothes. I think dividing the closets can be helpful, especially if guests are traveling with children. This way, parents can place all their things in one closet and the children's things in the other closet. Again, we could tell that Disney Cruise Line has put a lot of thought into how to make even the most affordable stateroom both beautiful and functional for families. 
Details and things to know
Image
Every Disney Cruise Line stateroom has amenities such as a small refrigerator, hair dryer, and safe for guests to use throughout their voyage. 
It wouldn't be a Disney Cruise without some Disney details. Each room features multiple pieces of Disney themed art. Our particular inside stateroom had two pieces of Disney art, one of them showed four of the Disney Cruise Line ships from the fleet. 
Image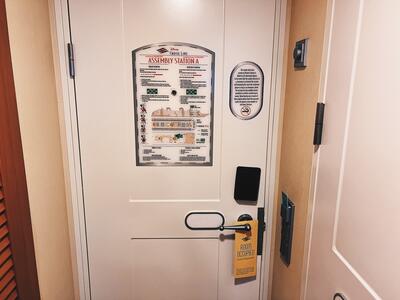 When it comes to safety, as with all cruise lines, Disney takes things very seriously. On the back of every stateroom door, guests will find a plaque with safety notes and procedures. All of the guest life vests are located inside the larger closet on the top shelf, too. 
The lighting system inside the stateroom does require that a keycard is placed inside the slot next to the door. When the keycard is removed, the lights will turn off. 
Thermostat
Image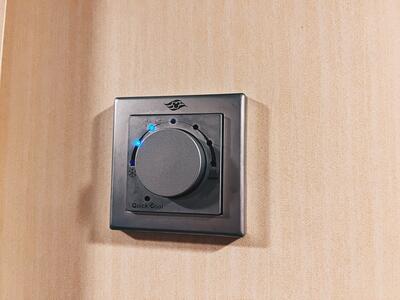 There is a handy little thermostat inside the stateroom that allows guests to control the temperature. Sometimes, we found the room to be a little cold or warm and were easily able to change it using the thermostat. 
Good number of outlets
Image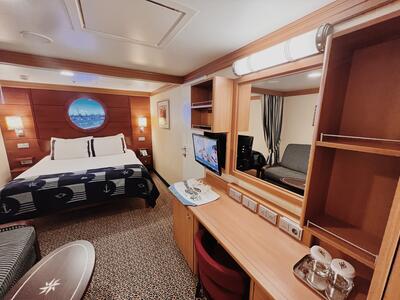 Something that I greatly appreciate, and I know other guests will too, is the presence of several outlets in the room for guests to charge their electronic devices. There are three standard US outlets, several USB outlets, and one standard European outlet. Guests should have no trouble charging items such as their phones, cameras, and more during their voyage. 
Read more: Why smart cruisers bring a European power adapter on a cruise ship
Thin walls
Image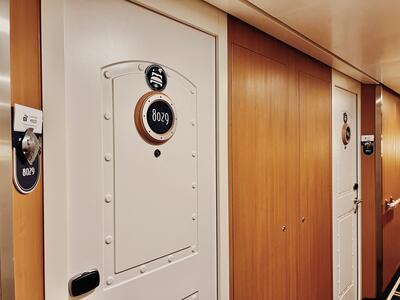 Our particular stateroom had an adjoining door that connected it to the stateroom beside of us. 
For this voyage it was just myself and my husband traveling. Because we were in a room that had the ability to adjoin to the room next to us, we found the walls to be somewhat thin on the side with the adjoining door. This meant that we could hear the family next to us with small children several times throughout the cruise. However, this did not bother us too much, but it is definitely is something to note if you are someone who is easily bothered by noise or who wishes to go to bed early. 
If you are someone who wants a quiet room I recommend booking a room without an adjoining door if possible. 
Read more: The absolute worst cruise ship cabins to avoid on any ship
Onboard laundry
Image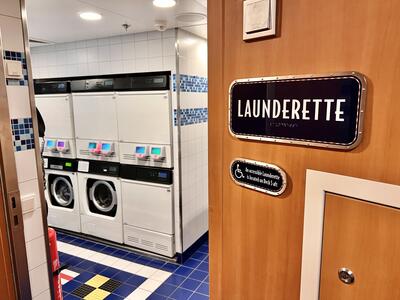 One of the most unique things about Disney ships is the ability for guests to do their own laundry. There is a launderette on most stateroom floors in which guests can pay to use the machines and do their own laundry for a relatively small fee. Once again, this can be incredibly helpful for families traveling together. Each stateroom has a small cloth laundry bag for guests to use through their voyage to store dirty clothes, should they plan on laundering their garments. 
Disney's Castaway Club
Image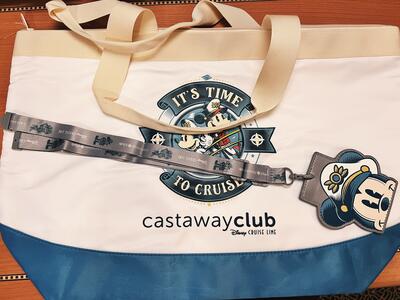 Once a guest sails with Disney Cruise Line, they are automatically added to Disney's Castaway Club program. Each tier of the loyalty program has different benefits and perks, but every tier receives complimentary gifts in their stateroom. 
We are members of the Silver tier of the Castaway Club program because I have sailed with Disney just once before when I was a child. Even sailing just once with Disney before, we received some great complimentary goodies inside our inside stateroom for this cruise. 
Image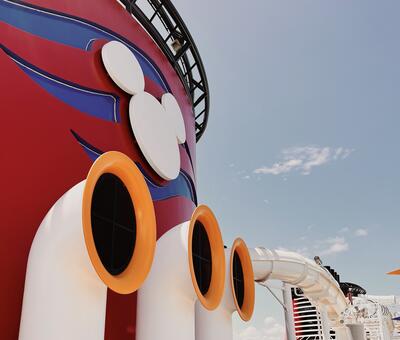 It is important to note that these items are only gifted to guests who have sailed with Disney Cruise Line at least once before. If you have sailed with Disney before, even if it was years ago, make sure to call Disney Cruise Line prior to your upcoming sailing and have them add your cruise history to your account, as this will guarantee that you can receive some of the great Castaway Club benefits.
Because we are apart of the Silver tier, we received a great beach bag featuring Captain Minnie and Mickey, as well as a silver colored lanyard in which to store my stateroom keycard. 
Conclusion
Image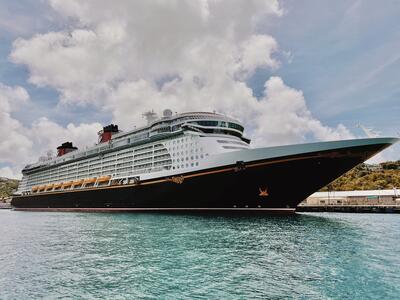 We truly loved every minute of our time onboard Disney Fantasy! Our stateroom was very comfortable and cozy, making it the perfect "home at sea" for our weeklong sailing.
I was pleasantly surprised just how much space the cheapest and most affordable stateroom onboard Disney ships can offer to its passengers. Whether it's a couple traveling together for a getaway or a family of four with small children, both types of travelers will enjoy the standard inside staterooms.
Image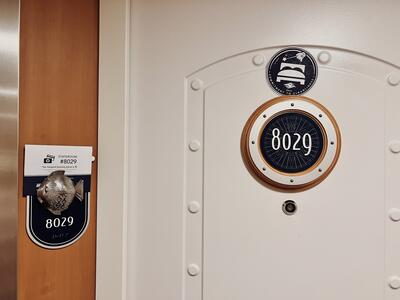 It wouldn't be a Disney Cruise Line vacation without the Disney details, and we loved the touch of magic that was incorporated into our cabin. 
For those guests wishing to sail with Disney but wanting to be as frugal as possible, I highly recommend an inside cabin. These rooms have everything guests need throughout their sailing and provide the perfect cozy space for guests to unwind after a day of exploring or fun in the sun.