Ocean Cay Marine Reserve is MSC Cruises' private island in The Bahamas, and it's everything you could hope for in a tropical paradise. With countless palm trees, eight beaches, a spa, and included food and drinks, it's the ideal place to relax and unwind on an MSC cruise.
During my recent cruise on MSC Seaside, my ship docked on the island for a day and I had eight hours to explore everything Ocean Cay had to offer. Because it was my first time visiting the private destination, I wasn't sure what to expect, and I did not do much research ahead of time.
Stepping ashore, I was determined to have a picture-perfect beach day, yet I soon realized I should have done more research beforehand. From picking the wrong beach to finding an unexpected charge, here are 7 things I wish I knew before I went to Ocean Cay.
Walk further to find the best beach
Image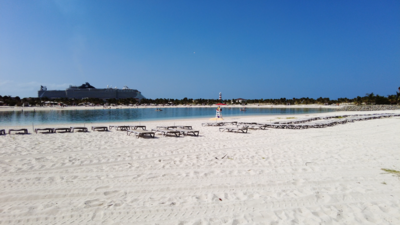 When I visited Ocean Cay for the first time, I set up my towel at the first beach I found: South Beach. Located in Ocean Cay Lagoon, South Beach offers calm waters and a convenient location near the ship, food court, and bars.
Yet I quickly found out there was a major problem with this beach. As soon as I spent time in the water, my skin became itchy. While I can't confirm the cause, I assume it came from sea lice or jellyfish larvae.
Because the water at South Beach is relatively stagnant, it did not appear as clear or pristine as I would have hoped. Several other members of my travel party reported feeling itchy as well, and it was not the most pleasant experience.
Related: 30 top tips and tricks for MSC Ocean Cay
Due to this, I ventured further north, which led me to Bimini Beach. Immediately, I was much more impressed with Bimini Beach than South Beach.
Image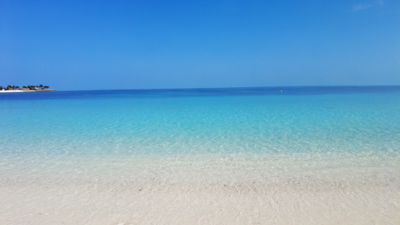 In fact, it was one of the most gorgeous beaches I've seen in all of The Bahamas. While not in a protected lagoon, the water was still calm and felt much cleaner than that at South Beach.
When visiting Ocean Cay, don't stay at the first beach you see. Instead, take a walk around the island—or watch an island tour on YouTube—to ensure you find all the hidden gems.
You can bring pool floats into the water
Image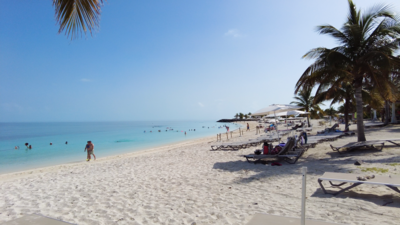 While many cruise lines ban using pool floats on the cruise ship itself, you're often allowed to use items like pool noodles and inner tubes at private islands. While at Ocean Cay, I noticed plenty of passengers relaxing in the water on rafts and other flotation devices.
If I had thought about this ahead of time, I would have packed one of these flotation devices for my cruise. Although wading in the ocean is, of course, relaxing, it can't compare to peacefully floating on a raft enjoying the ocean breeze.
Find a chair near a bar
Image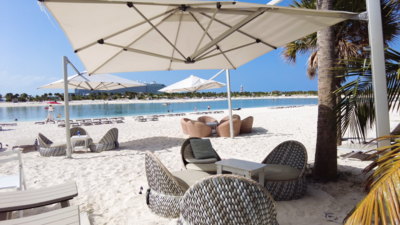 Although Ocean Cay boasts many bars spread throughout the island, I didn't always find them to be in the most convenient locations. Most beaches are quite long at Ocean Cay, and having a beach chair on one end of the beach could mean a ten minute walk to grab a drink.
I did not encounter any crew members walking around taking drink orders at Ocean Cay, and this meant I had to walk to the bar whenever I needed a drink. While doable, I realized I picked a beach chair further than ideal from nearby bars.
Walking in the hot, July sun to grab a drink got old, and to make matters worse, my cocktails would be nearly melted by the time I got back to my seat.
Next time I visit Ocean Cay, I'll select my beach chair location more wisely.
Umbrellas cost money on Ocean Cay
Image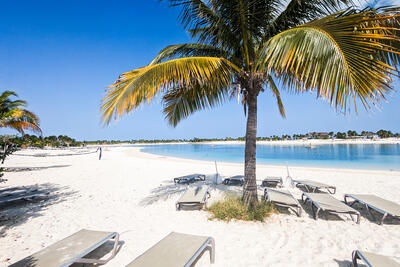 One of the more disappointing aspects of my MSC cruise was when I found out you have to pay for umbrellas at Ocean Cay.
Unlike other cruise lines' private islands, umbrellas come with an extra charge at Ocean Cay. During my cruise, each umbrella cost around $17 to rent for the day.
Although it doesn't cost anything to use one of the many beach chairs on the island, having to pay for an umbrella was a bit of a bummer, especially since natural shade was limited. If you didn't score a chair under a palm tree, you would be stuck paying for each umbrella you needed.
While $17 isn't much in the long run, it's an extra cost you should account for during your time at Ocean Cay.
The buffet is surprisingly good
Image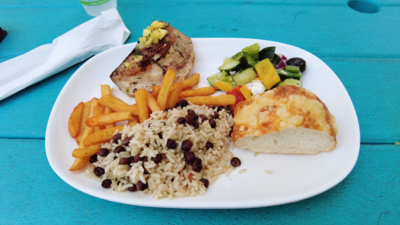 Ocean Cay offers several dining venues on the island, including food trucks and a coffee bar, but the most popular place to dine is Seakers Food Court. This buffet-style venue offers American cuisine like hamburgers and fries and Caribbean fare such as jerk chicken, grilled fish, and rum cake.
To be honest, I did not set my expectations high for lunch at Ocean Cay. Despite the fact that I enjoyed the food onboard my MSC cruise, I wasn't sure what the food quality would be like on the island.
Related: Ocean Cay Marine Reserve: What you need to know before going
In the past, I visited both of Royal Caribbean's private destinations: Perfect Day at CocoCay and Labadee. While I found the food quite tasty at Perfect Day at CocoCay, the latter had a lackluster buffet with Caribbean fare.
Image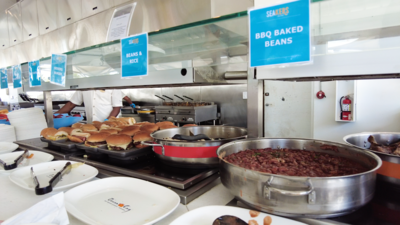 Because of these varied experiences, I visited Ocean Cay with low expectations on the food, but I was pleasantly surprised with my lunch ashore. Both quick-service grab and go options and a buffet line were available, and I was pleased to see a wide variety of dishes to choose between.
The west side of the island is extremely chill
Image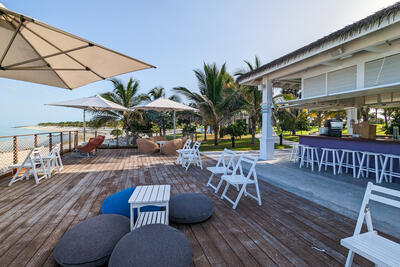 Along the western side of Ocean Cay is Sunset Beach, and I found this to be, by far, the most tranquil spot ashore.
Most of the action on Ocean Cay tends to occur at Lighthouse Bay, South Beach, and Bimini Beach. After all, Lighthouse Bay and South Beach are the closest to the ship, and Bimini Beach offers some of the clearest water on the island.
Sunset Beach differs from other beaches on Ocean Cay in that some of the beach is rocky and not great for swimming. Whereas there are a few sandy beaches on the western side of the island, the majority of this side is better for watching the ocean rather than swimming.
Despite the rocky shores, Sunset Beach can be an excellent place to spend time at Ocean Cay. Along the beach are three bars, including the Lighthouse Bar under the island's famous lighthouse. Each of the bars is likely to be far less crowded than bars elsewhere on the island—and they boast comfortable seating, too.
Drinks options are limited at Ocean Cay
Image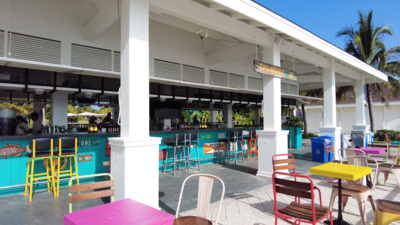 If you have a drink package on your MSC cruise, you're in luck: drink packages work at Ocean Cay the same as they do onboard. However, you'll find more limited drink options on the island compared to what is offered at bars on your ship.
During my day ashore, I expected to have a wide variety of drinks to choose from, but I found options rather limited. First of all, the "frozen" drinks, like piña coladas and strawberry daiquiris, were not ready in time for guests' arrival on the island.
Related: I tried an MSC drink package to see if it was worth it
This resulted in bars serving these drinks on ice until the freeze machines were ready. While not a dealbreaker, I found this a bit strange as I hadn't encountered a similar situation while visiting other cruise lines' private destinations.
Additionally, bars were not as well staffed as I would have hoped. At the sunset party at Lighthouse Bay, for example, I was disappointed to see just one bar open, and with very few bartenders at that. Not wanting to wait twenty minutes for a drink, I decided against a cocktail during the party, and this was disappointing considering I had the drink package.
Regardless, I am still glad MSC's drink packages are valid at Ocean Cay, and I did enjoy several fruity drinks during my day ashore, but the experience wasn't exactly what I expected.