While ships have been a popular mode of travel for centuries, cruise ships as we know them today have existed for far less time. 100 years ago, you would not have seen a mega-ship with roller coasters, surf simulators, or go-karts onboard! 
The first credited purpose-built cruise ship was the Prinzessin Victoria Luise. Built for the Hamburg-America Line, she was launched in June 1900. Yes, before the Titanic! 
She was the vision of Albert Ballin, a German shipping magnate who is sometimes referred to as the father of modern cruise ship travel. Even though Augusta Victoria, another ship in the Hamburg-America Line's fleet, completed a 58-day leisure voyage around the Mediterranean years before, she was constructed as an ocean liner, making it hard to plan similar sailings. 
Image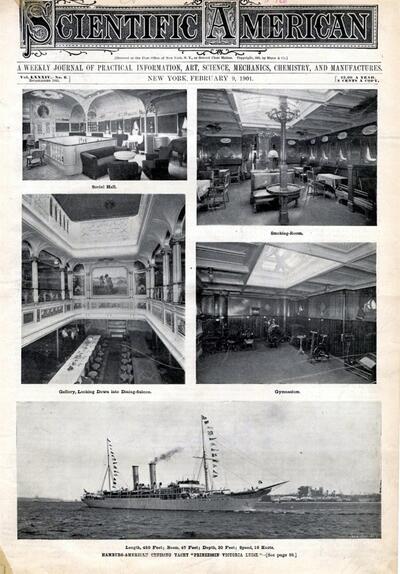 (Photo retrieved from Wikipedia on October 19, 2023. Originally uploaded by user Morn)
At only 4,409 gross registered tons, Prinzessin Victoria Luise seems minuscule compared to today's mega-ships like Icon of the Seas and MSC World Europa, which both measure over 200,000 gross registered tons. 
In addition to 120 first-class staterooms, the ship boasted a library, gym, and darkroom to develop film. 
Unfortunately, she was only in service for six years, as she was accidentally grounded in Jamaica in 1906. Thankfully, no passengers lost their lives; however, Captain Brunswig committed suicide in his cabin before everyone was able to be rescued. 
Read more: How Many Cruise Ships Have Sunk?
The hero photograph of S.S. Prinzessin Victoria Luise came from the Detroit Publishing Co. and was obtained through the Library of Congress. 
What is a cruise ship?
Image
Cruise ships are vessels where the voyage, rather than the act of being transported somewhere, is the primary purpose. 
For instance, let's say that you're going on a round-trip cruise from Miami to the Eastern Caribbean onboard Wonder of the Seas. That sailing is more about the ship than actually being taken from one place to another. 
While in St. Maarten, it's expected that you'll want to get off the ship and go on a tour, maybe to Maho Beach to see some airplanes land! After that, however, you will return to your ship and sail to either your next port of call or to the disembarkation port. 
Read more: Things you'll notice when cruising on the newest cruise ship
Prominence of ocean liners before cruise ships
Image
In the 1800s and early 1900s, ocean liners were far more common. These differed from other vessels because the invention of the steam engine allowed for larger and faster ships to be built. 
Plus, these ships were primarily used for transportation across oceans, like from Southampton to New York. 
During World War II, aviation technology rapidly developed. Soon thereafter, jet-powered engines were able to transport passengers across the ocean in a fraction of the time it took to sail! 
Eventually, many ocean liners began offering seasonal leisure cruises, as the demand for transoceanic voyages had died down. 
As of 2023, there's only a single ocean liner still in service: Queen Mary 2. She makes regular transatlantic voyages from New York to Southampton and vice versa. Another fun fact is that this is the only ship that has a dedicated dog park onboard! 
Read more: Ocean Liner vs Cruise Ship: How are they different?
When did the cruising industry start to take off?
Image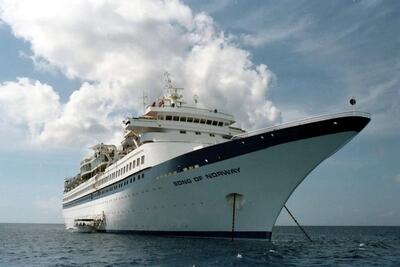 Although the first purpose-built cruise ship set sail in 1900, P&O began advertising passenger voyages in 1844 to places like Gibraltar, Malta, and Athens from England. These voyages were the first of their kind!
While P&O still had ocean liners throughout the 1970s, they began to rebrand themselves and focus on leisure cruising, as air travel had become more prominent. In 1977, they became P&O Cruises. 
About one decade earlier in 1966, Norwegian Cruise Line was founded in 1966 with the Sunward, a cruise ship/ferry car that sailed between Southampton and Gibraltar. Royal Caribbean Cruise Line followed suit in 1968. However, their first ship, Song of Norway, did not enter service two years later. 
Image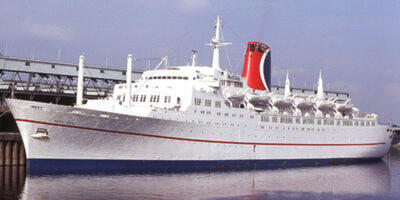 Additionally, Carnival Cruise Line was founded by Ted Arison in 1972, who helped found Norwegian but left to start another venture. 
As we know, ships back then were not the mega-ships we know of today. It would not be until 1996 that a cruise ship over 100,000 gross registered tons would enter service. 
Many cruise lines did not start getting their own purpose-built ships until after they launched. Mardi Gras, Carnival's first ship, for instance, originally sailed as Empress of Canada from 1961 until Carnival purchased the ship in 1972. In 1982, Carnival launched their first new build: Tropicale.
Image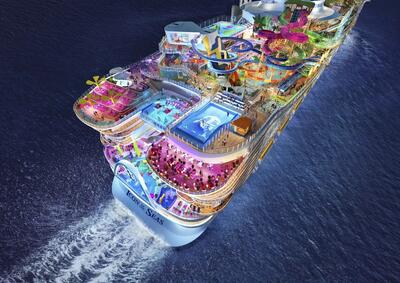 Even though these ships are considered small by today's standards, they were quite revolutionary at their time! Song of Norway, for instance, measured 18,000 gross registered tons when she was launched and could accommodate around 720 guests. 
Between 1987 and 2022, the maximum cruise ship gross registered tonnage increased from 73,000 to 236,857 gross tons. In 2024, the world's largest cruise ship, Icon of the Seas, will come in at a whopping 250,800 gross registered tons.