What's the difference between sailing on newer cruise ships and older ones?
Today, there is a ship for every type of traveler, whether you are seeking a low-key vacation or one jam-packed with non-stop action. In general, the newer the ship, the better amenities it will have. 
Those who prioritize the destinations rather than the ship will not care too much about this; however, travelers who see the ship as a destination will want to sail on the latest and greatest.
Of course, sailing on a new ship comes with a premium price. Is it worth it to save the money and sail on an older ship? What kinds of experiences will you miss out on?
Here are some things that you will notice when cruising on the newest cruise ship.
More onboard activities 
Image
Today's cruise ships are larger than anyone ever thought! With more space, cruise lines are able to offer more activities. Have you ever thought about riding a roller coaster at sea? Well, you can on Carnival's Excel Class ships: Mardi Gras, Carnival Celebration, and Carnival Jubilee. 
Read more: Is Carnival cruise's roller coaster worth $15?
On many of Norwegian's newer ships, you can race around a go-kart track or immerse yourself in a virtual gaming wonderland at the Galaxy Pavilion. 
Royal Caribbean is infamous for their WOW factor onboard their ships. Quantum Class ships, for instance, offer sky diving and surfing simulators, bumper cars, and more. 
Image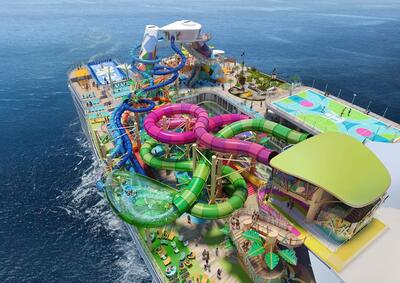 Additionally, many cruise fans are anxiously awaiting the arrival of Icon of the Seas. Once launched, she will become the largest cruise ship in the world, surpassing all Oasis Class vessels and featuring the largest water park and ice skating rink at sea. 
Older ships lack all of these amenities. Sure, you might find some with water slides, surfing simulators, ropes courses, mini-golf, and sport courts, but there will be significantly less to do onboard. 
Refreshed staterooms
Image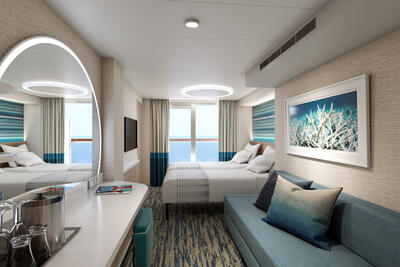 Even if a cruise line has spent a considerable amount of money updating the public areas, you can usually feel a ship's age in the staterooms. Older cruise ships tend to have a darker theme, with newer ones feeling much more modern and brighter! 
Plus, there are upgraded amenities. If you cruise onboard a Virgin Voyages ship, you will notice an in-cabin tablet that controls the stateroom's temperature, lighting, and more. 
Moreover, newer ships have an increased number of outlets. In fact, I sailed on MSC Seashore (2021) and was surprised that my interior stateroom had a wireless charger built into the desk! This was in addition to a USB port beside the bed, as well as two American outlets, two European outlets, and two more USB ports by the vanity. 
Read more: 13 things I loved and hated onboard MSC Seashore 
Image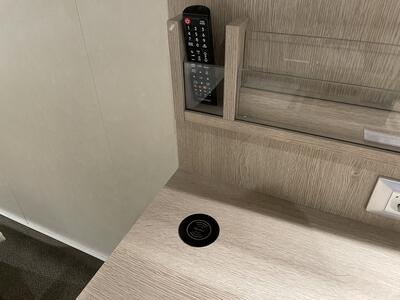 In comparison, I sailed on Navigator of the Seas a few weeks later and was disappointed that my stateroom only had three outlets, two of which were American. The third was a European plug, and since I did not have an adapter, I was unable to use it. 
Newer ships tend to have nicer televisions, too-- not that this should be a reason that makes or breaks your trip. The experience watching a newer television is more enjoyable, though, given the features and performance that you get. 
Additionally, if having more storage space is important, you will find that on newer cruise ships. You will not have to worry about rationing shelves, as there are usually more drawers, shelves, and closet space than you will actually need. Those worried, however, should look into some popular cruise cabin hacks that are meant to help keep your room organized and tidy, as well as increase their overall efficiency. 
Increased number of stateroom categories to choose from
Image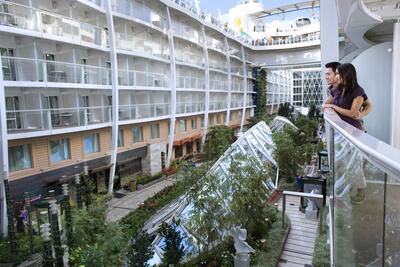 No matter what cruise ship you sail on, you will have four standard stateroom categories: interior, ocean view, balcony, and suite. 
If, however, you want more options within those said categories, you will want to book a cruise on a newer vessel, such as Icon of the Seas. Onboard Icon, you will find 28 different cabin categories, 14 of which are brand new to Royal Caribbean!
Afraid of feeling claustrophobic in a standard interior room? Look at a ship that includes virtual balconies or interior facing windows. While you may not have a direct ocean view, the natural light will help your cabin feel a little bit more spacious! Plus, you will not have to worry about oversleeping, as the sunrise will naturally wake your body up. 
Image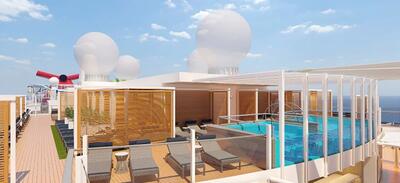 Suites onboard newer cruise ships tend to have better perks, too. Suites on Carnival's Mardi Gras, Celebration, and Jubilee are the first to include access to the exclusive Loft 19, a retreat-style experience that features an infinity whirlpool, attentive concierge service, and more. 
While all guests can purchase a pass to Loft 19, access is complimentary for those staying in Excel-level suites. They will get priority cabana reservations, too.  
Similarly, those sailing onboard Wonder, Utopia, and Icon of the Seas will get access to more suite-only areas than ever before with the Suite Neighborhood. 
More specialty restaurants
Image
Do you enjoy having a lot of dining choices while on vacation? The options seem almost endless on newer ships. Even if you were to rotate venues each night, there's a chance you still would not get to try every single one. 
MSC World Europa, for instance, has thirteen different restaurants onboard, ranging from fresh seafood to a steakhouse, teppanyaki, Mexican fare, and more. Similarly, Norwegian Prima has eight specialty restaurants to choose from, including the cruise line's first-ever Mediterranean restaurant.
Specialty venues are popular because they offer more cuisines and cooking styles than you can find in the complimentary venues. Plus, the dining experience feels more like a traditional land-based restaurant, as the actual space is smaller and creates a more intimate feel compared to the large main dining room, which churns out thousands of meal in a short period of time. 
More app features
Image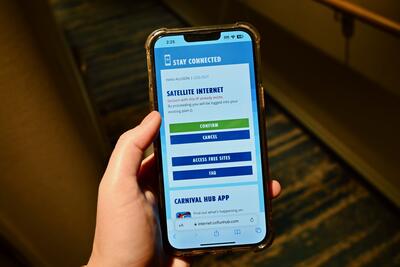 Most cruise lines have an app that is meant to be utilized during your cruise. The newer the ship, the more technologically advanced it will be, meaning that you might use the app more frequently for things like opening your stateroom's door and/or curtains. Sometimes, you can even use it to order food and have it delivered straight to you! 
If you are sailing on an older cruise ship, especially on lines like MSC Cruises, the app may be useless! According to their website, the MSC for Me app is "available for guests travelling on MSC Euribia, MSC Seascape, MSC World Europa, MSC Seashore, MSC Bellissima, MSC Grandiosa, MSC Meraviglia, MSC Seaside, MSC Seaview and MSC Virtuosa. The MSC for Me program is also available on MSC Splendida and on MSC Magnifica, however it has reduced program features."
Whether you take advantage of all these features or not is another question, but it is nice to have them all as an option.
Read more: 18 Cruise Apps You Need Before Your Next Sailing
Higher quality entertainment options
Image
In general, the better acts tend to be found on newer cruise ships. If, for instance, you are interested in watching Broadway-style entertainment, you will want to look into booking a voyage onboard select Oasis, Quantum, and Icon Class (Royal Caribbean) ships, as well as certain Breakaway Class (Norwegian) vessels. 
Even if Broadway is not your thing, you will find more options than on smaller ships due to the increased number of entertainment venues, such as ice skating rinks, comedy clubs, lounges, and more. Most ships have some sort of original production, too. The newer the ship, the more technologically advanced they will be, and this is usually incorporated into these performances.   
Symphony of the Seas, for instance, features the original production show "Flight: Dare to Dream" that chronicles humanity's fascination with flying. It's a must-see for any aviation enthusiast, as the show concludes with a replica for the Wright Flyer soaring over the audience. 
That being said, older ships will still have tons of programming to keep you busy, from trivia to dance parties, live music by the pool, etc.