As cruise ships prepare to resume service, lines are looking for ways to make the passenger experience safer, which, in part, means making everyday operations more contactless by eliminating unnecessary touchpoints.
One way lines are doing this is by increasing the amount of heavy lifting done by smartphone apps.
In addition to more simple features like virtual pre-cruise check-in and the ability to check onboard accounts and view the daily schedule of activities, many of the best cruise ship apps provide cruisers with the ability to use their phones as room keys; virtual reservation desks for dining and shore excursions; and even menus. All of these cut down on person-to-person contact.
We've researched a mix of cruise line apps, as well as a few others that will help you to better plan, pack and prepare for your travels. Note that all apps listed are available in both the App Store for iPhone and Google Play for Android devices, and all are free to download.
1. Carnival HUB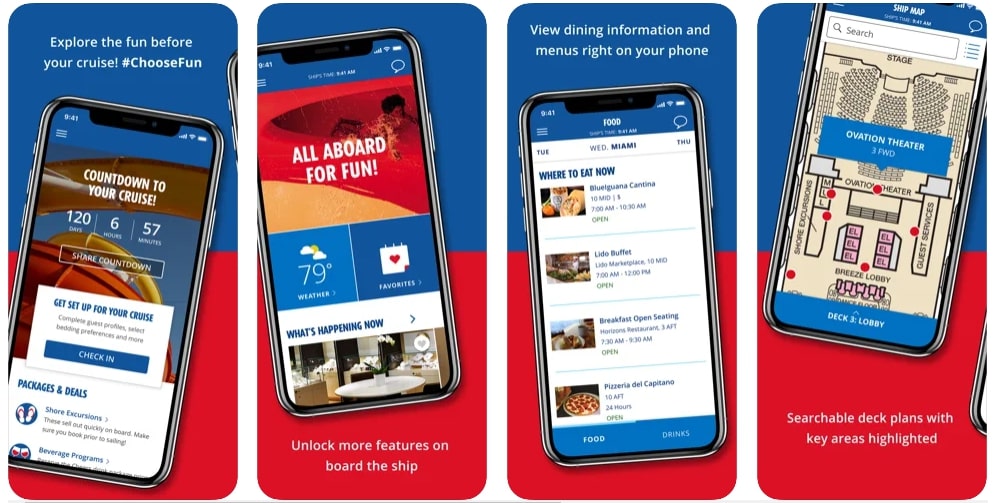 "Carnival HUB," the Carnival cruise app, offers a cruise countdown, as well as pre-cruise check-in. Using it, you can also book spa treatments, make dining and shore excursion reservations and purchase drink packages before you board.
After embarkation, passengers can check their onboard accounts; view and search deck plans and the daily schedule of events; check out restaurant hours, menus and dress codes; order pizza for delivery just about anywhere onboard; access weather reports; and use the chat feature to stay in touch with other members of their travel party who also have the app.
The HUB app can be used without purchasing a Wi-Fi package, but some features, such as the chat function, incur a flat one-time fee.
2. Celebrity Cruises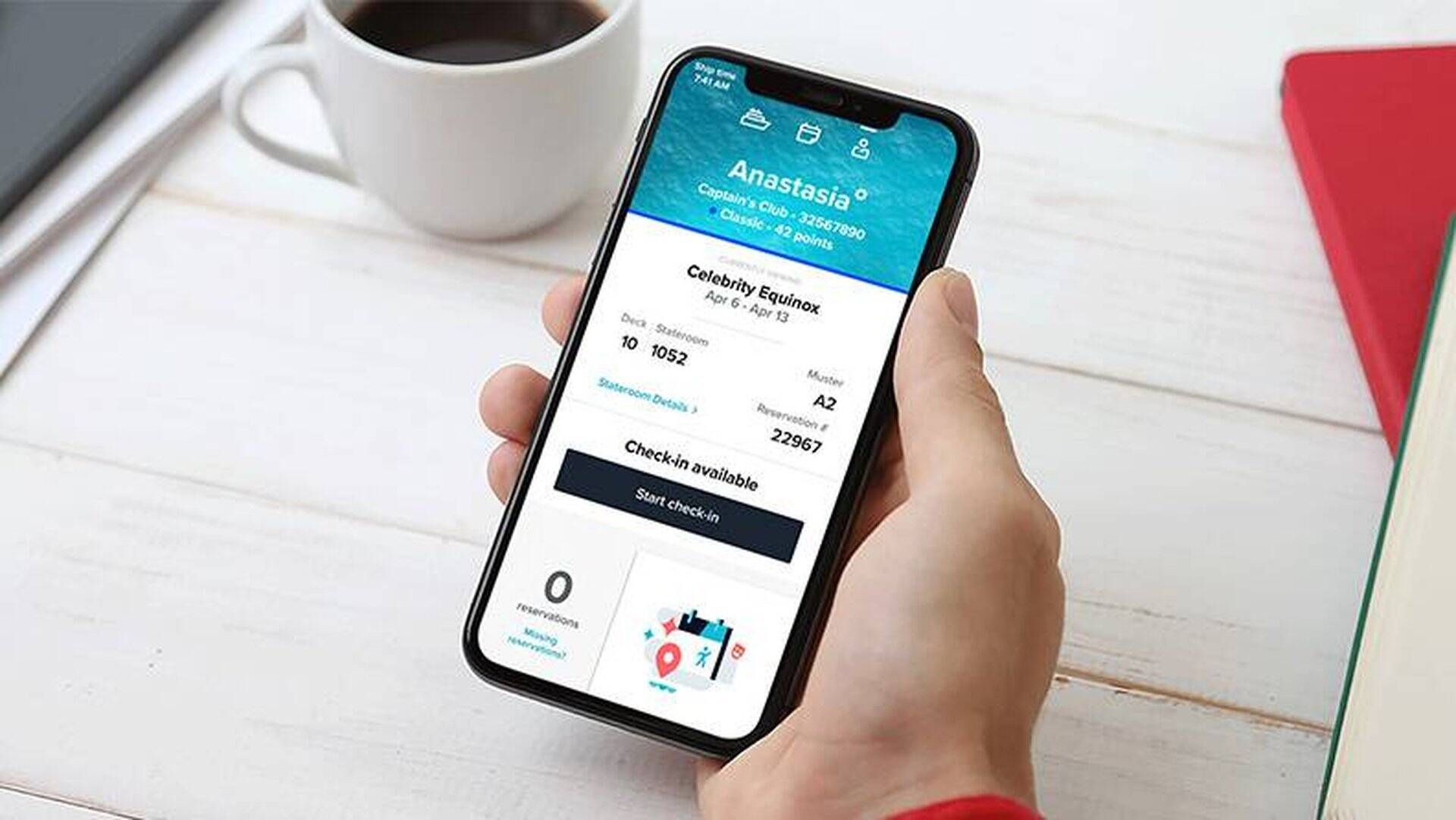 Celebrity Cruises' app, simply called "Celebrity Cruises," allows passengers to check-in ahead of time by scanning travel documents and setting up an onboard account. Having this in place in advance ensures a faster and more smooth boarding process that requires virtually no contact.
Once onboard, cruisers can view the ship's itinerary and deck plans, check out the daily schedule and save activities of interest, check their folio charges, make reservations for dining and shore excursions, link plans with other members of the same travel party and chat with fellow cruisers using the message feature.
On some ships, the app also transforms your phone into your cabin key and remote control for everything from your TV and blinds to the temperature.
With the latest versions of the app, passengers can select embarkation day port arrival times to show up for their pre-cruise wellness screenings, answer health questionnaires before sailing day and take part in virtual muster drills after they board. Cruisers can also access dining menus on the app using QR codes. (This eliminates the touching of menus or the wasting of paper for single-use ones.)
The app is available for most ships, but functionality may vary. It is not necessary for cruisers to purchase a Wi-Fi package in order to use the app, and in-app purchases are available.
3. Cruise Critic Forums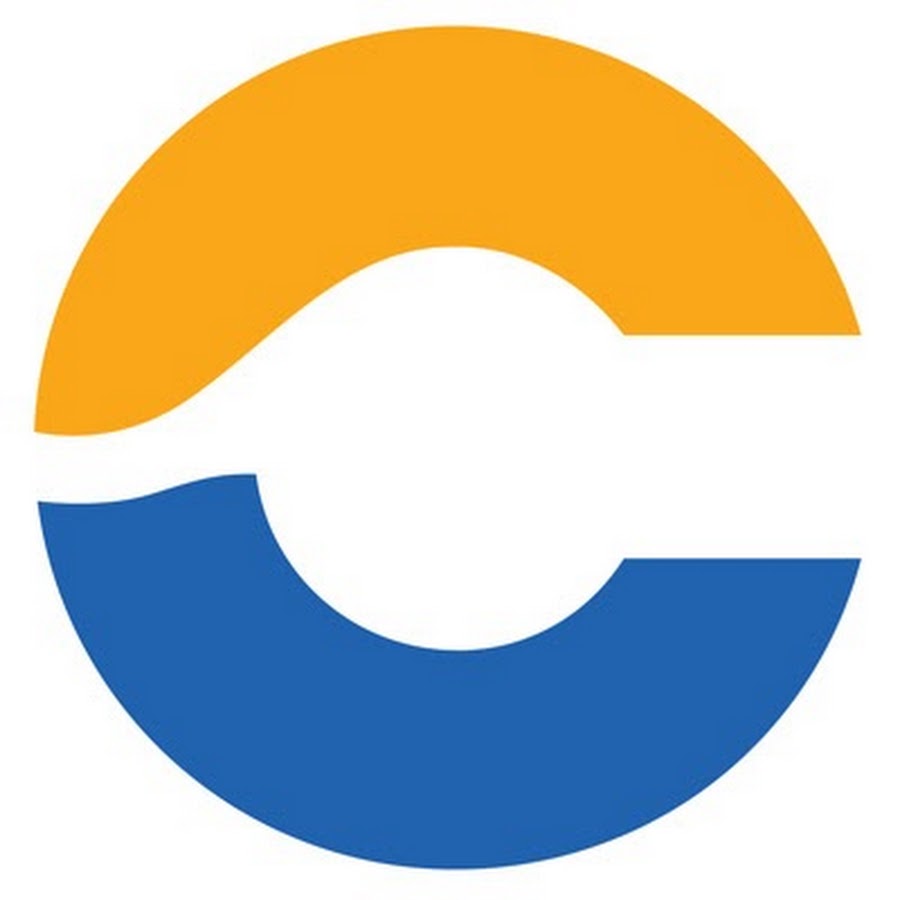 For more than two decades, Cruise Critic's message board forums have helped passengers of all experience levels to share information about thousands of cruise-related topics.
If you're not already a member, you can sign up for free before downloading the "Cruise Critic Forums" app, which allows cruisers to view trending threads or start new ones, quickly and easily share posts and photos, and follow topics of interest on the go -- whether they're onboard or ashore.
Additionally, users can sign up for Cruise Critic's Roll Calls, which connect passengers with others on their specific ship and sailing date so they can "meet" each other before embarkation day.
A Wi-Fi or cell phone data connection is necessary to use most features of this app.
4. Cruise Deals
Looking for a way to monitor cruise fare price drops on the go? Not only will the "Cruise Deals" app allow you to browse deals; it will also give you the ability to search for sailings based on key criteria like cruise line and ship, sailing date, destination and duration.
Further, you can set up price alerts through the app, ensuring that you'll be the first to know when the voyage you've been eyeing suddenly becomes more affordable.
A Wi-Fi or cell phone data connection is necessary to use this app.
5. CruiseMapper
Whether you're currently sailing and want to monitor the location of your ship or see which ships are around you, or you're ashore and want to keep tabs on your favorite vessel, the "CruiseMapper" app will help you with tracking.
Besides richly colored map visuals, users of the app can also access detailed itineraries and port schedules, view cruise ship reviews and videos, and search a database of more than 20,000 sailings.
A Wi-Fi or cell phone data connection is necessary to use this app.
6. Cruise Norwegian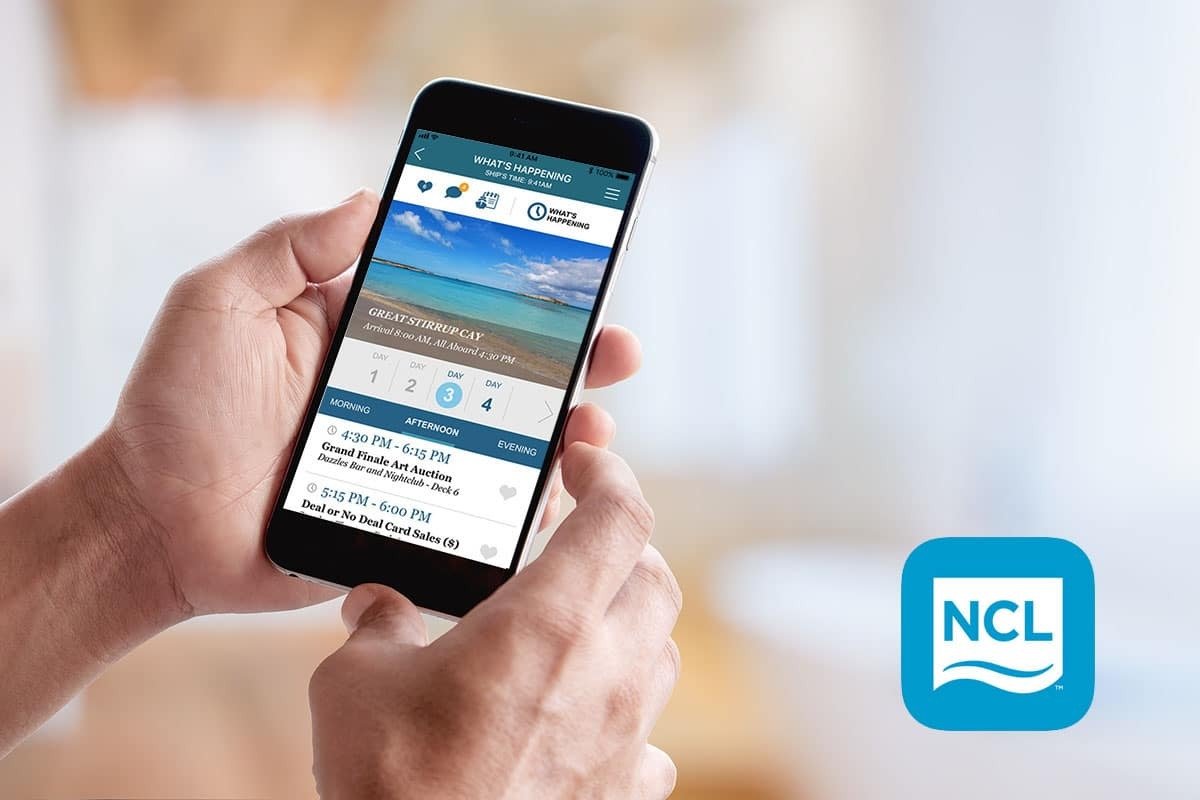 Available on all ships in the Norwegian fleet, the NCL app, "Cruise Norwegian," offers pre-cruise check-in and documents, as well as the booking of shore excursions, spa treatments and specialty dining, both before embarkation and after boarding.
Users can also access port information, view the vessel's itinerary and the daily schedule of onboard activities, see the charges to their onboard accounts and check on their loyalty status.
The Norwegian Cruise Line app will eventually include the ability for passengers to participate in mandatory virtual muster drills, eliminating the need for cruisers to gather in large numbers.
Most of the app's features can be used without the purchase of a Wi-Fi package, but in-app texting and calling functionality requires payment of a small, one-time charge.
7. Disney Cruise Line Navigator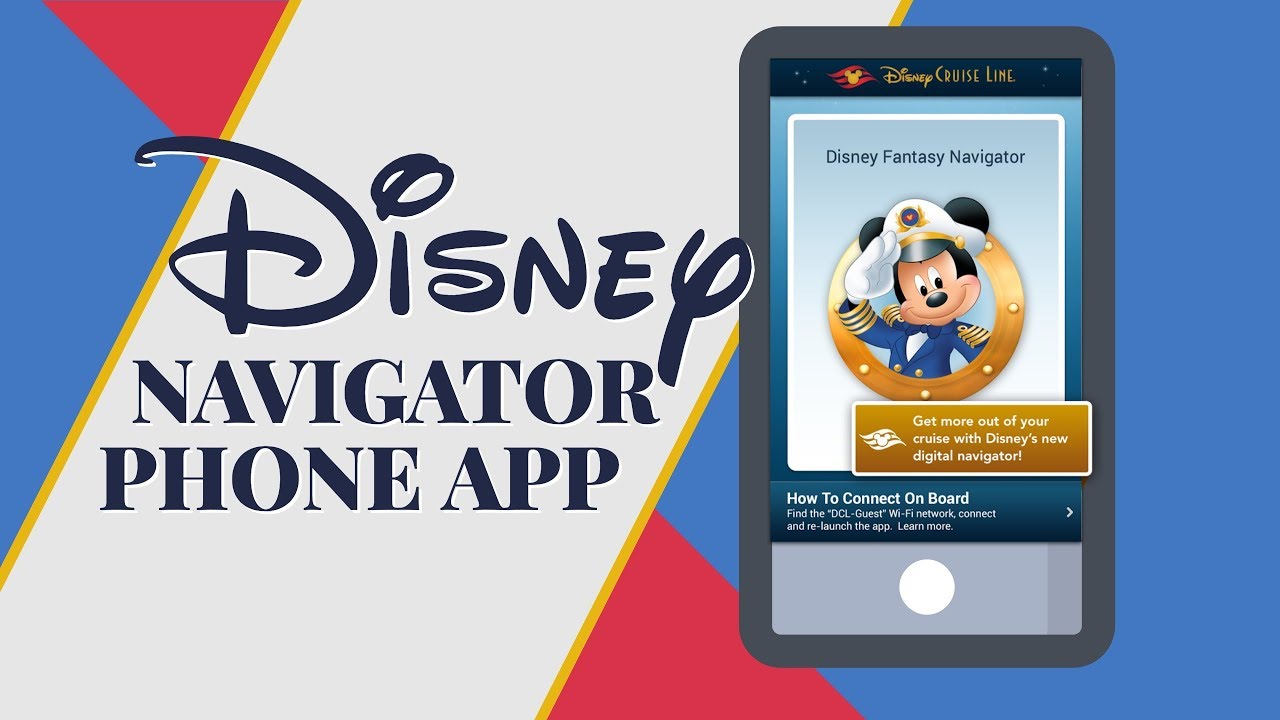 Unlike most other cruise line's apps, the Disney cruise app, "Disney Cruise Line Navigator," is practical long before check-in. During the booking process, it allows travelers to plan and make payments on their cruises.
Additionally, the app can be used for pre-cruise check-in, ground transportation arrangements, special requests related to dietary restrictions or celebrations, registration for kids clubs, booking of spa treatments or shore excursions, dining reservations and more.
After you board, you can view your ship's deck plans and daily activities, see your vessel's itinerary, check dining menus, read about the latest offers and specials, use the chat function to stay in touch with your travel companions and even track your favorite Disney character appearances throughout the voyage.
For use ashore, Disney Cruise Line Navigator requires a Wi-Fi connection or cell phone data; when onboard, passengers are not required to purchase a Wi-Fi package in order to use the app.
8. Holland America Line Navigator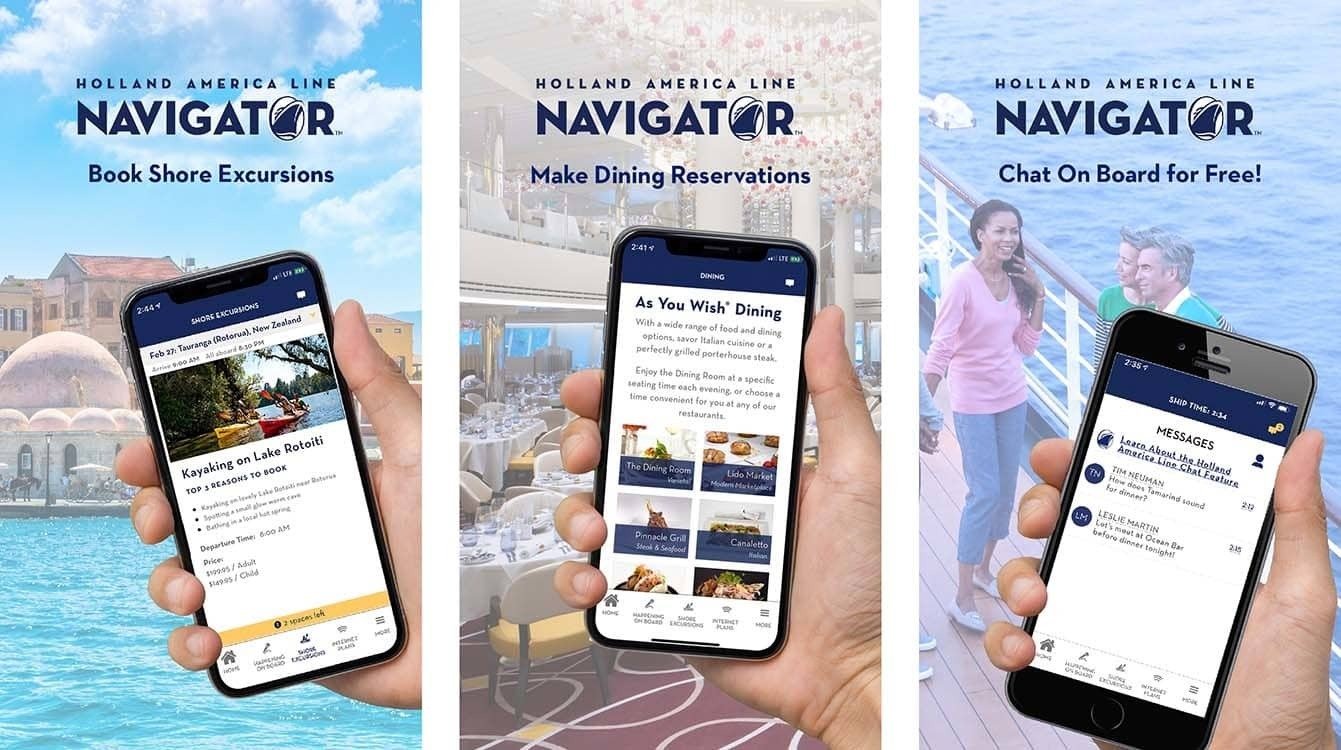 The Holland America app, "Holland America Line Navigator," links cruisers' online account information to the app, allowing them to see their loyalty status, as well as their planned and previous sailings.
Further functionality includes an interactive fleet map; pre-cruise check-in capabilities; a booking feature for dining, spa services and shore excursions.
Once on the ship, travelers can use the in-app chat feature to communicate with others in their group, view daily activity schedules, menus and dress codes; make reservations; view the vessel's itinerary and your onboard account; request items like ice or additional towels from your room steward; read daily news digests; and peruse, share and purchase photos taken by the ship's photographers.
Recent updates to the app include enhancements to the embarkation check-in process and features that increase the number of paper-free options. Although the app is available for use fleetwide, some functionality varies from ship to ship. Users are not required to purchase a Wi-Fi package in order to use the app onboard.
9. Hurtigruten
The "Hurtigruten" app is simple in its design and functionality but serves to keep passengers informed when they sail. After they've boarded, cruisers can access daily information and the schedule of activities.
As an expedition cruise line that also serves as a Norwegian coastal ferry system, Hurtigruten continually strives to make itself more eco-friendly. In that vein, the most recent app updates include virtual menus, which eliminate the need for physical ones -- particularly single-use paper ones, which have been used by some restaurants in light of recent health and safety protocols.
Additionally, one notable recent improvement to this app is the ability for passengers to use it to leave feedback for the line.
The app does not require cruisers to purchase a Wi-Fi package.
10. MedallionClass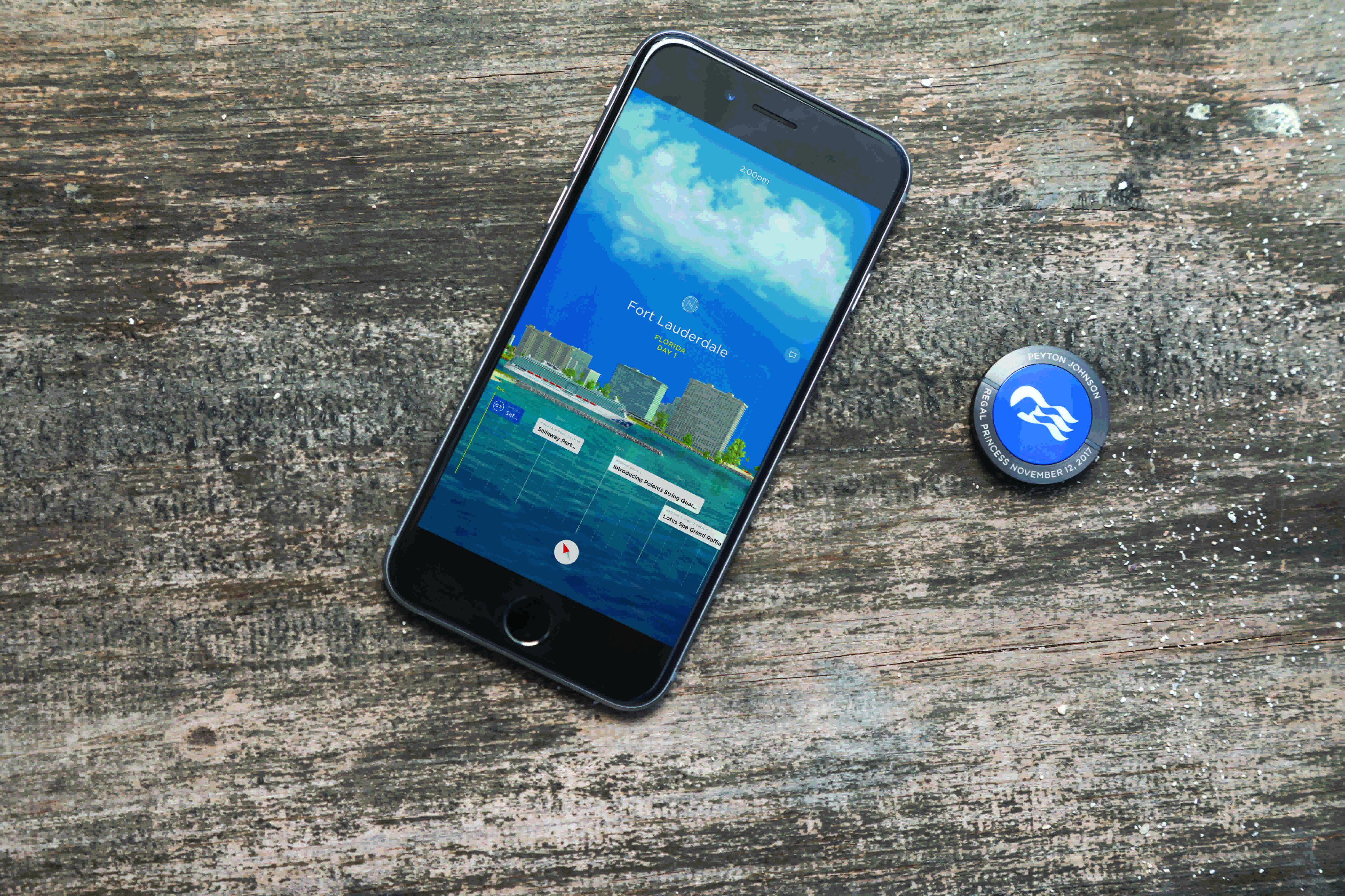 Princess Cruises' app, dubbed "MedallionClass," is designed to work with the line's OceanMedallion technology, which will officially be rolled out to all ships in the fleet in 2021.
OceanMedallion features a slew of first-at-sea geekery that aims to better personalize the cruise experience for travelers. Passengers can register information about themselves pre-cruise, which will then be stored by the Medallion -- a wearable disc that replaces the traditional cabin key and onboard charge card.
The functionality employs a network of sensors on the ships and on Princess Cays (the line's private island), which track you. This allows your cabin door to unlock itself just as you reach it, helps crew members to locate you when you place a food or drink order for delivery and even lets your cabin steward know when you've left your room so he or she can tidy it up for you.
The app, which complements OceanMedallion, aggregates several sub-apps that offer standard features like pre-cruise check-in, daily schedule and onboard account viewing, and the ability to make reservations for the spa, shore excursions and onboard restaurants. These sub-apps also allow you to unlock your cabin door with you phone, find your family and friends onboard, order food and drinks for delivery, report dietary restrictions, play games, go on scavenger hunts or watch movies from just about anywhere on the ship.
Wi-Fi package purchase is not required for app use.
11. Mobile Passport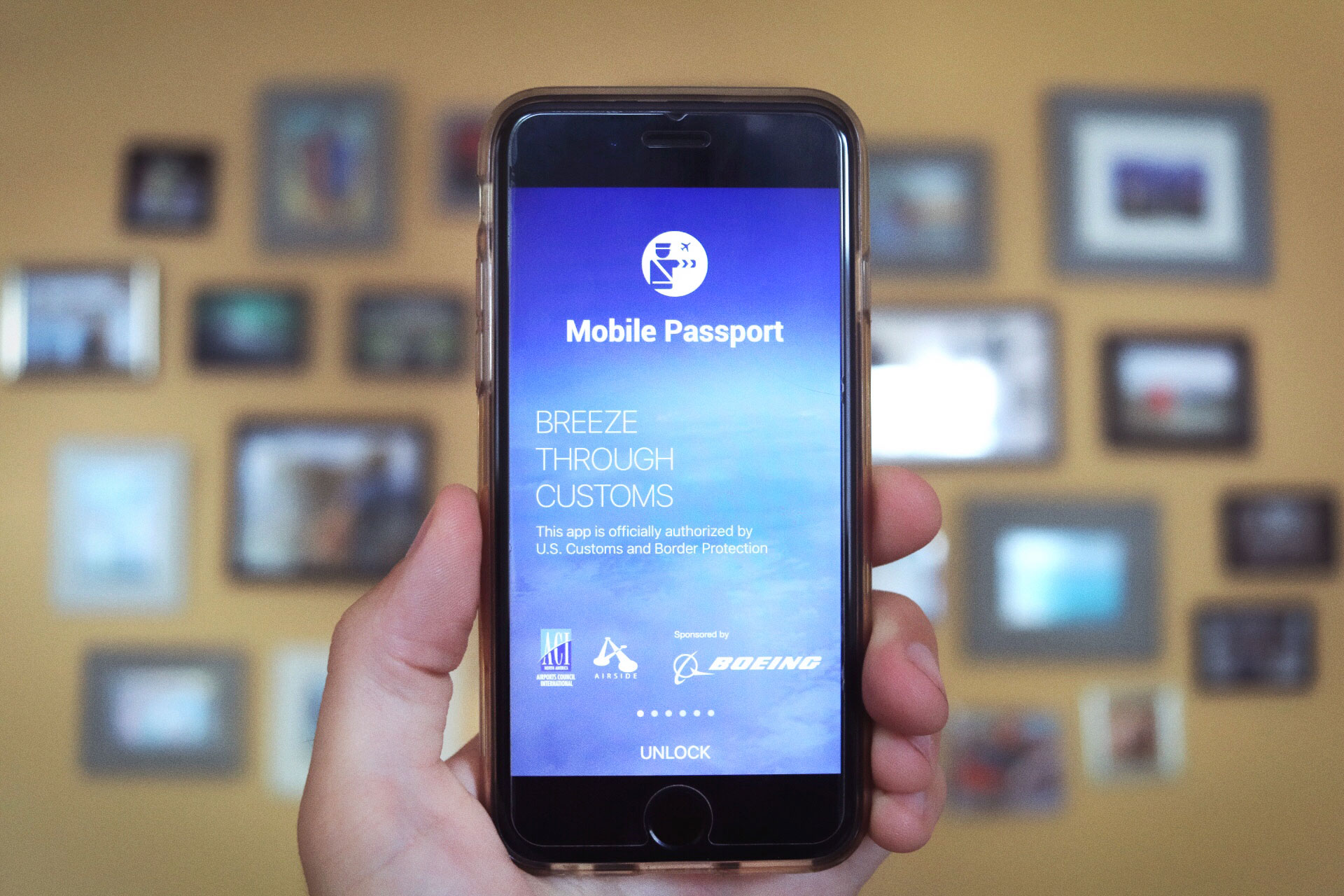 With "Mobile Passport," you can save time at passport control at most major airports and cruise ports. Simply fill out your passport information ahead of time, and prepare to breeze right through without waiting in long lines when you're flying internationally or disembarking your sailing.
The app is free to download and to use, but your passport information will be erased four hours after you enter it if you use the free version. A paid version of the app is also available; it will store your passport information for the duration of your subscription, eliminating the need for you to enter it each time you want to use it.
When you submit your passport information, you will be sent a receipt in the form of a QR code, which you can show to a customs officer by going through the line marked "Mobile Passport Control."
Note that a Wi-Fi connection or cellular data is required in order to submit your information to the app and receive the code.
12. MSC for Me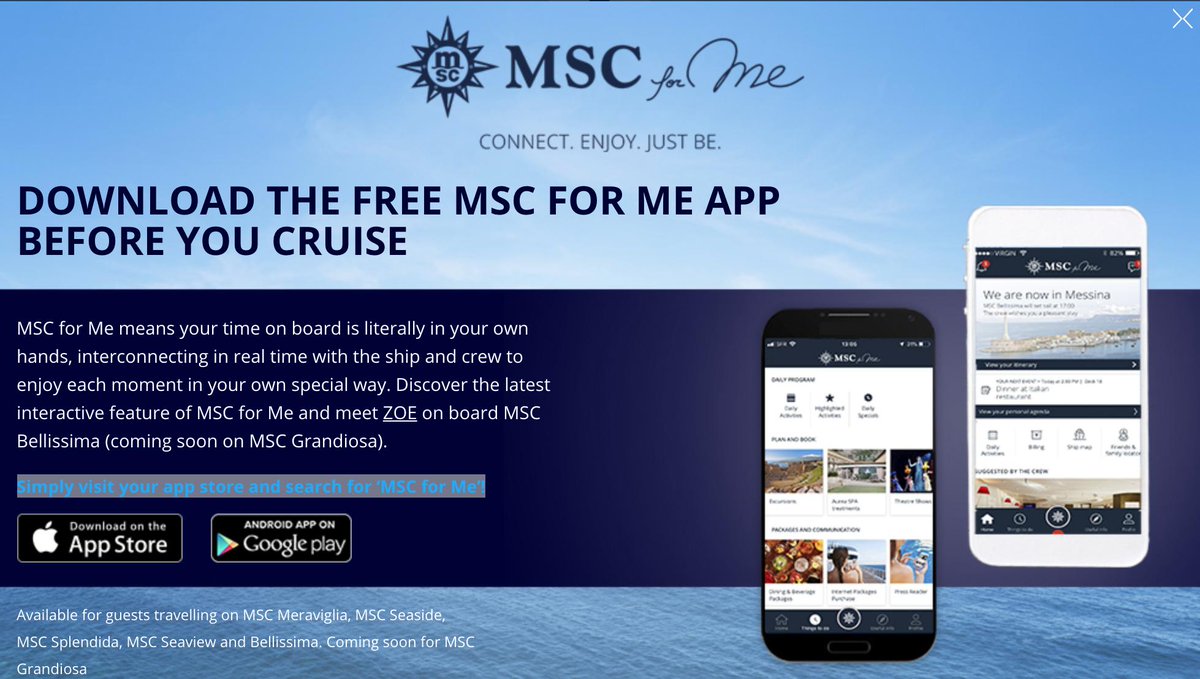 Before boarding, cruisers using the MSC Cruises app, "MSC for Me," can check in and set up an onboard charge account.
Users can also book spa treatments, purchase shore excursions and make reservations at specialty restaurants onboard in addition to viewing daily schedules, monitoring onboard spending, purchasing beverage packages and chatting with your travel companions.
The app is available for use on seven ships in the MSC fleet: MSC Meraviglia, MSC Seaside , MSC Seaview, MSC Bellissima, MSC Grandiosa and MSC Magnifica. Users of the app are not required to purchase a Wi-Fi package onboard.
Use of MSC for Me does not require cruisers to buy a Wi-Fi package.
13. Packing List Checklist
With a few simple clicks, the "Packing List Checklist" app will create a packing list tailored to your specific mode of travel -- in this case, cruising.
In addition to showing you what you'll need to pack, the app also allows you to pick item quantities, set reminders, create your own categories and save the finished product for use on your next trip, meaning that you can refine your list -- and the way you pack -- with each subsequent journey. You can also sync lists to multiple devices.
And this app isn't just limited to packing. It also has a section for things to do before you leave for your cruise, whether it's renewing your passport, pausing the mail, buying new luggage or contacting the dog sitter.
Although the app is free to download and use, some of the premium features (quantities, reminders, iCloud sync) are only available through a modest one-time in-app purchase. Wi-Fi or cellular data is needed for some (but not all) app functions.
Bonus: The developer behind Packing List Checklist also has an app called "Countdown," which is a great way to set a countdown clock for you next voyage.
14. Regent Seven Seas Cruises
If you're headed on a Regent cruise and plan to take a shore excursion through your ship, you'll definitely want to download the "Regent Seven Seas Cruises" app.
Unlike apps from the other cruise lines, this one's functionality is singular and specific: Its SmartGuide is designed to allow you to hear your tour guide while maintaining appropriate social distancing measures.
By turning your smartphone speaker into a small radio that you can use with your own headphones, the app eliminates the need for Vox boxes, which are touched by many previous passengers, and disposable headphones, which are wasteful.
Wi-Fi, which is needed in order for the app to function properly, will be provided in port via a portable Wi-Fi device worn by your tour guide.
15. Royal Caribbean International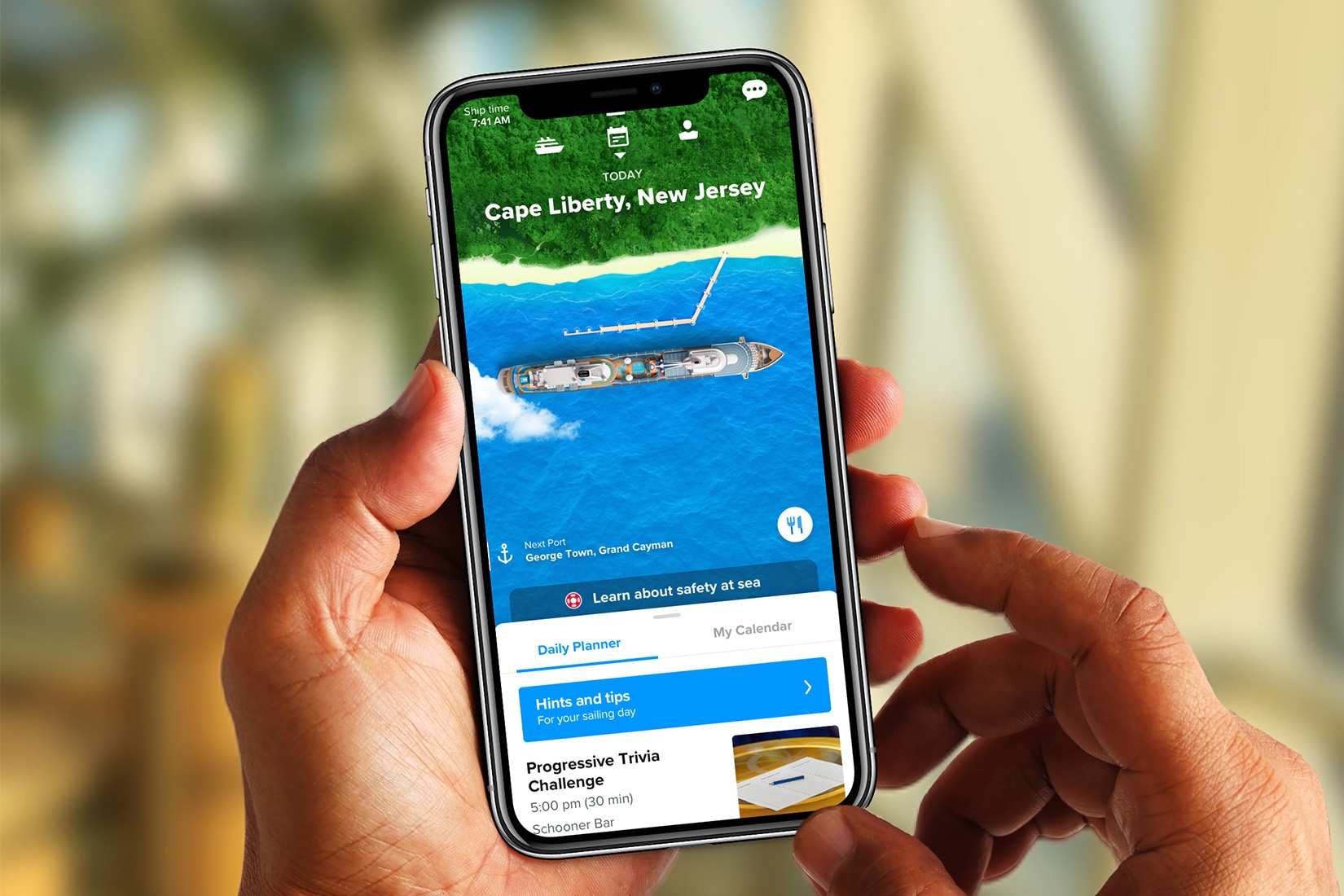 Available on nearly all of the ships in the Royal Caribbean fleet, the "Royal Caribbean International" app supports contactless pre-cruise check-in and setup of your onboard account, as well as reservations for spa services, alternative eateries and shore excursions.
Additionally, cruisers can check out daily schedules and earmark activities of interest, monitor their onboard accounts, link multiple bookings, view deck plans and stay in touch with other cruisers via a chat feature.
The most recent Royal Caribbean app iterations have added extra functionality to comply with social distancing and contactless protocols. These include QR code-accessed menus for onboard restaurants, virtual muster drill capabilities and, on some ships, the option to use your phone as a cabin key and remote control for the TV, lighting and HVAC.
Plus, passengers can select pre-cruise port arrival times so they can report for wellness screenings. The app also allows them to answer health questions in advance.
The app is designed to work without requiring a Wi-Fi package purchase, but the chat functionality comes with a small, one-time activation fee for cruise-long use.
16. Seabourn Source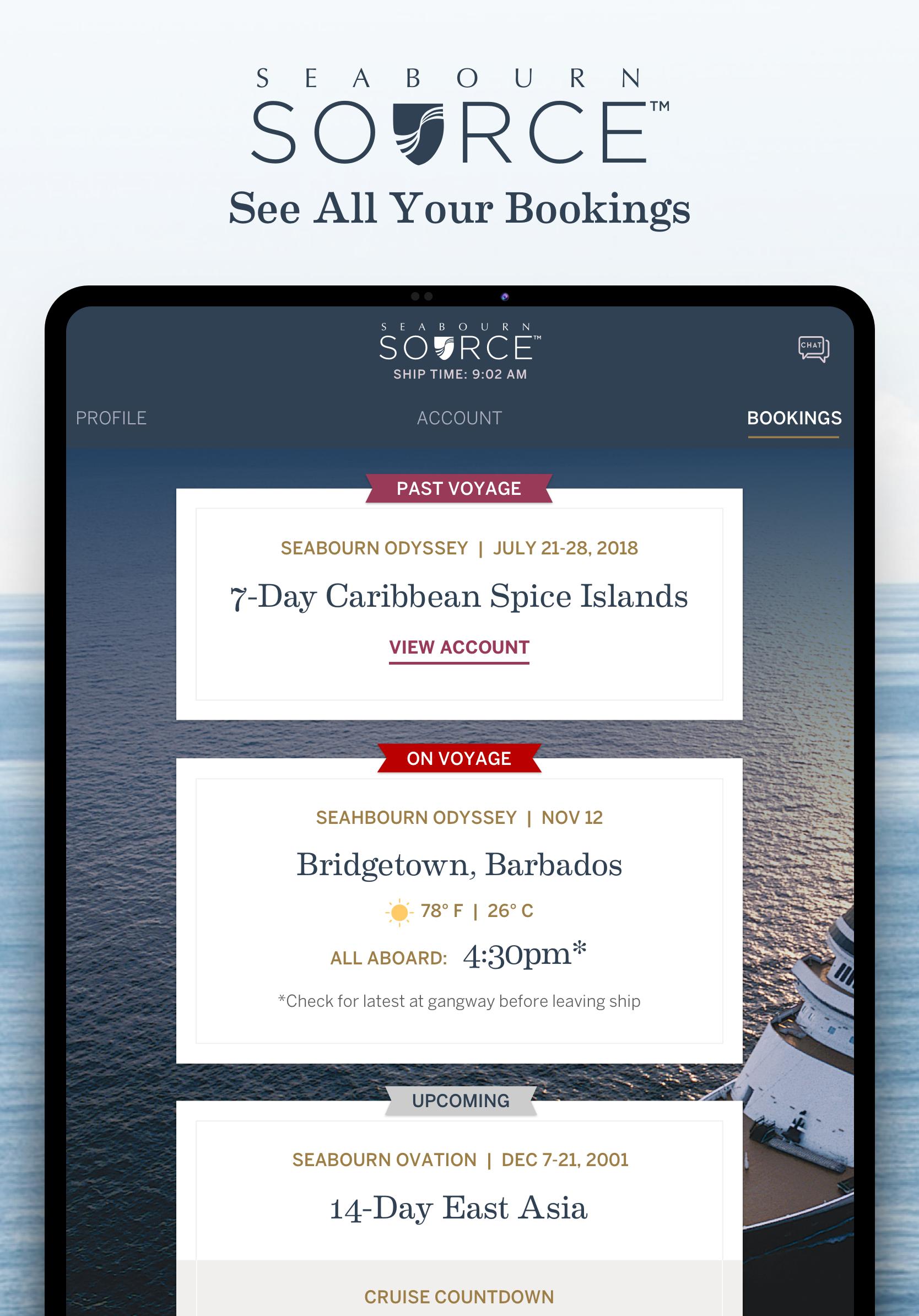 Seabourn's app, "Seabourn Source," provides a way for passengers to view their past and upcoming voyages, as well as the itinerary, daily schedule of activities and dining menus for current sailings.
App users can also check out an interactive fleet map, peruse a list of available shore excursions and spa treatments, read up on complimentary news from around the world and use the free chat feature to communicate with fellow travelers.
All app functions are free, and the purchase of a Wi-Fi package is not necessary.
17. Viking Voyager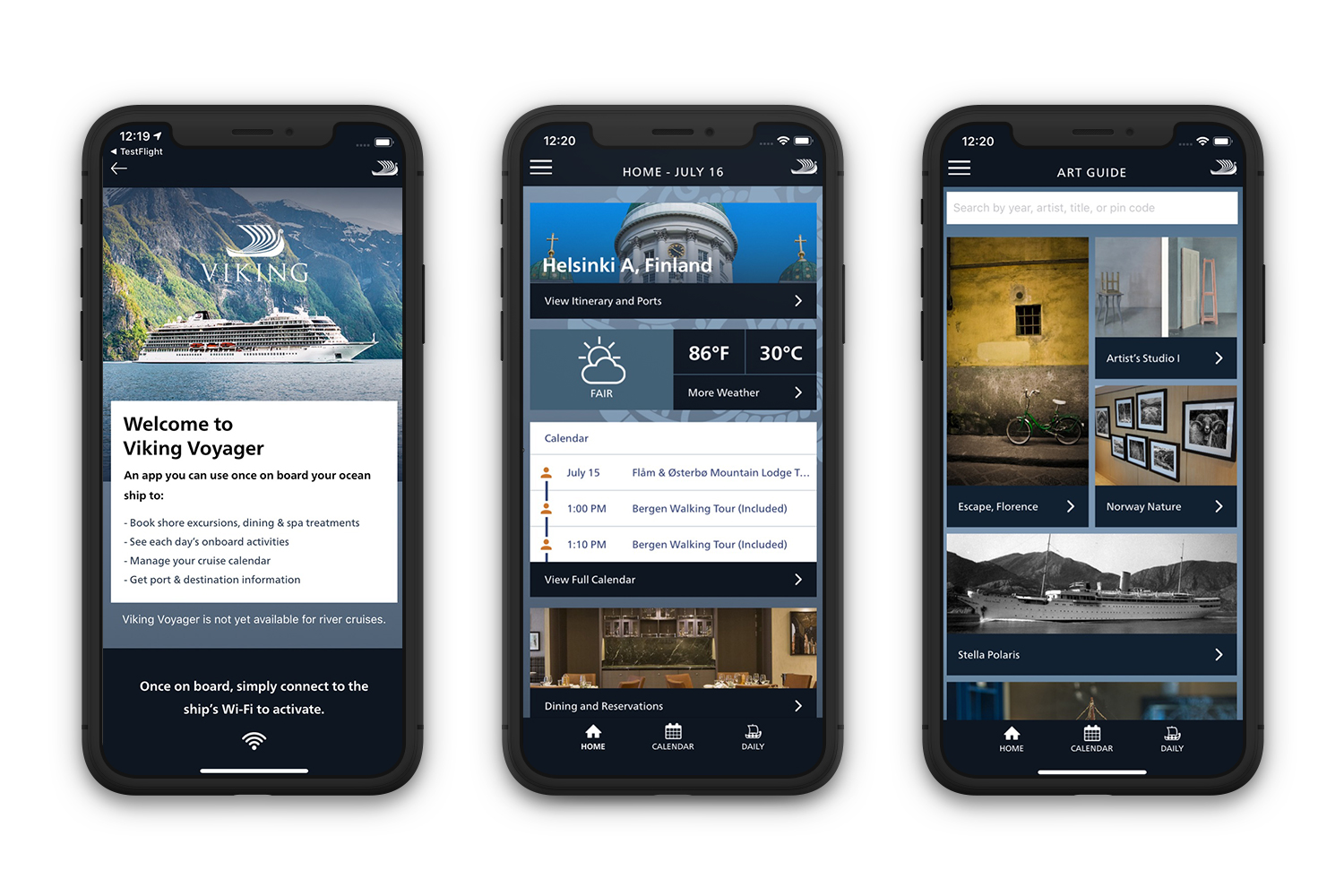 Available on all ships in the Viking Ocean Cruises fleet, the "Viking Voyager" app is designed to be used after boarding and provides passengers with the opportunity to view their ships' daily schedules, see their itineraries and learn more about the ports they'll be visiting, review weather forecasts, book shore excursions and spa treatments, and receive reminders for all reservations.
For those looking for something extra, Voyager also offers deck plans, port maps and information about the art on each vessel.
The app does not require a Wi-Fi package purchase.
18. Virgin Voyages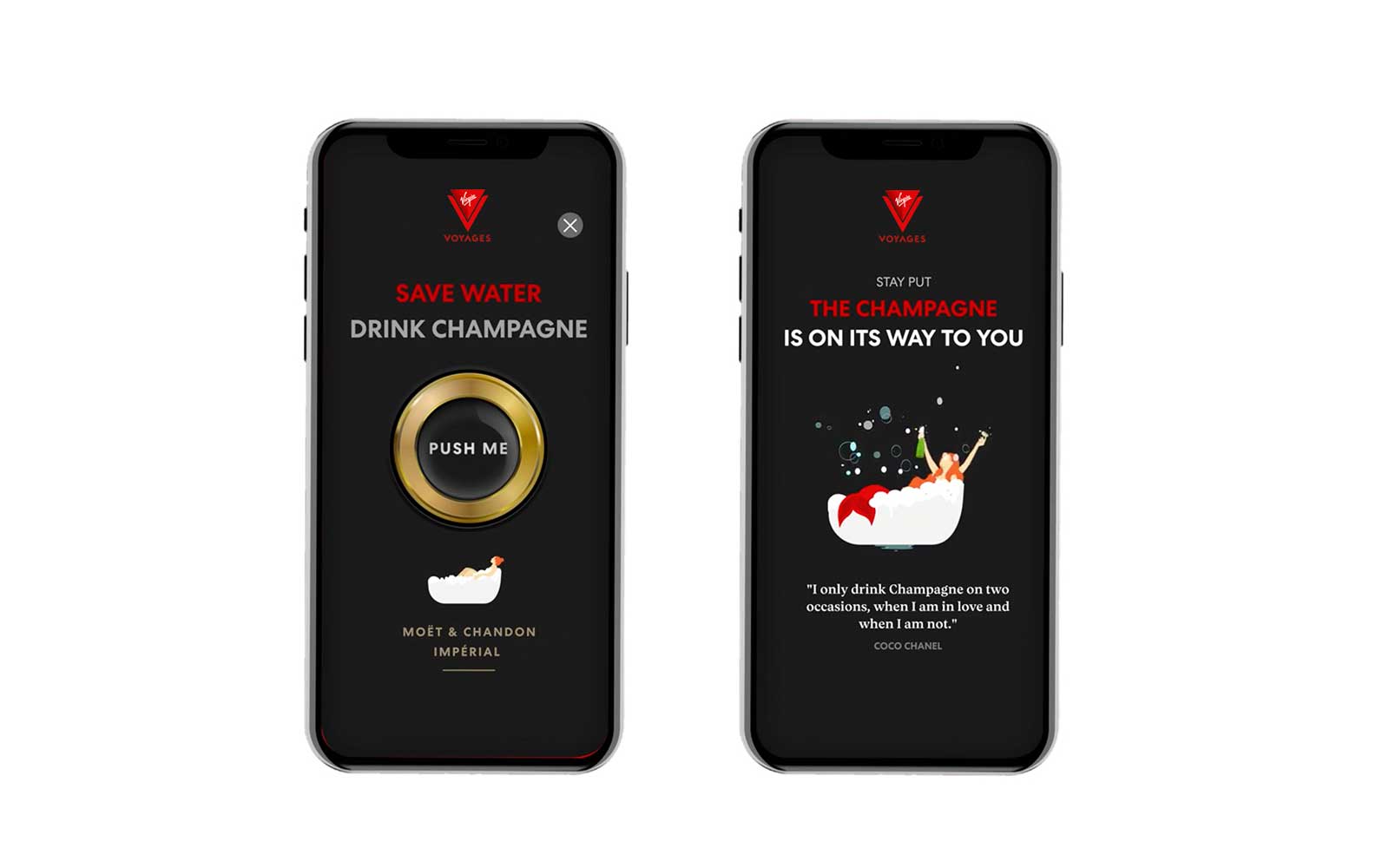 Virgin Voyages' launch was overshadowed by the cruise shutdown, but its app offers a taste of what cruisers can expect onboard.
Like some of the offerings the line has promised onboard its vessels, the functions of the "Virgin Voyages" app are a step beyond what you'd normally find. Basic features allow travelers to do pre-cruise check-in and health checks, explore available activities and entertainment before boarding, and book things like shore excursions and spa treatments.
But, what's special is that, similar to Princess' OceanMedallion technology, Virgin ships will use The Band -- a wearable that serves as each passenger's stateroom key and onboard charge "card." When linked with the app, The Band allows passengers to simply "shake for Champagne." (Yes, physically shaking your phone will result in a crew member arriving with a bottle of bubbly, no matter where you are onboard.)
After the two are linked, you can also order food to your room or the pool so you can enjoy a nibble without having to leave your sun lounger. Added to the list are virtual queues, so you can avoid waiting in line, and a messaging system that connects you with guest services without having to go to the front desk whenever you've got a question. Plus, curated port guides will give you the inside scoop on where to go and what to do when you're ashore.
Virgin Voyages sailings include complimentary Wi-Fi for all passengers, making app use a cinch.