​What would you do if you had an extra $44,000 laying around to spend? Well, one option would be staying in the Ultimate Family Suite on the biggest cruise ship in the world, Wonder of the Seas!
A TikTok account, bryanjamescruises, follows the chronicles of one Royal Caribbean crew member. In his latest TikTok, Bryan shared an insider's perspective of one of the world's biggest cabins - the Ultimate Family Suite - onboard Royal Caribbean's Wonder of the Seas.
As someone who normally sails in a cheap cabin on Royal Caribbean ships, the TikTok provides an interesting look into the luxurious side of the cruise line. In the video, Bryan states the Ultimate Family Suite will cost cruisers $30,000 for one week onboard Wonder of the Seas. 
"I think it costs $30,000 per week. Worth it," captions Bryan on his TikTok tour of the impressive suite. After looking at Royal Caribbean's website, I found one sailing in April 2025 that would cost $44,000 for a family of four to sail in the Ultimate Family Suite. 
Image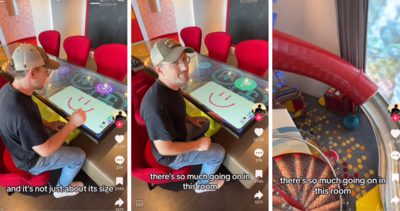 Regardless of how many thousands of dollars this suite costs, the cabin is undeniably impressive with 1,300 square feet of space and amenities. For many of us, the idea of spending a year's salary on a week's cruise is unthinkable, but those who can afford this suite certainly receive the Royal treatment.
Read more: From multi-level cabins to two-bedroom retreats, here's how to pick the perfect Royal Caribbean suite
Take a look inside this unbelievable $44,000 suite
Image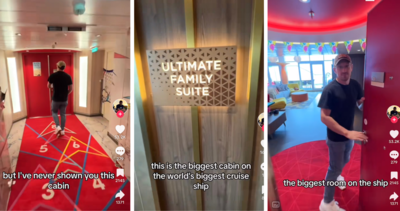 At the beginning of the TikTok, Bryan opens the door through a special entrance into the Ultimate Family Suite, which is located on Deck 18 onboard Wonder of the Seas. Bryan states, "I've shown you the cruise director's cabin and I've shown you a typical crew member cabin, but I've never shown you this cabin before. This is the biggest room on the ship."
The TikTok pans to show the entrance of the Ultimate Family Suite, which is certainly unlike any cruise cabin I've seen before. The room features floor-to-ceiling windows with views of the sea. Pops of neon can be found all over this kid-centric suite, which has two stories and two bedrooms. 
Image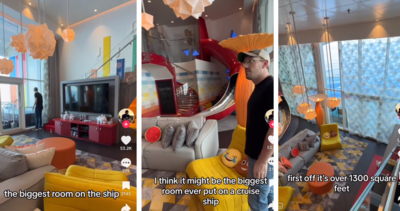 Beyond the entrance is a huge living room with a large TV and multiple gaming consoles. The living room features one large couch and two yellow plushy chairs, each adorned with emoji pillows.
"First off, it's 1,300 square feet. This makes it more than 40 times bigger than my room that I am living in. 40 times bigger," Bryan shares. "And it's not just the size, there is so much going on in this room," he continues. 
Read more: Royal Caribbean cabin and suite categories guide
Image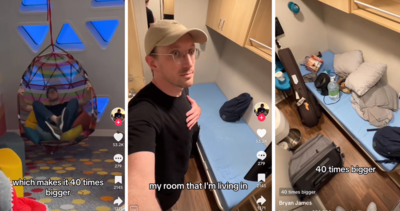 Crew members live in small cabins onboard cruise ships, often sharing a bunkbed with another crew member onboard. The average size of a crew member's cabin is around 120 square feet, which is even notably smaller than an inside cabin that guests would stay in. 
In Bryan's other TikTok videos, he takes followers inside his own cabin to share how crew members live onboard a cruise ship. 
The Ultimate Family Suite features a slide from the kid's floor to the main level
Image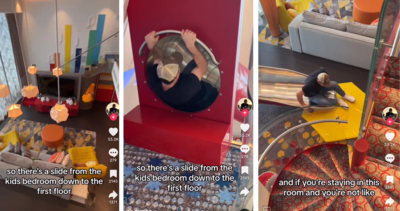 Back in the Ultimate Family Suite, Bryan shows the entrance to the suite's slide, which is one of its signature features. Since the suite is two levels, kids can ride down the twisting slide to get back to the main level. 
In the TikTok video, Bryan takes a ride himself, showing off the suite's slide, which is surely a hit for all the kids lucky enough to stay in this cabin. 
In the Ultimate Family Suite, there is one bedroom specifically designed for children with three Murphy beds and a pull-out sofa. While kids can ride the slide down to the main level, they can also crawl into their bedroom through a specifically designed porthole for kids. 
The TikTok continues by showing the suite's musical steps
Image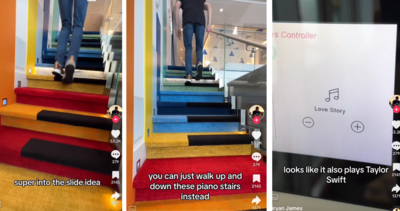 Adult guests who might not want to take the slide for a ride can also bop up and down the musical steps. One of the premiere features of the Ultimate Family Suite is this unique set of stairs that plays musical notes with your steps. 
"If you're staying in this room and you're not like, super into the slide idea, you can just walk and down these piano stairs instead - like I did like 25 times," says Bryan. In the video, we can see Bryan film as he treks up and down the musical stairs, hitting a note with each step he takes. 
Image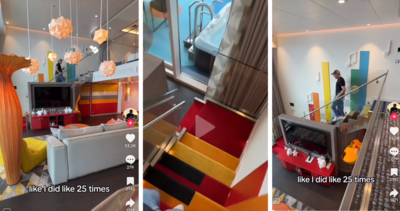 Even better, you can change the song that's played while taking the stairs. Bryan shows off the stair controller, showing you can even play Taylor Swift's "Love Story" instead of the default tune.
"And then to top it all off, you have this huge balcony"
Image
After showing off the musical stairs, Bryan takes his followers onto the suite's balcony, which is an astonishing 212 square feet. For comparison, the balcony alone is bigger than most inside cabins on cruise ships.
Bryan makes his way onto the suite's jaw-dropping balcony in the TikTok, taking a moment to relax in the plushy loungers. He also shows off the private jacuzzi. Since most cruise ships only have a limited number of hot tubs to be shared by thousands of guests, this is a coveted amenity. 
For guests staying in the Ultimate Family Suite, the balcony also features a table that doubles as a ping-pong table. There is also a colorful step-climber that kids can climb around on. 
Read more: 8 signs you're ready to move up from a cruise ship balcony to a suite
The TikTok continues to mention more perks of staying in this suite, including a private butler 
Image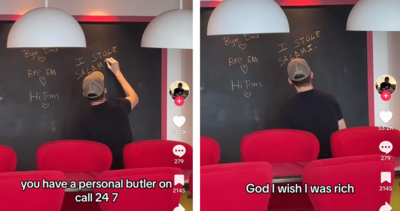 As Bryan concludes his TikTok, he shares how guests staying in the Ultimate Family Suite will have access to a personal butler. 
Royal Caribbean refers to this person as a "Royal Genie" who can grant guests' every wish during their cruise. The Royal Genie can create one-of-a-kind experiences for guests and take care of their every need during the cruise. 
Because this extraordinary suite is part of the cruise line's Royal Suite Class' Star tier, Royal Caribbean includes many perks in the hefty price tag. 
Image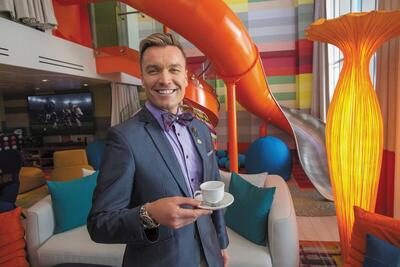 Of course, the Star Class is the highest level of Royal Caribbean's Royal Suite Class. With this tier, guests receive complimentary drink packages, unlimited VOOM high-speed internet, inclusive gratuities, expedited boarding and disembarkation, priority access to all events, and more.
"God, I wish I was this rich," concludes Bryan at the end of his TikTok. 
Bryan's followers have mixed opinions on the Ultimate Family Suite, namely regarding the cost
Image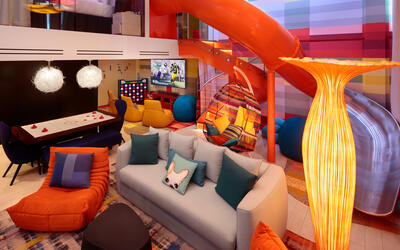 Given the astronomical price tag of the Ultimate Family Suite, it's hard for most people to imagine spending tens of thousands of dollars to stay in this cabin. Most of the comments surrounded the cost, with many questioning whether the suite is worth the cost. 
"$30,000 for a week?" commented Alexandra. Bryan himself responded, "I think it gets even more expensive during holidays too."
As I mentioned earlier, I found a sailing in April 2025 for a 7-night Caribbean sailing in the Ultimate Family Suite. The price for two adults and two children had a total cost of $44,930.
Another user commented on the TikTok, "Why would you go on a cruise for $30,000? Don't get me wrong, I love cruises, but I think there are better options at that price point."  
One of the top comments comes from a user named gummiefries. "I want to meet the wealthy person that doesn't mind being disturbed by all this mess," says the follower. Many TikTok users agreed with this sentiment, especially considering the musical stairs. Others responded to the comment, clarifying that the suite is intended for families with young children. 
Many respondents mentioned the size of the cabin, stating the Ultimate Family Suite is bigger than their entire condos or apartments. Others questioned whether the suite was occupied each week, or whether the high price point leaves it vacant for cruises.  
A TikTok user Connor commented, "How often is it rented out? Is it always booked??"
Family suites are even bigger and more expensive onboard the new Icon of the Seas, selling for upwards of $80,000
Image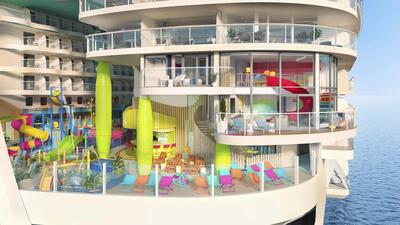 Royal Caribbean's highly-anticipated Icon of the Seas will set sail in 2024, and she will be home to a bigger and better family suite. The new suite is called the Ultimate Family Townhouse and it will be located in the family-friendly Surfside neighborhood onboard. 
Similar to the Ultimate Family Suite, the new townhouse is designed with young families in mind. Royal Caribbean International President and CEO Michael Bailey talked about the strong demand for Icon's new sailings sailings, especially the top-tier suites. 
The staggering amount is almost unimaginable for most families, but demand has supposedly been strong for these luxurious accommodations on Icon of the Seas. 
Image
Bailey said, "I think we mentioned that the Ultimate Townhouse, I think is pretty much sold out completely for 2024 at an average rate of about $78,000 to $80,000 a week.
Unlike the Ultimate Family Suite, the new Ultimate Family Townhouse will be three decks high instead of two. The suite will accommodate up to eight people and span across more than 1,700 square feet.
The Ultimate Family Townhouse will also have amenities for young kids, such as the in-suite slide, a movie room, a karaoke machine, a pingpong table, outdoor seating, and a white picket fence that leads directly into the Surfside neighborhood. This new neighborhood was designed for young families specifically, where adults can relax and young kids can play all day.
Read more: 10 reasons to spend extra for a suite on a cruise