Unfortunately, sometimes we need to cancel a cruise. Work, health, or any number of other things can pop up and change our plans, but no one wants to waste their hard earned vacation money regardless of the reason.
It is always a good idea to understand cancelation policies prior to booking. Details regarding how you much money you will get back, timeframes and processes are all things we need to know ahead of time.
MSC Cruises provides some flexibility in canceling cruises and continue to offer its guests some peace of mind with its Cruise with Confidence program, which has been in place since the return to sail post shutdown.
Here is an overview of MSC Cruises' cancelation policy and what it means for cruisers.
Deposits and Payments
Image
Standard cruise booking procedures require customers to put a deposit down to secure their reservation. For MSC Cruises, they require a non-refundable deposit based on the following criteria:
$99 per adult on cruises 4 nights or less
$199 per adult for cruises 5-14 nights
$300 per person for cruises 15 nights or longer
Children 17 and under sailing as the 3rd or 4th passenger in a stateroom do not require an additional deposit
Final payment is due no later than 75 days before departure for cruises 4 nights or less, 90 days prior to departure for 5 to 14 nights, and 110 days prior to departure for 15 nights or more. For a World Cruise, full payment is required no later than 120 days prior to departure.
Once booked, the deposit is largely non-refundable
Cancelation penalties
MSC Cruises separates its cancelation penalties based on the number of nights sailed:
For cruises of 4 nights of less, cruise fare penalties kick in at 50 days prior to sailing:
Image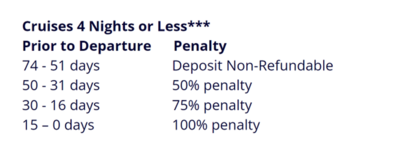 For cruises of 5-15 nights, the 50% penalty moves farther out to 61 days:
Image
For those longer cruises of 15 nights or more:
Image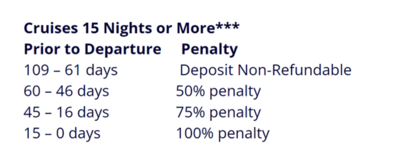 *** Excluding World Cruises 
MSC Yacht Club
MSC's exclusive cruise experience, MSC Yacht Club, offers more benefits to cruisers such as suites, 24-hour butler service, a dedicated concierge and private venues. In addition, cruisers can cancel closer to their sailing date:
Image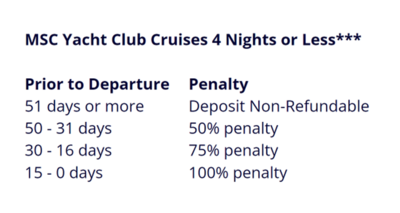 Image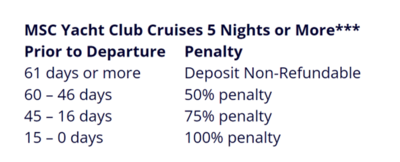 World Cruises 2023
MSC Cruises is offering two world cruises in 2023. Leaving January 5th, 2023, the MSC Poesia is departing on a 119 night cruise, and is already sold out with a waiting list. MSC Magnifica is also leaving in January 2023 for its 117 day voyage. When booking major cruises such as these so far in advance, it is essential to understand cancelation policies:
Image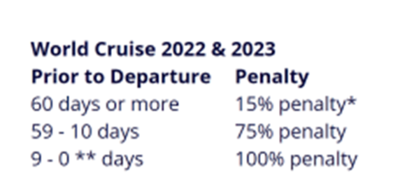 Other important terms and conditions
Image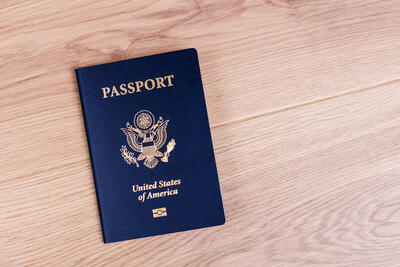 MSC's terms and conditions indicate that no refund will be issued if a guest voluntarily or involuntarily does not show up for their cruise, is denied boarding for any reason, including failure to possess required travel documents, passport or visa. For example, if your passport is expired and you can't cruise, you will not qualify for a refund.
Another common situation, someone in a cabin can't go, but others still want to sail. MSC calls this a partial booking cancellation, and the remaining passenger occupying the cabin for single use will be assessed a 100% single surcharge. Alternatively, to add a new guest, a name change fee of $75 will apply. There is a limit of 1 name change per reservation.  
MSC further specifies that cancelation charges are assessed on total fares, which includes the cruise fare, air add-ons, hotel packages, and any other additional services arranged through MSC Cruises. Government taxes and fees will be refunded. 
Flexible Booking Changes
Image
Part of MSC's Cruise with Confidence program offers passengers another option if they want to cancel a cruise without losing all of their money. This program allows cruisers to change their cruise up to 48 hours prior to departure by 5pm EST of the sailing. Guests can move their money to another cruise that sails on or before March 31, 2023, on any ship and any sail date.  
This program applies to cruise bookings made through May 31, 2022, with a cruise departure date through to March 31, 2023. This does not apply to World Cruises and World Cruise segments.
Guests need to contact MSC directly to take advantage of Flexible Booking Changes or If booked through a travel advisor, reach out to them.
Covid-19 Cancelations
Image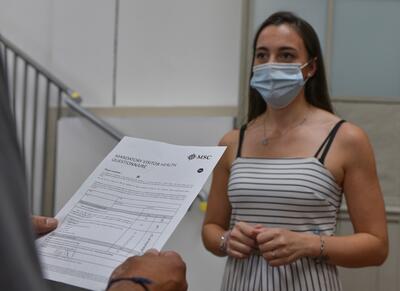 Sadly, Covid-19 continues to be a problem worldwide; however, MSC offers its customers Peace of Mind with their cancelation policies as it relates to this illness.
Passengers who test positive for COVID-19 within 14 days prior to or during their cruise, along with their traveling party will receive a full or prorated refund for their cruise fare.
Additionally, passengers that exhibit signs or symptoms of COVID-19 can be denied boarding. Under these circumstances, MSC notes that guests will be entitled to a refund or future cruise credit equal in value to the amount the guest paid. They also will need to provide proof (test result).
Insurance
Image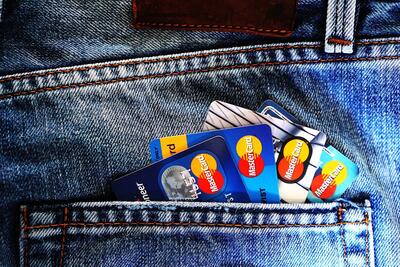 This review covered MSC Cruises specific cancelation policies; however, passengers who have their own travel/ medical insurance should review their terms and conditions to understand the benefits and restrictions related to cancelation.
It some cases, Canadian and other international guests require specific travel insurance that must be presented at the time of embarkation.
In addition, credit cards and associations may provide additional coverage related to cancelation.