I just spent five night onboard Holland America's Rotterdam, the line's newest ship, and I wanted to share a few takeaways from my cruise.
Rotterdam isn't your grandmother's cruise ship.
Image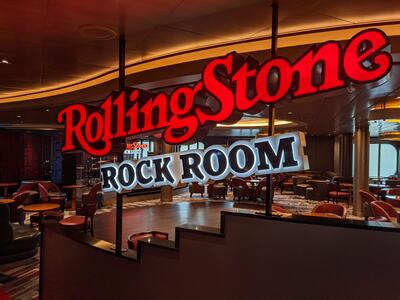 Actually, it might be. As Holland America's PR director said, if your grandparents (or parents or you) were getting down at Woodstock back in the day, this is their ship. If you enjoy fine dining and international cuisine, this is your ship. If you want to savor craft cocktails (rather than downing cheap beers to party hard), this is your cruise ship. If you wish you could attend more live concerts, whether it's a classical string quartet or classic rock, this is your ship.
Holland America targets a late-middle-aged and older demographic, but the truth is travelers of any age will enjoy its friendly service, not so nickel-and-dimey atmosphere, modern cabins, and beautiful public spaces. Which leads me to my next point….
Your travel companions matter more than the ship.
Image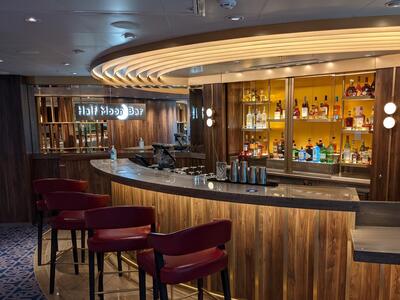 While I enjoyed the ports and the live entertainment onboard, my favorite moments of this trip were laughing with friends over dinner and chatting into the wee hours over cocktails at a fun bar onboard. We made our own fun, regardless of the age and interests of the other passengers.
Sure, I might have wished for a larger crowd dancing so I could join them without feeling self-conscious. And perhaps I might prefer a ship with a water play area if I were to travel with my kids. But at the end of the day, it doesn't matter if you're the typical cruiser or not as long as you enjoy the offerings onboard and have a great group to vacation with.
It helped, though, that Rotterdam had such fun hangout spaces. I adored the Grand Dutch Cafe, both for its cozy seating area where I alternately worked on my laptop and chit-chatted with acquaintances. The Half Moon Bar was a favorite haunt where we'd take over the bar stools until way too late. Someday I will come back with my husband and spend an afternoon reading together on one of the day beds overlooking the pool deck; they're an inviting spot, rain or shine, because the pool has a covered roof. 
Live entertainment can be incredible on a cruise.
Image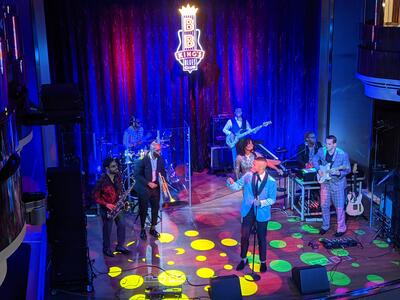 Cruise ship shows and guest acts can be hit or miss. But when the shows are good, you remember why cruise ships offer entertainment in the first place. Dinner and a show make an evening special, and great music makes you want to dance or cry or grin from ear to ear.
The chamber music ensemble at Lincoln Center Stage was so excellent, I was often tempted to skip my writing time or workout to sit still and listen for a half hour. The B.B. King's All-Star Band was a toe-tapping late-night event, and every member of the eight-person band was an impressive musician. The "Origin Story" show on the World Stage was a Holland America history lesson, but its mix of recorded interviews, live narration, and video images kept me riveted to my seat. The guest doo wop quartet was a surprise hit, and the ship's show choir-style boy band put a grin on my face with their earnest dance moves and tight harmonies.
I've walked out of far more cruise ship shows than I can count, but I enjoyed nearly every performance I attended on Rotterdam and that made the trip more fun.
It's a relief to sail on a fully vaccinated cruise ship.
Image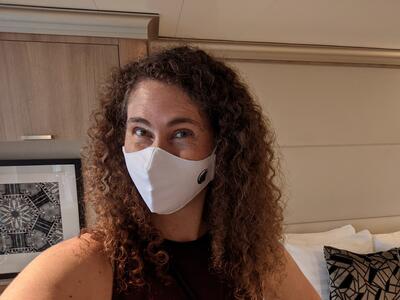 I'm vaccinated but still nervous about the combination of Covid and travel. On my previous Carnival cruise, I tried to keep my distance from unvaccinated children and avoided most daytime indoor dining. But Holland America is sailing 100 percent vaccinated, and the Rotterdam cruise felt like the safest public interaction I've had all year.
I still wore my mask around the ship and tried to find out-of-the-way or outdoor spots to eat. But compared to my previous cruise or my regular life, I found myself worrying less about taking off my mask at a bar or in a restaurant. Every guest and crew member onboard was vaccinated and tested, so the chance that someone caught Covid in transit to the sailing was extremely low. 
It was a treat to have more normal social interactions, and a relief to spend a few days not worrying so much about who I came in contact with.
Half Moon Cay is still my favorite private island.
Image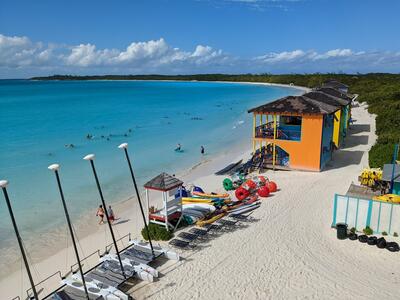 Admittedly, I have never been to Royal Caribbean's Perfect Day at Cococay. But having spent two days on this cruise at Half Moon Cay, and one day there last month, I can say that the island never disappoints.
On this trip, I booked an excursion and had a great time bombing around the inner lagoon for an hour on a jet ski tour. On the second day, a group of us rented a villa (a two-story cabana) with a hot tub and private dining area, enjoying the view from the balcony and playing in the waves on the included floating mats. 
It was a great day, but I have had equally great days spending no money at all, simply staking out a lounge chair and floating in the crystal-clear waters. The beach is idyllic, with its soft white sand, and you don't need amusement parks and overwater bungalows to have an amazing day in the sun.
Missed my live blog of Rotterdam's maiden Caribbean cruise? You can always catch up:
Rotterdam Live Blog 2021 – Day 1 - Embarkation Day
Rotterdam Live Blog 2021 – Day 2 – Bimini, Bahamas
Rotterdam Live Blog 2021 – Day 3 - Sea Day Entertainment
Rotterdam Live Blog 2021 – Day 4 – Jet Skis in Half Moon Cay