Have you ever wondered if the VIP experience is worth the money or not? Today, thanks to Holland America, I got to spend a day at one of the rental villas on Half Moon Cay, the line's private island, and live the rock star beach life for a few hours.
The villa
Image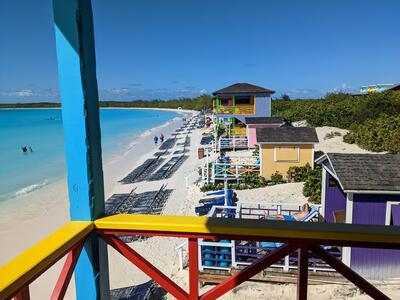 The beach at Half Moon Cay is open to all cruise guests, but you can choose to pay extra to rent a private cabana or two-story villa for the day. A villa costs $600 a day, total, for up to eight guests. You can add on a butler package for $400 and get the services of a personal butler, a beverage package, and a fancy lunch. 
You might shudder at paying $1,000, but divided by eight people, that's $125 per person – a reasonable price for a shore excursion. So that's what we did – got a group together to split the costs.
Our villa was located about halfway down the beach, past all the bars and the first cabanas. Each level had a veranda with two padded lounge chairs. The first floor housed a five-person hot tub and a bathroom with a shower.
Image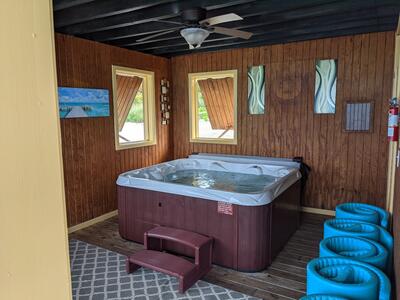 Image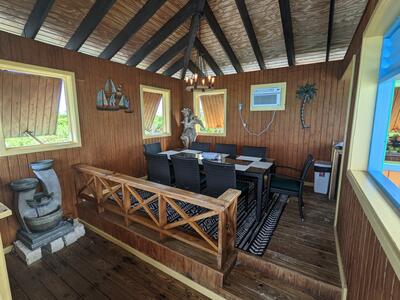 Upstairs was an eight-person dining table and a mini kitchen with a fridge stocked with water and soft drinks, and a counter for setting out complimentary snacks.
The villa rental also came with floating mats and snorkel gear for guest use.
The beach experience
When I boarded the tender from the ship this morning it was raining and grey. But I didn't worry because I knew I had shelter awaiting me. It was too cold to get into the ocean, so a few of us hopped into the hot tub instead.
Image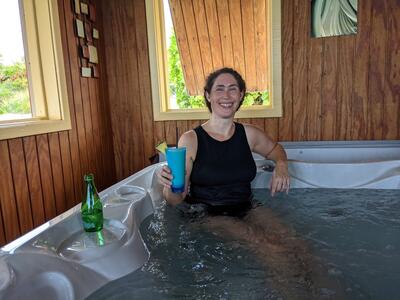 Our butler came by to introduce himself and take our drink orders. We ordered pina coladas and BBCs (Baileys, banana, and coconut), and some extra beers and canned wine (it got surprisingly good reviews) for later. A tropical drink and a hot tub soak is a great way to start a rainy morning.
Our butler, who usually works as a Pinnacle Grill waiter, kept us supplied with snacks and drinks throughout the day. He showed up with sandwiches and fruit ceviche at 10 a.m., even though there was already chips and dip set up for us. 
Image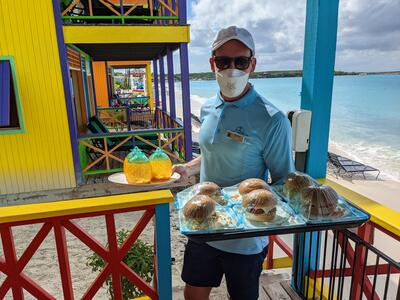 When the sun came out, it was time to try the floating mats. Due to the fall weather and storms in the area, the usually calm waters of Half Moon Cay were the highest I've ever seen. The extra waves turned a relaxing float on a mat into a water park style ride when the surf would sent the mats racing into shore. 
If you plan on taking your drink into the sea, watch out for waves. We had a few dramatic wipeouts on the floating mats this morning.
Lunch was either New York steak with grilled pineapple skewers and coconut-crusted mahi mahi with jerk shrimp. Because I don't eat shellfish, I asked for my mahi mahi without shrimp, and that was no problem. The food wasn't better than the barbecue lunch I ate the previous day, but it was nice not to have to leave the beach to get food. 
Image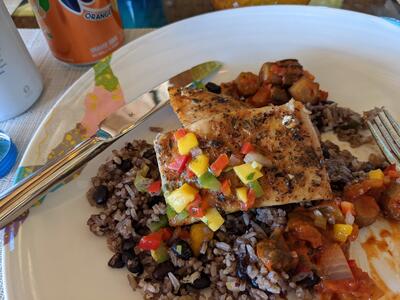 The last tender was scheduled to leave at 2:30, but at 1 pm our butler informed us that the bars were closing. We quick ordered a last round of drinks and waters for later, but it did make us feel rushed when we still had more than an hour to enjoy the villa. Crew members and Half Moon Cay staff also started cleaning our villa and the cabanas near us, which made me feel like I should leave and get out of their way, even though I wanted to spend maximum time on the island and in the villa. 
Several of us jumped back in the water for a last dip before packing up. It was convenient to rinse the sand off in the villa's shower rather than trek up to one of the public rinse stations on the beach.
I had imagined I would spend more time lying on the lounge chairs reading my book, but with so many people coming in and out of the villa, I actually spent more time leaning against the railing, chatting with friends and admiring the beautiful beach view.
Is a villa worth it?
Image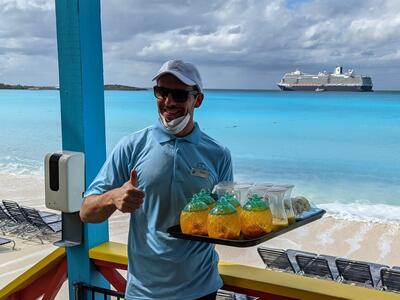 If you're traveling in a group, a villa is a great hangout for your beach day – especially if you want to have food, drink, shade, and a bathroom convenient to the shore. Nothing beats that birds-eye view of the beach when you're hanging out with your pals. It's also a great choice for iffy weather because you can retreat to the hot tub when the rain starts coming down.
For me, the butler add-on wasn't worth the money because I drank one cocktail, one soda, and a couple of waters throughout the day, and I'd happily walk to the barbecue for lunch. However, others in the group got great value from the beverage package, so for them, it was a great deal – if they would have ordered a similar number of drinks on their own.
Image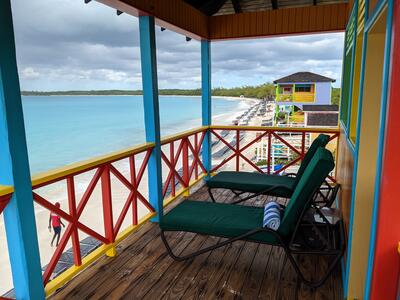 If you're traveling with a smaller group, the one-story cabanas cost $450 for up to four people, though they don't have a bathroom or hot tub.
Last night on Rotterdam
We made the most of our villa day by getting on the last tender back to the ship. Onboard, I met up with a few friends at afternoon trivia, which was packed. We also discovered secret snacks set out in a hidden corner of Billboard Onboard. Of course, you always find these things just as your trip is ending.
Afteward, I attended the Origins show in the World Stage, which is a trip through Holland America's history told in a series of video interviews and historic photographs shown on the wraparound video screens in the theater, and narrated by the cruise director. Even if you're not up for a history lesson, the show was engrossing and told the fascinating story of how Holland America's ocean liners turned into warships and then pleasure cruise vessels as the world changed around it.
Image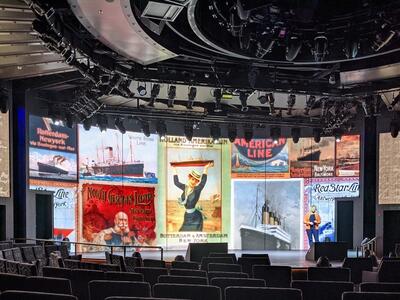 I capped the night with one last dinner in the main dining room, then caught a performance in the theater by Cantare, a group that I can only describe as a boy band mixed with an acapella group with a bit of Glee-style show choir thrown in for fun. Their harmonies were wonderful, and I loved their dance moves. I mean, who can't appreciate a group of guys who sing a Chicago love ballad medley!
I met up with friends for one last drink at the Half Moon Bay, where classic-style cocktails pay homage to the ships and history of Holland America. It never gets old watching the bartender fill a decanter with smoke to make the Rotterdam VII cocktail. It seemed like a fitting tribute to a fun five nights onboard Holland America's newest ship.
Image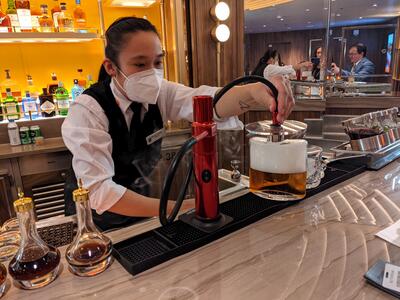 Want to relive my trip? Here are the previous live blogs from Rotterdam cruise.
Rotterdam Live Blog 2021 – Day 1 - Embarkation Day
Rotterdam Live Blog 2021 – Day 2 – Bimini, Bahamas
Rotterdam Live Blog 2021 – Day 3 - Sea Day Entertainment
Rotterdam Live Blog 2021 – Day 4 – Jet Skis in Half Moon Cay