Should you book the cheapest cruise ship cabin you can find?
It can be tempting to try to find the lowest price to save money on your vacation, but what sort of stateroom are you committing to in the process?
Here's the important things to know about booking the cheapest cabin on a cruise ship.
Expect a small room
Image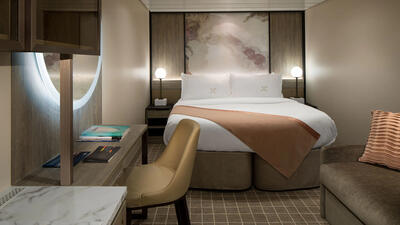 The old saying "you get what you pay for" usually holds true with cruise ship cabins.
Rooms on a cruise ship are usually smaller than hotel rooms to begin with, but when you look for the lowest price possible, you're almost certainly going to get a small cabin.
How small is small? The average size of an inside cabin is 167 square feet, although it varies from ship to ship. Most inside cabins are between 180-180 square feet.
Inside rooms have no natural light
Image
If you've never stayed in an inside cabin, one of the first things you will notice after the size of the cabin is how dark it gets when the lights are off.
Inside rooms do not have a window or balcony, so once the lights are off, it gets pitch black in there, aside from any light coming from your bathroom or perhaps from the hallway.
If you are a light sleeper, having very dark conditions can be great for sleeping, but you also will have no idea if it's 3am or 3pm if you were to wake up on your own.
Certainly setting alarms is helpful. Some cruisers bring a sunrise alarm clock, which is a light that gradually comes on in the half hour leading up to your pre-set wakeup time, simulating a sunrise. 
You get your own bathroom
Image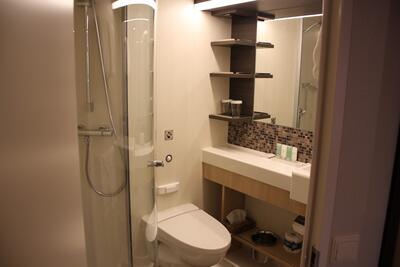 Don't worry, you won't have to go a public bathroom if you book the cheapest cabin.
All cruise ships have their own bathroom in the cabin, so there's no need to worry about having to walk down the hall to use the bathroom, like in a hostel.
What you can expect in your room
Image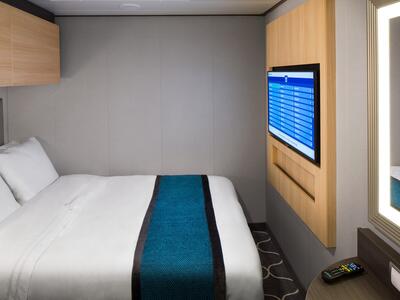 At the very least, here's what you will typically find in an inside or oceanview cabin:
Two beds that can convert into a larger bed.
Table
Bathroom
Sitting area (chair, sofa, or love seat)
Safe
Closet and some storage space
Letting the cruise line pick your room assignment
Image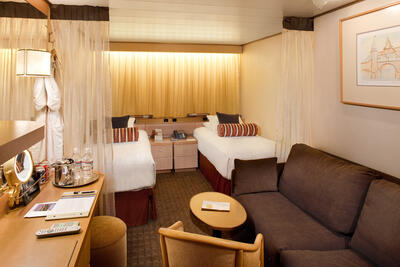 One way to get the price even lower for your cruise is to pick a guaranteed cabin. This is when you skip picking the exact cabin, and later on the cruise line informs you of which cabin assignment you have.
This allows the cruise line the option to sell more desirable cabin locations at a higher price to others, while fitting you into whatever cabins are leftover. 
Read more: How to find deals when ships aren't full
Image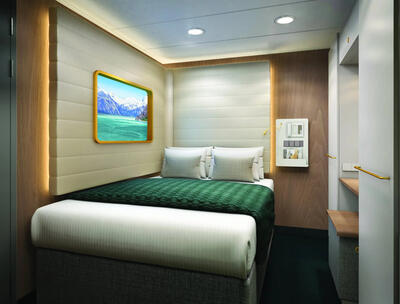 If you don't care that much about your cabin location, booking a guarantee room can be a great money saving strategy. But if you are prone to seasickness, or just want to be closer to a certain part of the ship, choosing a guarantee cabin might end up with disappointment.
With guarantee rooms, there is a slim chance you could get upgraded.  The cruise line guarantees the category you book at or higher, and occasionally people get upgraded when the category they booked at sells out. 
Read more: How to get an upgrade on a cruise
The best reason to go cheap
Image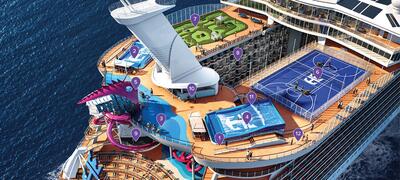 People that book the cheapest cabin usually repeat this truth about cruise ships: there's so much happening onboard and in the ports you visit, how much time will you really spend in your cabin?
Other than sleeping, changing, and showering, time spent in your cabin is usually limited. Cruise ships are designed to keep you entertained with all the activities and things to do, that spending a lot of money on a cabin you will barely spend time in may seem counterintuitive.
Money you save on a cabin can be spent on a drink package, shore excursion, or even another cruise.
Read more: Why an inside cabin is the best choice for a cruise