Would you be shocked if I told you the worst cruise ship cabin that I ever had was also the biggest and nicest cabin? 
Yup. The worst cruise cabin I've had while cruising was a 2 bedroom suite onboard Norwegian's Pride of America. Our cabin was massive, and a huge cry from the interior cabins we usually book. While sailing the Hawaiian islands was absolutely stunning, we didn't expect the very choppy waters while sailing from one island to the next.
Unfortunately, our massive cabin was at the very front of the ship, and our large balcony was basically right next to the bridge. My dad commented that he would absolutely never book another room that far in front of the ship.
Image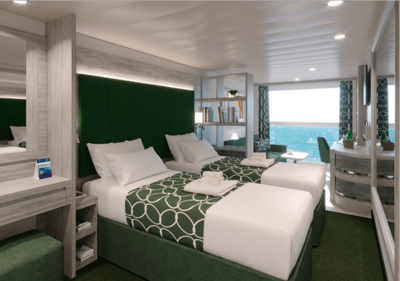 Lessons were learned from our perfect Hawaiian storm. Being at the very front and top of the cruise ship while sailing choppy Pacific waters left us all seasick for multiple nights. Luckily, we had 2 overnight stays that had us grateful for motionless sleep.
We've also been unlucky to have staterooms too close to the elevator, directly under the pool deck, and too close to the theater. 
Choosing the best stateroom on a cruise ship can require more research than simply booking a hotel room. Everyone has different preferences when it comes to what they look for in a stateroom.
Image
Being on a higher deck can give great views, while being on a lower deck offers more stability for motion-sensitive cruisers. Some love to book balconies on the very back of the ship for the extra balcony space and incredible aft wake views.
As a rule of thumb, I try to book a cabin that is surrounded by other cabins above and below. Typically, mid-ship is our top choice due to location on the deck and limiting overall motion. This usually ensures that you will have a quiet, more secluded cabin location.
Here are some of the worst cruise ship cabins to avoid when booking your next cruise.
Obstructed View
Image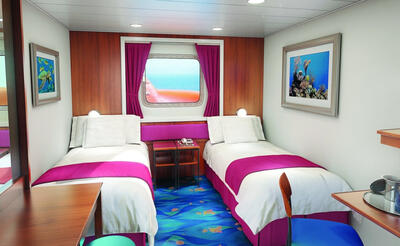 The amount of obstruction can vary when you book an obstructed view. Some cabins might still offer somewhat enjoyable views while others might be entirely blocked by a lifeboat. Either way, you probably won't be getting the full value of an ocean view or balcony cabin when you have any sort of obstruction.
If you're going to have an obstructed view cabin, you might as well save the money and book an inside cabin instead, unless you're just itching for natural light in your cabin. Most cruise lines will indicate if the cabin has some sort of obstruction, so be sure to pay attention to the deck plans. 
Near the Nightclub
Image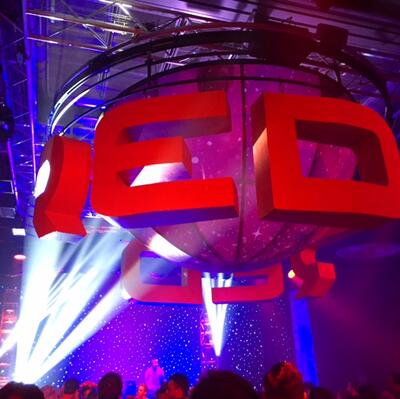 If you want to be on a higher deck, be sure you consider where the nightclub is located onboard the cruise ship. Some cabins are located directly below or above the dance floor, where you are sure to hear the DJ bopping tunes into the night. No one wants to have their cabin walls shake!
Those who love to enjoy the nightclub are usually also drinking, meaning these passengers can be very loud leaving the venue when you might be trying to sleep. 
You might also want to consider avoiding the piano bar or other entertainment venues if you have an early bedtime or you're traveling as a family. These venues will be open into the late hours of the night, which can certainly keep you awake. 
Too Close to the Elevators
Image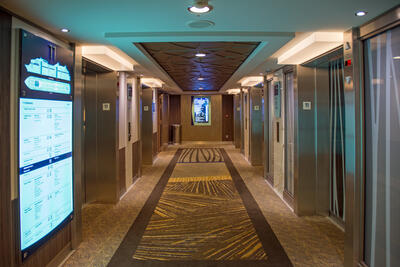 Choosing a cabin close to the elevators might seem like a great idea; after all, you won't need to walk very far up or down the long hallways to snag an elevator.
Think again! Elevators are typically places of congregation for people, especially during meal times or before shows. Starting early in the morning, don't be surprised to most likely hear people talking while waiting for the elevator. Late in the evening, you can also hear people coming back to their cabin after a night of partying! Not to mention the elevator 'ding' every time someone presses the buttons. 
You should also consider that people will always be walking by your room during all hours of the day when you are close to the elevators. 
Try to choose a cabin that's further down from the elevators to avoid unnecessary noise and traffic near your cabin. 
Below the Pool Deck
Image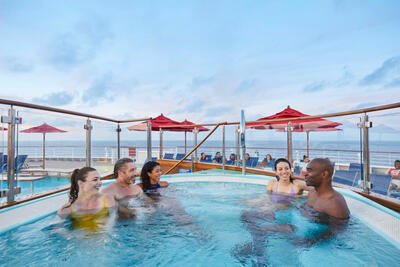 On a recent cruise, we thought it might be a good idea to be under the pool deck since it didn't appear to be directly under the pool. We were wrong!
Each morning around 6 am we could hear workers rolling carts with food for the nearby pool cafe. It was like clockwork each morning that we would hear them rolling their carts to unload snacks. We also heard the crew members dragging chairs around the Solarium each morning to arrange them perfectly. 
While sailing on an Oasis Class ship, I had believed a balcony cabin, while one floor below the pool deck, would balance out with the soothing and relaxing ambiance of Central Park. It was hard to enjoy the cabin's balcony during the day, as you could hear the pool deck's loud music and children playing. 
The pool deck is always busy during a cruise - from people dancing to the belly flop contest. Music will be playing most of the day with some cruise lines showing poolside movies in the evening. Needless to say, the pool deck can be very noisy!
Adjoining Cabins
Image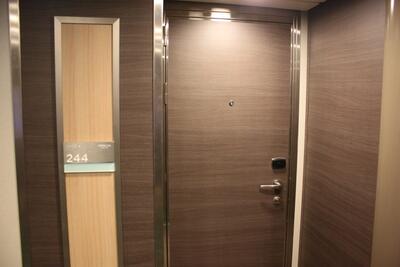 Unless you're traveling together with the group in the adjoining room, definitely avoid these cruise ship cabins. These cabins are great for families traveling together who might want to have a door between two cabins. However, these are not great for groups that are not traveling together.
The door between the adjoining rooms isn't exactly soundproof. Keep in mind that sound already travels easily between cabins, so extra noise will be noticeable. You might be hearing your neighbors more than you want to! 
Near the Anchor
Image
Arriving in the port is such an exciting moment - that is, until you have to hear the anchor drop every morning. Don't forget, you are on a boat!
When I studied abroad on Semester at Sea, our cabin was right near the anchor. Each time we docked at a new port, we were woken up by the clunking of the anchor as it was lowered into the sea. Luckily, we had fewer ports with longer stays during our voyage, so it wasn't too disruptive. However, if we had gone to a lot of different ports, the early morning clunking would have become much more annoying.
You might not know where the anchor is placed on the deck plans, but typically the anchor is on a lower level near the front of the boat. If you want to ensure a peaceful morning, try to avoid cabins that might be located near the anchor.
Above the Casino
Image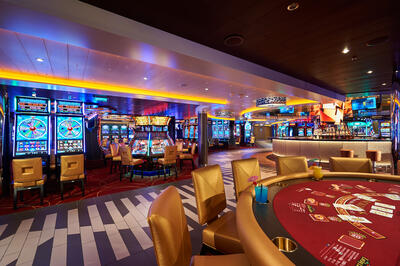 The casino is typically one of the only places inside a cruise ship where travelers can smoke onboard. In addition, the casino is usually open late for cruisers looking to have some evening fun. 
Some cruise lines have banned smoking in the casino, like Celebrity Cruises and Oceania Cruises. Others have banned casino smoking as part of their pandemic protocol. 
Either way, do a little extra research to see where your cabin is relative to the casino. Smoking and gambling noise might be a concern for you. 
Too Far Forward or Aft
Image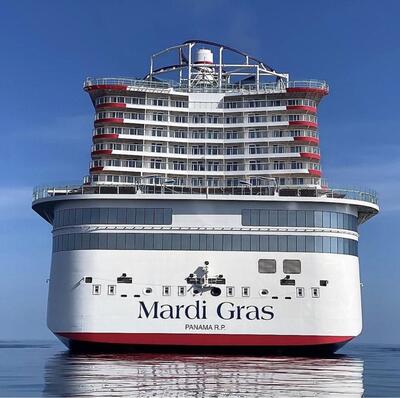 Just like my Hawaii cabin, choosing a stateroom that's too far forward or aft can be a bad choice. If you encounter rough seas, this can mean you will experience and feel more of the ship's pitching and rolling. Definitely not good for cruisers that are worried about getting motion sickness. 
You might get lucky with very smooth sailing during your voyage. For instance, I've sailed the Mediterranean multiple times and never had rough seas. I would probable be more comfortable with a cabin that's slightly more forward or aft in this instance. 
Sailing on open ocean is usually a different story. This can sometimes mean rougher seas, so I will always book a mid-ship room. 
Never again will I book a cabin that is at the very front of the ship!