The latest and greatest big cruise ship hit the water in the last week of August when Norwegian Prima made its much-anticipated debut. This 20-deck-high, 3,100-passenger ship is the first of six planned for Norwegian Cruise Line in its new Prima Class of vessels.
We hopped onboard the new Norwegian Prima in Iceland for its naming ceremony and inaugural sailing, cruising from Reykjavik to Amsterdam. The festivities, including a concert from ship godmother Katy Perry, got under way on a Saturday night with the naming ceremony before we settled in for the cruise, which departed the next morning.
This vessel has a different feel than many of the other Norwegian Cruise Line ships, so it was good to have a full week-plus onboard to be able to see it in action and try out most of the venues, activities and experiences.
Image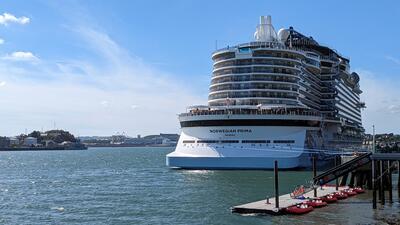 In this first-look article, I'll give you an overview of all the public spaces, lounges and bars, restaurants and entertainment venues, plus a review of our cabin on Norwegian Prima.
Dining on Norwegian Prima 
Image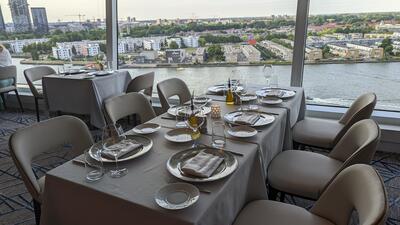 Let's get right to the food, the good stuff!  
Norwegian Prima features 12 eateries (more than 20 if you separate all the options in the ship's new food hall) and offers new specialty restaurants, Hasuki, Palomar and Nama, and Indulge Food Hall. 
Image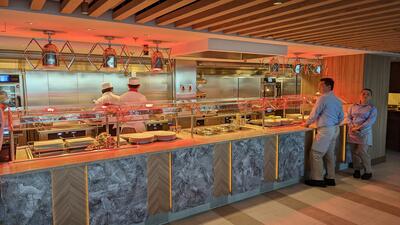 The eateries Palomar, Nama and Indulge — plus a twist to main dining — comprise new dining concepts for Norwegian Cruise Line. 
Palomar, located on Deck 17 just off the pool area and opposite the Surfside Cafe, serves Mediterranean cuisine in a venue with indoor and outdoor seating.
Image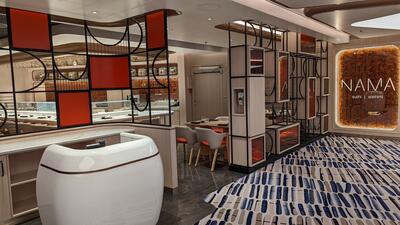 The other new specialty-dining restaurant, Nama Sushi & Sashimi, features a counter and quaint tables in a small space on Deck 7. Chefs offer creative sushi rolls, and you can also get cooked options. It has an extensive sake menu (try the sake flight.)
Image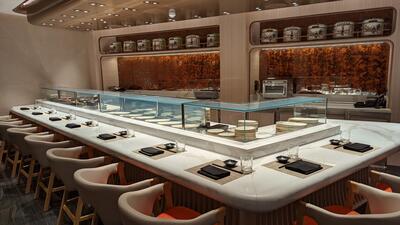 This restaurant is an elevated experience from the typical cruise ship sushi eatery.
Several other specialty dining options are available on Norwegian Prima:
Image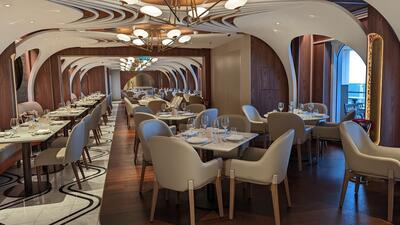 Onda by Scarpetta specializes in Italian in a small space on Deck 8, with indoor and outdoor seating. This eatery offers nice pizza and a range of classic Italian favorites. We liked the burrata and braised octopus appetizers. Colleen and I shared a tasty margherita pizza, and I enjoyed a pappardelle bolognese pasta for my main course, while Colleen had the scialatielli, which is pasta with shrimp, clams, mussels and calamari in white wine and garlic sauce. 
You also can order dishes like veal chops, beef fillet or roast chicken.
Image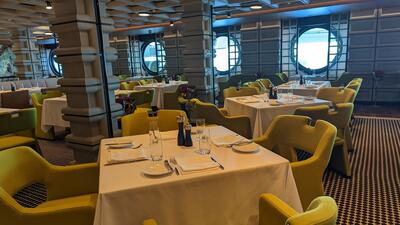 Cagney's is Norwegian Cruise Line's steakhouse and a longtime favorite for NCL cruisers. Food Republic is a tapas-style small-plate eatery that was introduced on recent Norwegian Cruise Line ships. On Prima, it's a small venue on Deck 17 midship that has a couple table side seats with a close-up view of a couple of twisting sections of one of the ship's 10-story dry slides (see Activities section below).
Image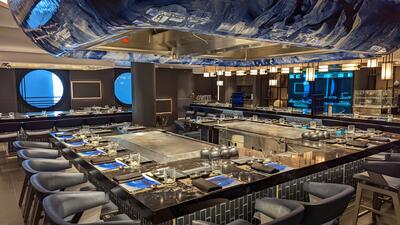 Hasuki is the teppanyaki-style Japanese grill where you pull up a front-row seat to watch the chef create your meal in a sizzlingly sensational show.
Image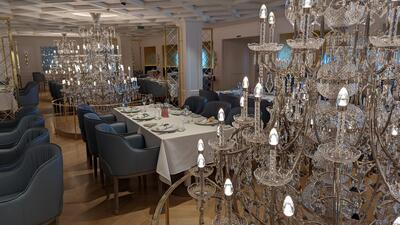 Le Bistro features French cuisine in a beautiful tiny restaurant with clean white decor and shimmering chandeliers.
Image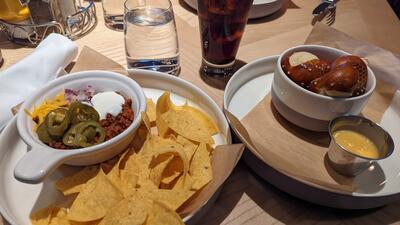 Los Lobos is the Mexican eatery that is also found on other NCL cruise ships. 
All of the specialty restaurants were open for dinner only on our sailing.
Included dining on Norwegian Prima encompasses the stunning main dining room Hudson's. This is located at the aft of the ship on Deck 7. The restaurant serves breakfast, lunch and dinner with a fixed menu throughout your cruise. 
Image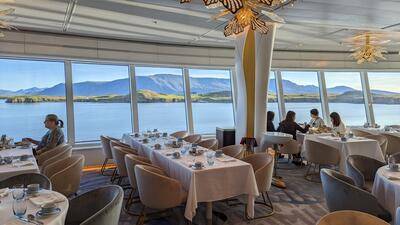 The highlight of this space are the views, with large windows curving 270 degrees around the perimeter of the venue, giving stunning scenes in port or when you're sailing.
The Commodore Room, located on Deck 6 is the second main dining room, but it's open for dinners only. This restaurant also has a fixed menu for the entirety of the cruise. This is a new idea for NCL, and the menu is fairly large. You can easily dine at these main dining rooms every night and mix up the starters, sides, pastas and main courses to enjoy satisfying meals of traditional favorites throughout your voyage.
Image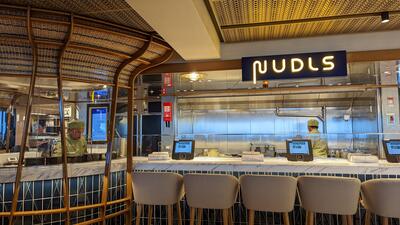 Indulge Food Hall is a casual complex filled with a dizzying array of meal choices at nine restaurant "concepts", including two Spanish food trucks -- The Latin Quarter (tostadas) and Tapas -- Nudls (noodle bar), Q Texas Smokehouse (barbecue), Tamara (Indian), Seaside Rotisserie (beef, fish, poultry), The Garden (salads), Just Desserts (sweet treats) and Just Ice Cream (duh). 
Image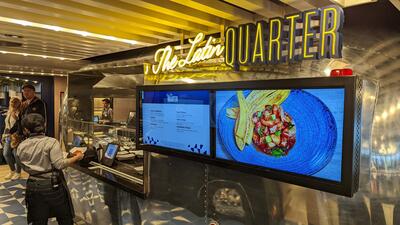 Image
You grab a seat, order from a tablet and waitstaff bring your meals and drinks to your table.
Image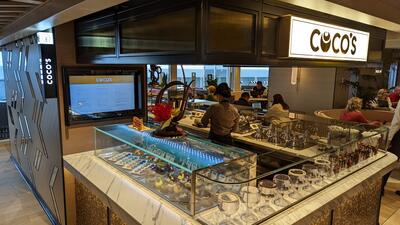 This space also has the ship's second Starbucks and Coco's, a for-fee specialty gelato and milkshake shop. I indulged in a Cookies and Cream milkshake that was a work of art, stuffed with all kinds of candies and gummies adornments.
Image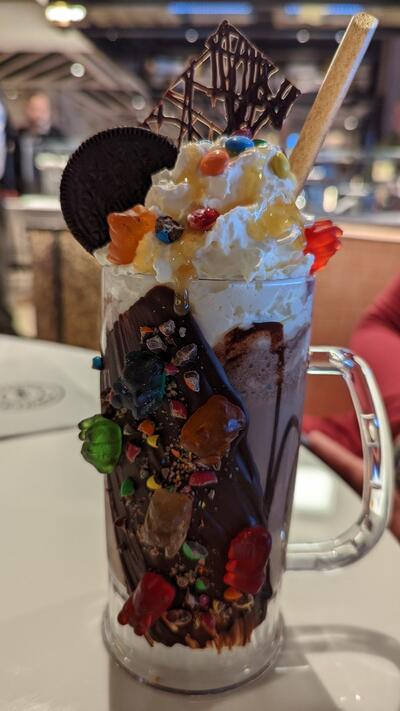 Then, I went back for a massive decadent chocolate brownie sundae when I saw a fellow cruiser digging it at a nearby table. These were the best-tasting desserts I've had on a cruise ship. (Maybe even worth the $9 I paid for each of them.)
Image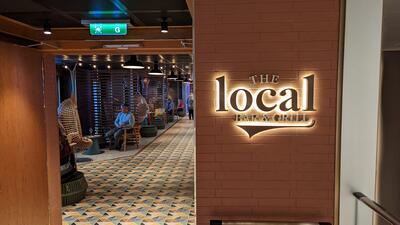 The Local Bar & Grill is a casual eatery/sports bar, with burgers, fries, sandwiches, hot dogs and wings. It's open 24 hours, serving breakfast, lunch, dinner and comfort food anytime. 
This was a favorite spot of mine for lunches or an afternoon snack while watching a little bit of a soccer or rugby game on the TVs.
This bar and grill is part of a lively portion of the ship that feels like a neighborhood. The bar around the corner from the restaurant has TVs and a long bar with seating, as well as chair swings and cozy seating areas by the windows that look out onto Ocean Boulevard. 
We played sports trivia here one morning, and live music is also often going on here.  
Image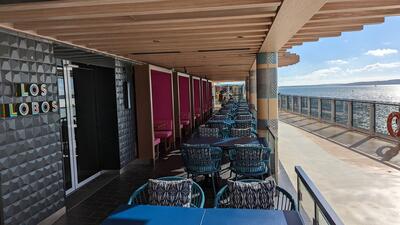 Indulge Food Hall and The Local also offer seating outdoors along the ship's beautiful Deck 8 promenade. This area that encircles the ship is called Ocean Boulevard and connects several indoor and outdoor spaces, restaurants and lounges. 
Surfside Cafe on Deck 17 is the ship's buffet, and we ate breakfast here most days, with the omelet station serving up our eggs made just right and very quickly. The buffet has all the choices you'd expect, with fresh breads, fruits, muesli bowls, salmon, pancakes and more. 
Beyond the buffet area is a small space for Surfside Grill, which offers a small breakfast buffet nook and then burgers, hot dogs, grilled chicken, steak a la minute and fries for lunch.
We were disappointed that the NCL cruise app was not working properly for our sailing, so we couldn't make reservations for our preferred dining places or dates. Many cruisers told us that this was the case for them, too. We tried several times online and also in person at the guest services desk onboard, only to be told that all the slots were already filled up for the weeklong sailing. 
So, we were left to fate as we walked up each night hoping to be able to get in. We had no luck walking up. We did secure a reservation one day through help from guest services and planned our day around our late meal at Onda. But when we approached at 8:30 p.m. for our meal, we were told we had no reservation there. This set off a scramble of phone calls when we insisted it had been secured. A half hour later, we were told we could sit outside. Fortunately, the weather was nice enough to do so, but this was a highly unpleasant experience, and I hope they get the specialty dining situation sorted out before too long, or cruisers are sure to be disappointed by this whole process.
Bars and Lounges on Norwegian Prima 
Image
Penrose Bar overlooks the three-story Penrose Atrium that is located midship. The atrium features curving walls separating spaces (they can be frustrating to navigate because you have to walk a long circuitous route back though the elevator banks to get to some spots). The space also has dramatic staircases that serve as art pieces within the complex. 
Overall, it's a pretty space where you'll find guest services, the shore excursions desk, shops, bars and the primary Starbucks that gets quite busy in the morning. 
Penrose Bar is one of more than a dozen bars and lounges on Norwegian Prima. This bar is adjacent to the casino and feature a TV with sports usually on, as well as a six bartop video poker stations. 
Image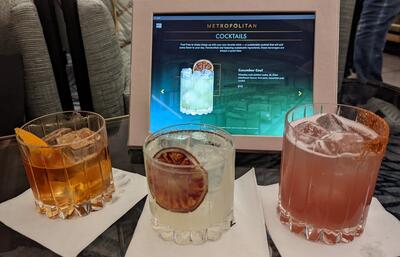 Metropolitan Bar offers a unique craft cocktail experience. Norwegian Cruise Line's first sustainable cocktail bar has a lineup of drinks that use food items that otherwise would be wasted, such as banana peels, watermelon rinds and cucumber pulp. 
The would-be scraps are boiled into syrups and used to infuse rum-based drinks and other cocktails that cruisers sip in a big bar that fills a stretch of the corridor on Deck 7.
Image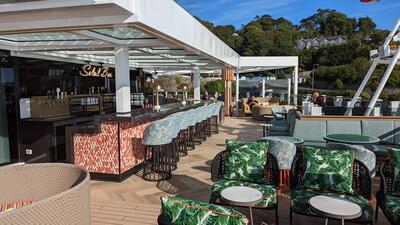 Luna Bar is located at the aft of Deck 8 in the Indulge Food Hall. Step outside and you find the Soleil Bar. This bar has wonderful couches and loungers for a relaxing time in the fresh air.
Belvedere Bar on Deck 6 is a contemporary cocktail bar taking up a large space just outside The Commodore restaurant. This bar is a loud and boisterous place in the evenings.
Image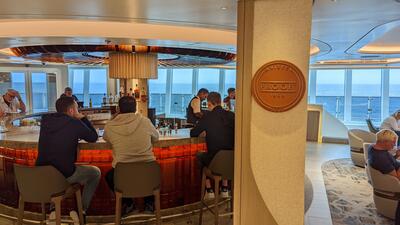 Proof Whiskey Bar is a tiny bar with seats that have great views. It occupies a spot off to the side of the Atrium on Deck 8. 
Prima Theater and Club is the main theater, which turns into a large nightclub late at night when the seating in the lower decks tucks away, creating a dance floor.
Prima Speedway Bar services the cruisers up top at the ship's race track.
The Local Bar is attached to the eatery and is a nice social hub of the ship for trivia, live music and hanging out. You can even order food to have in this space.
Image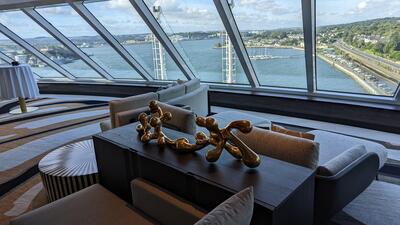 The Observation Lounge on Deck 17 forward is typical of observation lounges you find on most cruise ships, with windows overlooking the bow.
Vibe Beach Club Bar serves the adults-only crowd at this exclusive retreat (day passes and full-cruise passes available) at the front of Deck 17. Vibe Beach Club features loungers and hot tubs, including infinity hot tubs.
Waves Pool Bar is tucked under an overhang and faces the ship's small pool on the lido deck on Deck 17.
Image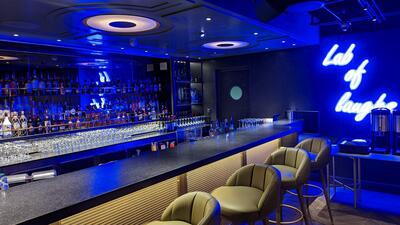 Improv at Sea is the ship's comedy club, with a small capacity and an intimate setting.
Syd Norman's Pour House is a live music venue, also with a low capacity and decorated with all kinds of music memorabilia. It was packed every night, and we could only stand in the hall outside to hear some of the shows.
The Pool Decks and Activities on Norwegian Prima 
Image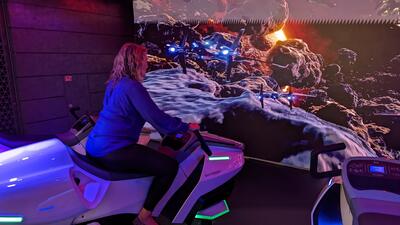 Norwegian Prima is packed with all kinds of cool activities at the top of the ship, where the standout feature is the massive three-deck, 1,375-foot-long, 14-turn race track, Prima Speedway.
This is the largest of all the go-kart tracks that came with every new ship since the launch of Norwegian Joy in 2017. To accommodate the space needed for the speedway, though, the Main Pool and lido deck area is significantly smaller than you would typically see on a large cruise ship.
Image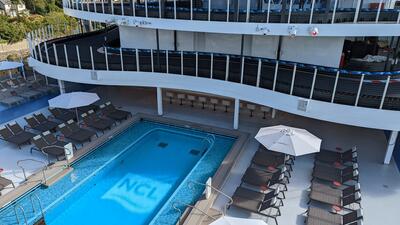 This lido deck area can also be startlingly noisy from the action on the track just above. Several times, we were certain we were about to hear a big crash. Screeching tires of cars making turns at fast speeds can be frequently heard just overhead.
Image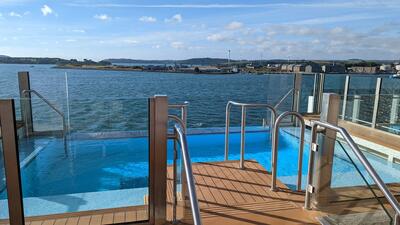 To make up for all the space allocated to the speedway, Norwegian Prima features two infinity pools -- one on each side -- of Ocean Boulevard, which is the promenade on Deck 8. Ocean Boulevard replaces The Waterfront from the line's other new ships, and this space on Norwegian Prima is a highlight.
Image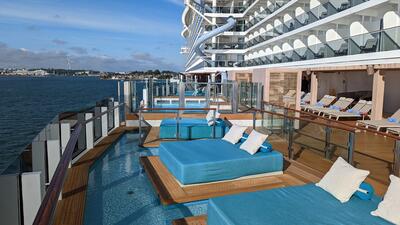 It's a stylish promenade that goes entirely around the ship and includes little neighborhood-like areas that connect to venues inside, such as restaurants, shops and the Atrium. Ocean Boulevard has the two pools and plenty of day beds, loungers and chairs. It also features a pretty art park with sculptures and two Oceanwalk glass bridges.
At the top within the Prima Speedway complex, you'll find The Stadium, which offers a range of games, like ping pong, tabletop shuffleboard, beer pong, a mini soccer game and foosball. The ship also has a dedicated pickle ball court that is sure to be popular.
Image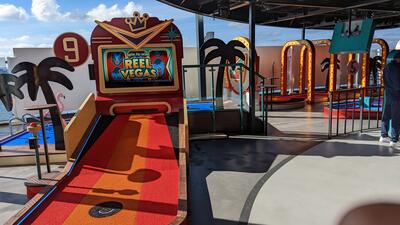 Opposite The Stadium are a couple of for-fee activities: Tee Time an interactive miniature golf game that goes for $15 per game and Bullseye, which is an area of five dart lounges that you can reserve to play with friends for $45 for 45 minutes or $70 for 90 minutes. I played both, and the mini golf was not worth the price. The dart lounge was fun but also seemingly way too steep a price, though that could be split among a group of friends.
It will be interesting to hear feedback from cruisers as the ship has more sailings.
Image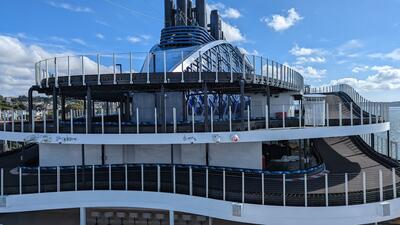 The definite star of the show, though, is the go-kart track. Leaderboards show the fastest times, so you can compete against fellow cruisers during your race and throughout the cruise to try to set the pace.
Image
The price is $15 per ride or $199 for unlimited rides.
Norwegian Prima offers even more thrills. 
The ship has two dry slides, one attraction off each side of the ship that sends brave cruisers down 10 decks in the blink of an eye. The Rush features side-by-side slides that intertwine, allowing two people to race each other down. The Drop, on the opposite rise of the ship, pulls the floor out from beneath sending cruisers screaming down the slide.
You also can ride The Wave, a raft ride down a rather short water slide.
Image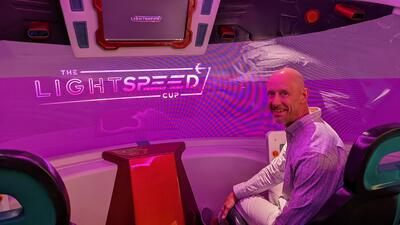 Galaxy Pavilion is back on Norwegian Prima, and the for-fee virtual-reality arcade is packed with cool experiences. Galaxy Pavilion offers 13 VR rides and games, plus an Escape Room in the large complex. This is going to be a fun spot for kids of all ages.
Image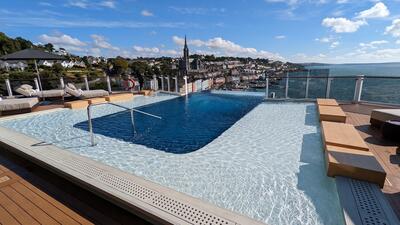 With all the segmented spaces around the ship, from smaller restaurants to multiple pools and the Ocean Boulevard space, Norwegian Prima definitely has more of the feel of a resort hotel instead of a traditional cruise ship.
Spa and Fitness on Norwegian Prima
Image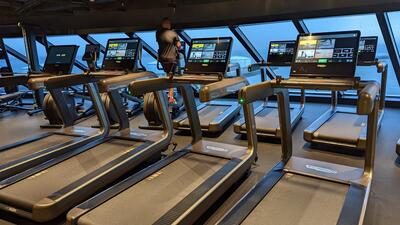 The Mandara Spa and Salon is huge, with numerous treatment rooms and the attached Pulse fitness center. The gym is well-equipped, with cardio machines, resistance-training machines and free weights. It also has two studios, one for cycling classes and another for yoga sessions and other group training classes.
Image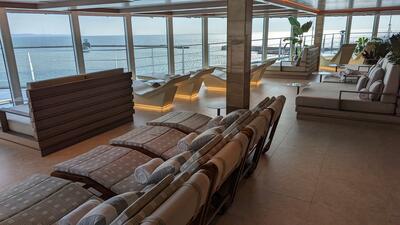 It offers nice views while you work out, but the fitness center is far too small for a ship this size. It was packed in mornings and afternoons when we went for our workouts.
Image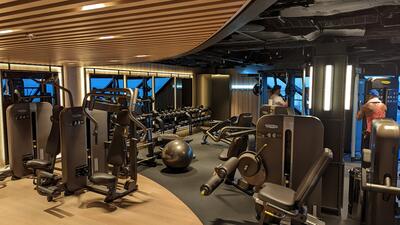 We love the thermal suite, which is incredibly spacious.
Image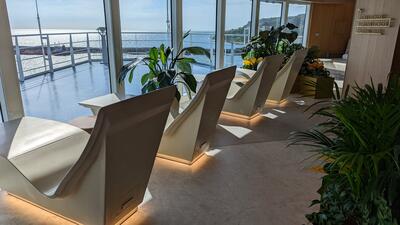 Cruisers can book a cruise-long pass ($339 for a week) or a day pass ($99) to enjoy heated loungers, relaxing day beds, a big heated pool and an array of sauna, steam and shower experiences.
Entertainment on Norwegian Prima 
Image
The feature shows in the Prima Theater & Club, which is a versatile main theater/night club combo space that covers Decks 6, 7 and 8 at the front of the ship, were Summer: The Donna Summer Musical and The Price Is Right: LIVE game show. 
Summer is an energetic biographical musical production, which also featured on Broadway. 
The Price Is Right brings cruisers onstage to compete in a fairly accurate simulation of the decades-old hit game show.
I highly recommend making reservations for any of these shows and venues as required as soon as possible. 
Image
Prima Theater converts late at night into a disco or night club for late-night dance parties. The seats on Deck 6 slide back to create an open floor area for crowds to party into the early morning.
Improv at Sea features comedy acts and game shows. A pair of comedians performed on our cruise, and the program also offered the Made In Hollywood Game Show and the Hit It DJ Game Show.
Image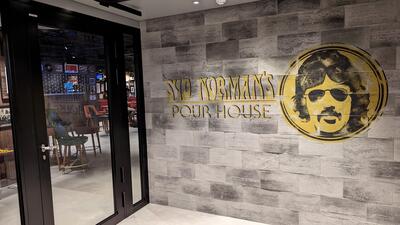 Pub trivia was popular at The Local Bar, which also had a live musician occasionally in the afternoons, and Syd Norman's Pour House is the intimate music venue. We also saw musicians in the Penrose Atrium just outside the casino by the Penrose Bar.
Our Cabin on Norwegian Prima
Image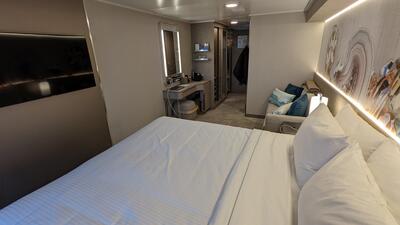 We stayed in a standard balcony stateroom portside midship on Deck 15 (No. 15154). 
Like the rest of the ship, the decor in the cabin is simple, clean and stylish. The feel is that of a boutique hotel with a modern art flair. 
Image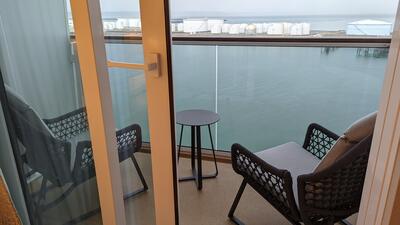 The cabin measures 231 square feet, and space in the seating area is ample, but the narrow entryway between the closets and the bathroom requires that you have good communication with your cabin mate so that you don't get hit with the door while using the closet if they happen to want to come out of the bathroom at the same time.
Also, there is a lack of drawers and shelving space to put aways clothes and organize your items. One nightstand offers a couple drawers. The other is really small with no drawers. There also are no plugs at the nightstands, but they have USB outlets.
Image
The bathroom has a nice walk-in shower that I found easy to use, even being 6-foot-4.
Norwegian Prima also features The Haven, a ship-within-a-ship enclave with butler service, an exclusive restaurant, infinity pool, lounge, concierge desk and a range of amenities and extras for cruisers who book in this complex. The Haven has its own pool area and is a wonderful retreat. New at The Haven on Norwegian Prima is the cruise line's first al fresco restaurant area for this venue.