At 32 square miles, St. Thomas is one of the three largest U.S. Virgin Islands and is a popular stop on Eastern Caribbean itineraries.
While the island is known as the shopping capital of the Caribbean, St. Thomas is also known for its pristine beaches, snorkeling, and sport fishing opportunities. More than 1.5 million cruise ship guests visit the island each year to enjoy the duty-free shops, historic attractions, and beautiful beaches. 
There are two different cruise terminals that ships dock at: Havensight (West India Company Dock) and Crown Bay. The latter is furthest from downtown Charlotte Amalie.
Here are the best things to do on your day in St. Thomas!
Read more: Best Caribbean shore excursions
Beaches
Image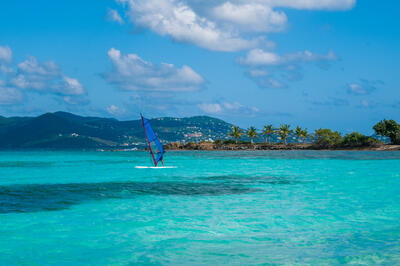 St. Thomas is home to numerous beaches with crystal clear waters, white sand, and beautiful mountainous backdrops. In fact, Magens Bay Beach is continuously voted as one of the best beaches in the world! 
You can opt to book a shore excursion directly through your cruise line that includes transportation to the beach, or you can hire a taxi and go on your own. Each dock is located about 20-25 minutes from the beach. 
Since it is a national park, you will also have to pay $5 per person for admission in cash. Once inside, you can rent chairs and umbrellas, kayaks, snorkeling equipment, and paddle boards. There is even a full service restaurant and bar that serves up pizzas, salads, burgers, and even local favorites, such as Caribbean jerk chicken. 
Read more: How to plan your own shore excursion
Another option is Sapphire Beach. Just like Magens Bay, it is located about 25-30 minutes from either cruise terminal; however, it is a smaller beach. If you are planning to go off on your own, you will want to make sure that you give yourself enough time to hail a cab and return to the pier, as your cruise ship will not wait for you. 
While you are able to rent lounge chairs here, they do not offer umbrellas. If you want to find a spot that is shaded by the trees, you will want to try and arrive as early as possible. There is also a beach bar and restaurant if you get hungry or would like to enjoy a fruity cocktail on the beach. 
Image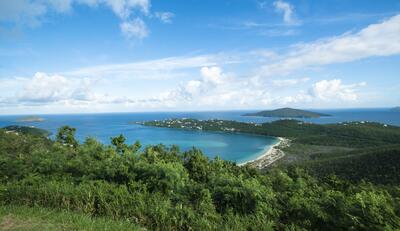 Lindquist Beach is located close to Sapphire Beach and is part of a protected 21-acre park called Smith Bay Park. It is a great place for snorkeling, as there is a chance that you will see vibrant marine life and sea turtles! 
Additionally, you will find restrooms, picnic tables, and a lifeguard. You will have to pay about $5 per person for admission, and you can rent chairs on the beach. Note, however, that there is no bar or restaurant here. Sometimes, locals can be found selling refreshments, though.
If you are looking for a beach that is closer to the cruise terminal, consider Lindbergh Bay Beach. It is only about 5 minutes from Crown Bay and 15 minutes from Havensight. Two chairs and an umbrella can be rented for around $25. There's also kayaks, snorkeling gear, paddle boards, inflated tubes, and jet skis available for rent. 
Water Island
Image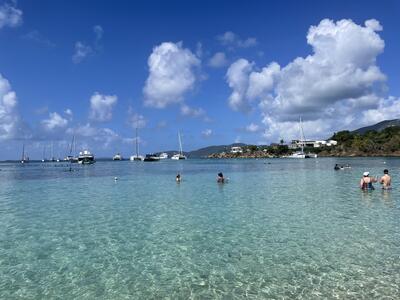 If you are looking for a relaxed beach escape, take the ferry over to Water Island. It costs $15 round trip per person and only takes about ten minutes. Accessing the ferry is easier if you dock at Crown Bay, as you can walk straight through the cruise port to the Crown Bay Marina. The ferry sails from Dock D, which is located directly next to Tickles Dockside Pub.
After arriving on Water Island, you can take a free shuttle to Honeymoon Beach. Lounge chairs and umbrellas cost only $10 each, and there are different water sports that you can choose to do, including kayaking, paddle boarding, and snorkeling. Honeymoon Beach is actually a popular snorkeling destination, and many excursions will visit here!
Dinghy's Beach Bar & Grill is located right on the beach. You can order different beach bites, like chips and salsa, chicken tenders, and jalapeño poppers, as well as sandwiches, salads, tacos, and burgers. There is also a full service bar that serves up cocktails for around $11.00 each. 
Image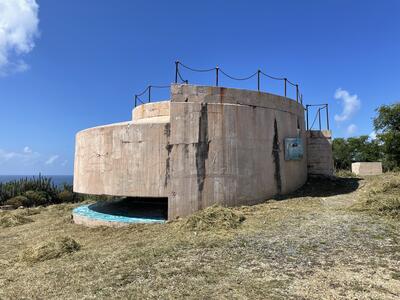 You can even rent a golf cart to explore the island and visit Fort Segarra or The Crossing, a cute business that sells over 20 different flavors of shaved ice, beer, wine, hard seltzer, soda, and water, as well as souvenirs made by local artisans. 
Island tour
Image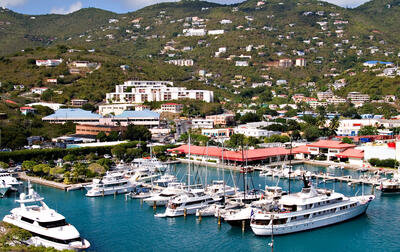 If you are torn on how you would like to spend your day in St. Thomas, you may want to consider an island tour. This will allow you to get a sense of everything the island has to offer. Perhaps you will even find somewhere that you would like to return to for a longer period of time on your next visit. 
Group tours through your cruise line will be one of the most cost effective options, while private drivers will offer you a more personalized experience. You will be able to go exactly where you would like to go and stay for as long (or little) as you'd like. The only caveat being that you will pay significantly more for this kind of tour. 
On a group tour, however, you are at the mercy of your group members, and you may find yourself sitting for longer in a vehicle than you would like to. 
If you are planning on going off on your own or via a third-party vendor, it is important to know that the traffic in the afternoon can get backed up quickly. Allow yourself extra time to safely return to your ship!
Read more: 12 cruise ship shore excursions you should skip
Snorkeling
Image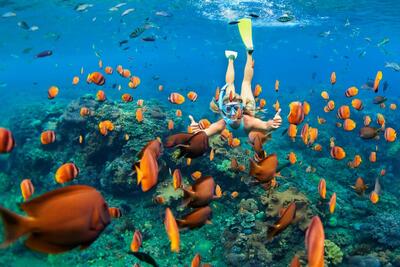 The snorkeling opportunities in St. Thomas are superb! On most tours, you will sail out to Buck Island National Reef Monument, where you will swim with sea turtles and see colorful coral and fish! This is where Turtle Cove and Shipwreck Cove are located. 
Many cruise lines offer excursions that pair snorkeling with visiting one of the island's famous beaches, such as Carnival Cruise Line's "Fast Cat Turtle Bay Snorkel & Honeymoon Beach." This excursion currently starts at $87.99 per adult (13+) and $84.99 per child (12 and under). 
As mentioned earlier, if you want to go off on your own for the day, Lindquist Beach is a great place to visit if you want to relax on the beach and also go snorkeling. There are seagrass beds where sea turtles and rays like to swim. Plus, there is a colorful coral reef and tide pools where you can find all sorts of wildlife!
Museums 
Image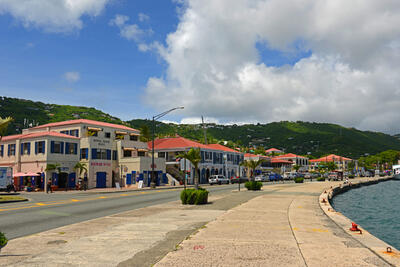 If you are docked at the Havensight pier, you will be within walking of the Pirates Treasure Museum. 
This museum displays artifacts and treasures from the Odyssey Marine Exploration, as well as other Virgin Island shipwrecks. It is great for children, as the two-story museum is full of interactive exhibits. Currently, tickets are $16 for adults, $12 for children, and free for those under six-years-old. 
Another option is the French Heritage Museum, which is about a 5 minute drive from Crown Bay and 15 from Havensight and highlights the era of French exploration and the Caribbean's maritime history. 
Per their website, "Our collection includes old photos of Frenchtown before the dredging of the harbor, amazing straw "platting" samples and products, West Indian crafts, toys, music and artifacts from days gone by, a 1939 Universal short film entitled 'Going Places,' family photos, antique mahogany furniture, fish traps and various types of fishing nets, tools of the trades, a library of research material, and an old 'Frenchie' house donated to the museum on July 14, 2007 by the Greaux Family. "
If you get hungry after your visit here, there are a few restaurants closeby: Da Frenchtown, Pie Whole Pizza, French Quarter Bistro, and Taco Chelles Frenchtown. 
And while not technically a full-scale museum, Fort Christian is an old fortification that was built my Denmark & Norway. It original dates back to the 1600s! After the fort was demilitarized in the 1870s, it received some repairs, was made larger, and served as the police headquarters of the Virgin Islands. Plus, it is located near the heart of downtown Charlotte Amalie. 
Take a day trip to St. John
Image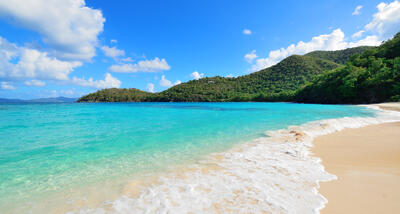 While there is no denying that St. Thomas is a breathtaking Caribbean island, their neighbor St. John is equally, if not more, beautiful and far more pristine. If you have frequented St. Thomas during your cruise vacations, you may opt to take the ferry to the nearby island to experience something different. 
Once you arrive in St. John, you will find that there is a lot to do, such as exploring the Virgin Islands National Park or relaxing in the quaint Cruz Bay. You can even take an open-air safari ride around the national park's coastal swamplands and sugar plantation ruins.
Trunk Bay is undoubtedly the island's most popular beach and is known for a long stretch of white sand and beautiful turquoise water. Right off the coast is the Coral Reef Underwater Park Trail, which is perfect for a self-guided snorkel tour. 
Since St. John is located a bit further than, for instance, Water Island, you may prefer to book an excursion directly with your cruise line for peace of mind. When you book with the cruise line, you are guaranteed to return to the ship on time. If for any reason you are delayed, they will wait for you! 
Read more: 11 common cruise ship shore excursion mistakes to avoid
Skyride to Paradise Point
Image
Paradise Point offers sweeping views of St. Thomas from 700 feet above sea level! To access the top, you will have to take the Skyride, which allows guests to go to the top of a mountain and enjoy a stunning view of the island and the cruise ships below. 
Once reaching the top of the mountain, you will have the choice to shop for souvenirs, view live bird shows, or eat lunch at a local restaurant. You will want to order the signature Baileys Bushwacker drink-- there have been over one million served!
Getting to the Skyride and up the mountain is pretty simple. The only caveat worth mentioning is there are a lot of stairs and no alternative access, so if you have a stroller or wheelchair, this is something you will want to keep in mind when planning your day in St. Thomas. 
Prior to booking your ticket, look at the prices of going directly with your cruise line or on your own. Sometimes, it is cheaper to book the Skyride to Paradise point through the cruise line, rather than purchasing a ticket upon arrival. 
Read more: 10 tips for getting the best shore excursion values
Coral World Ocean Park
Image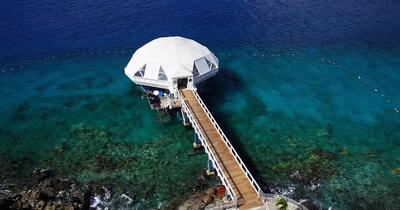 Coral World Ocean Park is an eco park on the East End of the island that allows guests to view tons of marline life without getting wet, such as sharks, stingrays, turtles and more. 
Don't worry, you have the opportunity to get in the water if you wish, as you can opt to book a variety of different animal encounters with sea lions, dolphins, and sharks! 
Pricing ranges based on what experiences you and your travel party would like to do. General admission starts at $23.50 per person, while the sea lion encounter is a little bit more expensive, costing $119 per person. 
Due to the park's location, many cruise lines will combine a tour of the facilities with a stop at Coki Beach.