Seattle is among one of the most popular cruise ports for sailings to Alaska. During the 2024 season alone, there will be over 200 different sailings to Alaska that leave from Seattle. 
Here, you will find the majority of round-trip sailings to this region, making it easier to plan your travel arrangements. It also means that you are able to cruise to Alaska without a passport, as sailings that depart from and return to Seattle are considered closed-loop cruises. 
Additionally, since the cruise terminal is located only about thirty-minutes from the airport and less than fifteen-minutes from some popular attractions, such as Pike Place Market and the infamous Space Needle, the city makes for a greta pre- or post-cruise addition. 
Below are the 7 best Alaska cruises from Seattle that you should consider for your next cruise vacation, ranging from the family-friendly Ovation of the Seas to upscale Celebrity Edge and ultra-luxurious Oceania Regatta. 
Read more: Alaska cruise guide: Planning tips and best cruise itineraries 
Royal Caribbean's Ovation of the Seas
Image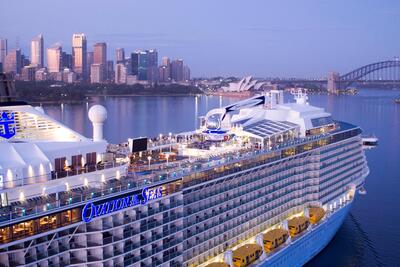 Ovation of the Seas is a Quantum Class cruise ship that entered service in 2016. The 168,666 gross ton ship is great for families who want to be active both onboard and while in port. 
While on the ship, you can try out the skydiving simulator or North Star observation pod, which takes guests 300 feet above sea level to provide once-in-a-lifetime views of the surrounding glaciers while at sea and ports of call. There's also bumper cars, roller skating, a rock wall, and FlowRider surf simulator. 
Plus, if you have children, they will love Royal Caribbean's Adventure Ocean programming, which will allow parents to get some much needed alone time!
Ovation of the Seas will sail out of Seattle during the 2023 and 2024 seasons. 
Celebrity Cruises' Celebrity Edge
Image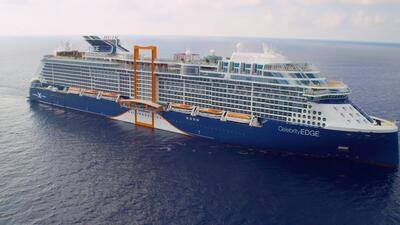 Celebrity Edge will not begin cruising to Alaska until 2024; however, it is never too early to begin planning your cruise vacation for next year! 
The first-of-its-kind Edge Class ship set sail in 2018 and has since been followed by two sister ships: Celebrity Apex and Beyond. A fourth, Celebrity Ascent, is set to launch in November 2023. 
Celebrity Edge is modern and stylish with numerous revolutionary high-tech innovations, such as the Magic Carpet, which is a multipurpose venue that juts out over the side of the ship. During the day, it is used as a tender gangway (when necessary) before being transformed into a trendy bar at night. 
The 129,500 gross ton ship has a double occupancy capacity of 2,918, making it a more intimate experience than, for instance, Ovation of the Seas, which can accommodate 4,180 guests at double occupancy and 4,905 at maximum capacity. 
Read more: Why you should book an Alaska cruise now
Princess Cruises' Discovery Princess
Image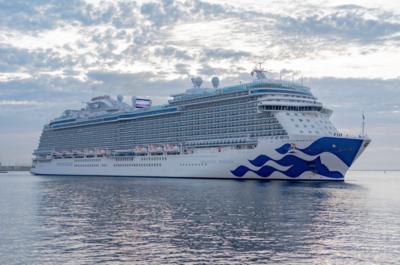 Discovery Princess is one of Princess Cruises' newest ships and made her maiden voyage in March 2022. Like with Celebrity Edge, Princess Cruises offers a more upscale cruising experience compared to other mainstream cruise lines, such as Carnival and Norwegian. She can be found sailing to Alaska from Seattle in 2023 and 2024. 
Additionally, Princess Cruises is one of the best cruise lines to sail to Alaska with, especially if you are focused on onboard enrichment programs. In addition to their North to Alaska program, children will enjoy the Alaska Explorers Youth Program, where they will be able to participate in activities like the Jr. Ranger Program and totem pole decorating. 
Read more: Princess Cruise Ships by Size
Carnival Cruise Line's Carnival Luminosa
Image
Prior to sailing as Carnival Luminosa, the ship was part of Costa Cruises as operated as Costa Luminosa. In June 2022, it was announced that the ship would be transferred to Carnival, who she has been sailing for since November 2022. 
When she began sailing for the cruise line, it was from Australia. While she is scheduled to return during winter 2023 and 2024, she can be found in Alaska during the summer seasons during both years. 
The ship contains a mix of Carnival and Costa features, making sailing on the 92,960 gross ton ship a pretty unique experience. The initial refit did not completely transform the ship, meaning that some of Carnival's FunShip 2.0 features are absent. 
That being said, updates to the dining and entertainment venues, as well as other public spaces, were completed. Carnival Luminosa also received the same livery that is present on many other Carnival ships, including Mardi Gras, Carnival Conquest, and more.  
Carnival Cruise Line is a great option for budget-conscious travelers, as they have some of the cheapest cruise add-ons at sea. 
Holland America Line's MS Eurodam
Image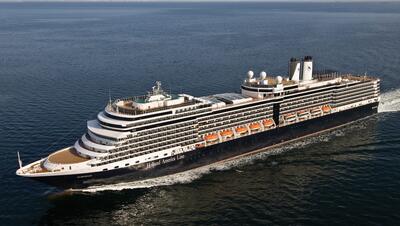 Holland America Line is another great option for those who want a more enriching onboard experience. They have been cruising to Alaska for 75 years, which is longer than any other cruise line! 
While their award-winning Yukon and Denali cruisetours are available on voyages departing mostly from Vancouver and Fairbanks, Alaska Up Close™ offers exclusive onboard programming, cruise activities, and one-of-a-kind shore excursions, including privileged access to Glacier Bay National Park.  
MS Eurodam is a great option for those wanting the convenience of round-trip flights from Seattle (fun fact: it was the 80th ship to enter Holland America Line's service and is one of the largest Signature Class ships built by the cruise line!). The 86,200 gross ton ship began sailing in 2008 and will be making voyages Alaska in 2023 and 2024. 
Norwegian Cruise Line's Norwegian Encore
Image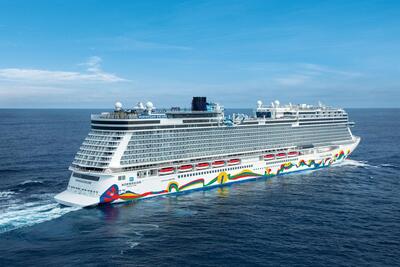 Norwegian Encore is the cruise line's fourth Breakaway Plus Class ship and entered service in 2019. At 169,145 gross tons, she is also the largest ship in their fleet! 
If you are looking to sail to Alaska as a solo traveler, Norwegian Encore is a great option, as they have 82 cabins for single guests. In comparison, their newest ship -- Norwegian Prima -- only has 73. In addition to cabins for solo guests, they also offer a solo lounge, which allows those traveling alone to mingle with others. 
With the open-air go-kart track, virtual reality arcade, quarter-mile-long promenade called The Waterfront that is home to dining venues and bars, and kids' programming, the ship is also a great option for families, too!
Norwegian Encore will sail to Alaska from Seattle in 2023 and 2024. 
Oceania Cruises' Regatta 
Image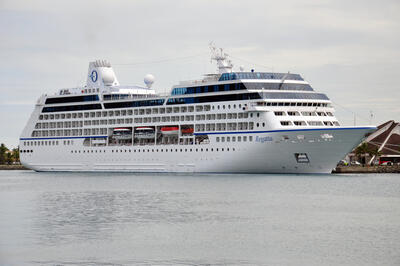 Oceania Cruises is a small luxury cruise line that only operates six ships across the globe. Since 2014, the cruise line has been a wholly owned subsidiary of Norwegian Cruise Line. 
Onboard, you will not find any of the exciting amenities that most mainstream cruise lines offer, as they cater to a different demographic. This is evident through them advertising having The Finest Cuisine at Sea®. 
Sometimes, they offer 10- and 11-night cruises from Seattle, meaning that you will be able to visit more ports of call and venture further north than 7-night cruises can. 
In July 2024, for instance, you can take an 11-night round-trip cruise onboard Regatta and visit Ketchikan, Juneau, Skagway, the Hubbard Glacier (cruising), Icy Strait Point, Sitka, Prince Rupert, the Inside Passage (cruising) and Victoria. 
The price for this sailing currently starts at $3,099 for an inside cabin per guest and, thanks to their OLife Choice package, includes six shore excursions, a beverage package, and $600 onboard credit. It can be as much as $14,899 each if you opt to sail in an Owner's Suite!
How much does a cruise to Alaska cost out of Seattle?
Image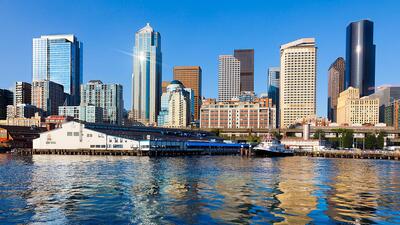 The cost of an Alaskan cruise varies based on when you sail (i.e., shoulder season or peak season), as well as what ship and cabin you book. Newer ships are obviously going to cost more than older ones. Plus, if you book a balcony, you can expect to pay more than if you book an inside cabin. 
Looking into 2024, a 7-night cruise onboard Ovation of the Seas starts around $650 per person for May departures. In mid-July, the same itinerary increases to nearly $950 each. If you look at balcony cabins, the price for May is $1,190, while the same cruise in July costs $1,750. 
Outside of the cruise fare and port fees (which can cost upwards of $200 more per person that what you see advertised as the base fare), you will need to allocate a generous budget for shore excursions, as they tend to be more expensive than those in, for instance, the Caribbean. 
On average, you should expect to pay at least $100 per person, per port. If you want to do something a little bit more thrilling, like a helicopter ride up to a glacier, these can cost hundreds of dollars each.  
Why should you take a cruise to Alaska?
Image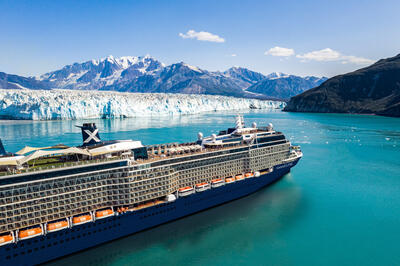 From the snow-capped mountains, to jaw-dropping glaciers, unparalleled access to wildlife, and unique shore excursions, a cruise to Alaska is unlike any other that you will experience. 
Even during sea days, you will be able to admire the natural beauty of the state, as you will cruise through fjords.
And thanks to all of the different cruise lines that offer sailings to Alaska, you can pick your perfect ship and itinerary. If, for instance, you are looking for a more romantic trip, an upscale cruise line -- like Celebrity Cruises, Holland America Line, or Princess Cruises -- might be a good fit. 
On the other hand, a cruise on a newer ship -- like Norwegian Encore or Ovation of the Seas -- that caters to families will be better for a multigenerational family reunion.
Read more: 20 Alaska cruise must-do excursions