Cruise vacations in my opinion are one of the absolute best ways to travel! Cruising delivers the best of travel experiences at minimal planning, reduced stress, and a fair price. 
One of the greatest and unique things about cruising is that your beautiful lodging accommodations travel with you. In addition to conveniently transporting guests to various fun and exciting locations, the ease of passengers' room traveling with them makes cruising one of the easiest and best ways to travel. 
In addition to ease of travel, cruising can often be one of the most affordable and cost effective forms of travel. Cruising often includes unlimited food, broadway style or theater entertainment, unique experiences, and so much more! Cruising often combines the best parts of an all-inclusive resort with the convenience of transporting guests all over the world in a fun way at sea. 
Image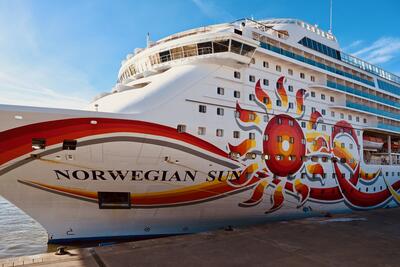 I recently had the opportunity to tryout the cheapest stateroom cabin with fellow Cruise Blog writer and best friend, Allie! When looking for the cheapest spring break sailing, Allie found a quick 2-night sailing with Norwegian Cruise Line out of Malaga Spain. Read all about our thrilling adventure to get to this cruise here written by Allie! 
This European itinerary allowed us the chance to sail with one of Norwegian Cruise Line's oldest ships, the Norwegian Sun. We explored this ship thoroughly, and you can read about our full review here! Come along with us as we explore exactly what the cheapest Norwegian Cruise Line stateroom cabin has to offer its guests. 
Stateroom
Overview
Image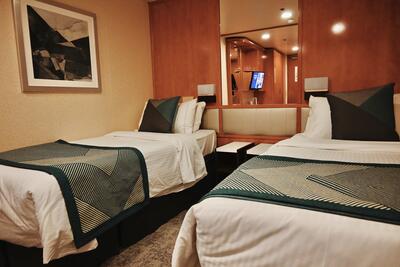 We stayed in the cheapest category of stateroom that the Norwegian Sun ship has to offer, a standard interior stateroom. 
Upon entering our room for the first time, my first impressions of the cabin were pretty good. I thought that despite the age of the ship, 20+ years, that this cheap stateroom was very clean and relatively modern and updated. 
The Norwegian Sun is one of the oldest vessels in the Norwegian Cruise Line fleet and part of Norwegian's Sun Class. This ship did receive a recent refurbishment in 2021, helping it to stay up to the Norwegian Cruise Line brand standards. This refurbishment helped to ensure that this older ship can continue to bring a good vacation to guests for years to come. 
Image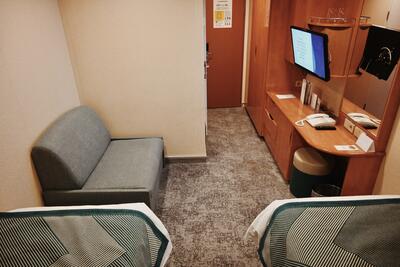 Because we were two friends traveling together, Norwegian Cruise Line had separated the stateroom bed into two smaller twin-sized beds. This allowed the room to feel a little more spacious as well which is a great pro. The stateroom bed can also be configured to a standard queen size bed to accommodate couples traveling together. 
Image
The room came complete with some standard cruise ship amenities such as two bedside tables, small reading lights above the bed, a large closet with hangers, a small couch in the corner, a small ottoman, a television, multiple drawers to store clothes and possessions, several European electrical outlets and United States outlets to charge devices, a room service menu, phone to call various locations around the ship, and two wine glasses to use during your stay. 
Image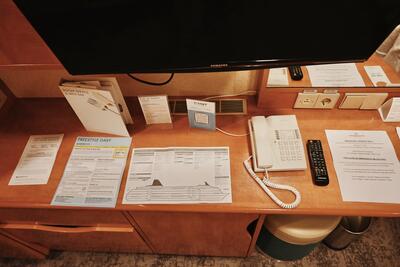 Overall we felt like this room offered every amenity guests could need during their cruise. The room was spacious for an interior cabin, if not a little dated. The beds were comfortable and offered great nights of sleep as we sailed along the Spanish coast. 
This room definitely could feel older when compared to some of the more modern staterooms offered on the newest Norwegian Cruise Line ships, such as the Norwegian Prima or the Norwegian Viva. However, for guests looking for a more affordable cruise experience or who are more focused on the destinations they are visiting rather than the ship itself, I think the Norwegian Sun could be a great option!
Bathroom
Image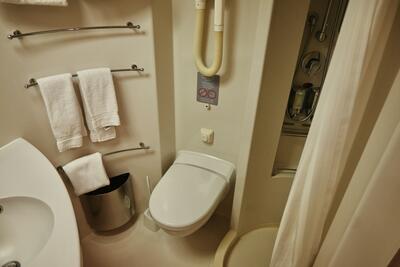 Our least favorite part of this cheap stateroom was the bathroom. This bathroom was where the stateroom showed its age. 
Complete with a dated, lime green color, this bathroom was rather small and featured a shower with a wrap-around cloth shower curtain. 
Image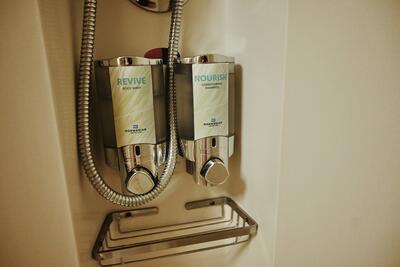 The bathroom did have a hairdryer which I thought was relatively unique, as most cruise ships do not have hair dryers in their rooms. 
Image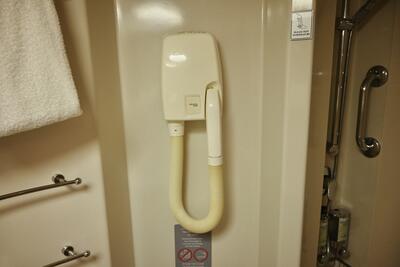 (Hairdryer in the stateroom bathroom located above the toilet) 
The shower was well stocked with wall-mounted soap, shampoo, and conditioner. These wall-mounted soaps help ensure that guests have plenty throughout their sailing, and are refilled by stateroom attendants when necessary. 
Image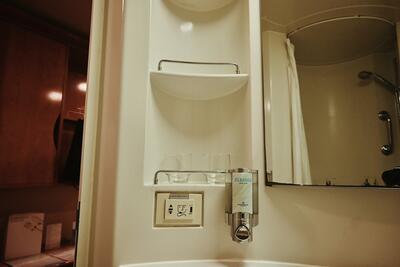 While we did feel that the stateroom bathroom was where this ship showed its age, the bathroom did have everything travelers would need throughout their cruise sailing. 
Included in the Price of the Cruise
Image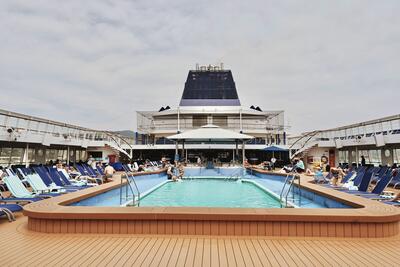 As I stated above, cruising can be a great and cost effective way to travel to multiple destinations, countries, and cities during the same vacation. 
The reason for this is because many things are included for the price other than just the stateroom. One of the biggest things included in the price of a Norwegian Cruise Line sailing is most of the food. Guests can eat an unlimited amount of food during their cruise at the buffet and at the main dining rooms. Guests can also enjoy coffee, juice, and flavored water drinks for free once onboard. 
Image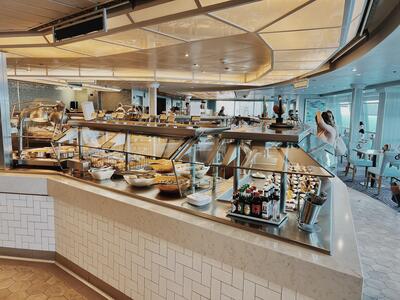 Another fantastic thing included in the price of Norwegian Cruise Line sailings is entertainment. Guests can enjoy theater style performances as well as live music throughout the several bars and lounges onboard. Read more about what we thought about the entertainment onboard the Norwegian Sun here. 
Guests also have complimentary access to most if not all of the ships' amenities when they travel with Norwegian Cruise Line. Some of these amenities include things such as access to the pool and hot tubs. 
Image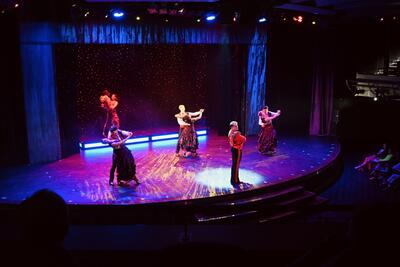 We had many thoughts about our experience onboard the Norwegian Sun! Checkout why we think a two night cruise can be the perfect getaway here. 
How Much Did This Room Cost?
Image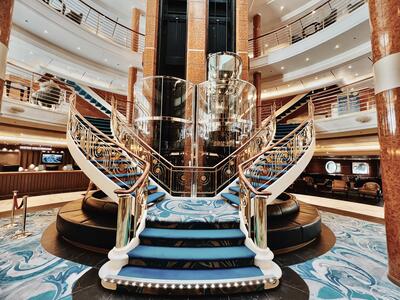 So how much exactly did sailing on this cruise cost in the cheapest stateroom cabin onboard? 
During this last spring break season, it cost Allie and I a total of $454 U.S dollars. This cost covered two people sailing in a standard interior stateroom for two nights onboard the Norwegian Sun. This price also included all the gratuities for the sailing. 
This equals out to be about $227 per person, or $113.50 per person per night of the cruise. When this cost is broken down, it is quite reasonable for a cruise experience. Again, this cost includes an unlimited amount of food and entertainment, as well as the unique experience of being on a cruise ship. $227 per night is rather comparable to the cost of what it would be to stay in a nice hotel for just one night. For this price to include so much, as well as convenient transportation to several locations, and for two nights, I think it is well worth the cost.  
Conclusion
Image
(Allie excited to board the Norwegian Sun!)
Our experience with Norwegian Sun was great for the most part! Because this sailing was super cheap, we felt that it was worth the cost for a quick cruise. 
Overall I think sailing with newer cruise ships can give a better idea of everything cruising has to offer. However, choosing a cheaper and older cruise ship can also offer a great vacation! It's all about mindset and what prospective cruise guests prioritize for their vacation. 
We hope you enjoyed hearing what we thought about Norwegian Cruise Line's cheapest stateroom! We are looking forward to sharing more with you about our cruise adventures here at Cruise Blog, make sure to check back regularly for reviews, tips, and so much more about the cruise line industry.