When it comes to cruising it is very likely that most itineraries will have at least one day exclusively spent at sea. 
For those who are new to cruising, what does this mean? Sea days are an entire day spent sailing, you guessed it, at sea. This means that your cruise ship will not dock at a port, and there will be no shore destinations visited on this particular day. 
For some people, sea days are controversial. Some people enjoy them, while others try their best to avoid cruise itineraries that have them. Some individuals find sea days to be a good opportunity to explore their cruise ship; others find sea days boring and would rather spend their vacation time exploring new places. 
Here are 10 reasons why I think sea days should be savored when sailing with Norwegian Cruise Line. 
#10 - Time to relax between busy port days
Image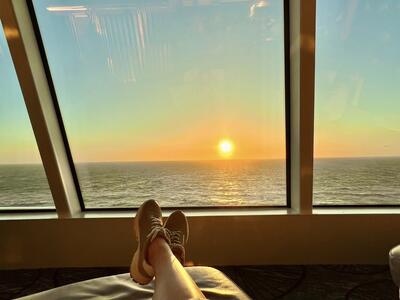 Personally, I think that sea days revolve around one thing: relaxation. 
Whether your cruise itinerary visits the Caribbean or Europe, you are likely to experience some exciting ports of call. This means a lot of time onshore exploring during port days. While these days are a lot of fun, they also can be rather tiring. 
Having the opportunity to relax after a long day of walking and exploring can be rejuvenating. In fact, it can help ensure for great port days throughout your sailing. If you have a sea day or two throughout a cruise, it means rest days allow you to recuperate for more long days ashore later on in your journey! 
#9 - More time spent by the pool
Image
When prospective guests think about planning their dream cruise vacation, they may envision afternoons lounging by the pool in the warm sun. However, these particular dreams may not become reality if it means a busy shore excursion schedule everyday. 
If guests really want the opportunity to fully test out the relaxing pools and hot tubs onboard, the best chance may be during a sea day. However, do keep in mind that sometimes sea days do mean these areas of the ship may be at their most busy, but it does mean that overall guests will be able to maximize their relaxation time during a port intensive cruise itinerary without sacrificing time enjoying the ship's pools. 
Cruise vacations can be what you make them, either packed full of adventure or days spent relaxing and rejuvenating. 
#8 - Opportunity to test out thrilling onboard activities
Image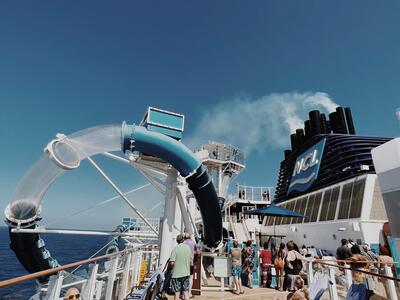 A full day onboard the cruise ship means the guests have a full day to test out the exciting amenities! 
Many modern day cruise ships, including many of Norwegian Cruise Line's ships, have thrilling water slides onboard, such as the Ocean Loops slide that features an adrenaline pumping free-fall and two gravity defying loops! 
Image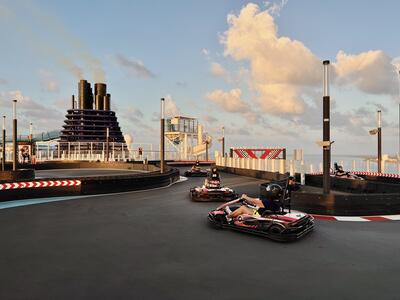 In addition to exciting waterslides, Norwegian Cruise Line has possibly the most thrilling onboard activity on cruise ships I have seen yet: The Norwegian Speedway, a real-life race track at sea! Guests have the opportunity to test out their need for speed against other participating guests. It is a must-do activity onboard Norwegian Breakaway Plus Class ships and Norwegian Prima Class ships. 
Another activity you will find onboard newer Norwegian ships is the Galaxy Pavilion, a virtual reality arena of sorts that has many different games and simulators for guests to try out. This activity comes at an additional cost at $8 USD per game. It's very unique and offers a great way for passengers to try out something new onboard a cruise ship. 
All in all, Norwegian Cruise Line has a plethora of exciting activities for guests to test out during a sea day! No guest onboard will find themselves bored during a sea day, especially on Norwegian Cruise Line's newer vessels! 
#7 - Catch a show (or two)
Image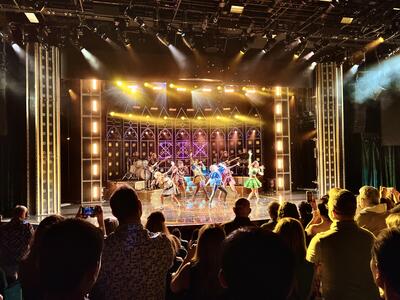 I think that Norwegian Cruise Line has some of the very best entertainment at sea!
Many of Norwegian's ships feature Broadway style theater shows that have phenomenal talent. Some of my personal favorite shows onboard Norwegian Cruise Line ships include "Six," "Jersey Boy," and "Choir of Man."
All three of these performances feature incredibly talented and engaging singers, dancers, and acting, and guests can see these specific shows onboard Norwegian Bliss and Norwegian Encore ships. 
#6 - Take the time to slow down and enjoy a drink
Image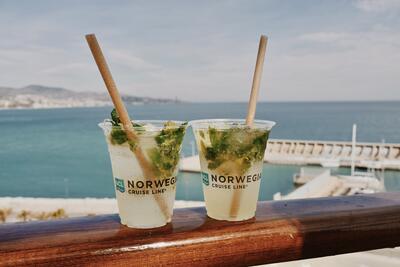 In addition to the main theater shows onboard, passengers can also catch live music performances throughout the ships' various bars and lounges. Many Norwegian Cruise Line ships feature 10 or more bars and lounges onboard! In other words, there's no shortage of places for passengers to order a fun and tasty drink. 
Image
One of my favorite bars onboard is Skyy Vodka Ice Bar! This very unique bar and lounge resembles some of the ice bars that can be found in Scandinavia. With real ice sculptures and a full bar made of ice, this exciting bar is something that must be seen to experience! 
Guests pay a cover charge to enter this chilling bar which includes two vodka drinks. Make sure to dress warmly when planning on visiting this bar! It gets seriously cold in this bar, and the crew member inside we spoke to said that if guests do not come prepared, they often do not stay in the bar for more than 5 minutes! Guests can find this bar onboard Norwegian Getaway. 
Another one of ,y favorite bars onboard many Norwegian Cruise Line ships is the Sugar Cane Mojito bar. If you are someone who enjoys mojito cocktails, I would absolutely recommend trying out this bar on your next Norwegian Cruise Line sailing. One of my favorite things to order is the Mojito Flight. I will take it outside to enjoy the sunset while lounging in one of the comfy seating areas near The Waterfront. 
The Mojito Flight is a great way to tryout many different styles of mojito cocktails and is also a pretty good bang for your buck as its priced relatively reasonably. 
#5 - Try your hand at bingo or another game show
Image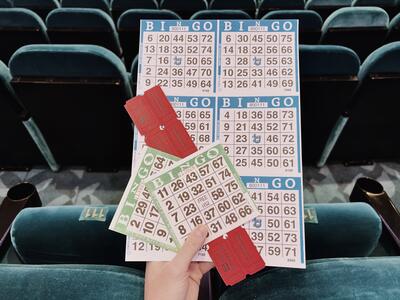 It may be a stereotype, but it's true, there's bingo and game shows onboard cruise ship, and Norwegian Cruise Line is no exception. If you are someone who enjoys a good bingo game, or maybe watching engaging guest-interactive shows such as "Deal or No Deal," you will definitely be able to find them onboard most Norwegian Cruise Line ships. 
I tried out bingo for the first time on my sailing with Norwegian Bliss this past February, and it was a lot of fun! If you are willing to part with some cash, this activity is funny and engaging to do with adults. I recommend doing bingo with family or friends as it makes the experience more fun! 
Watching the live "Deal or No Deal" show is free while onboard (it does, however, cost extra to participate). These activities can get pretty lively during sea days!
Make sure to check the Freestyle Daily, the printed copy of the ship's schedule, that is delivered to every stateroom each night. It's a great resource that tells passengers exactly what activities will be conducted onboard, when, and at what location. The Freestyle Daily is definitely your best friend during a sea day! 
#4 - Dine by the sea
Image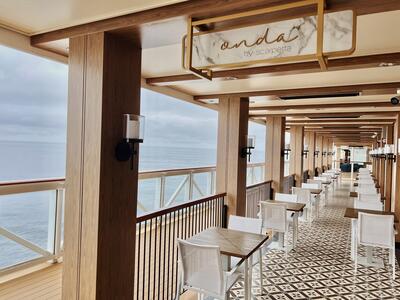 One of the great and relatively unique things that Norwegian Cruise Line offers in terms of dining is outdoor dining. Outdoor dining is not always common to find on cruise ships, but Norwegian Cruise Line has a great region onboard many of their vessels called "The Waterfront."
The Waterfront is the outdoor portion of many of the specialty dining venues onboard that allows guests to sip wine or enjoy a delectable meal while watching the ocean waves roll by. Eating at these specialty restaurants comes at an additional cost; however, it does make for a truly unique dining experience. 
Ending a sea day eating a great meal by the ocean would be a romantic and peaceful way to end a beautiful day spent at sea, as well as make for great cruise vacation memories. 
#3 - Take a midday nap in your cozy stateroom
Image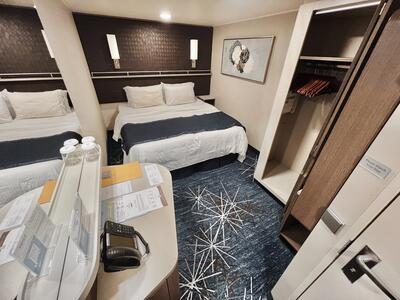 (Example of standard interior stateroom onboard Norwegian Bliss)
I'll be honest, one of my favorite things is taking a good nap! A good nap can be so relaxin and can really help to ease tired feet after a long day of exploring or help rejuvenate your mind after a long day spent on a shore excursion. 
Read more: I stayed in a $1,700 stateroom on Norwegian Bliss — see what my room on this new cruise ship looked like
Remember that your cruise vacation is exactly what you make it. There might be pressure to do and see as much as possible, but that can also be exhausting. Take the time to relax when needed, and the rest of your trip will go swimmingly. 
Image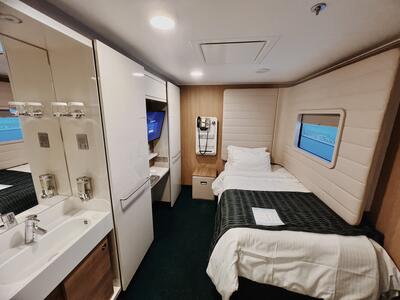 (Example of a studio stateroom onboard Norwegian Encore)
Norwegian Cruise Line does a great job of creating and providing cozy and comfortable staterooms for all their guests. One of the coziest rooms I have stayed in while on a Norwegian Cruise Line voyage was a studio stateroom. 
I thought this room was exceptionally cozy and a great option for solo travelers looking to take a cruise with Norwegian. Norwegian Cruise Line is one of the few big cruise lines that offers this type of stateroom, and if you are someone looking to take a cruise adventure solo, definitely check out these rooms as an option! You will not have to pay the dreaded double occupancy supplement for a traditional cabin!
Read more: I stayed in a $457 studio cabin on Norwegian Encore - Take a look inside my tiny cabin
#2 - Take a stroll along The Waterfront
Image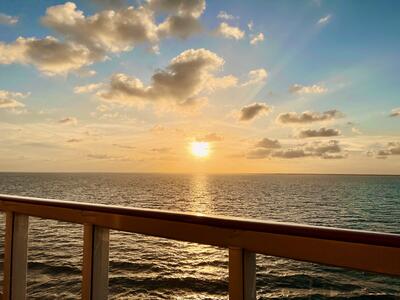 The Waterfront is an awesome place onboard many Norwegian Cruise Line ships. In addition to dining outdoors, this area also makes for a great place to take a stroll if you do not want to splurge on any specialty dining. 
The Waterfront is not offered on every Norwegian Cruise Line vessel, but it is present on all of the cruise line's newer ships. Guests will be able to find this unique area on ships part of the Breakaway Class, Breakaway Plus Class, and Prima Class. 
One of my favorite things to do on any Norwegian Cruise is to enjoy the sunset during an evening walk around the ship. Many Norwegian ships offer wrap-around decks that provide endless spots for guests to take in the beautiful ocean views while catching the fresh sea air. 
Whether it be an early morning power walk or a late evening stroll,  The Waterfront is a must-see on your next Norwegian Cruise Line cruise.
#1 - Watch a movie under the stars
Image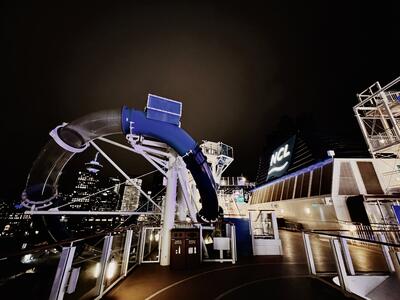 (Pool deck at night onboard Norwegian Encore ship while docked in Vancouver, British Columbia)
A little hidden gem that new cruisers might not know about is that Norwegian Cruise Line does have movies under the stars!
Guests can enjoy an outdoor showing of a movie out on the main pool deck at night. This can be a great activity to do with kids or as a fun little date night after catching some live music at one of the bars or lounges. 
Many popular movies are played onboard. In the past, I have noticed Harry Potter, James Bond, and Star Wars movies.
Catching a movie under the stars can be a unique cruise memory in the making! Make sure to check the Freestyle Daily for current movies being played and at what times during each day of your cruise. 
Conclusion
Image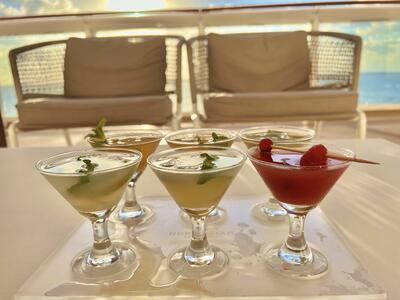 If you have a cruise booked with one or multiple days at sea scheduled, no need to fret! This is a good thing! 
Having sea days during your cruise means more time to explore your cruise ship. After all, cruise ships are in of themselves a vacation destination! Take the time to explore your ship thoroughly, as cruising is truly one of the most unique ways to travel and these giant floating vessels have so much onboard to see. 
Norwegian Cruise Line does a great job of making sure their onboard guests will never be bored on a day at sea. We here at Cruise Blog have always really enjoyed sea days for all of the onboard possibilities they present and offer, and we know you will too!