The Norwegian Bliss is one of Norwegian Cruise Line's newer ship being built in 2018, and there is a lot about this ship that guests will love! Norwegian Cruise Line has continued to build incredible vessels of fun that provide passengers with the opportunity to create special vacation memories. 
I recently had the privilege of sailing onboard the Norwegian Bliss for the first time last month in February 2023, and I am excited to share with our readers some of the things I really enjoyed about this unique ship! 
Come along with me as we take a look inside the Norwegian Bliss and discover some of the things that make this ship a vacation destination in of itself, and why I think prospective Norwegian Cruise Line guests should consider this ship for the top of their cruise bucket list. 
1. Unique Onboard Spaces
Image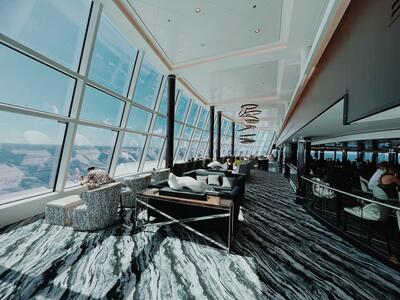 One of my favorite things about Norwegian Cruise Line in general, is that they provide plenty of spaces outdoors for their guests to enjoy. One of my favorite areas on nearly every Norwegian Cruise Line ship is The Waterfront. This unique venue provides beautiful ocean views accompanied by plenty of comfy and relaxing seating, fun bars to check out, and specialty dining locations in which guests can dine outside. This area of Norwegian ships is a must-explore for guests! 
One of my personal favorite areas onboard the Norwegian Bliss that I have yet to see on a Norwegian Cruise Line ship, is the Observation Lounge. This venue is a great place to hangout, relax, and take in the serenity of the ocean flowing by. This space also has a small buffet and a tea and coffee station where guests can indulge in complimentary refreshments. One of my favorite memories from my recent sailing on the Norwegian Bliss was when we decided to eat an early morning breakfast in the Observation Lounge overlooking views of Cozumel, Mexico. 
I also enjoy that nearly every Norwegian Cruise Line ship has a Spice H2O. This unique space is designed for, and specifically caters to adult guests. Reserved for passengers 18+ years, guests can find a bar, hot tubs, lounge chairs, and a dance floor for nightlife experiences, all in a fun outdoor space. I liked how the Norwegian Bliss had plenty of lounge chairs in their version of Spice H2O. This meant that if the pool deck seems crowded on a sea day, adult guests may find a more relaxed area in Spice H2O. 
2. Dining for Everyone
Image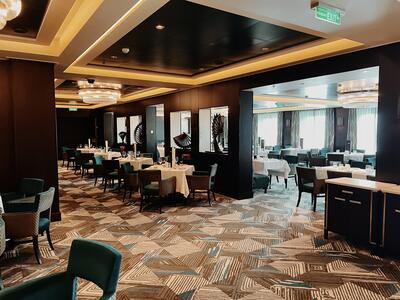 (Glimpse inside the Taste Restaurant)
Norwegian Cruise Line does a great job of offering plenty of dining options to fit every passenger. Something I love about Norwegian is that they have multiple complimentary main dining options, alongside their main buffet. Onboard the Norwegian Bliss guests can find the Norwegian Cruise Line classics, the 'Savor' and 'Taste' restaurants as well as a main dining room called 'The Manhattan Room'. 
The Savor and Taste restaurants offer a relaxed luxury dining experience that I have really enjoyed on each of the Norwegian Cruise Line ships that I have been on, and the Norwegian Bliss was no exception! These restaurants offer a more intimate dining experience for guests, and are completely complimentary. I would compare these venues to a traditional, nice restaurant. 
The Norwegian Bliss has a third main dining option, The Manhattan Room. This venue is similar to the more traditional large scale dining rooms that can be found on many larger cruise ships. This venue is also a great option for those looking to dine in a larger setting or for those who have large travel parties who would like to all sit together. 
Each of the complimentary dining locations is often open for both a more formal sit-down breakfast as well as dinner. The buffet onboard is open everyday for breakfast, lunch, and dinner. The buffet can be a great option for families or those looking for a more casual dining experience. 
One of the foodie things that I loved about the Norwegian Bliss was the variety of healthier options and more indulgent choices. There was always something I found appetizing on every menu. Norwegian Bliss did a great job of also accommodating any passenger who had dietary restrictions or preferences. 
3. Water Activities for Everyone
Image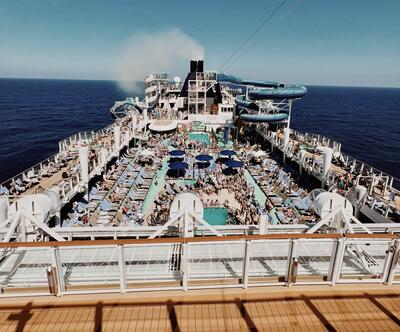 I appreciated that the Norwegian Bliss does a great job of providing activities and experiences for every member of the family and travelers. There are water activities for younger children, such as a child-friendly pool and a water slide called the Aqua Racer. There is also a relatively large kids splash pad complete with fun water spouts, climbing steps, and small slides. 
Simultaneously, there are several adults only pools onboard. Such as the adult only pool on the main pool deck as well as The Haven exclusive pool. There is also a very thrilling waterslide called Ocean Loops that involves a drop floor and multiple loops. This slide is really fun, and I definitely recommend it to thrill seekers! An important note, is that guests must weight at the minimum 125 lbs in order to try out the Ocean Loops slide. 
Providing child friendly water activities alongside adult-only pools allows the entire family to enjoy an afternoon in the sun! 
4. Unique Onboard Activities
Image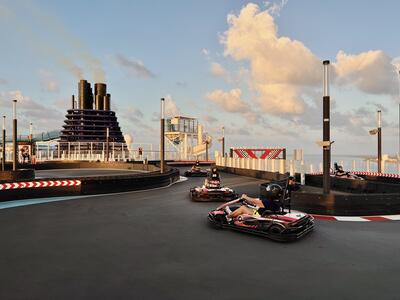 The Norwegian Bliss has some of the most unique onboard activities that I have ever seen on a cruise ship. Including the Bliss Speedway and outdoor laser tag! These two unique activities can be enjoyed by guests during both the day and at night time. 
Check out our entire article about the Bliss Speedway here! 
The Norwegian Bliss highly recommends that guests make reservations in advance for these activities in case they fill up. For example, we made a reservation for later on in our sailing, on the embarkation day of our trip. At the time, the crew members said there was plenty of availability, and it seemed to stay that way throughout our trip. However, I do recommend making reservations for these activities as soon as possible on your next Norwegian cruise.
5. Diverse Buffet Food Options
Image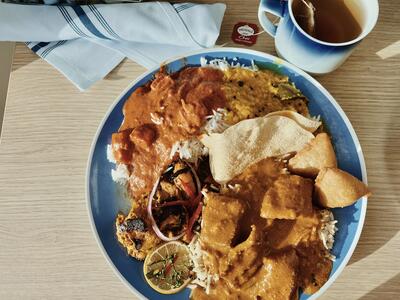 One of my personal favorite things onboard the Norwegian Bliss that I have not seen onboard any other cruise ship so far, is the Indian Cuisine section of the buffet. I appreciated how delicious and relatively unique to a cruise ship this offering was! If you like Indian food, or would like to try it, I definitely recommend seeking out this area of the buffet. 
I also greatly appreciated that there was a wide variety of food options at the buffet in general. Many guests choose to eat at the main buffet for breakfast and lunch, and having a plethora of choices is nice and convenient. 
The Norwegian Bliss's buffet also provided many healthier options, and food options for those with dietary restrictions and preferences. It was helpful to be able to always find something delicious and appetizing at the buffet! 
Something fun, on the Norwegian Bliss, the buffet is also where guests can find the all-you-can-eat soft serve ice cream machine. Guests can dispense flavors of chocolate, vanilla, and swirl as much and as often as they want! 
6. Spectacular Theater Shows
Image
The Norwegian Bliss had plenty to entertain its guests, but one of my favorites was the theater style shows onboard. At the time of our sailing, the Bliss was putting on two shows, one called 'Six' and the other called 'Jersey Boys'. 
Both these shows are definitely worth checking out, and are put on by incredibly talented performers. Each of these shows can be identified as musicals and run a duration of about 70 minutes, a rather long time for a theater show onboard a cruise ship. 
'Six' is a comedic, modern, musical, twist on the historic story of Henry VIII's six wives and their trials and tribulations. While 'Jersey Boys' is the musical story of the real-life band The Four Seasons. Each of these shows leaves guests learning something new while being thoroughly entertained. 
7. Kids Clubs Locations
Image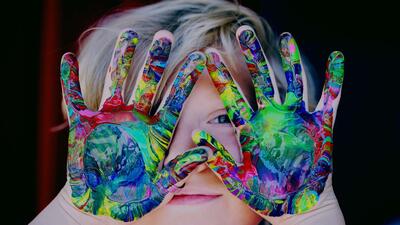 Something that I thought was relatively unique to the Norwegian Bliss, from the other large scale cruse ships that I have been on so far, was the location of the kids and teens clubs. 
All of the kids clubs on the Norwegian Bliss are located on Deck 5. The only other things located on Deck 5 are staterooms and crew offices. This means that for the most part, children and teens have free reign in this region of the ship. Parents who choose to use the kids clubs can be assured that there is a region of the ship reserved mostly for younger passengers, and this helps keeps kids and teens in one location onboard. 
Some travelers may be worried that this would make Deck 5 rather noisy from the sounds of children playing. However, on this sailing we happened to stay on Deck 5, and never once heard the noise from the kids or teens clubs. 
8. Genuinely Funny Comedians
Image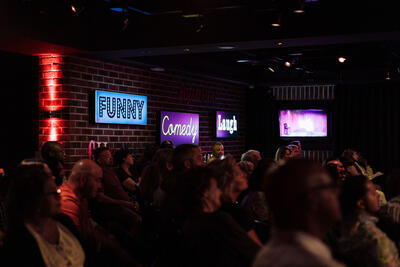 Sometimes jokes are made about cruise ship comedians (no pun intended). I have heard it by many people that cruise ship comedians are not their favorite. However, I have to say that the two comedians onboard the Norwegian Bliss during our February sailing were the best I have seen onboard a cruise ship so far! 
The gentlemen comedians on our sailing were Leo Flowers and Mark Klein. These two gentlemen had great comedic acts of both the more family friendly variety and the adult-only variety. 
I appreciated how both of these comedians finished their acts with words of motivation, and how upbeat and positive they were. Their acts ended leaving the audience with good laughs and feeling happy, and giving everyone a motivational lesson to think about. If you have the chance to see either of these comedians onboard a cruise sailing, I would definitely recommend catching their acts!
9. Plenty of Hot Tubs and Pool Spaces
Image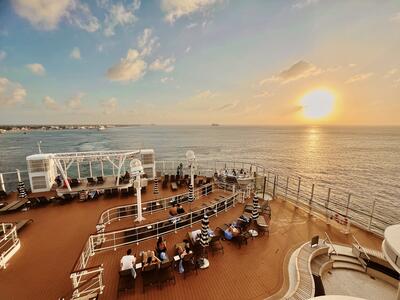 Something that I greatly appreciated about the design of the Norwegian Bliss was the relatively large amount of hot tubs onboard. The hot tubs were all located on the decks above the main pool. There were two hot tubes in the adults only area at the back of the ship known as Spice H2O, and several more hot tubes located in the Vibe Beach Club and The Haven areas of the ship. 
I appreciated that there were so many of these hot tubs available to guests, because it meant that more passengers had the opportunity to use the hot tubs and they usually seemed less crowded throughout the sailing than what I have seen on previous large cruise ships I have sailed on. 
10. Exciting Itineraries
Image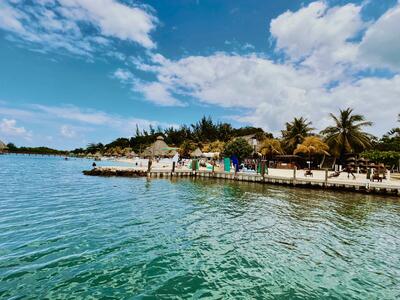 The Norwegian Bliss has many exciting itineraries that it sails on throughout the year. The Norwegian Bliss sails to Alaska, the Panama Canal, Florida, Mexico, the Caribbean, France, Spain, Portugal, Transatlantic sailings, and one of Norwegian Cruise Line's exclusive private islands, Harvest Caye. 
The relatively large diversity and amount of itineraries that the Norwegian Bliss offers allows guests many different types of cruise vacations they could choose from. This means that guests have the opportunity to potentially sail on the Norwegian Bliss several times and to cruise to different destinations and regions of the world. 
Conclusion
Image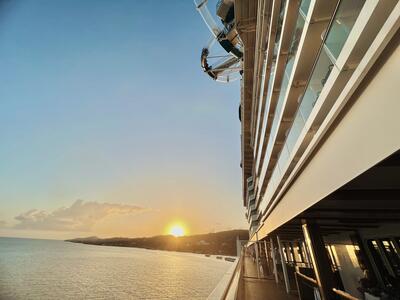 Should you have the opportunity to sail on the Norwegian Bliss, I recommend spending your embarkation day walking around the Bliss and exploring it thoroughly. That way, you will know your way around the ship and everything it has to offer for your sailing! 
The Norwegian Bliss is full of potential for its passengers to create wonderful and unique vacation experiences and memories! This ship has many great features and is sure to delight any guest who choses to sail on the Norwegian Bliss!