Norwegian Cruise Lines is one of the biggest names in the cruise line industry. Because of their sheer size, Norwegian is able to offer many different types of stateroom and cabins to its guests. I recently sailed onboard the Norwegian Bliss and stayed in a room, that all said and done, cost $1,700 total for the cruise. 
This room was among the cheapest and more affordable onboard the Norwegian Bliss for this particular sailing. Follow along with me as I detail just what this stateroom included for our cruise! 
Overview
Image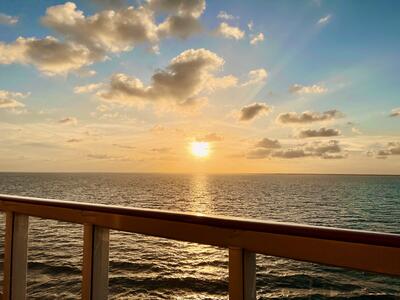 I sailed with Norwegian Cruise Line aboard the Norwegian Bliss this past February 2023. The itinerary that we chose to sail on was a 7-night sailing that took us to several destinations within the Caribbean and beyond. Along the course of our week we visited Roatan Honduras, Harvest Caye Belize, and Cozumel Mexico. We also had three full days at sea, not including embarkation day. 
The Norwegian Bliss has several types of staterooms onboard. Including Studio Staterooms, Inside Staterooms, Oceanview Staterooms, Balcony Staterooms, Spa Staterooms, Club Balcony Staterooms, and The Haven Suites. 
Our particular cabin was a standard Inside or Interior Stateroom. These room types are usually, if not always, the cheapest category of cabins that guests will be able to find on any cruise ship. These rooms have no windows and are usually rather small. However, Inside Staterooms do come equipped with every amenity a cruise passenger could need during their sailing. Most Inside Staterooms are able to host up to two guests for a cruise. 
Amenities
Image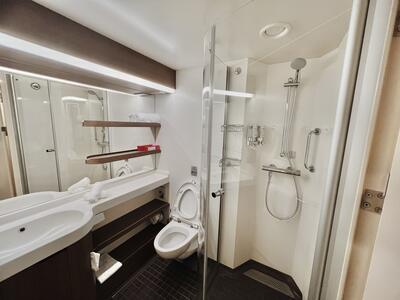 Upon entering our room we could see that it had a single king sized bed that we found to be very comfortable. Most Norwegian Cruise Line ships are able to convert their standard king sized beds into two twin sized beds for those traveling with friends or passengers wishing to separate the bed for any reason. I have slept in both the king-size and the twin-size bed configuration onboard Norwegian Cruise Line ships and have found both layouts and configurations to be equally convenient and comfortable. 
Most beds onboard cruise ships these days have space underneath for guests to store their luggage and bags. This is a great feature that allows guests to put away their large role-away luggage, and keep the room organized. I have found that unpacking my bags on a cruise helps the room to really feel like my home at sea. 
These Inside Staterooms while at first glance seem to be quite small, do in fact offer their residents plenty of storage. There is a large standing closet complete with hangers and shoe shelves in which guests can store their clothes and belongings. 
Guests can also find a small safe inside the closet should they choose to place any valuables in this locked compartment. However, I would warn prospective cruise passengers to always double check the safe before disembarking your cruise, as it is quite common for guests to leave behind items in these safes. 
Along with the closet, guests can find storage underneath and on the desk or vanity that is standard in each room. This area features a large mirror and can be a great place to get ready in the mornings and to place items of frequent use such as sunglasses. 
On either side of the bed there are two night stands. These night stands often have a drawer and a cubby in which passengers can place nighttime items such as a book or their phone.
Both Norwegian Cruise Line ships that I have had the privilege of sailing on so far have been equipped with several outlets allowing guests to charge their electronic devices. Both ships I have been on had both United States configured outlets and a standard European Union configured outlet. 
Each Norwegian Cruise Line cabin, no matter the category has their own private bathroom. The bathrooms on most cruise ships are pretty small, however, I have found that on both the Norwegian Getaway and the Norwegian Bliss, the bathroom was sizable and offered plenty of space. Our Inside Stateroom bathroom onboard the Bliss had two large open shelves to store and place toiletries, as well as a larger sized counter. Our bathroom had a large walk-in shower with glass door that felt rather roomy. 
Location
Image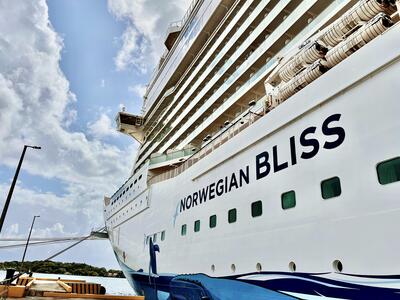 Our stateroom on this particular sailing was located on Deck 5, forward. We were close to Deck 4 which meant we did not have to wander very far to disembark the ship when we had arrived to our various port stops. This was because on the Norwegian Bliss guests disembarked on Deck 4 when visiting destinations. 
While we were not traveling with any children, Deck 5 on the Norwegian Bliss would be a great choice to stay if you were to be traveling with kids and young children who would be enrolled in the kids clubs. Deck 5 is where all of the kids and teens' clubs are located onboard the Norwegian Bliss. 
A reason why staying on Deck 5 may prove to be challenging, is that it is the farthest away from the ship's main buffet and pool decks. This means that in order to go to the buffet for breakfast for example, we needed to either climb the stairs 10 decks, or we needed to wait for one of the elevators, which can take a long time especially during peak times during the day. 
All that to say, we had no issues staying on Deck 5. We did appreciate that because our stateroom was way below the pool deck and theater, it meant that we never heard any loud noises at night. Due to Deck 5 being so far down, it made for a relatively peaceful deck to stay on, on the Norwegian Bliss. 
With our room located towards the front of the ship I was interested to see if we would feel any rocking or swaying as we sailed. I am pleased to say that despite our room being towards the front of the ship we felt minimal ship movement in our Inside Stateroom on this trip. 
Overall we were pleased with the location of our stateroom, and would recommend it to other prospective Norwegian Bliss passengers! 
Price Breakdown and Conclusion
Image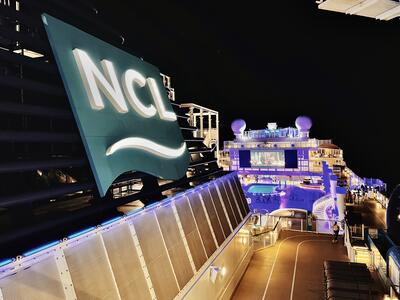 At the price of $1,700 total for a weeklong sailing, this breaks down to about $242 per night. Or $121 per person, per day of the cruise. When you think about the fact that an unlimited amount of food and entertainment is included in this price, it really makes cruising one of the most affordable vacation methods there is! 
We really enjoyed our Inside Stateroom onboard the Norwegian Bliss, and thought that it was well worth the cost for an entire week's worth of cruising the Caribbean! The Norwegian Bliss is one of Norwegian Cruise Line's newer ships, and had so much for guests to explore. Check out some more our our Norwegian Bliss articles here!