Between the rich culture and history, European cruises provide the ultimate convenience for visiting multiple countries on a vacation without having to unpack and repack your suitcase.
After 30 cruises, I can confidently say that European cruises are my favorite. I love having a comfortable home base to return to each evening, all while getting to experience new cultures and countries every single day. 
Cruising around the Caribbean too much can feel monotonous for me; European itineraries have so much variety with new cultures, cities, and countries. In my experiences, European itineraries have a different tempo and vibe than a Caribbean cruise, too. You are not spending your days on the beach sipping cocktails-- most of the time, at least! Instead, you are out exploring historic cities like Rome, Barcelona, Florence, Athens, and more. Each day brings new incredible sites to be seen.
Image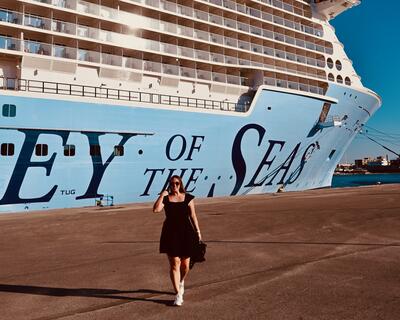 In fact, if I am taking a cruise around Europe, I usually do not even care which cruise ship I am sailing on. The destinations are more important to me than the cruise ship. When I am spending time and money to go on vacation, I want to make sure the itinerary highlights destinations that interest me.
Back in October, I set sail on a unique itinerary to Israel from Rome on a 12-night sailing onboard Royal Caribbean's Odyssey of the Seas. This was a bucket-list cruise that my family had been planning for years, which had to be rescheduled multiple times due to the pandemic. While I've sailed to Europe more than 10 times, this cruise was particularly special because of the highly-anticipated itinerary.
My family and I had been looking forward to this trip for years. We had meticulously planned all three days in Israel to optimize our time in the Holy Land. As with any vacation, there are aspects that might not always go as planned or that fall short of your expectations.
Here are the top things that I loved and hated about my European cruise with Royal Caribbean.
Loved: Royal Caribbean's excursions
Image
I'm not one to always take excursions offered by the cruise line. In fact, it's pretty rare that I book excursions through the cruise line unless I am sailing on a unique itinerary. Normally, cruise line excursions are overpriced compared to third-party vendors.
However, booking excursions through Royal Caribbean was the best decision we made for this cruise. We opted to book four excursions for this 12-night itinerary, with three in Israel and one in Santorini. 
To start, Israel has strict immigration policies where every guest is required to do face to face interiews before entering the country. This can take up to four hours for everyone onboard to complete! However, those traveling on Royal Caribbean excursions have priority for immigration.
Image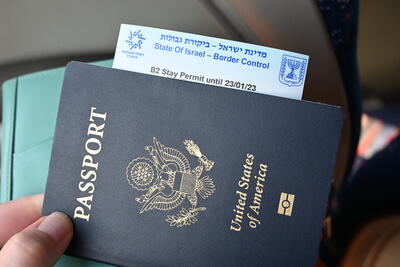 Because of this, we were promptly off the ship by 8am and already on our way to explore the country on the first day. Those who booked their own excursions through a different company had to wait for all Royal Caribbean excursion guests to complete immigration, which wasted precious time. It made sense for us to take advantage of this because we wanted to optimize our short time in Israel.
After learning of the immigration policy, we opted to cancel our third-party excursions and book everything through Royal Caribbean instead. We heard horror stories of other guests who did not get through immigration until the afternoon, and they ended up missing the entire first day in Israel.
We also felt extra safe on Royal Caribbean's excursions. Although we knew Israel was generally very safe, there had been some unrest in the region. We felt that being on a Royal Caribbean excursion was the safest option for us. Plus, we got to enter the Palestinian territory when visiting Bethlehem, which you can only do on an excursion.
Image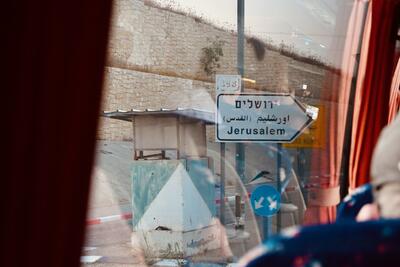 Of course, all traveling has risks, but we felt that Royal Caribbean would not take any major risks with the excursions they sponsored.
Finally, cruise line sponsored excursions provide extra security that you will not be left behind if your tour is running late. We had two excursions that ran late, where we returned to the cruise ship more than two hours after the all aboard time.
Because we were on Royal Caribbean excursions, we did not have to worry about getting back on time. We were guaranteed that the ship would wait for us. In fact, so many excursions were late that Odyssey of the Seas did not set sail until 3 hours after the scheduled departure.
Read more: Will the cruise ship wait for you if you're late at a port?
Hated: Not having enough time in each port
Image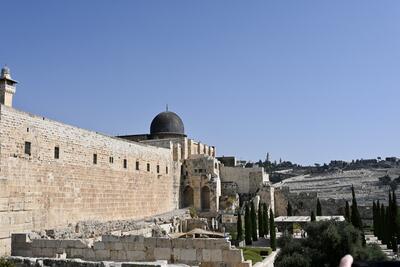 If European cruises have a major downfall, it is the fact that you likely won't have enough time in each port to do and see everything you want. You really do not have enough time in an 8- to 12-hour day to experience everything a city or country has to offer.
During our 12-night itinerary, we had 3 full days in Israel that we jam-packed with excursions and tours. We were up from sunrise to sunset each day exploring the country, and there were absolutely times where I wished we had more time to soak in everything.
Image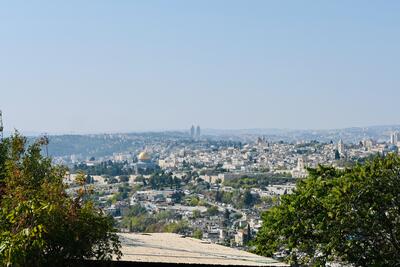 For these full-day excursions, we were shuffled from one historic site to the next, so we could fit everything in. We wanted to see as much as possible, but there was only so much time in each day. Ultimately, we never had more than 30 minutes to an hour at each historic site.
We certainly had a few instances where we said that we wished we had more time to see certain sites, especially places like the Church of the Holy Sepulchre and Dead Sea. While some chose to wait in the lines to see specific things, we did not want to risk getting left behind on our tour.
Image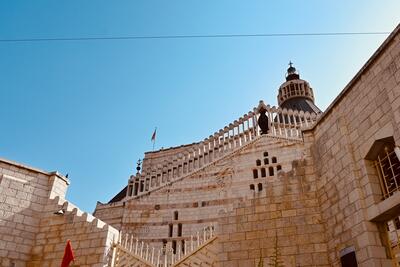 Our time in Santorini also felt as though it was too short, especially in the evening when we would have loved to watch the sunset from Oia. Instead, we watched the sunset from the ship. While still beautiful, it was not the same as the picturesque Greek town of Oia.
Even if we didn't always have enough time, I would rather see something quickly than not experience it at all. Cruising is like a destination sampler; if you don't have enough time to see everything, then you just need to plan another trip back!
Loved: The port-intensive itinerary
Image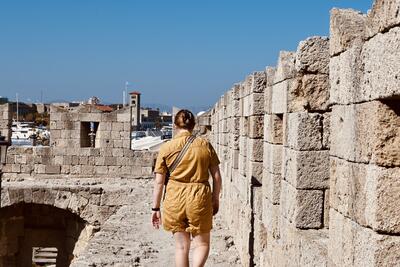 As I mentioned earlier, this was a bucket-list itinerary for my family. My parents had always wanted to visit Israel, so we were quick to book this sailing when it was released. With 3 full days in Israel and two overnight stays, we felt the itinerary was well suited for us. We wanted to have ample time to see the major religious and historical sites of this country.
During our cruise, we visited ports in Cyprus (Limassol), Greece (Rhodes, Santorini, and Crete) and Israel (Haifa and Ashdod). The ship sailed round-trip from Rome, Italy, where we spent one night before and after the sailing. My sister and I opted to visit Paris, France for a few days prior to the cruise, so we had a very busy few weeks.
Image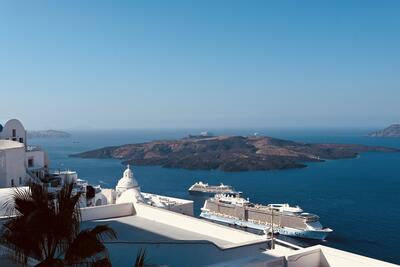 Cruising to Israel was the perfect way to visit this country for our family. We appreciated having a comfortable cabin to return to each evening. We absolutely loved our time spent in Israel, where we toured historic cities like Jerusalem, Bethlehem, Gailee and Nazareth.
We got to visit the Western Wall and walk along the Stations of the Cross, as well as visit the the Church of the Sepulcher, where Christianity recognizes the crucification and resurrection of Jesus. Other places we visited included the Jordan River and Sea of Galilee. We witnessed large groups getting baptized in the Jordan River, which was beautiful and moving.
Image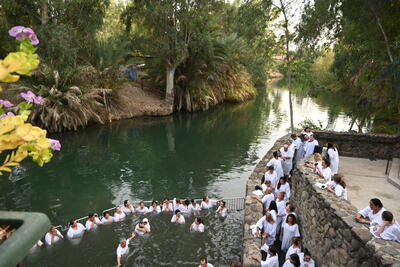 On our second day, we ventured out for an all-day tour to Masada and the Dead Sea. It was heat like I had never felt before and crowds that I could not have imagined. Masada was chaotic and crowded, but the mountain top views made it worth it! One of the best memories from our trip was floating in the Dead Sea. There is nothing quite like bobbing around in the salty water.
Image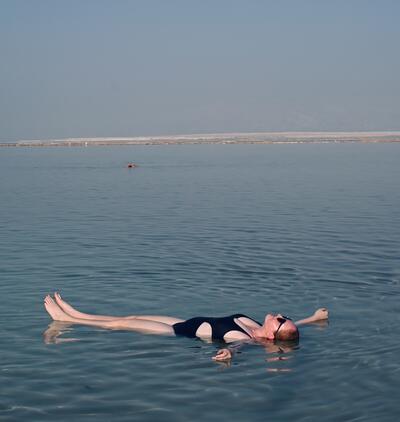 It was incredibly special getting to visit significant sites that I have only read about in books and learned in school. My mind almost could not comprehend all of the historical sites that I was seeing with my own two eyes.
Our other days spent exploring Greece and Cyprus were lovely too. My family had never visited Santorini, and this is truly a bucket-list port that I think all cruisers should consider visiting. It's one that will leave you speechless, and it looks just like the movies.
Hated: Long flights to Europe
Image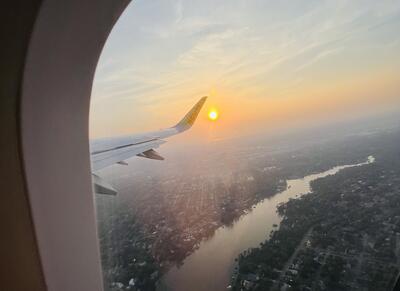 As someone who lives in Florida, cruising to the Caribbean is very convenient because of the limited travel time it takes to get to a port. I am able to quickly drive to many cruise ports near me. It is so nice to get off a cruise ship and be home within a few hours.
However, unless you live in Europe, taking a European cruise is not very convenient. The travel time across the Atlantic makes for a very long journey to the cruise port.
We always recommend cruisers fly into their departure port at least one day before their cruise is scheduled to leave. For European itineraries, this means you should fly out at least two days before departure to ensure you arrive one day early. If you encounter any delays or issues, you could risk missing your cruise entirely because of limited overnight transatlantic flights.
Image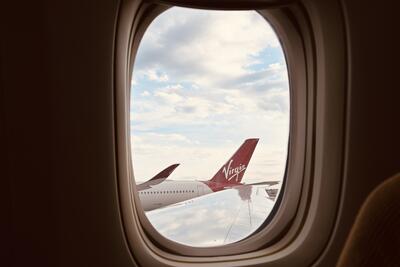 Honestly, I would recommend flying at least three days prior to your cruise's departure date, so you have one full day to rest or explore the city. This also adds an extra buffer if you encounter any travel issues. Regardless, traveling for 16 hours or more is exhausting. Not to mention, you'll be fighting jet lag for the first few days as your body adjusts to the time differences.
Read more: I never beat jet-lag on my Mediterranean cruise because of this mistake
We opted to make the most of our travel to Europe by flying to Paris before the cruise departed to explore with a friend. Here, we spent a few days exploring the sites before traveling to Rome for the cruise and meeting up with my parents.
Image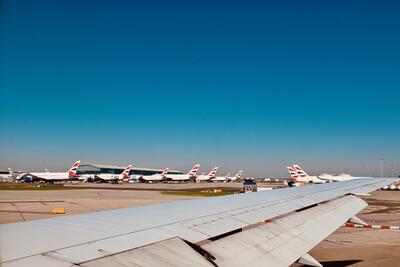 Although I hated how long it took to get to Europe, I do appreciate that Europe is easy to get around once you are there. Thanks to budget airlines and a well-established train system, tacking on a few days before or after a European cruise can make the travel time (and cost) feel more worthwhile.
Unfortunately, with longer travel time comes more inconvenient issues. While domestic travel allows you to swap around your flights pretty easily, you do not have the same luxury when an airline only offers one or two flights each day back to the U.S.
Image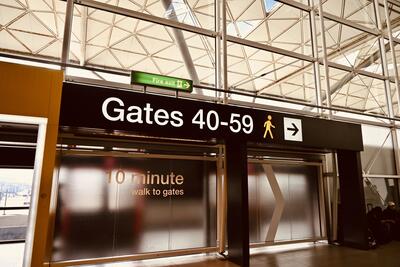 We woke up on our final travel day to an email that our flight to Atlanta was delayed 5 hours; unfortunately, this meant we would miss our connections and we wouldn't be getting home until the following day. Instead of accepting this delay, I opted to fly an alternative route through Amsterdam to get back on the day that I intended, but my parents and sister did not make it home until the following evening.
In general, when you have longer travel time to your cruise port, the inconveniences and issues tend to be more of a nuisance with a domino effect. There are simply less options and problems tend to be exasterbated because of this. 
Loved: Sea days to rest
Image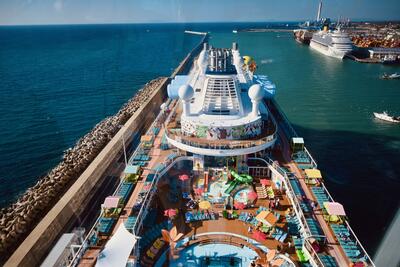 With so many ports during our cruise, we appreciated that Royal Caribbean perfectly placed four sea days throughout the 12-night itinerary.
We had two sea days at the very beginning of the sailing, which allowed us to rest after long travel days to Europe. We also had another sea day after visiting Israel; this was necessary for us to rest after three very busy days touring. Finally, the last day was another sea day where we could pack up our luggage and get ready for the journey home.
These sea days helped us reset and feel rejuvenated; this is especially important on a port-intensive itinerary. We were very busy exploring and needed this time for rest so we didn't get rundown.
Image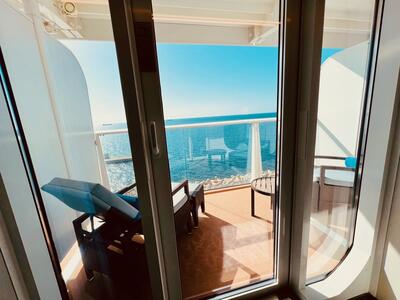 Read more: All of the fun activities on Royal Caribbean's Odyssey of the Seas
Since Odyssey of the Seas is one of Royal Caribbean's newest ships, there were so many things to do onboard. The ship had so many amenities, entertainment options, and activities to enjoy during our sea days. There is so much convenience getting to spend all day visiting historic cities while returning to brand-new, comfortable accommodations.
This is another huge perk of taking a European cruise: the convenience of everything. On a very port-intensive itinerary, especially to areas where there can be unrest, we were thankful to be on a cruise ship where we could have a safe space to return to each evening.
After shuffling between flights and hotels while visiting Paris and Rome, I was so ready to unpack and get settled into the ship life onboard Odyssey of the Seas. Had we actually traveled between all of these destinations on our itinerary, the logistics would have been a nightmare. Because we were on a cruise, we were able to enjoy world-class entertainment and fine cuisine while visiting a multitude of destinations.
Image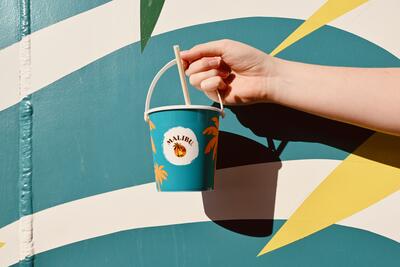 After long days in the heat, having these sea days onboard felt like coming home. Immersing yourself in cultures during busy port days is inherently tiring. As such, our cabin onboard felt more like home each day.
There is also comfort and familiarity when you are cruising. With this, of course, comes some cultural immersion sacrifice, but after a few local meals served during our days touring in Israel, we appreciated the onboard food even more. We loved having speciality dining booked and happy hour cocktails at the end of each day, all while reminiscing about our incredible days.
Choosing a European cruise allows you to have more of a balance between traveling and vacationing. I've always felt that cruising allows you to have a sense of cultural immersion and exploration, while returning to a ship where you can relax and feel pampered.
Image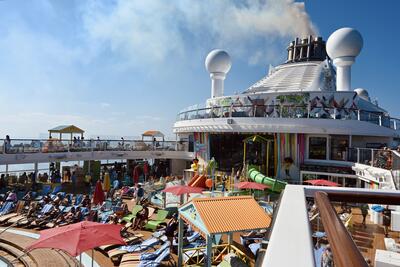 After our visit to Israel, we were grateful that we had chosen a cruise over a land-based trip for our family. This was the right decision for us and it was one that we did not regret.