One angry dad is taking to TikTok to share his recent experience onboard Norwegian Bliss while taking a dream cruise to Alaska with his wife and two children. 
The TikTok user, Moonie, criticized Norwegian Cruse Line for charging hundreds of dollars for extra onboard their cruise ships, such as internet access and Starbucks coffee, even for suite guests. He claims these onboard extras are a total scam for the prices being charged.
While your cruise fare typically includes food, entertainment, accommodations and transportation, you can still blow your cruise budget onboard for internet access, specialty dining, coffee, drink packages and shore excursions.
Read more: What's included in my cruise fare?
Image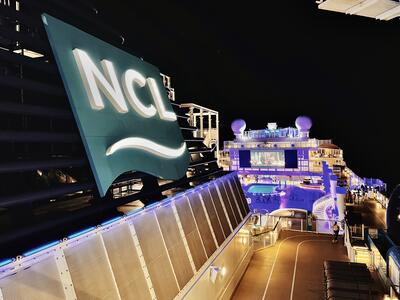 In a series of videos on TikTok, the angry dad shares with followers that he booked a suite in The Haven, which is home to the most expensive staterooms onboard for Norwegian Cruise Line. Although The Haven is advertised as an upscale, all-inclusive vacation for Norwegian guests, Moonie shares some interest insight into the premium experience.
Booking a suite in Norwegian's exclusive suite-only area is not cheap. A quick search for Alaska sailings onboard Norwegian Bliss for next summer shows prices for a family of four starting at $14,998 for a suite in The Haven. One sailing in 2025 on Norwegian Prima has suites in The Haven starting at $20,788 for two people on a 14-night European sailing.
According to other TikTok videos from onboard Norwegian Bliss, it appears as though Moonie and his family are staying in a balcony penthouse suite in The Haven. The luxurious suite is certainly spacious, although not entirely as all-inclusive as it might appear.
The angry dad on TikTok claims Norwegian is scamming guests with their pricey internet packages, Starbucks coffee cards, and empty suite spaces.
First, the furious father shares the exorbitant cost of unlimited internet onboard Norwegian Bliss, even as a suite guest
Image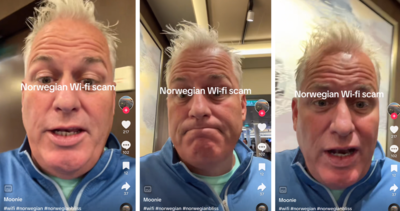 Although Moonie likely spent thousands on a luxury suite for an Alaska sailing, Moonie says he paid upwards of $800 for unlimited internet access for his family of four to use throughout their 7-night cruise.
Even more shocking is the fact that Moonie booked one of the most expensive suites onboard Norwegian Bliss, yet he still had to pay extra for unlimited internet access for his cruise. According to prices online, guests staying in The Haven receive a $150 discount on Wi-Fi packages onboard, but access is not otherwise included.
Moonie vents, "And if you're not actively using the Wi-Fi, they kick you right off. You have to sign back on every time, even though you have auto login. So the Wi-Fi is just, wow… are you kidding me?"
The TikTok user speculates that Norwegian Cruise Line is making millions of dollars profiting from their internet access onboard. He's not wrong, as onboard revenue continues to climb in 2023 for the cruise line, according to earnings calls for quarter one and two. With so many people relying on Internet access, Moonie shares that Wi-Fi onboard Norwegian's cruise ships feels like a scam.
Image
Moonie continues to point out, "Norwegian - listen, you gotta do better. This is not 1996 with Internet cafes where everybody is paying a fortune [for internet access]." The TikToker makes a valid point, as Internet access is available virtually everywhere for free on land but continues to be a pricey add-on for cruisers.
Typically, Wi-Fi packages on cruise ships will charge anywhere from $20 to $30 per person for each day to receive unlimited internet access. While onboard Wi-Fi has drastically improved, cruise ship internet access is still much slower than normal speeds and reliability you'd find on land.
Read more: How to get free wifi on Norwegian Cruise Line
Image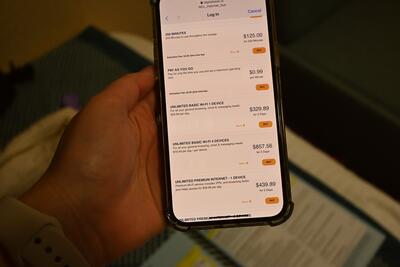 (Norwegian Cruise Line internet package options onboard Norwegian Sun in March 2023)
Others commented that satellite internet is likely an expensive investment for Norwegian Cruise Line, while others agreed the cost for unlimited Wi-Fi is a scam. Many viewers argued that cruise vacations should be a time to disconnect from internet, with the price deterring many from purchasing internet access of their cruises. However, many rely on the ship's Wi-Fi to stay in touch when necessary and some guests need to be reachable, even on vacation.
One TikTok user pointed out that cruise lines will continue to charge high daily rates for internet packages, as long as guests are willing to pay that amount. This is especially as many cruise lines look to invest in upgrading their internet services onboard to Starlink satellite coverage.
Next, the TikTok dad shares how he splurged on Starbucks coffee cards for his family, but long lines prevented him from getting his money's worth
Image
The angry dad on TikTok continues to explain how he purchased unlimited Starbucks coffees for his family, costing $12.95 for each person for every day of his Norwegian cruise. Since Norwegian Cruise Line has a partnership with Starbucks, cruisers can take advantage of freshly brewed coffees and specialty drinks from the popular coffee chain.
Moonie explains, "I paid the $12.95 each for all of us to have unlimited Starbucks, but the line all day, at any time, was at least an hour wait. Sometimes the wait was even closer to two hours."
Image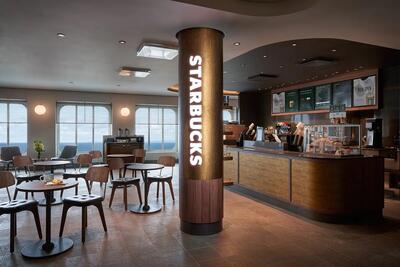 The angry father and husband continues to explain that he purchased the Starbucks coffee package assuming he would be able to have two to three specialty coffees each day, which would make the package worthwhile. Given the long wait every single day, Moonie shared that he was only able to realistically get one coffee each day. He refused to wait in line when it would take hours each day for multiple coffees. 
Moonie explained that the situation was 'absolutely ridiculous'. He shared, "I got my one coffee very early in the morning when the wait wasn't that long, but that's it. I paid $12.95 for one coffee every day. Huge scam!"
In the TikTok, Moonie was also surprised to find that his purchase was unsuccessful for his two children, who are both under 18. In the fine print of the Starbucks package, Norwegian Cruise Line states that passengers under 18 are not allowed to purchase the coffee package. 
In the video, Moonie speculates this is because the cruise line would lose out on money from teenagers drinking more coffees than adults. He theorizes that teens and younger children onboard would be willing to wait in the long lines to have the more expensive specialty drinks.
Image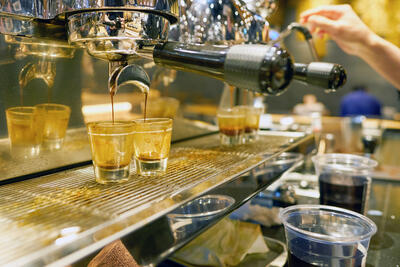 By limiting to just adults, the angry dad says that the cruise line knows that they won't be waiting in the long lines to take advantage of their purchased coffee package.
Some in the comments questioned why Moonie did not simply order more than one coffee each day while waiting in the line. He responded that Norwegian Cruise Line only allows you to order a maximum of two coffees per hour, and he did not want to have two drinks simultaneously, as one would get cold. 
Others chimed in that their Norwegian cruise also had huge lines each morning at Starbucks, and they were grateful that they had not wasted money purchasing the package.
Finally, the upset father shares an interesting look into "dead" Haven area onboard his Alaskan cruise
Image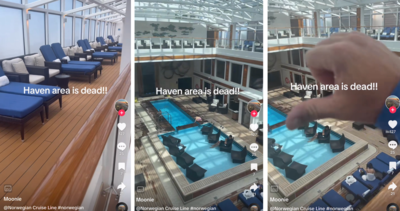 Concluding his series of venting TikTok's, Moonie shows followers an interesting look into the exclusive pool area inside of The Haven.
In the TikTok, he pans across the two-level pool area for Haven guests. In the short clip, you can see two children with a parent, along with one other guest. Otherwise, the exclusive Haven pool area is virtually empty. While this might be a welcoming site for those splurging to have exclusive access to this space, those who prefer being a bit more social could find this isolating.
Image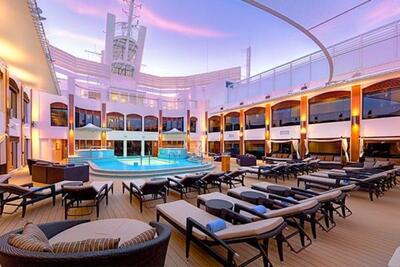 (Advertised photo of The Haven on Norwegian Bliss)
Moonie shares, "I tell ya, The Haven is a great place to escape to, but… I'm gonna go party on the other side of the boat." He also shows a thumbs-down gesture to the camera.
The TikTok is also a reminder that The Haven is not just for adults but families too. While you might be looking to have an adults-only experience, there could still be children in The Haven's exclusive areas. Those looking to have a child-free cruising vacation will want to pursue an adults-only cruise, such as Virgin Voyages, or a more adults-focused cruise line, like Celebrity Cruises. 
Onboard revenue continues to climb for cruise lines because of extra-charges, such as Wi-Fi, specialty dining, drink packages, and more
Image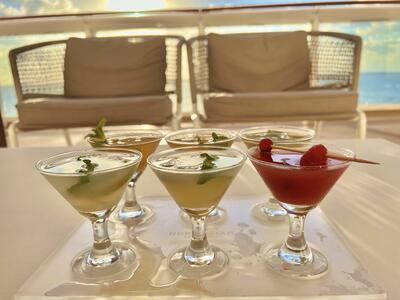 (Mojito flight onboard Norwegian Bliss)
For guests like Moonie, internet and specialty drink packages can be costly for guests, yet profitable for Norwegian Cruise Line. Moonie is not alone, as many cruise passengers are spending more for extra-charge items on their vacations than ever before.
Norwegian Cruise Line's CEO recently spoke in the company's second quarter earnings call. During the call, CEO Harry Sommer shared that onboard revenue per passenger was nearly 30% higher in comparison to 2019's spending habits. 
Similar trends were noted in early 2023 for the first quarter with onboard spending trending higher than pre-pandemic levels. The cruise line attributes this partially to attracting higher-spending guests and more guests looking to make pre-purchases for their cruise.
Read more: What are the cheapest cruise add-ons?
Image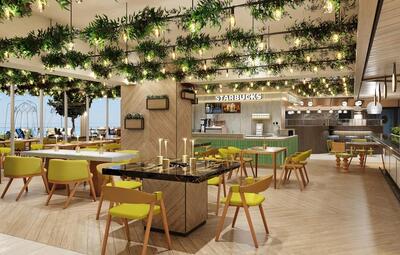 Sommer stated in the quarter one earnings call that "This is driven in part by our focus on attracting the best guests and enhancing our market-leading bundled offering. We are also increasing quality touchpoints with our guests, starting with the time of booking, to capture even more revenue and pre-payment prior to cruise."
Onboard extras will likely continue to be an important revenue stream for cruise lines, especially as many are still dealing with massive losses from the pandemic shutdown. Luckily, these add-ons are optional and meant to enhance your cruising experience. You can still find great deals on cheap cruise fares, which are still fairly all-inclusive for a fantastic vacation.