The food is inedible. 0/10.
It just keeps getting worse.
MSC has the worst food in the cruise industry.
If there's anything I've learned from the internet, it's that people love to complain, and there is no shortage of complaints about MSC Cruises' food online.
MSC Cruises, a European cruise line, has recently gained popularity in the North American cruise market, but the cruise line receives consistent criticism on their food offerings. While everyone has different tastes, it was hard to ignore comments about the lack of dining venues, limited food choices, and flavorless food onboard.
Despite these complaints, I booked a cruise and remained hopeful that MSC would offer food comparable to other mass market cruise lines. After all, a European cruise line caters to Italian guests, and I couldn't imagine Italian passengers settling for tasteless, inedible food.
Image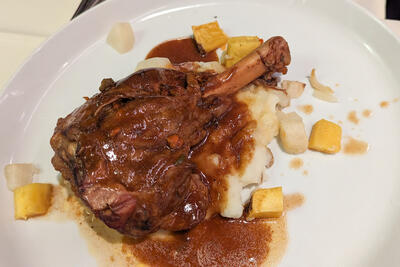 In the past year, I've cruised on MSC two separate times in order to gain a better understanding of the cruise line's food.
My first cruise onboard MSC World Europa departed from Italy and had more European-style offerings. My second sailing was onboard MSC Seaside and departed from Florida. This sailing catered toward a North American passenger demographic.
Throughout over 40 meals that I have had on MSC cruise ships, I have tasted everything from breakfast pizza to tiramisù. Here are my honest thoughts on MSC's food and whether or not the stereotypes about disgusting food were true.
MSC's pizza is, by far, the most delicious pizza I've ever had at sea
Image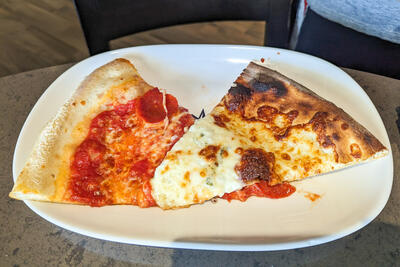 As someone who grew up with Italian heritage and makes frequent trips to Italy, I have high standards when it comes to pizza. You certainly won't find me ordering Little Caesar's as my first choice!
When I started cruising, however, I lessened my expectations for pizza onboard cruise ships. Whether undercooked, underseasoned, or over-cheesed, I was never overly impressed with the pizza on cruises.
Yet as a European cruise line, MSC basically has a requirement to serve high quality pizza on its ships, and, in my experience, they always hit the mark with their pizza.
Image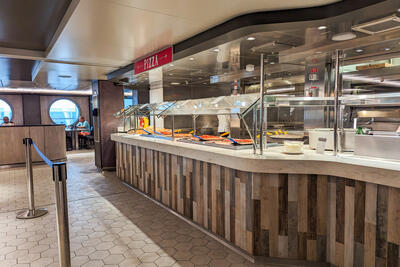 Pizza is offered nearly 24/7 on MSC ships, with breakfast pizza in the morning followed by savory choices for lunch, dinner, and nighttime snacks. Everything from a classic margherita pizza to pepperoni, four cheese, marinara, and raspberry-white chocolate breakfast pizza was available.
MSC's pizza reminded me of the flavorful pies I often order in Naples, Italy, which is home to some of the world's most famous pizzerias.
Having such incredible pizza available is a good backup plan when nothing else sounds appealing, and I definitely took advantage of the endless pizza during my time onboard.
I heard complaints that the same food would be offered every day, but this wasn't always the case on my cruise
Image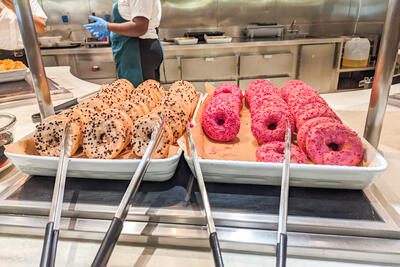 One of the main complaints I heard about MSC's food was that they never change any of the offerings in the buffet. As someone who often prefers eating in the buffet over the dining room, these reviews were disappointing to say the least. I was not looking forward to having the same options every day.
Once I got onboard, though, I realized that there was much more diversity in the buffet than I initially expected. While some items stayed the same, such as the pizza station, salad bar, and hamburger station, other areas differed.
One day there might be cheese tortellini, a taco bar, vegetable curry, and pork chops whereas another day could see spicy arrabbiata pasta, roast beef, and cod filets.
Image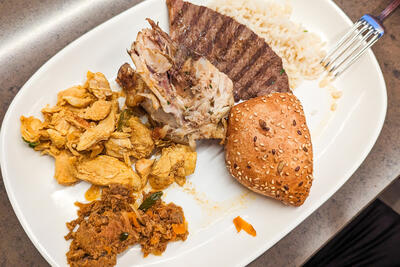 The smaller buffet on MSC Seaside—located near the pool deck—was more likely to have the same choices every day, as it caters to families looking for quick options like chicken nuggets, nachos, and hot dogs.
The large buffet, on the other hand, had more than enough options to keep meals varied throughout the week, whether you craved a protein-rich salad or chocolatey dessert.
We occasionally encountered lukewarm items in the buffet
Image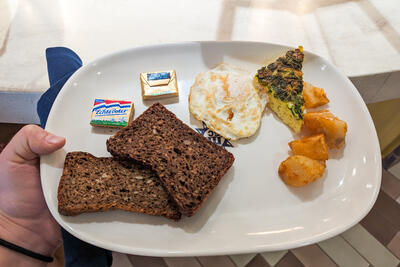 Although I enjoyed MSC's buffet overall, there were a few items that were not as hot as I would have liked.
Several times in the buffet, I put food on my plate only to later find out the food was lukewarm. Whether a pasta dish, piece of fish, or vegetable stir fry, I was disappointed in the food's temperature several times during my sailing.
When eating at a buffet, food safety is of utmost importance, and I can only hope the food was rotated frequently if it was not being served. Although 95% of the meals I had onboard were served hot, there were a few that were not.
For a European cruise line, the food catered to Americans in the North America market
Image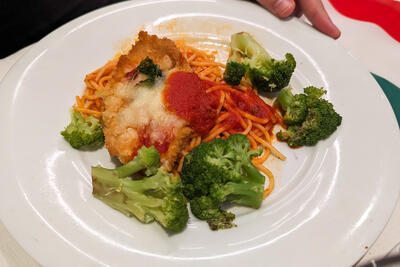 Another common issue I heard about the food on MSC was that it was catered toward European tastes, and that Americans would not find the food options appealing.
On my first MSC cruise in Europe, I did notice menus catered toward European tastes more so than Americans. You wouldn't find desserts like apple pie on the menu, and many main courses were traditionally Italian in taste, such as offering eggplant parmesan over chicken parmesan. The unlimited fresh mozzarella balls in the buffet were a nice touch, too.
Image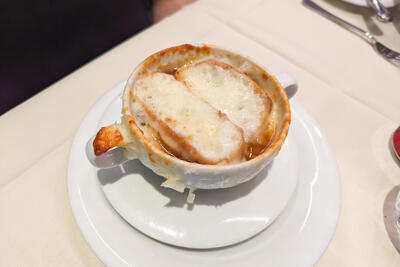 Related: 13 of the best tips and tricks for an MSC cruise
Nonetheless, I found the food on my MSC cruise from North America to be catered to American tastes. The main dining room menus, in particular, were vastly different, with items like New York strip steak, French onion soup, and roasted chicken with mashed potatoes on the menu.
There were also more ethnic cuisine options on my MSC cruise from North America compared to the cruise in Europe. Whether lentil curry or pork dumplings, I found this to be a nice perk of MSC's North American cruise menus.
There were not as many complimentary venues, so this led to bigger crowds in the buffet
Image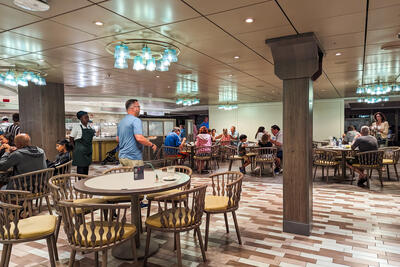 One complaint that rang true on my MSC cruises was that the buffet can get extremely crowded.
Many veteran cruisers new to MSC often complain about crowds in the ships' buffets. Unlike some other cruise lines, MSC does not offer a wide range of complimentary dining venues. On most ships, guests can choose from the buffet or the dining room. Other options, such as specialty restaurants, come with an extra charge.
In comparison, some Royal Caribbean and Carnival Cruise Line ships have complimentary tacos, burgers, hot dogs, and more, meaning that you have more options than just the main buffet. 
Due to this, thousands of passengers tend to flock to the buffet at the same time. Peak meal times, such as a quick 8AM breakfast before disembarking in port, see the highest—often overwhelming—crowds.
Crowding in the buffet was something I did not enjoy on either of my MSC cruises. Even though MSC Seaside, for example, had both a large and small buffet, crowds could still be expected throughout the day.
Escaping the crowds for breakfast in the main dining room is a fantastic choice
Image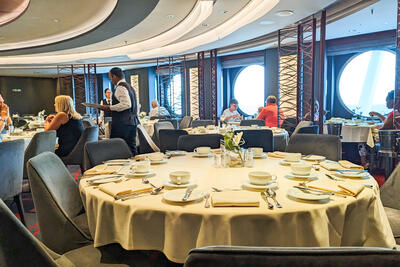 By day five of my MSC Seaside cruise, I was growing impatient with the crowds in the buffet at breakfast. As an alternative, I decided to try the main dining room for breakfast, as it is included in the cruise fare.
As soon as I entered the dining room, I couldn't help but notice the distinct difference compared to the rowdy buffet. The dining room was quiet, calm, and had no crowds to speak of.
Image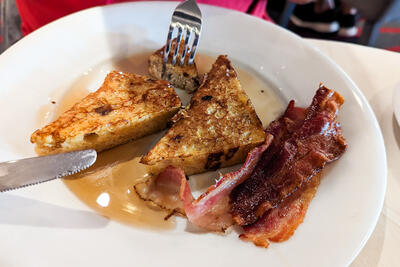 I was immediately shown a table and, before I could even sit down, was offered a pastry from a tray of tempting sweets. Another waiter appeared not even a second later to offer me coffee, and a third immediately came to the table to take our drink orders.
Not only was the service immaculate, but the food was great, too. Although most options were the same standard breakfast fare you could find in the buffet, it was a much more relaxing way to start my day onboard.
Something else I enjoyed about the food on my MSC cruises was that specialty restaurants were priced lower than on other mass market cruise lines
Image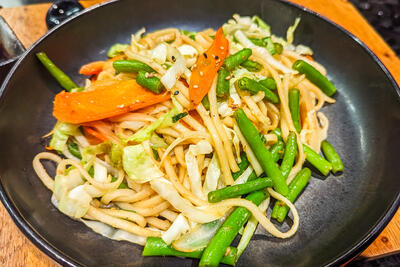 Specialty restaurants, unlike complimentary food venues, come at an extra cost. It's not uncommon to spend over $50 or $60 per person to eat at a specialty restaurant on a cruise ship, and the high cost often turns me away from the idea.
On MSC, however, I noticed lower prices at select specialty restaurants. On my recent MSC cruise, I booked a hibachi meal for just over $30. Considering the entertainment aspect of the meal along with the delectable cuisine, I was pleased with the value.
Image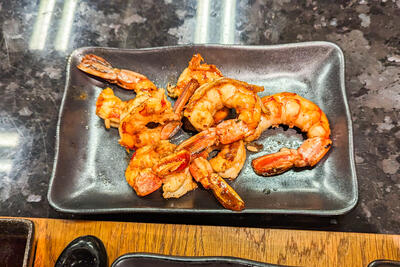 On other cruise lines, such as Royal Caribbean, it's not uncommon to pay around $50-60 for hibachi. I found the quality comparable between the two cruise lines, and MSC's hibachi restaurant included even more courses than Royal Caribbean's.
Other specialty venues, such as Hola! Tacos and Cantina on MSC World Europa, were equally affordable. At Hola!, I indulged in all-you-can-eat Mexican food for just $20, a total steal compared to the price of specialty dining on other mass market cruise lines.
Related: Top 20 MSC Cruises questions answered
Several dishes remain on the menu each evening, and this is a safe option for picky eaters
Image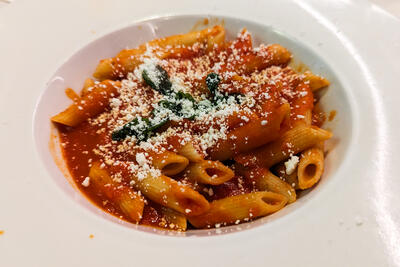 Although most courses change in the main dining room each evening on an MSC cruise, a few items are offered daily. Dishes like pasta with tomato sauce, roasted chicken, steak, and French onion soup are available every evening on cruises from North America.
Having this choice of classic dishes is a great option for picky eaters, as there's always something to fall back on if the rotating menu is not appealing.
In fact, while I wouldn't consider myself a picky eater, I ordered from the classics menu several times during the cruise, as I found the traditional pasta dishes to be among the cruise line's best plates.
Let's face it: not everyone wants to go outside their culinary comfort zone on a cruise. There's nothing wrong with ordering a standard grilled chicken instead of shrimp risotto. The beauty of cruising is being able to customize your cruise exactly to your liking, and having a standard menu each evening is wonderful for pickier eaters.
Although everyone has their own preferences, I found that MSC offered excellent food options onboard
Image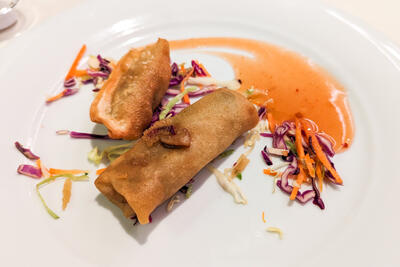 After spending two weeks on MSC cruise ships, I found most of the negative comments about food to be exaggerated.
While I've had a few meals here and there that I did not enjoy, the vast majority of food on both of my cruises was excellent. As a mass market cruise line, I'm not expecting the most luxurious, five star cuisine, but for the price I paid I was more than satisfied with the dining options.
Image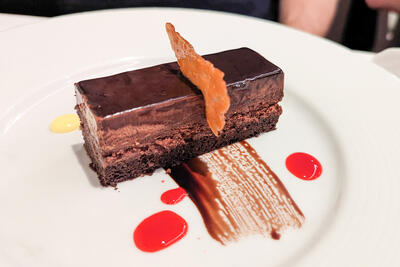 When compared to cruise lines like Princess and Royal Caribbean, MSC certainly has fewer dining venues available, but there is still more than enough food around the ship.
As far as food is concerned, I wouldn't hesitate to sail with MSC again. If you were hesitant to book an MSC cruise because of the food, I'd say you have nothing to worry out.