Azamara Cruises, a small, luxury cruise line based out of Miami, Florida, announced today a world cruise that is being touted as "All 7 Wonders of the World and more".  Focusing on an immersive experience aboard its ship the Azamara Onward, the global voyage with its wide-ranging itinerary and cultural highlights will provide guests with an unparalleled journey.
The sailing will span a total of 155 nights, including 22 overnight stays, 27 late stays, 40 + countries, and 75 unique destinations. The cruise line is marketing this extensive sailing as a "One Immersive Voyage", given the scope of the trip and the ability "to travel to more unique locations".
The Azamara Onward is a boutique-style ship, which is much more intimate with a capacity of 704 passengers and 408 crew. With its smaller size, it can access more "hidden" gems, as the company notes, along with providing personalized service.
The cruise line was sold by Royal Caribbean to Sycamore Partners in the first half of 2021, and they now have 4 cruise ships with international itineraries, garnering good passenger reviews.
The Voyage
Image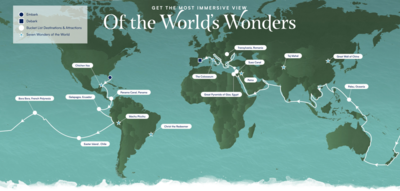 The six month cruise is divided into 10 segments starting in Fort Lauderdale on January 5, 2024, ending in Spain on June 9, 2024. Guests will travel through central and south America, parts of the south pacific, New Zealand, and Australia before moving on to Asia, Africa, the Middle East, and Europe.  There is an optional post-cruise extension in Europe, with the addition of 11 nights touring Spain and Portugal, finishing off in Southampton, England.
The cruise line provides a broad selection of excursions, including multiday and overnight stays to provide the guests with ultimate experiences, including all seven of the Wonders of the World and other bucket-list destinations.
Highlights include crossing the Panama Canal, a visit to Machu Picchu, Easter Island, the Galapagos, the Great Wall of China, the Taj Mahal, the Great Pyramids of Egypt, Petra, the Suez Canal, and the Colosseum.   Longer stays, and more overnights provide for a more interactive and personal experience. This includes AzAmazing Evenings that are hosted in historic venues to offer tailor made, one of a kind of experiences.
The 10 Segments include:
Central America Tapestry – Central and South America

Pacific Mysteries -French Polynesia

South Pacific Explored – South Pacific and New Zealand

Kiwis and Koala – New Zealand and Australia

Astounding Australia and Asia – Papua New Guinea, Palau, and the Philippines  

 Vietnam and Thailand Pathways – Singapore as well

 Ancient

Trade  Asia

Trade

-

Asia

and the Middle East

 Ancient Reflections - the Middle East and Turkey

 European Gems and Icons

 Adriatic and Med Gateways
Cruise Benefits
Image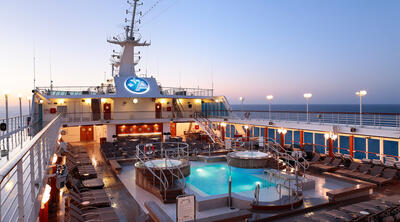 Guests of the world cruise will enjoy a number of benefits in addition to the standard cruise benefits from Azamara.
Pre-voyage benefits:   
Business class travel (round trip) to departure city

One night in hotel pre-departure  

All transfers, including airport, hotel, and ship

$500 in luggage shipping reimbursement  

Pre-sailing gala
 Onboard
$4000 World Voyage Bonus Onboard Credit

Additional $3000 onboard credit

World Voyage special – two destination enriching experiences

Unlimited wifi for one device

Premium Beverage Package for two
Azamara Inclusions:
Gratuities

Food and Beverage

10 AzAmazings cultural experiences

Concierge service 

Weekly Laundry
Pricing
Image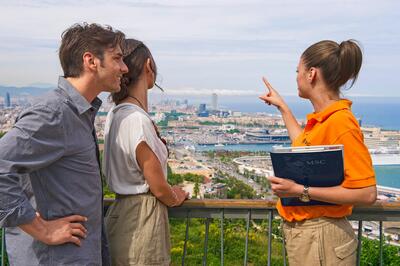 Pricing ranges from inside cabins just under $35 thousand, all the way up to $128 thousand for a suite in addition to plus taxes and fees (subject to change).
Currently, the booking is restricted to some travel agents until Dec. 7.  Pricing, not including taxes and fees:
Club World Owner Suite              $128,199
Club Ocean Suite:                         $115, 899
Club Spa Suite                               $103,200
Club Continental Suite                 $68,500
Club Veranda Plus                        $53,399
Club Veranda                                $50,199
Club Oceanview                            $41,099
Clun Interior                                 $34,699
The Ship
Image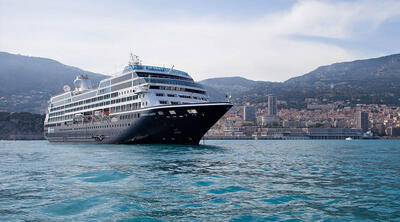 Guests will be onboard the Azamara Onward. Originally built in 1999, it has a capacity of 1100 with the crew, tonnage of approximately 30,000, 8 guest decks, and 592 feet in length. Much smaller than many of the new ships today, which they view as an advantage to docking in smaller ports, heightening the cultural experience.
The ship includes a number of lounges, food venues, a pool, spa, fitness center, running track, and beauty salon, in addition to a variety of cabin types.
The Azamara Onward features:
Cuisine that reflects the destination

Five-star butler service

24 hour in room dining

Live onboard entertainment including signature shows

Comedy Nights

Culinary demonstrations with wine tastings

Enrichment programs and classes