If you are unvaccinated and looking for a cruise line to sail on, cross Norwegian Cruise Line off your list.
NCL announced on Wednesday it will keep its Covid-19 vaccine requirements in place for the foreseeable future.
While the U.S. Centers for Disease Control and Prevention (CDC) will allow its stringent cruise protocols that are part of the Conditional Sailing Order (CSO) to expire in January, NCL will not let go of its requirement all guests be vaccinated.
Image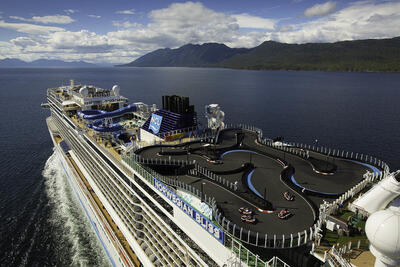 NCL said in its announcement keeping the vaccine mandate is about providing the safest cruise experience possible, "Given existing public health concerns and our commitment to protect guests, crew and the communities we visit, we are extending our vaccination policy requirement indefinitely. "
NCL consulted with former Commissioner of the Food and Drug Administration, Scott Gottlieb, to craft its vaccine requirements for all guests and crew to
be fully vaccinated at least two weeks prior to departure
Acknowledge vaccination status prior to sailing
Present proof of vaccination at the pier at embarkation in order to board
Guests who are not old enough to be vaccinated per the U.S. Food and Drug Administration, World Health Organization, and European Medicines Agency are not permitted to sail.
Image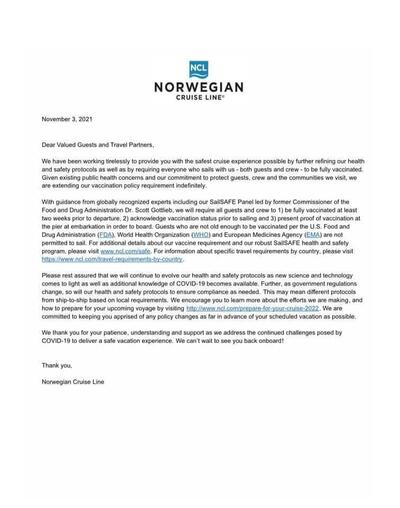 "Please rest assured that we will continue to evolve our health and safety protocols as new science and technology comes to light as well as additional knowledge of COVID-19 becomes available."
During Norwegian Cruise Line Holdings' (NCLH) earnings call with investors, CEO Frank Del Rio was not concerned with getting a few extra passengers onboard who are unvaccinated, "We're not going to sacrifice the health and safety of anyone for the sake of adding a point or two or three — or whatever the number is — to load. So we will continue mandating 100% vaccination, as long as the science dictates that's what we ought to do."