Good evening from the middle of the Caribbean Sea, aboard the Norwegian Getaway!
We spent our sixth, and final port day visiting Amber Cove, in the Dominican Republic. I have several interesting things to note about our journey to one of the Caribbean's newest cruise destinations.
Image
First, Amber Cove is technically owned by Carnival Corporation, the parent company of Carnival Cruise Line.
Amber Cove is described as a "private port destination" by Carnival Cruise Line. This destination is usually dominated by visitors from Carnival Cruise Line, but today passengers of the Norwegian Getaway were able to experience this unique destination in the Caribbean.
Image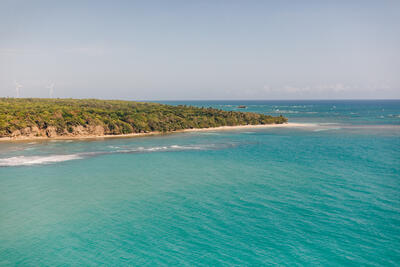 When we pulled into the harbor this morning at about 7:00am, we were joined by a Carnival Cruise Line vessel, the Carnival Legend. The two large cruise ships dominated the harbor, as they overlooked Amber Cove's port.
We once again ate breakfast in the Garden Cafe, and chose a window seat overlooking the port, and Carnival Legend. As we consumed a breakfast of omelets, country potatoes, honeydew, pastries, and coffee, we discussed the differences we noticed between our ship, the Norwegian Getaway, and the Carnival Legend. Mostly, we noticed that the Carnival Legend is smaller in size than the Norwegian Getaway.
Image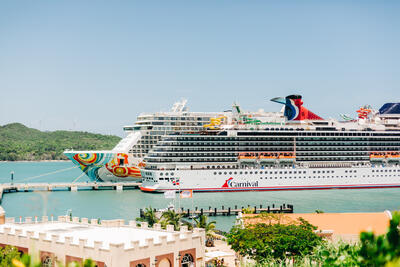 Breakfast is definitely the busiest time of day for the Garden Cafe. This is because it is by far the most popular food venue onboard to get breakfast. O'Sheehan's is open 24 hours a day, and serves breakfast, but most passengers seem to opt for the buffet during the morning hours.
After finishing our meal, we quickly headed off the ship, to see and explore what Carnival Cruise Line's private port destination has to offer us, as passengers of Norwegian Getaway.
As guests disembark the ship at Amber Cove, there are a large amount of bike taxis waiting to shuttle passengers from the ship to the inner part of the port. It is about a five minute walk from where the cruise ships are docked, to enter the main port area. However, the heat and sun in the summer time is quite harsh (it was 90 degrees again today) in the Dominican Republic, and guests with difficulty walking may want or require assistance to get to the inner areas of Amber Cove.
Image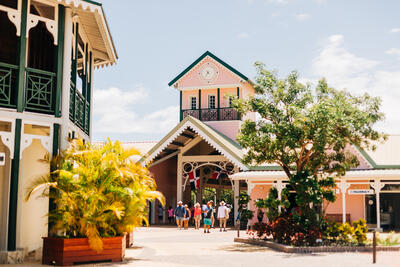 The first thing that we noticed about this port destination, is the stunning scenery that surrounds Amber Cove. The mountains in the background, combined with the sprawling white sand beaches nearby truly look like something out of a movie (which makes sense as some of the local area was used in scenes for the film series Jurassic Park!).
From what we could tell, the Dominican Republic was the most mountainous location we have visited on our cruise journey through the Caribbean. The area is also covered in picturesque palm trees. Palm trees are everywhere, and really make guests remember and feel that they are in a tropical location.
Image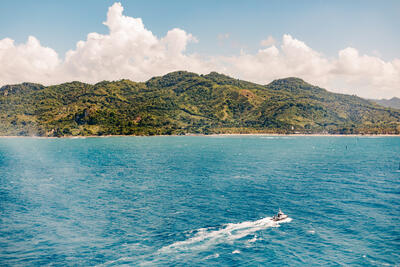 Amber Cove consists of about 30 acres, and offers guests a very resort-like experience while visiting the Dominican Republic.
Once we made it to the entrance, we were directed through a large duty-free shop, before stepping back out into the sunshine, and being surrounded by buildings featuring classic Caribbean architecture and aesthetics. Amber Cove largely consists of shops, dining, and swimming locations. There are about eight different shops, mostly featuring Dominican Republic souvenirs, as well as an open-air market with some local vendors selling items everywhere from jewelry, wooden carvings, and chocolate.
Image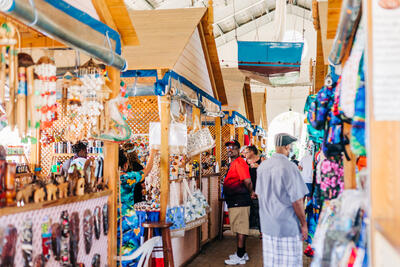 The port has one main food location, Coco Cana. This location features food in the classic resort fashion, as well as large and brightly colored drinks.
Coco Cana offers two locations within Amber Cove, one location is near the shops, to the left as guests enter the port. The other Coco Cana location is near the main pool area, to the right as cruise passengers enter Amber Cove. There is also a food and drink location by the name of Sky Bar.
After walking the perimeter of the main areas of Amber Cove, we decided to ascend to the Sky Bar to take in the views of the port, and the Norwegian Getaway. The view was incredible from this location, and I was surprised that not more people had been up at this location taking pictures, or ordering drinks with the stunning view of the mountains, beaches, and two large cruise ships in the distance.
We both ordered a mojito, which was delicious and refreshing on this very warm day! I would definitely recommend visiting the Sky Bar on a visit to Amber Cove. The staff was friendly, and the atmosphere was pleasant as it was not overly crowded, and offered plenty of shade.
Image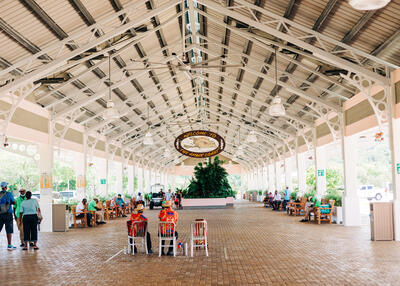 While exiting the Sky Bar, we had a great view of the zip line course. Amber Cove has one zip line course that stretches from the top of the hill at the Sky Bar, to the bottom, down near the pool.
There are two lines, that will allow two people to ride down simultaneously. The use of the zip line currently costs $20 for a day pass. While we did not participate in the zip line course, there did seem to be quite a lot of people interested in the activity, as when we passed by there was a long line.
There are also some water equipment available for rent including kayaks, pedal boats, and solar catamarans. These activities range in price from $20 to $60.
Image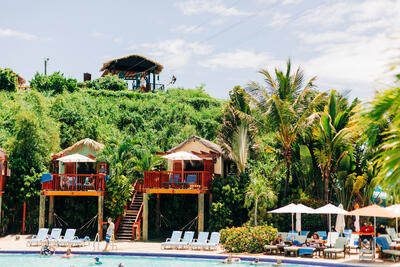 After visiting the Sky Bar we headed down to the pool area. The pool area was very lively, with a DJ playing modern music, and lots of people dancing in the pool, and enjoying beverages from the swim-up bar.
Use of the pool area is complimentary to all guests who visit Amber Cove, and there were a lot of people taking advantage of this amenity. The pool weaves throughout the area, and offers plenty of space for a lot of people. When we first arrived, there was a lot of people dancing in near the DJ, but as the day went on, the people dispersed and the pool felt less busy.
Image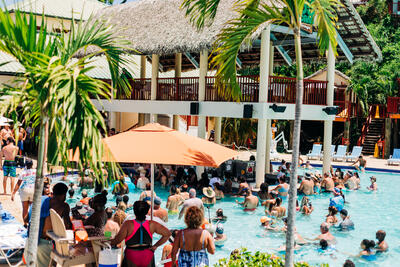 When we first arrived to Amber Cove, and I saw that we were docked directly next to Carnival Legend, I wondered if Amber Cove would feel very busy. I knew ahead of time, that the resort port destination was not too large, and wondered it it would feel overly crowded with all the passengers from two large cruise ships.
While the pool area was definitely the most busy area of Amber Cove, there were still plenty of complimentary lounge chairs free for use, and space in the pool. It did not feel too crowded while walking around, and when we discovered some large lounge swings, we even found one of them free and available for us to use.
Image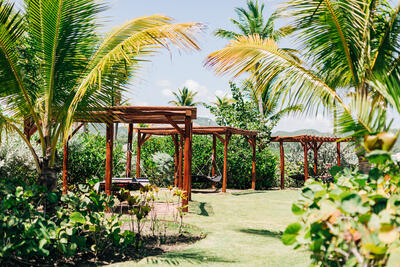 Amber Cove offers stunning views of the neighboring beaches and mountains. Guests to Amber Cove do not have direct access to the beaches unfortunately, but can book an excursion through their cruise line to visit the beach areas. There are a multitude of excursions offered from Amber Cove that can take guests further inland, and to other areas such as Puerto Plata. Puerto Plata is the large region, and area, in which Amber Cove resides.
The main town of Puerto Plata is where Christopher Columbus landed when he first came to the Americas, and therefore is the first place to have had Europeans touch land here in the Americas, and Caribbean, back in 1492.
Image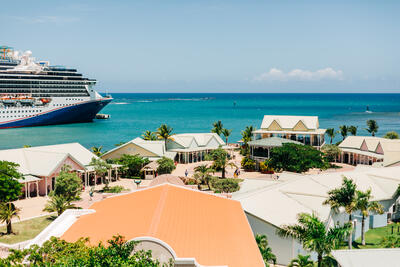 There are excursions that can take guests on four wheeler adventures out of Amber Cove (one of the couples we sat next to the night before at Teppanyaki had reserved this tour, and seemed excited about it), visits to water falls, and historical tours of old town Puerto Plata. While many excursions are on offer out of Amber Cove, guests can easily spend a few hours within Amber Cove. The pool and lounge area offers guests the opportunity to relax and take in the Caribbean sun and views.
The pool area of Amber Cove features two water slides that are complimentary for guests to use. There are two slides, one that is mostly enclosed, and one that is open. We tried both, and were surprised how fun they were! The slides may look small, but they are quite long and offer a fun adrenaline rush.
Don't underestimate the water slides at Amber Cove! There were hardly any people waiting to use the slides, and we never had to wait very long to use them. My personal favorite, was the enclosed water slide on the right, because this slide was completely enclosed, it was very dark and as I rode down I couldn't see where I was going which added an extra element of thrill.
Image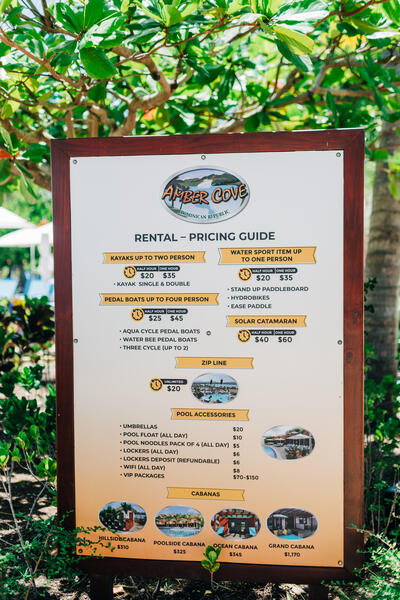 After enjoying the water slides several times, we decided to take a quick look through some of the shops and establishments of Amber Cove. Many of the souvenir shops sell very similar items, such as post cards, Christmas ornaments, t-shirts, mugs, etc. The most unique items appeared to be sold in the open-air market, as it appeared that some of these items and products had been made by members of the local communities.
There are plenty of photo opportunities throughout Amber Cove, and guests will find themselves pulling out their cameras often to snap a picture near the pool, the Sky Bar view, or in front of one of the many Amber Cove signs.
Image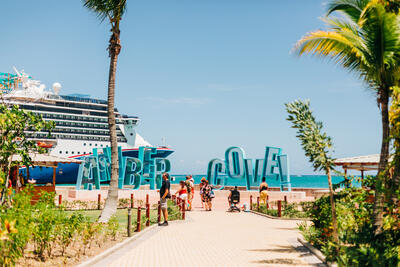 My impression of Amber Cove, is that is makes for a good destination for guests wishing to spend the day relaxing in the Caribbean sun and atmosphere. The pool area is the highlight of the location, and there are locations for both food and drink readily available.
Amber Cove is definitely a resort-feel location, and offers a fun way to spend the day.
For guests looking to see Puerto Plata, or the surrounding beaches, there are many excursions on offer from Norwegian Cruise Line. Fitting with the Norwegian Cruise Line brand, they want guests to personalize their experience to the vacation they want. I believe that there are a good amount of options for all kinds of guests at this port destination. The port itself feels very clean and well maintained.
We noticed that there were people of all ages wandering the port and who appeared to be enjoying themselves. There is also a child's splash area, that is complimentary to use, that looked like could be fun for little ones.
Image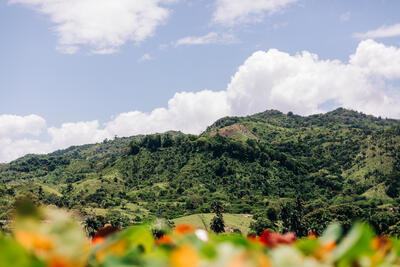 By this time in the afternoon, it was almost 2:30pm, our designated all-aboard time. We took in the last few minutes, checking out the pool some more. We noticed that there are many gradual sloping entrances into the pool, and that this is a pool area that can be thoroughly enjoyed by family members of all ages. 
We boarded the Norwegian Getaway, and very quickly, less than 30 minutes after 2:30pm, the Getaway began pulling out of Amber Cove, and headed back to the open ocean. Every time we depart a port, I am surprised just how fast we do so. It has been pretty consistent, about 30 minutes after the all-aboard time, the Norwegian Getaway has been removed from the dock and is sailing away quickly towards its next destination.
Image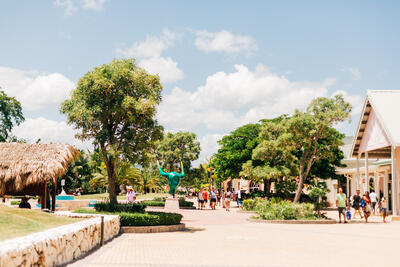 We ventured to the top deck of the Getaway to watch our departure from Amber Cove. Puerto Plata offered some of the most beautiful coastal views we have seen on this trip, and it was fun getting to see them from the top deck as lively music played down below on the pool deck of the Norwegian Getaway. After watching the sail away from Amber Cove, we decided that it was officially water slide day, and that we would also test out the water slides onboard Norwegian Getaway.
Norwegian Getaway features five water slides onboard, and three different types. The water slides onboard are three large, classic, spiral slides, and two Free Fall slides. The Free Fall slides are unique, in that guests step inside a capsule-like contraption, a clear door closes around them, and a countdown begins counting back from three. On one, the floor drops out from underneath you, and guests literally free fall for a second before speedily making several turns and then coming to an end at the bottom near the main pool.
I can say confidently, that this water slide is one of the most intense that I have ever been on! All three of the slide types onboard are fun, and I believe should be tried by every guest who is able aboard the Getaway.
For a more entry level water slide, guests should start with the purple slide, then the red and orange slides, and eventually working up to the Free Fall slides.
Image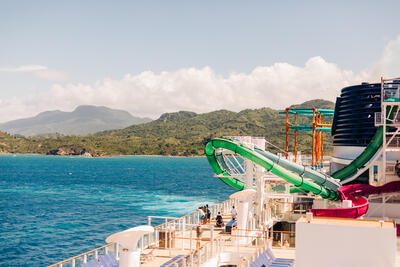 After indulging our adventurous sides at the waterslides, we agreed it was time to do a little relaxing, and made our way up to the Sugarcane Mojito Bar, one of our favorite lounge and drink locations onboard. We enjoyed the late afternoon sun for a while a The Waterfront, and chatted about our plans for the remainder of the evening, and how we will spend our day at sea tomorrow. We agreed that after dinner tonight we would check out the popular Glow Party at Spice H2O.
For dinner this evening, we had made reservations for the Tropicana Dining Room. Something that I have noted, is that although we have had dinner reservations each night of our sailing, we have not ended up really needing them. It appears that there is plenty of space for guests when it comes to dining, and that we could eat at any of the dining rooms we want, without having to wait very long.
Image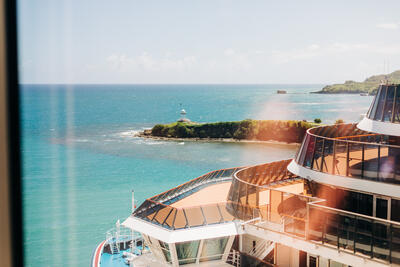 Now that we have dined at all three of the main complimentary dining rooms, we have concluded that all three of these venues have essentially the same menu. The Daily Specials and desserts change, but the list of appetizers and the classic entrees has stayed the same every night of our cruise. All of the food has been good, some dishes have blown us away, while others were fine but just okay.
The Tropicana Dining Room is the largest complimentary dining room onboard the Norwegian Getaway, and features a large stage area in the center for musicians or other performers to entertain during guests' dinners.
We have concluded that Taste happens to be our favorite complimentary dining location. Taste offers great ocean views while dining, and has a pleasant atmosphere of nautical elegance.
Image
After dinner we headed back to our room to change for the Glow H2O party, the dress code was described as either white or bright colors. We both chose outfits we thought acceptable,  and made our way up to the 18+ year only venue. Upon entering the event, we recognized this was the most popular event that the Spice H2O location has put on so far in the cruise. There were many passengers in attendance dressed in white and bright colors dancing to the music.
Glow is essentially a dance party, where modern music is blasted for all, and glows sticks are distributed by the crew. It seemed that everyone had a lot of fun at this event, even thought it only lasted for an hour.
Image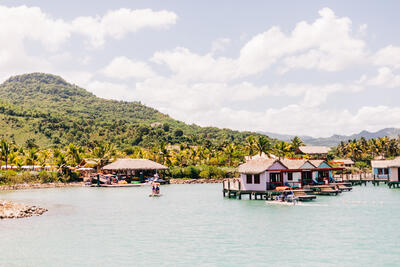 After Glow, we decided to stop in one last time on Howl At That Moon, as tonight was the last time the dueling piano show will be played on our cruise itinerary. We both really enjoy this show, and would highly recommend it to anyone going on a cruise aboard Norwegian Getaway. The performers are very talented, clever, and humorous, all of which make for great entertainment.
Image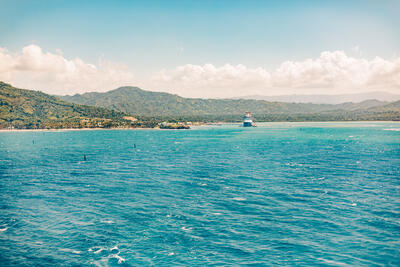 After Howl At The Moon, we headed back to our stateroom so that I could type up the latest installment of our adventure aboard Norwegian Getaway. Something to note, the stateroom steward crew members are very hard working. They clean and refresh each room twice a day, and even turn down stateroom beds for guests every night. Our stateroom steward is very kind and greets us each morning when we see him.
Norwegian Cruise Line has dropped off a crew member appreciation card, in which guests can fill out which crew members made a positive impact on their cruise vacation experience. We plan on filling out this card with several crew members' names.
Tomorrow is our final day aboard the Norwegian Getaway, and a day at sea. I cannot believe that tomorrow is the last full day. This trip has gone by so fast, and I feel incredibly grateful to have been able to experience the Norwegian Getaway, and to bring live updates to all of our readers.
Once again, thank you if you read today's post! I am excited to experience some of our favorite things onboard once again tomorrow, as well as try out some new things we have yet to do. Until tomorrow, smooth sailing!