Royal Caribbean, one of the world's largest cruise lines, has an impressive array of ships to meet a wide range of cruisers' needs. With the introduction of the Icon of the Seas, the cruise line now has seven classes and 27 ships. It can be a lot to consider when picking a cruise, with so many great choices.
There are a number of commonalities among Royal Caribbean's ships, such as delicious dining options, plenty of live entertainment, a variety of fun onboard amenities, complimentary kids programs, and a range of cabin options to suit every budget.
But there are some variations as the ship classes have evolved, and bigger is most definitely the trend. While passenger capacity and size get a lot of attention, there are other factors to consider when selecting the class of ships to sail on. Itineraries and prices are also things to consider.
Here's a look at Royal Caribbean's key features and benefits of each class.
Icon Class
Image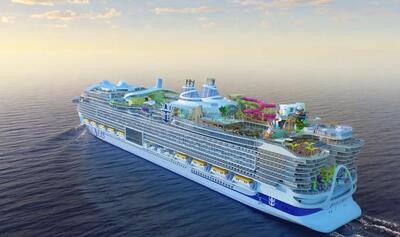 Icon of the Seas is not yet finished but has already made waves as the newest and biggest ship in the Royal Caribbean family. Set to launch in 2024, Icon of the Seas is the first in a new class of ships that will continue to deliver innovative new spaces and a leading edge in design - the latest and greatest of everything. Two more Icon class ships are scheduled for 2025 and 2026
With a maximum capacity of nearly 10,000 people, including crew, the Icon of the Seas is impressive. Cruisers are already enthralled with this new addition to the family and excited to see all its new bells and whistles. Just days after bookings opened up, many cabin classes were sold out. The ship will rival land-based resorts, providing a lot of value for families looking for a vacation that has it all.
Sailing to the Caribbean, the ship has several new features, including a new family neighborhood called Surfside, with tons of amenities and new cabin options, and an epic, three-story Ultimate Family Townhouse. In addition, the ship includes both Thrill and Chill areas inspired by Perfect Day at CocoCay. It also debuts The Hideaway - an adult area, a new entertainment area called the AquaDome, and an enhanced suite area.
Oasis Class
Image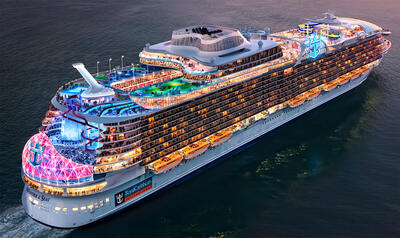 This class of ships is the largest in the fleet and the biggest in the world. Their bold new design opened up the center of the ship, proving to be very successful with new open-air spaces, oodles of amenities, and venues to please any taste. These ships mainly sail to the Caribbean, Europe, and New England. The Oasis class includes:
Wonder of the Seas launched in 2022
Symphony of the Sea launched in 2018
Harmony of the Seas launched in 2016
Allure of the Seas launched in 2010
Oasis of the Seas launched in 2009
Utopia of the Seas will be launched in 2024
Wonder of the Seas, the newest in this class, is currently the largest cruise ship in the world. How do you measure a cruise ship? They are evaluated based on gross tonnage, which sounds like weight but is actually a measure of the inside space of the ship. The greater the tonnage, the more space in the ship. Wonder of the Seas has a gross tonnage of 235,600 and can hold a maximum of 7,084 guests in addition to 2,204 crew, nearly 10,000 people.
This class of ships really pushes the envelope in terms of design and size. There are tons of activities and entertainment, including towering slides like the Ultimate Abyss, ice skating, zip lining, a rock climbing wall, and a surfing simulator. There is plenty of live music, shows, dancing, karaoke, and the unique AquaTheatre shows.
There are some slight differences between the ships in terms of amenities and venues. The oldest ship, Oasis of the Seas was amplified, adding waterslides, new dining venues, and a Caribbean style resort deck. Allure of the Seas has yet to receive upgrades and currently has no waterslides.
Oasis class ships are an excellent option for cruisers who love amenities and view the ship as part of the destination. With so much to do and great design, they appeal to a wide segment, including adults and families with kids. There are also numerous cabin options among these ships, everything from cozy interior cabins to the Ultimate Family Suite.
Quantum Class
Image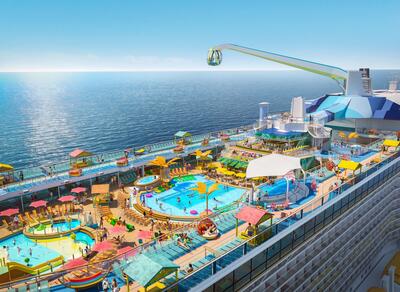 A slight step down in size from the Oasis class, the Quantum class does, however, have a lot to love with some features and itineraries not found on other ships in the Royal Caribbean fleet. The Quantum class includes:
Odyssey of the Seas launched in 2021
Spectrum of the Seas launched in 2019
Ovation of the Seas launched in 2016
Anthem of the Seas launched in 2015
Quantum of the Seas launched in 2014
The cruise line describes them as the most innovative ships, designed for both warm and cold weather climates. With double occupancy, these ships carry just over 4,200 passengers and come in at just under 170,000 gross tonnage.
These ships capitalize on technology and innovation to provide some truly unique experiences onboard, with multi- purpose venues. Among the highlights is Two70, a versatile space at the aft of the ship. It is used for entertainment while also providing guests with incredible views thanks to 270 degrees of windows that are two stories high. The SeaPlex is also a crowd-pleaser. An indoor facility that hosts several activities, including bumper cars, roller skating and other sports, guests will have a blast trying all the activities.
While this class of ships does not have waterslides, it has some high thrill activities such as North Star – a 300-foot high observation capsule, as well as, RipCord by iFLY – an indoor skydiving simulator.
Passengers can enjoy a wide range of dining and beverage options along with live entertainment, which Royal Caribbean is known for. With more enclosed spaces, these ships sail all over, including Singapore, Australia, New Zealand, Thailand, Canada, Alaska, the Caribbean, and Hawaii.
Freedom Class
Image
Among the biggest when launched, the Freedom class of ships are by no means small, welcoming just under 4,000 guests. The class includes:
Independence of the seas launched in 2008
Liberty of the Seas launched in 2007
Freedom of the Seas launched in 2006
With a gross tonnage of up to 156,000, Freedom class ships are a 1/3 smaller than the Wonder of the Seas.  But don't let that fool you; there is still plenty to do, and you won't get bored on these ships.
They have the Royal Promenade with shops, dining and other venues. Onboard some of the upgrades include water slides, a fun pool deck and FlowRider, a water park, rock climbing, and ice skating. Guests can expect a good selection of dining and entertainment options. However, the ships don't have the full suite experience which you will find on the newer class of ships.
These ships offer many sailings to the Caribbean, including 3 and 4 day cruises, as well as Bermuda and New England. Cruisers on the itineraries get the benefit of many large ship amenities at reasonable prices.
Voyager Class 
Image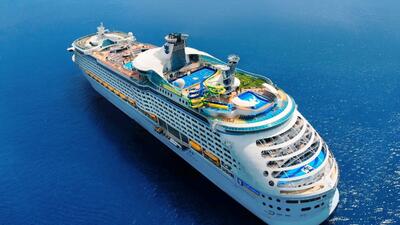 A smaller version of the Freedom Class, the Voyager class of ships, still offers lots for passengers to enjoy. The Voyager class of ships includes:
Mariner of the Seas launched in 2003
Navigator of the Seas launched in 2002
Adventure of the Seas launched in 2001
Explorer of the Seas launched in 2000
Voyager of the Seas launched in1999
These ships top out at just under 140,000 gross tonnage and have a capacity of up to 3,600 passengers, half as much as larger mega ships of today. This was the first class of ships to have a Royal Promenade, a favorite spot for cruisers to enjoy shops and dining.
Being older in the fleet, these ships are a good choice for those cruisers who seek value but still want a good balance of activities. Signature activities such as ice skating, mini golf, and rock climbing walls are all things you can enjoy on these ships. They have also benefitted from some upgrades, such as restaurants,  waterparks, and virtual balcony staterooms.
The Voyager class ships travel far and wide, which may appeal to cruisers wanting to try new itineraries to destinations such as California, the Pacific Coast of Mexico, Europe, and the Middle East, to name a few.
Radiance Class
Image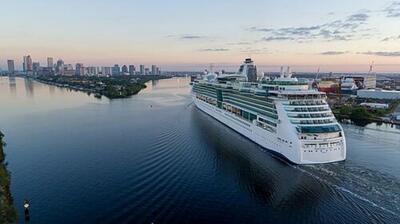 These classic ships are older and smaller than the mega ships of the Royal Caribbean fleet but still offer a traditional cruise experience. Radiance ships include:
Jewel of the Seas launched in 2004
Serenade of the Seas launched in 2003
Brilliance of the Seas launched in 2002
Radiance of the Seas launched in 2001
If you aren't interested or don't need many of the bells and whistles featured on the newer ships, the Radiance class is a great option and often times are better priced than newer ships.
Being smaller in size at around 90,000 in gross tonnage, these ships also have the advantage of sailing to some prized ports that larger ships can't. The Radiance ships venture to a variety of locations on the West Coast, including California, Canada, and Alaska. In addition, they sail to the Caribbean, New England, and the South Pacific, including Australia. The Serenade of the Seas will also be the host for Royal Caribbean's epic world cruise, which spans 274 days and visits 60+ countries.
Their classic design, with lots of glass and open areas, make it easy for guests to enjoy scenic vistas. Beyond the main dining room and buffet, there are specialty restaurants, live shows, a casino, and plenty of bars, including an English pub. With around 2,000 passengers, cruisers love the more intimate feel of these ships and the personalized service.  
Vision Class
Image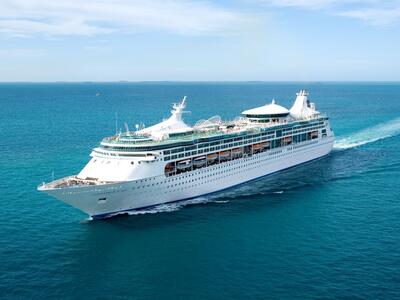 Built in the 1990s, the Vision Class ships have a simpler design in comparison to the ships of today, but their smaller size allows them to visit numerous ports worldwide. The Vision class includes:
Vision of the Seas launched in 1998
Enchantment of the Seas launched in 1997
Rhapsody of the Seas launched in 1997
Grandeur of the Seas launched in 1996
The smallest ships in the fleet, they are around 74,000 to 83,000 in gross tonnage and have a capacity of 2,200 guests. For some, this paired down size creates a more intimate cruising experience. These ships still offer amenities such as specialty dining, bars and live entertainment, adult-only solarium, pools, and hot tubs. Cruisers can also expect good value on these ships, given their age.
Royal Caribbean makes good use of these ships, sending them to various destinations: the Caribbean, Europe, Greece, Bermuda, New England, and Panama Canal, to name a few.