With the introduction of the new Icon of the Seas this week, the cruise industry saw a record breaking capacity of 9,950 passengers and crew, a number few people could have imagined a few years ago.
This also begs the question - how much bigger can cruise ships get? How many more people could a ship possibly hold, and how will it float?
All good considerations, but it looks like there is no end to consumer demand for mega-ships, and the laws of physics don't seem to be an impediment to growth in size.  
Image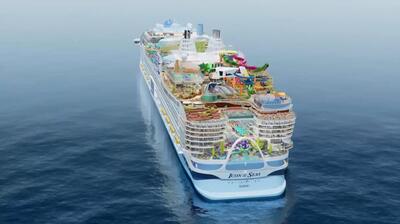 We are taking a look at what is driving growth for these giant vessels and where the future is taking us.
How many people?
Image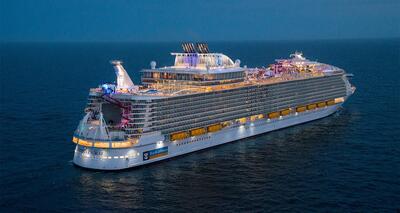 Not yet sailing, but the Icon of the Seas is just a hair under 10,000 people, which is quite remarkable. Cruisers are already enthralled with this new ship, excited to see all the new bells and whistles it has to offer. Just two days after bookings opened up, some cabin categories are already sold out for its inaugural sailing.
In the meantime, Royal Caribbean continues to hold the title for the world's current largest cruise ship sailing thanks to the Wonder of the Seas, which can hold a maximum of 7,084 guests and 2,204 crew. The cruise line's other Oasis class ships, including Symphony of the Seas, and its sister ships, dominate the top five list.
A brief explanation of cruise ship terms, most cruise lines provide their occupancy limits based on the assumption that two people will be in a cabin. In addition to this, there is a maximum capacity based on how many people could actually fit if all the beds are occupied.
Is 10,000 a lot? To provide some context, Sitka, Alaska, a frequent port stop on Alaskan cruise itineraries, only has a population of 8,689. The legendary ski town of Aspen, Colorado, has a mere 7,354 inhabitants.
A trend among cruise lines
Image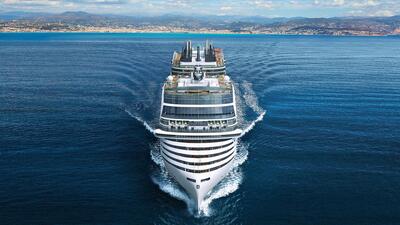 It is not just Royal Caribbean that is making bigger ships. Carnival Cruises, the largest cruise line in the world, has upped their game with the Excel class of ships.
The first in this new class of ships, the festival inspired Mardi Gras ship is the largest to date, which can welcome 6,465 guests. It will soon be followed by the launch of Carnival Celebration this year and Carnival Jubilee in 2023.
Similarly, MSC Cruises, which continues on a building frenzy and increased presence in the North American market, is launching the MSC World Europa with a maximum capacity of 6,762 passengers. It is the largest cruise ship after the Royal Caribbean oasis class ships.
Does bigger mean more crowded?
Image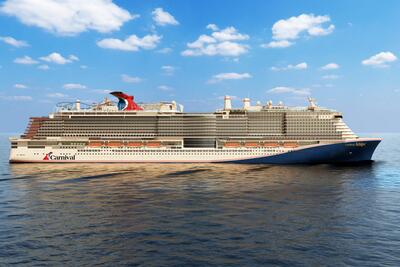 Some of the detractors of mega-ships express their dismay at so many cruisers on one ship. "Too many people" is a common critique. However, these comments are not entirely accurate, as greater passenger capacity has coincided with bigger ships.
Passenger to space ratio is a useful metric to understand the density of people onboard, and surprisingly, you don't necessarily see a decrease in this ratio with these massive new ships.
For example, Carnival Cruises is set to sail its newest ship Carnival Celebration later this year. Based on its gross tonnage and passenger capacity of 5,376, it has a space ratio of 29, which is the same as the recently retired Carnival Ecstasy, which was launched in 1991.
The Titanic, which unfortunately met such as tragic end, was known to be a top the line luxury ocean liner when it launched on its inaugural sailing in 1912, having a total of 2,435 passengers onboard. Based on its gross tonnage of 46,000, it would have had a passenger to space ratio of 19, which is very low by today's standards. Bigger does not always mean that it is more crowded.
But why so big?
Image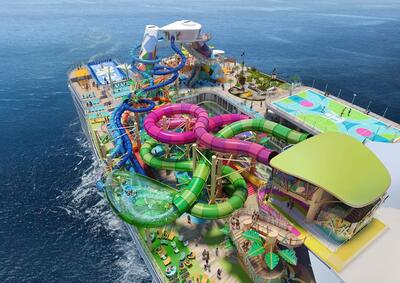 The answer: money. These new ships have proven to be in high demand amongst consumers, which means more bookings.
Cruisers love the variety of entertainment, dining options and endless activities on these ships. Each ship offers something new, such as roller coasters, incredible slides, waterparks, bumper cars, skating rinks, world class theaters and fine dining.  
Although these new, bigger ships can have $ 1 billion price tags, they are proving to be more profitable for cruise lines, especially with more onboard spending for extra activities and specialty dining.
As consumer demand for more innovative features continues, the cruise lines will respond with bigger ships that hold more people.
How large can they go?
Image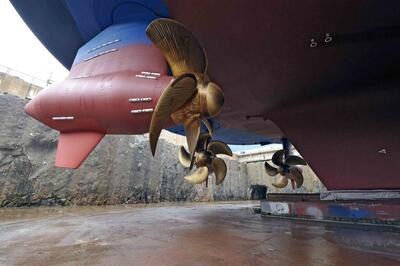 Many people are skeptical that ships can get much bigger. Surely there has to be a breaking point? Can they float? Will they tip over? These are common questions people ask.
According to the laws of physics, size is not a factor in growth. To paraphrase applicable theory, cruise ships are able to float because of water displacement. With streamlined hulls, they use their mighty engines and power to displace water, and as long as they do so, they remain buoyant. No problem.
It may seem counterintuitive because many of us, as kids, had tons of fun throwing rocks into rivers and ponds, watching the rocks skip for a bit, and then sink. So we assume heavier objects sink, but they do so because they can't displace water.
Port considerations
Image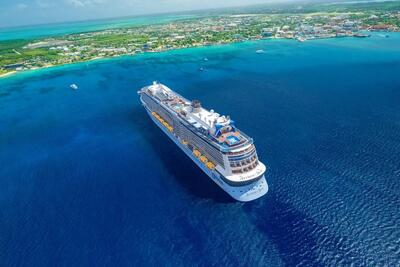 Port size is often identified as a limiting factor in cruise ship growth. This is valid in some cases, as the port is not deep enough or does not have enough dock space to accommodate such large ships. There are other cases, such as environmental protection concerns. The Cayman Islands has delayed its dock project due to a number of issues, including the need to protect its reef systems.
However, many popular ports all over the world have added to their piers to ensure these massive ships can fit. We now see these major cruise ships in the Caribbean, Northeast and Europe.
Some ships have also grown in height more than length, such as the Icon of the Seas, which is only 10 feet longer than the Wonder of the Seas but has two extra decks. A little length is no problem for these ships, thanks to advances in technology. With the latest propellers, they can do some impressive parking jobs in the tightest of spots. 
Port expansion: Nassau
Image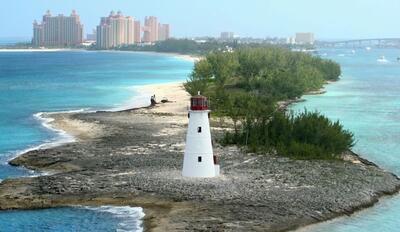 A good example of port growth is the current port expansion in Nassau, Bahamas. Only 50 miles southeast of the Florida coast, the island welcomes 3.7 million passengers per year. Cruising is big business for the island.
The cruise port, including the Prince George Wharf in Nassau, is currently undergoing a $300 million redevelopment project which will see the addition of a sixth berth and a 30,000 square welcome center, which will include immigration, customs, security and administrative offices.
They are also adding amenities and entertainment to heighten the appeal for cruisers, including a 3,500 person amphitheater, Junkanoo museum and more.
Less than 100 people?
Image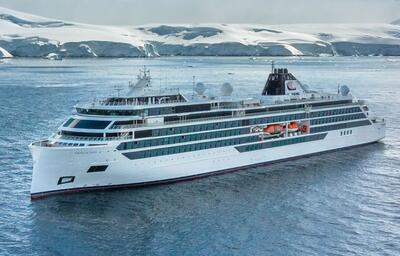 Although the news is dominated by these mega-ships, there are smaller ships being built. Celebrity Cruises continues to go bold with its series of Edge ships that hold 3,230 passengers, but it also has the Celebrity Flora, which carries a mere 100 passengers, designed specifically for cruising in the Galapagos with the latest environmental technologies and unique features.
Famous river cruise company Viking has been making inroads into the cruise market and recently built the Viking Octantis, with only 378 guests, along with 256 crew onboard for its Antarctic expeditions. And they aren't the only ones offering small cruises to niche markets.
Beyond exotic destinations, there are still smaller cruise ships among popular cruise routes. The Norwegian Spirit holds 2032 guests; Princess Cruise Lines, made famous in the 80s by the Love Boat, runs its smallest ship for 2,000 guests. And, to come full circle from the largest cruise ship in the world, Royal Caribbean's smallest ship, the Grandeur of the Seas, has a capacity of 1,992.