Have you ever wondered what cruising will be like in 70 years? On March 29, the MEYER Group released a cruise ship concept for what they believe the future of the industry could look like in the year 2100. 
The MEYER Group is an international consortium that has three shipyards located in Papenburg and Rostock, Germany, as well as Turku, Finland. 
Recently, the Meyer Turku shipyard has made headlines, as they confirmed that Icon of the Seas' first multi-fuel engine was turned on for the first time. It will Royal Caribbean's first cruise ship to run on LNG-powered fuel. Upon the ship's completion, she will become the largest cruise ship in the world, taking the title from Wonder of the Seas. 
During the Seatrade Cruise Global fair in Fort Lauderdale, Florida, the MEYER Group unveiled a brand-new concept for cruising by the year 2100, and it is unlike any other cruise ship that exists today! 
"Reverse" cruise ship model
Image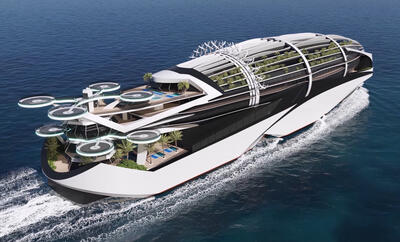 Called the "Reverse" by the MEYER Group, the exterior of the ship features drone landing pads and a closed glass facade, as well as urban gardening areas. 
"The ship is based on global megatrends and is one - but not the only - logical response to them," said Tim Krug, Head of Concept Development Group at MEYER Group. 
"For example, we have only provided for small restaurant areas that serve more as social meeting places because we imagine that a large part of the nutrients will be consumed in concentrated form like pills...From today's point of view, we sometimes come up with extreme approaches, but it is equally important to think them through and develop answers from them."
When it comes to the ship's energy supply, it will operate without the use of fossil fuels made possible by wave energy obtained through the horizontal wings on the ship's hull, solar and fuel cells, and wind energy. 
Even the model of the ship is focused on being environmentally friendly, as it was constructed primary by sustainable materials, 90% of which are recycled or can be recycled without leaving any remains. 
The MEYER Group's portfolio
Image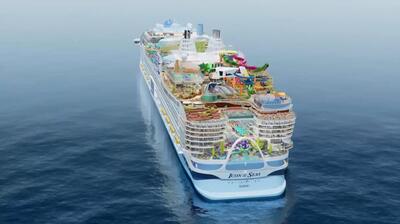 As mentioned earlier, the Meyer Turku shipyard in Finland is currently in the middle of building the world's largest cruise ship: Icon of the Seas. Streamlining technological leadership in cruise ship construction is what the group does best, and they are responsible for other major cruise ships, including Silversea Cruises' newest luxury ship: Silver Nova. 
Per Silversea Cruises, "With a gross tonnage of 54,700 tons she will offer a space-to-guest ratio of 75 GRT (gross registered tons)-per-passenger becoming one of the most spacious cruise ships ever built. What's more, Silver Nova will be our most environmentally friendly, and thanks to her groundbreaking technological solutions, she will propel Silversea into a new era of sustainable cruising."
Silver Nova will operate with an innovate fuel concept that consists of low-emission LNG, as well as a fuel cell system and batteries. The completion of the fuel cell system is a result of a multi-year research project with the goal of developing a maritime fuel cell system that is expected to meet the needs of a ship's entire hotel load. 
Image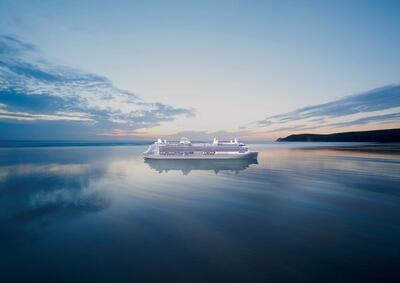 They plan to further increase the ship's efficiency by implementing a newly developed Micro Auto Gasification System (MAGS), which will convert onboard waste into thermal energy. 
Moreover, the brand-new Nova ship will feature a horizontal layout and innovative asymmetrical design that allows public spaces and suites to extend the full length of the ship. The open design of the ship will let passengers feel closer than ever to the ocean and ports of call. 
The MEYER Group is also responsible for the construction ofTUI Cruises' Mein Schiff 7 at Meyer Turku, which will be among one of the first vessels to be prepared to use methanol and green methanol. As a result, this will make the ship's operation nearly climate neutral. 
In terms of North American cruise lines, The MEYER Group has headed the construction of many well-known ships, including (but not limited to) the brand-new Disney Wish, Norwegian Bliss, and Carnival Cruise Line LNG-powered Carnival Celebration.
Future of cruising
Image
Of course, who really knows what the cruising industry will look like in 70 years? One thing is for certain, though: cruise lines are putting forth a greater sustainability effort. Today, many new cruise ships run on LNG-powered fuel, which help to reduce the ship's carbon emissions by about 30%. 
In 2025, Celebrity Cruises' fifth Edge Class ship will introduce new flex fuel engines: "By incorporating tri-fueled engines, we are ensuring that as alternative, low-carbon-based solutions become more viable, our ships will be ready to adapt and drive the industry forward to a more sustainable and net zero emissions future, " said Jason Liberty, president and CEO, Royal Caribbean Group.
Additionally, MSC Cruises' World America will feature a selective catalytic reduction system that is meant to reduce nitrogen oxide emissions by 90% when running on marine oil gas. 
Just because cruise ships getting getting bigger and more technologically innovative does not mean that cruise lines are neglecting their environmental impact!