While most people are familiar with Cozumel, Costa Maya is another popular cruise port on Western Caribbean itineraries. 
Unlike Cozumel, Costa Maya is located on the Yucatán Peninsula at the southern end of Quintana Roo. Despite being on the mainland, it is still far from the majority of Mayan ruins. Tulum, for instance, is about 2.5 hours away, while Chichén Itzá is almost 4 hours from the cruise port. 
If you do not want to make the trek to the ruins, do not worry-- there is still so much to enjoy in the Costa Maya region that requires far less transit. You do not even have to leave the cruise port if you don't want to!
Here are the best things to do on your next cruise to Costa Maya. 
Read more: Best Caribbean shore excursions
Visit the town of Mahahual
Image
Mahahual is a small fishing village that is located about 1.5 miles from the cruise port. Upon exiting the port, you will find numerous cabs lined up who can take you to the area for around $4 per person, per way. 
Along the oceanfront strip, you will find hotels and bars offering day passes to their facilities. For around $60 per person, depending on which you choose, you will get a dedicated lounge chair and umbrella, as well as all-you-can-eat and drink! 
You do not have to book a day pass, though. There is enough to do from walking around the car-free boardwalk, to going fishing, snorkeling, browsing local stores, or trying street tacos made fresh right in front of you! 
Plus, you can experience scuba diving for around $105 per person at Pepe Dive. While you will not become a certified diver, they will help you grasp the basics and take your first dive in the reef in only three hours, which is the perfect amount of time for a beginning excursion!
For those interested in a day pass, here are some options to choose from:
Jaime's at the Blue Reef costs $57 per adult, $33 per child between the ages of 13 and 17, $19.95 per child between the ages of 6 and 12, and is free for those under 5-years-old. You will get your own shaded lounge chair, as well as access to kayaks, floats, and paddle boards. Plus, the price includes all-you-can-eat and drink! 
Yaya Beach Club has a couple different options for those who may not be interested in something that is all-inclusive. For as little as $25 per person, you can reserve a private sun bed in the shade, while those who do not want to worry about paying for each drink can upgrade to the standard open bar package for $50 per person. The third tier that they offer is called their deluxe package, and it comes with an open bar, lounge bed, and one platter of either chicken or veggie quesadillas with nachos and pico de gallo. Finally, there is a platinum package which includes top shelf liquors and a three course meal for $100. 
Like Yaya Beach Club, El Fuerte Beach Resort has two different day pass options. The first costs $20 per adult and $15 per child and includes one drink or cocktail, a lounge chair, wi-fi, and access to their bathroom and shower facilities. The second option includes one snack and meal, as well as a four-hour open bar, wi-fi and access the same facilities. It costs $55 per adult and $35 per child. 
Maya Chan Beach
Image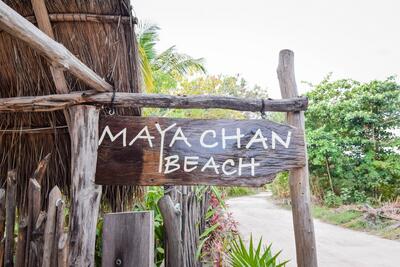 Maya Chan is an all-inclusive day resort that is located a little bit further south than Mahahual. The taxi ride will take about thirty to thirty-minutes depending on traffic. 
It costs $69 per adult, $57 per child between the ages of 8 and 17, $49 per child between the ages of 4 and 7, and $19 for anyone three-years-old and younger. 
This is a great option for those looking for a more relaxed vibe than Mahahual. Included in the price is round trip transportation, use of the snorkel gear and glass bottom kayaks, wi-fi, floating chairs, as well as an all-you-can-eat lunch made fresh on the grill and unlimited open bar. Note that this is strictly a beach pass, as Maya Chan does not have a pool on-site. 
Stay within the cruise port
Image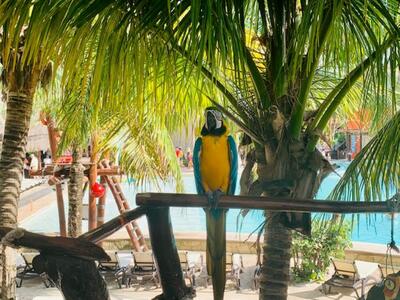 There is so much to see and do in the port of Costa Maya, you may not want to leave! You will not have to walk far from the ship to find a pool, numerous bars and restaurants, an aviary, and plenty of shopping opportunities. 
While you will not get the most authentic travel experience, it is a great option for those who want a no-frills day in port where you can return to the ship whenever you'd like. 
Note that there is no direct access to the beach within the port, so if you have your heart set on swimming in the turquoise waters of the Caribbean Sea, you will have to head elsewhere. 
Read more: 11 common cruise shore excursion mistakes to avoid
Go snorkeling or scuba diving
Image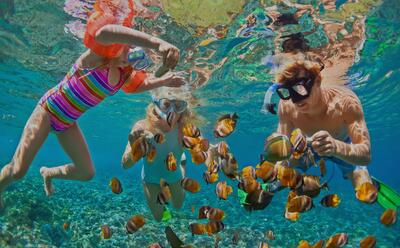 Due to its position along the Meso American Barrier Reef, the second largest coral reef system in the world, Costa Maya has great snorkeling and scuba diving opportunities. You will not have to venture far off the shores of Mahahual to witness the abundant marine life beneath the crystal-clear waters! 
Since Mahahual is not far from the port, you can take a cab to the area on your own and book a third party excursion. Upon finishing the tour, you will have some free time to spend in the village where you can grab some authentic tacos or relax on the beach before heading back to the ship. If you book a cruise line sponsored excursion, your options afterwards might be more limited. 
Through Chunky Monkey Beach Club, you can go snorkeling for around $45 per person. Plus, you are able to use the club's facilities afterwards if you want to hangout on the beach. 
Chacchoben Mayan Ruins
Image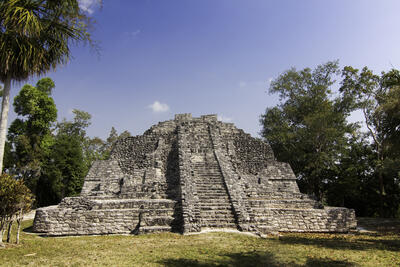 The Chacchoben Mayan Ruins are the closest ruins to Costa Maya's cruise port, and they can be reached in about an hour! The ruins feature the Basamento Temple, where archaeologists have found ceremonial offerings that date back to around 1,000 B.C! This made it one of the most esteemed ceremonial centers in the region. 
Tours to these ruins to be much less expensive than visiting Tulum or Chichén Itzá from Cozumel. Carnival Cruise Line, for instance, offers an excursion here that starts at $90 per person! You can also book via third party and pair it with another activity, such as visiting the Bacalar Lagoon, which is also known as the Lake of Seven Colors due to the white sand at the bottom that gives the water a multi-shade effect. 
Read more: 10 tips for getting the best cruise shore excursion values
Bacalar Lagoon
Image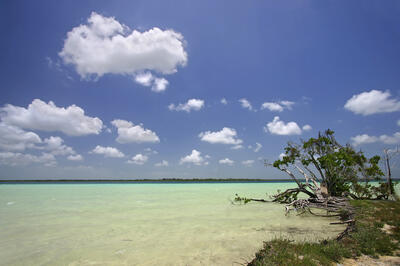 Bacalar Lagoon is a long, shallow lake located about an hour from the Costa Maya cruise port. It is also the largest freshwater body of water in Mexico! Due to the calm nature of the lake, it is ideal for swimming, river tubing, kayaking, and other water activities. 
To make the most out of your time in the area, consider booking a tour that visits the lagoon and Chacchoben. Since the two are located about thirty-minutes from one another, many tour operators will offer excursions that visit both spots. This could make the drive inland worthwhile!
Note that the lagoon is closed on Wednesdays for cleaning. Additionally, if you want to visit Bacalar Lagoon, consider doing so in a non-motorized way as to promote the conservation of this natural beauty. 
Cooking and dancing class 
Image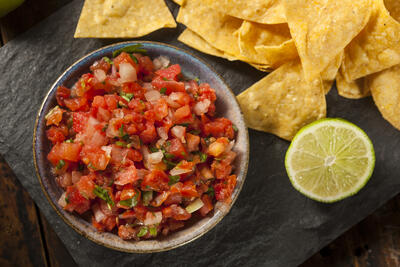 If you are looking for a unique experience while in Mexico, consider a salsa making class where you will also get step-by-step instructions on how to salsa dance! 
You will get the opportunity to learn how to make authentic salsa and guacamole with enough samples that you may not be hungry for dinner! It is a great way to experience more of the local culture that you might otherwise when snorkeling or staying within the cruise port. 
Depending on your tour provider, you may even be able to soak up some time on the beach afterwards! Celebrity Cruises, for instance, includes it in their "Cooking and Dancing with Break Break" excursion that starts at $94 per adult and $74 per child. 
ATV tour
Image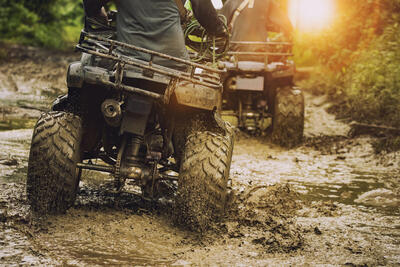 One of the best ways to explore Costa Maya is through an ATV tour, which will take you through the various different terrains of the region. The tours will usually include a stop at the beach before taking you back to the starting point. 
Sometimes, though, you will have to cover the cost of the return on your own, especially if you are going to book through an independent party. An example would be this tour through ShoreExcursioneer that begins at $80 per person. After your off-road ATV adventure, you will end up at Barbanegra Beach Club, which is located in Mahahaul about fifteen-minutes from the port. 
This is both a pro and con, as it means you can spend as much (or as little) time as you want on the beach. You do need to make sure that you get back on time, as the ship will not wait for you!