Prior to your cruise vacation, it is important to read about different tips and tricks that will help you have a better experience. Some, however, sound better in theory than when you actually implement them. 
I have taken ten cruises and have four more planned between now and November, so while I am no pro, I have learned some things that help me maximize my time onboard, as well as save time and money! 
If someone swears that something works for them, it does not mean that it will for you. Everyone is different, especially when it comes to their perfect vacation. At the end of the day, you need to do what will help you have the most memorable cruise. Sometimes, those infamous money saving hacks just are not worth it!
Here are 8 cruise tips that I have tried that did not work for me and my travel style. 
Read more: Top 40 Cruise Tips & Hacks
Booking the cheapest cruise cabin to save money
Image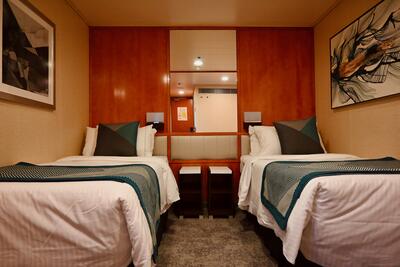 Up until January 2023, I had only even stayed in balcony cabins when cruising. It is important to establish your vacation budget and stick to it; however, booking the cabin that you actually want versus settling for the cheapest thing might impact how much you enjoy your vacation. 
Personally, I love being able to wake up in the morning and enjoy time on my personal balcony, rather than having to head elsewhere on the ship. It makes for a more peaceful start to the day. Adjusting to inside cabins has been difficult for me!
Plus, inside cabins are often smaller than ocean view and balcony cabins, which already clock in less square footage than the average hotel room. If having space, as well as access to natural light, is important to you, you will not have a great time on your cruise vacation if you book the cheapest stateroom available. 
Likewise, if you select a guarantee cabin, you may be unhappy with where you are located. Do you want to be near the youth clubs or on a specific deck? If so, do not worry about saving the money and do what will make you the happiest during your vacation. Relying on an upgrade bid to be accepted might result in disappointment, too. 
Trying to pack in a carry-on for a weeklong cruise
Image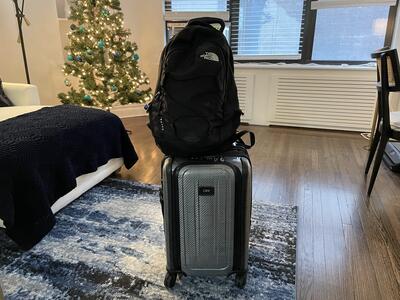 Packing everything in a carry-on bag might seem feasible for some, but I enjoy having options when it comes to selecting my evening outfits. Having to rewear dresses takes the fun out of it for me, as I love having an excuse to dress up a little bit nicer than usual. 
I would rather pay to check my bag and be able to bring a little bit more clothing than I probably need, rather than limiting myself. 
Of course, this is dependent on your travel style. A large suitcase may seem unreasonable for a lot of cruisers! I will say that you never know how much you are going to end up packing until you get going, though. From daytime wear by the pool, to clothing for adventures in port and onboard activities, and nicer evening wear, it adds up to be more than you may think. 
Read more: Cruise Packing List: What to Pack for a Cruise
Not buying a Wi-Fi package
Image
Wi-Fi packages are not necessarily cheap; however, they are not the most expensive cruise add-on, either. They allow you to stay connected with friends and family back at home. 
Even if you like the idea of being disconnected, you never know when an emergency will arise, and you will want to ensure that someone has a way to reach you. And just because you purchased an internet package does not mean that you have to be on your phone all day! There is no rule that says you cannot leave it behind in your stateroom while you are on the pool deck or eating dinner. 
In addition to emergencies on land, internet makes daily life more convenient. Perhaps you want to check the weather forecast being disembarking the ship or need to pay a bill while onboard-- having Wi-Fi will allow you to do so!
If you end up waiting until you get on the ship to get Wi-Fi, you might end up paying more than if you were to have purchased it in advance, as some cruise lines offer discounts when you get it via their online planning portal prior to departure. 
Read more: Do cruise ships have WiFi?
Packing a swimsuit in my carry-on bag
Image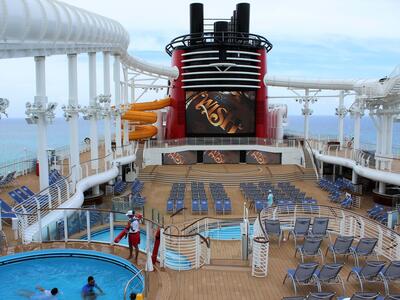 I always pack a swimsuit in my carry-on bag on embarkation day. To this day, however, I have yet to swim on the first day! There are so many other things to do, from grabbing something to eat for lunch, making dining and show reservations, exploring the ship, and getting excited for sail away with a cocktail in hand, that I have just never found the time. 
Plus, I do not want to have to worry about rushing to get ready for dinner after sail away. If I had been in the pool, I would want to shower and freshen up. 
Even though it does not take up much space, I am probably going to stop worrying about making sure that I have a swimsuit in my bag. 
Read more: 30 cruise ship embarkation tips and tricks
Saving money by drinking in port
Image
While it is true that alcoholic drinks are often much cheaper than those onboard the ship, I do not find drinking while in port to be a productive way to spend my day! Often, there are other excursions that I would rather do that are not centered around drinking. 
Sometimes, I will grab a drink or two if I am on the beach; however, I would rather indulge while on the ship in the evenings during dinner, a show, or while listening to live music. If I have too many drinks during the day, I will want to retire early, and I find that my favorite time onboard is at night when the ship comes alive. 
Read more: Are Royal Caribbean drink packages worth it?
Booking another cruise while onboard
Image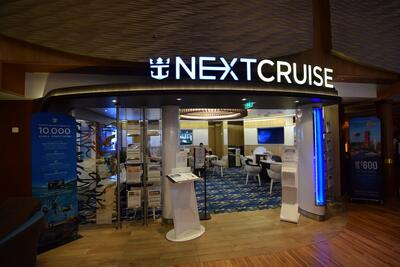 Many cruise lines offer incentives to book your next cruise while on your current one. If you are certain that this is something you want to do, there is something wrong with speaking to an agent and getting more information. 
Personally, it is difficult for me to plan too many vacations in advance! In fact, the last cruise that I booked while onboard, which was a little over one year away, I had to cancel due to unforeseen circumstances. After that, I told myself that I would give myself a little bit more time before rushing into any vacations that far in advance. 
On the other hand, if you are still months out from your next cruise and see another one that you want to book, it would behoove you to go ahead and secure that rate. The pricing may increase and offset any benefits that you would receive from booking it on the cruise. 
Read more: Guide to Disney Cruise onboard booking discount
Eating at specialty restaurants for lunch 
Image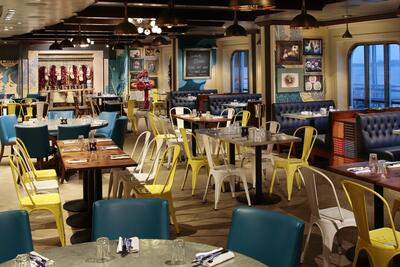 Another money saving tip that many veteran cruises advise is to eat at specialty restaurants during lunch, as sometimes they are cheaper than during dinner. While this is true, I dislike having larger meals (i.e., those that are three courses) during the middle of the day. 
The exception, however, would be specialty restaurants that are priced á la carte, as I could order something small and pay less than a cover charge! 
Personally, I would rather pay the difference and dine at a specialty restaurant during dinner, as I find that the ambiance is also different. It does not feel as casual as when eating there for lunch. 
If it is your first or second cruise, you can still get the full cruising experience without splurging on specialty dining. It is possible to board the ship and not any extra for food, especially if you plan to eat before disembarking at ports of call. 
Read more: 16 tips to not waste money on your first cruise
Staying onboard the ship while docked in port
Image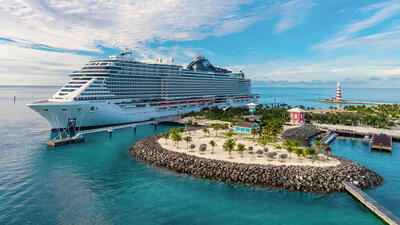 You may be considering staying onboard the ship when docked for a few different reasons, whether it is because you have been there before, did not find a shore excursion that appealed to you, or want to enjoy the ship's amenities with fewer crowds. 
Once when docked in St. Thomas, I considered staying onboard, as I had been there on just about every cruise I had been on before. After some research, however, I learned about Water Island and decided to venture over there, even if just for a few hours, to see something new! 
I am glad that I did because I ended up falling in love with this little slice of paradise. Getting to the island was easy, and the beach was beautiful, quiet, and overall just the perfect place to get away from the crowds of the more popular beaches on St. Thomas-- there were five other ships in port the same day carrying roughly 17,000 passengers; yet, I had no issues at all finding a secluded area on the beach to relax. 
Even if you do not have anything planned, you can always get off and walk around for a little while! Do not be afraid to try the local cuisine and wander into a few stores.