If you are like me, you want to start thinking about your next cruise before you even get off of your current one! By booking your next cruise onboard, you might find that you get some pretty sweet perks that get you even more excited for your next adventure! There is nothing better than knowing you got the best possible rate for a cruise vacation. This might allow you to purchase some cruise add-ons that will make your trip extra special!
Before you disembark from your magical Disney cruise, you have the opportunity to book a placeholder reservation for a future sailing. You can return home knowing that you next visit to see Mickey and his pals is imminent! Plus, it is a great way to save money on your next Disney cruise.
Here is everything you need to know about Disney Cruise Line's onboard booking discount. 
What is Disney's future cruise onboard booking offer?
Image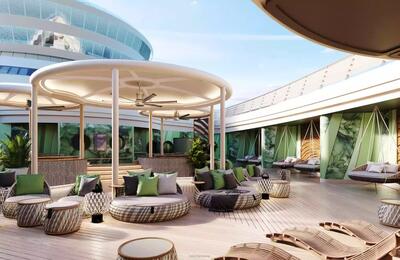 Disney Cruise Line's onboard booking offer allows guests on a current Disney sailing (i.e., ON the ship) to make a placeholder reservation for a future cruise. The largest benefits of doing so is that you will receive a 10% discount off of the quoted rates on Disney Cruise Line's website, as well as reduced deposits on cruises that are 7-nights and longer. 
If, for instance, you are a family of four that are considering taking advantage of this offer for a 7-night Western Caribbean cruise on Disney Fantasy. The cruise departs in May of 2024 and begins at $6455.36 (including $682.88 in port fees and taxes) for a category 10A Deluxe Inside Cabin, so the 10% discount will result in savings amounting to about $577.24.  
Plus, you will only have to pay a deposit of $250, which is fully refundable if you decide to cancel the reservation prior to officially selecting a sail date. 
You can book up to two staterooms on one sail date per household onboard. It does not matter how many adults are in said household. This makes it easy to get two staterooms: one for the parents and another for the children!
When does the cruise have to begin by?
Image
The cruise must commence within 24 months after the placeholder reservation was booked. If it does not, the reservation will be automatically cancelled. 
In other words, if you make the placeholder reservation on August 15, 2024, you have until August 15, 2026 for the cruise to begin. If you choose a sail date outside of the 24 months, the 10% discount will not apply. 
The beauty of a placeholder reservation is that you do not have to make up your mind on a specific sail date. As long as you know that you want to sail on another Disney cruise within the next 24 months, you can be flexible and can choose the date later once you either know more about your schedule or additional itineraries are released. 
Once you have decided on the specific itinerary you would like to go on, you can contact the Disney Cruise Line Call Center at (800) 951-3532 to convert the placeholder reservation to a confirmed one!
As a note, it is not valid on 2-night sailings. The cruise must be at least 3-nights. 
Read more: Top 45 Disney Cruise Line tips and secrets
What are the blackout dates?
Image
The blackout dates vary by the ship. Reservations for future sailings that fall on these dates are ineligible for the onboard savings offer. Most of them fall during popular holidays, such as American spring break and Christmas/New Year's. That being said, if you are looking to take a vacation during the summer months, you are good to go! 
Read more: Disney Cruise Ships by Size
Disney Wish
Between April 2023 and 2024, Disney Wish has the blackout dates with 9 sailings that are not eligible for the onboard savings offer:
04/03/2023 
04/07/2023 
11/20/2023 
12/22/2023 
12/26/2023 
12/29/2023 
03/25/2024 
03/29/2024 
04/01/2024
Disney Fantasy
Disney Fantasy has five dates between November 2023 and March 2024 that cannot be chosen:
11/18/2023 
12/23/2023 
12/30/2023 
03/23/2024 
03/30/2024 
Image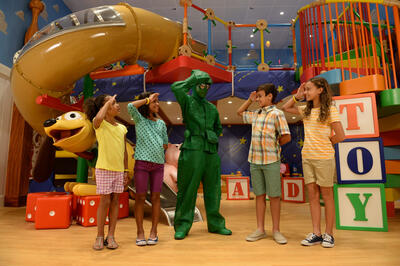 Disney Dream
There are four dates that fall between November 2023 and March 2024 that are ineligible for the onboard savings offer on Disney Dream:
11/20/2023 
12/23/2023 
12/28/2023 
03/31/2024
Disney Wonder
The only two posted blackout dates onboard Disney Wonder are 12/23/2022 and 12/28/2022. Per Disney Cruise Line's website, there are no blackout dates for 2023 or 2024. This, however, is subject to change. 
Disney Magic
Like Disney Wonder, Disney's website states Christmas and New Year's of 2022 as blackout dates for cruises onboard Disney Magic. The only published date for 2023 is 11/18/2023. This sailing will take place over the American Thanksgiving holiday. 
Are there any stateroom restrictions?
Image
The onboard offer is only valid for stateroom in categories 4 through 11, which excludes most suites and Disney Cruise concierge staterooms. To take advantage of the placeholder reservation, you will have to stay in an inside, ocean view, or verandah cabin.
Read more: Is Concierge on Disney Cruise Line Worth It?
Can this offer be combined with Florida Resident Rates or other special discounts?
Image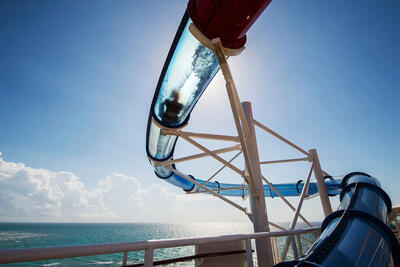 Unfortunately, no. You cannot take advantage of both the onboard discount and Florida Resident Rates, U.S. Military Rates, or with any other special offer. Additionally, it is not valid on VGT, OGT, or IGT Categories with Restrictions.
How to make a placeholder reservation
Image
When you are on your Disney cruise, you can use the Disney Cruise Line Navigator app to make your placeholder reservation. It can be done at your convenience and at the palms of your hands!
And no worries-- once you return home, you are able to transfer the booking details to your travel agent. Disney is strict with their rules, so you only have 30 days to transfer the onboard booking that was made. You will want to make sure that you get this done straight away!
Read more: 5 Reasons to Book With a Travel Agent for Your Next Cruise
What are the cheapest months to take a Disney cruise?
Image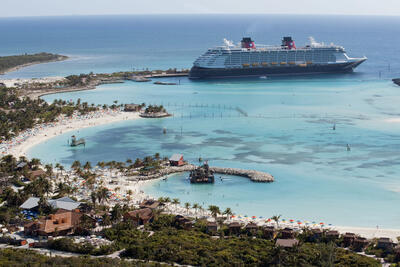 The cheapest month to take a Disney cruise varies by your preferred destination. That being said, a good rule of thumb to follow is when the American schools are in session. You are much more likely to pay for a cruise in the middle of July, regardless of the destination, than at the beginning of May or October. 
If it is a seasonal destination, like the Mediterranean or Alaska, the beginning and end of a ship's deployment (i.e., the shoulder season) in that specific region tends to be the cheapest. This is most likely due to the fact that it is not peak season yet. 
Read more: What is the cheapest month to go on a cruise?
I forgot to make my placeholder reservation while onboard. Can I do it at home?
Image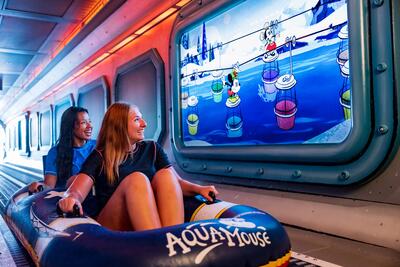 This special offer only applies to bookings made while onboard a Disney cruise ship. If you forget to make a placeholder reservation while on your cruise vacation, you are, unfortunately, out of luck. At this point, the best way to get the lowest rate on a cruise would be to book as early as possible. 
We recommend getting this out of the way as early on as you can, so you can enjoy the rest of your vacation without having to worry about making time for this. 
Why should you book another Disney cruise while still onboard?
Image
Some people like to mix is up and try different cruise lines, while others prefer to stay loyal to one brand. There is nothing wrong with either option; it simply comes down to personal preference!
If you have had a magical time onboard your Disney cruise and can see your family going on another one in the foreseeable future, you should book a placeholder reservation to take advantage of the 10% discount, as Disney Cruise Line rarely has any noteworthy sales or promotions via their website.
Plus, you do not have to make a decision on a ship or itinerary at that moment. You can go home and think about it for awhile! If you just sailed to the Caribbean, maybe your family would enjoy an Alaskan or Mediterranean cruise next year. 
Of course, those kinds of trips often require a little bit more planning when it comes to the logistics. Again, there is no pressure to lock anything in! If you want to make a placeholder reservation for a European cruise even though you are not sure if it will work or not, you can change your official booking later on if you decide that the flights are too costly or the travel would be too intense with kids. 
If you decide to completely cancel before selecting an official date for whatever reason, you will get your full deposit back-- no harm no foul!