The Disney Cruise Line was introduced to the world in 1998, with the maiden voyage of the Disney Magic. This cruise ship, one of the smaller two of the fleet (along with its sister ship the Disney Wonder), offers itineraries around the world. Homeports have included Miami, Galveston, New York, Barcelona, Spain, and Dover, England, and the ship typically spends the summers in Europe.
The Disney Magic was refurbished in 2013, with updates including the introduction of the AquaDunk water slide. Additional refurbishments in 2018 included the addition of the restaurant Rapunzel's Royal Table. The ship is decorated in the Art Deco Style.
The Disney Magic can accommodate 2,713 passengers and 950 crew across eleven passenger decks. There are 875 staterooms. It's smaller than the Disney Dream and Disney Fantasy and can seem cozier than those larger ships.
Staterooms on the Disney Magic
Image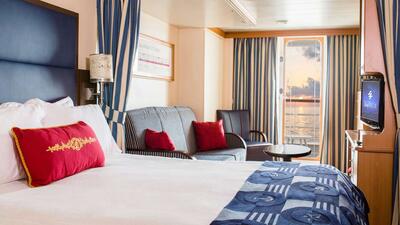 The Disney Magic offers 262 inside staterooms and 613 outside staterooms. Within the outside stateroom category, there are both oceanview rooms and verandah rooms, as well as concierge-level rooms. Connecting staterooms are available if you are booking more than one room for your group.
Verandah rooms are a great option for families. The Deluxe Oceanview Stateroom with Verandah is especially popular. It includes a queen bed, a sleeper sofa, and a pulldown bunk bed. Other stateroom amenities include a refrigerator, television set, and a split bathroom. One bathroom includes a toilet and a sink, while the other contains the shower and another sink.
Eating on the Disney Magic
Image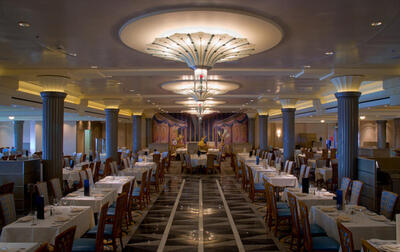 Like the other Disney Cruise Line ships, the Disney Magic has three main restaurants. Guests can choose between two dining times - an early one and a later one - for your entire journey. During your sailing, you, along with your serving team, will rotate through the three dining rooms. These main three restaurants include:
Animator's Palate - an animation-themed restaurant that is lively and fun, and is offered on all four ships.
Lumiere's - a French-inspired restaurant named for the candelabra character in Beauty and the Beast
Rapunzel's Royal Table - the newest of the three restaurants, this restaurant includes character viewings and music in a spirited environment. It was added in 2018.
Image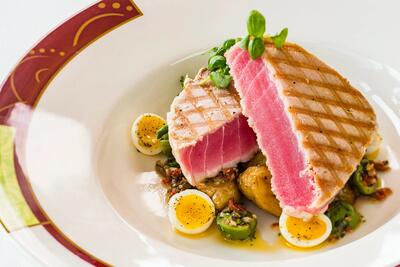 You'll never go hungry on the Disney Magic, as there are some other casual places to get food throughout the day. This includes Cabanas buffet (offered on all four ships), Pinocchio's Pizzeria, Daisy's De-Lites, and the Duck-In Diner.
Adults can also enjoy brunch or dinner at Palo, a Northern Italian, adult-only restaurant. Palo is a more upscale restaurant, with a separate dress code and cover charge. If you want to eat there, be sure to make reservations in advance, as Palo is very popular.
Things to Do on the Disney Magic
Image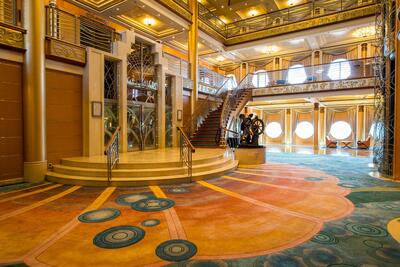 You'll never be bored on a Disney ship, with so many activities, amenities, and entertainment created especially for families. Every day, you'll be greeted with activities such as Bingo (open to all ages), game shows, karaoke, and trivia. These are held in various venues including the D Lounge, which primarily showcases the family events.
You can also see your favorite Disney characters throughout the ship, and at Castaway Cay. A schedule of character greetings and programming is available in both the paper Daily Navigator and the Disney Cruise Line Navigator app.
Image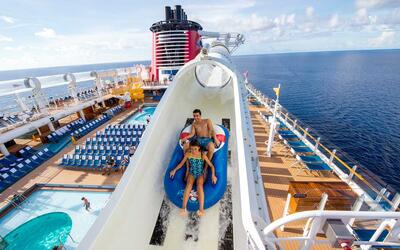 Deck 9 contains the Goofy's Pool family pool, the AquaLab, and the Nephew's splash zone. There's also the exhilarating AquaDunk, a waterslide that begins with a steep plunge. The Disney Magic is the only Disney Cruise Line ship offering the AquaDunk.
There are also a number of adult-only venues on the Disney Magic. This includes the After Hours area on Deck 3. It includes three bars - O'Gill's Pub, Fathoms, and Keys. Beverage seminars are also offered for adults for an additional fee and should be reserved in advance.
Image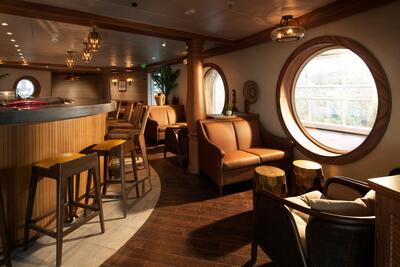 Like the other Disney Cruise Line ships, the Disney Magic includes other adult-only venues including a Senses Spa and Salon, a quiet Cove Pool, and a Cove Cafe.
There's also a Bibbidi Bobbidi Boutique onboard. Kids can choose to be transformed into a princess, pirate, captain, or knight. Like other activities on the Disney Cruise Line, it's best to book this in advance if possible due to its popularity.
Catch the last blockbuster from Disney-owned studios at the Buena Vista Theater. These first-run movies are all complimentary and will run throughout your sailing. Classic Disney movies are also shown on the pool deck.
Shops on the Disney Magic
Image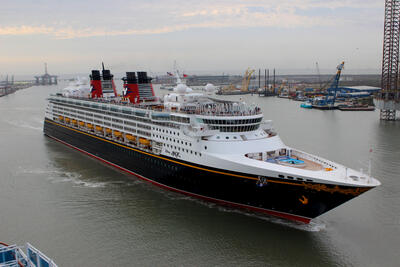 There are several shops onboard the Disney Magic, offering essentials and Disney-branded souvenirs. Shops include Quack's retail shop, Mickey's Mainsail, and White Caps. They are closed when the ship is in port due to local regulations but are typically open in the evenings and during the days at sea.
Kids' Clubs on the Disney Magic
Image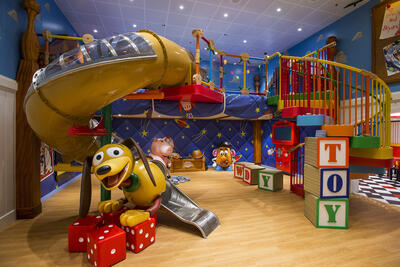 The Disney Magic offers youth clubs that are a great place for kids to play and meet friends on the cruise. These include the Oceaneer Lab and Club, which feature different play areas for kids including Andy's Room (inspired by Toy Story), MARVEL Super Hero Academy, and Pixie Hollow. The Oceaneer Lab and Club are for kids ages 3-12.
Do you have older kids? There is also a tween club called Edge, and a teen club called Vibe. There's also a Chill Spa for teens located at the Senses Spa.
Entertainment on the Disney Magic
Image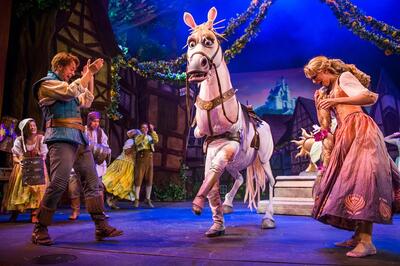 There are several Broadway-style musicals that are featured at the Walt Disney Theatre. The current shows on the Disney Magic are Twice Charmed: An Original Twist on the Cinderella Story, Tangled, and Disney Dreams - an Enchanted Classic. The schedule for the shows may vary.
Deck parties, including the Sail Away party, take place throughout your sailing and may depend on your itinerary. The schedule for these is listed in the paper Daily Navigator and on the Disney Cruise Line Navigator app.
Other live shows and live performances take place on every sailing. These can include bands, singers, and other musicians that can be seen in the various bars, clubs, and other public areas.
Amenities on the Disney Magic
Image
In addition to the entertainment, shops, restaurants, and recreational activities, there are lots of amenities on the Disney Magic. Guest services can assist with reservations or any customer service issues that you have on board. They can be accessed in person or through the app.
WiFi, called [email protected] is offered for an additional charge. However, guests can message each other for free using the Disney Cruise Line app. It's best to download the app before your trip so you don't have to worry about it once you are at sea.
Laundry facilities are available and include supplies for purchase, as well as irons and ironing boards. You can use your stateroom account for purchases, and the app lets you know when the machines are done, so you don't have to sit there and wait.
There's also the port adventures desk, where you can plan any excursions that you may not have booked in advance.
Once you are ready to book your next cruise, you can take advantage of possible discounts and stateroom credits by visiting the Disney vacation planning desk.