As children turn into teens, they may start to moan and goan when the words "family vacation" are brought up. They have their own likes, dislikes, and often are not ready to retire to bed at night when parents are. 
That is why cruising is becoming a more popular family vacation, as they offer something for everyone -- think countless destinations; dedicated venues for kids, teens, and adults; and unlimited food. 
Parents are able to recharge in the adults-only areas knowing that their kids are having the times of their lives participating in activities that nobody ever thought would be available at sea and making new friends in the teens club.
From insane mega ships to smaller vessels that are still packed to the rim with fun things to do, here are our picks for the best cruises for teens!
Royal Caribbean International 
Image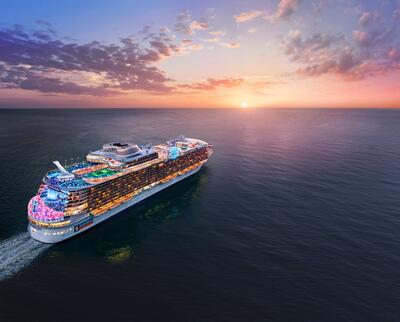 Royal Caribbean ships have held the title of largest cruise ship in the world since the launch of Freedom of the Seas in 2006. Over the past sixteen years, their ships have only gotten bigger and more technologically advanced, with no plans on slowing down anytime soon. 
Even though their oldest ships lack many of the bells and whistles of their newer counterparts, they come equipped with rock climbing walls, pools and hot tubs, and the cruise line's acclaimed Adventure Ocean youth program, which has teen-specific programming for those 12-14 and 15-17. 
Of course, Royal Caribbean is known for providing guests with ultimate thrills while at sea, including FlowRider surf simulators, the Perfect Storm water slide trio, ice skating rinks, zip lines, skydiving simulators, and glass observation capsules that soar 300 feet above the ocean.
Continue on to find out our favorite classes of Royal Caribbean ships for teenagers! 
Icon Class
Image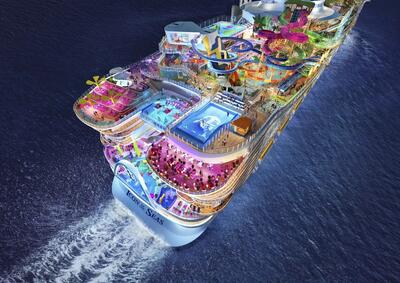 Icon of the Seas has yet to officially start sailing; however, this record-breaking ship will be the ultimate ship for families. At 250,800 gross registered tons, she will surpass Wonder of the Seas as the largest cruise ship in the world. 
In addition, she will feature many brand-new neighborhood and concepts, such as the family-friendly Surfside neighborhood and Thrill Island, which will satisfy those teens seeking an adrenaline rush. 
Category 6, the largest water park at sea, will be home to the Frightening Bolt, the tallest waterslide at sea; the Pressure Drop, a free-fall slide; Storm Chasers mat-racing slides; and Storm Surge & Hurricane Hunter, the first-ever family raft slides at sea. 
Plus, Crown's Edge will be an onboard thrill is unlike anything seen at sea before. It will be part skywalk, part ropes course, and part thrill ride, meaning that the experience will test your teen's courage as they walk across the Royal Caribbean logo before soaring across the sea. 
Read more: The 15 big changes on Icon of the Seas that Royal Caribbean has planned
Oasis Class 
Image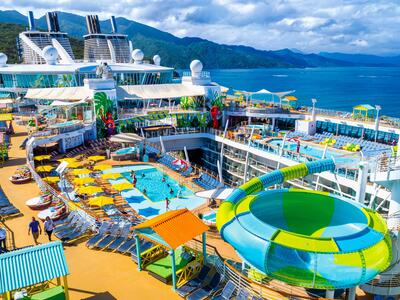 Oasis of the Seas turned heads when she debuted in 2008. She was the first ship in the world to feature an AquaTheatre and allow guests to view jaw-dropping dive shows into the deepest pool at sea!
Additionally, Oasis of the Seas was the first cruise ship to have a zip line and internally facing balcony cabins with views of their Central Park and Boardwalk neighborhoods.  
Today, there are five Oasis Class ships with a sixth scheduled for delivery in 2024, all ranging between 226,838 and 236,857 gross tons with the ability to carry a maximum of 6,780 to 6,988 passengers.
Oasis of the Seas (launched in 2009 and received a major amplification in 2019)
Allure of the Seas (launched in 2010 and has yet to undergo any sort of amplification)
Harmony of the Seas (launched in 2016)
Symphony of the Seas (launched in 2018)
Wonder of the Seas (launched in 2022)
Utopia of the Seas (launching in July 2024)
As Allure's amplification was indefinitely cancelled in 2020 as a result of the COVID Pandemic, she has fewer thrills than her sister ships. Onboard, you will not find the Perfect Storm water slides, Ultimate Abyss dry slide, or Splashaway Bay. However, the main characteristics of an Oasis Class vessel are still present. 
Additionally, compared to other ships in the class, Wonder of the Seas has several key differences that make her stand out, like the brand-new Suite neighborhood, largest Windjammer buffet at sea, and a new mini-golf course that took the place of the second FlowRider machine. 
Image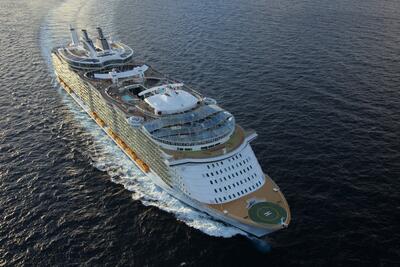 Likewise, Utopia of the Seas will stand out in comparison to her older sisters. Onboard, you will find the new-to-brand Pesky Parrot bar, as well as the only immersive train dining concept in the fleet. Teens are sure to love the upgraded pool deck, too. 
You can't forget about the entertainment, either. Oasis Class ships are known for their Broadway-style musicals, from Hairspray onboard Symphony of the Seas, to Mamma Mia on Allure of the Seas, and Harmony of the Seas' Grease.
Quantum Class
Image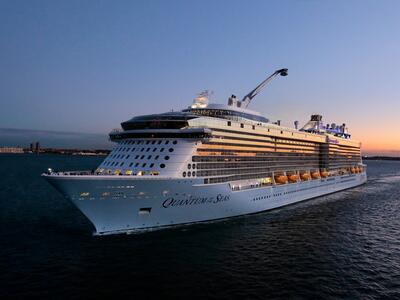 Until Icon of the Seas' maiden voyage in 2024, the Quantum Class is Royal Caribbean's newest class of ships. Yet, the five ships are smaller than the Oasis Class, with the maximum passenger capacity varying from 4,905 to 5,510 and 167,704 and 169,379 gross tons. 
Quantum of the Seas (launched in 2014)
Anthem of the Seas (launched in 2015)
Ovation of the Seas (launched in 2016)
Spectrum of the Seas (launched in 2019)
Odyssey of the Seas (launched in 2021)
Quantum Class ships are the only cruise ships in the world to feature sky diving simulators, glass observation capsules that extend 300 feet above the ocean, and the SeaPlex, a large multipurpose indoor venue that allows for activities such as basketball, roller skating, bumper cars, and trapeze lessons. 
Thankfully, you can find them sailing across the world, meaning that you will not have to sacrifice onboard amenities for itinerary. Do you want to cruise to Alaska? What about Europe, Australia, or Asia? You will not be limited to choosing the Bahamas or Caribbean, that is for sure. 
Freedom Class
Image
Royal Caribbean's Freedom Class is one of their smallest classes to date only being comprised of three ships: 
Freedom of the Seas (launched in 2006 and received a major amplification in early 2020)
Liberty of the Seas (launched in 2007 and was refurbished in 2016)
Independence of the Seas (launched in 2008 and was refurbished in 2018)
Like the Quantum Class, these ships are considerably smaller than the Oasis-class ships, with the gross tonnage ranging between 156,271 and 155,899. Plus, at maximum capacity, each ship holds about 2,000 less passengers. 
You will find FlowRiders and water slides onboard each vessel, with the Liberty of the Seas being the only ship in the fleet to have the boomerang style slide Tidal Wave. On the other hand, Freedom is the only ship in the class to feature an updated pool deck. 
Norwegian Cruise Line
Image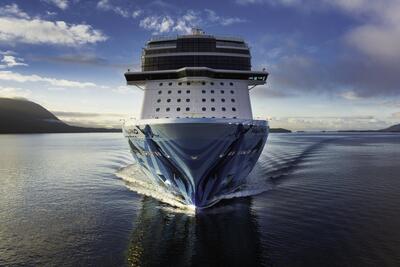 Like Royal Caribbean, Norwegian Cruise Line's ships are geared towards family-family friend for all ages!
Plus, no matter how old the ship is, all have received newer venues and refreshed cabins thanks to the line's "Norwegian Edge" fleet renovation program. Norwegian Sky, for instance, was initially launched in 1996 and has been updated to include a sushi bar, pub, mojito bar, Starbucks, and a few new lounges. 
Their newer ships include activities such as multilevel go-kart tracks, ropes courses, water slides, laser tag, and the world's first free-fall dry slide at sea! 
For a teenage adults-free sanctuary, they'll love Entourage, the cruise line's teen hangout for guests 13-17 which "combines the hang out zone, dance zone, game zone, and party zone."
Below is a breakdown of the best Norwegian ship classes for teenagers!
Prima Class
Image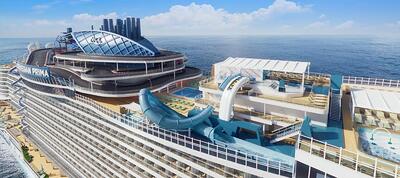 The Prima Class is the cruise line's first brand-new class of ship since the Breakaway-class in 2014, but it was worth the wait. 
While Norwegian Prima is currently the only Prima Class ship in operation, a sister ship, Norwegian Viva, will enter service in 2023. 
At 142,500 gross tons with a maximum passenger capacity of 3,099 guests based on double occupancy, she is one of the smaller newer ships. She's jam-packed with new amenities, though. 
Teens will love the three-level go-kart track, water slides, world's first free-fall dry slide at sea, tech immersive mini-golf course, and Indulge Food Hall to try new cuisines from around the world.
Breakaway Plus Class
Image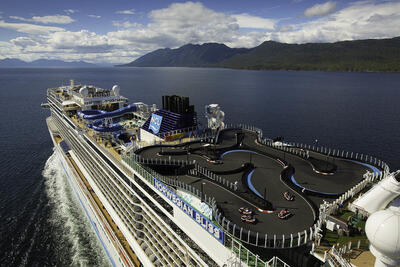 There are four operating ships in Norwegian's Breakaway Plus Class:
Norwegian Escape (launched in 2015)
Norwegian Joy (launched in 2017 and refurbished in 2019)
Norwegian Bliss (launched in 2018)
Norwegian Encore (launched in 2019)
At double occupancy, each ship carries roughly 4,000 passengers, with Norwegian Escape being able to host the most at over 4,200. The gross tonnage ranges from 164,600 to 169,145.  
Each ship has a water park, pool deck, mini-golf, and Waterfront, which is a quarter-mile oceanfront deck where you'll find restaurants, bars, and seating areas.
With the exception of the Norwegian Escape, all Breakaway Plus ships feature go-karts instead of a ropes course, new observation lounges, and a larger suite-only deck. Onboard both Norwegian Joy and Encore, guests will find a virtual reality arcade called Galaxy Pavilion. 
Norweigan Cruise Line is also known for their entertainment, and you can find shows such as SIX and The Choir of a Man on select vessels. 
Carnival Cruise Line
Image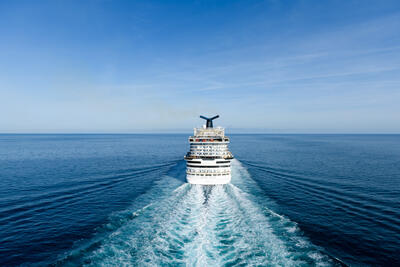 Known for having the most "fun ships at sea," Carnival is a great option for families looking for a fast-paced vacation. This is especially true for their newer cruise ships, which feature activitlies like the first roller coaster at sea, ropes courses, and pedal-powered bike that hangs above the top deck.
The cruise line loves to partner with famous chefs and bring their culinary visions to sea. In December 2022, Emeril Lagasse was named "Chief Culinary Officer," whichi is fitting as Emeril's Bistro 1396 and Emeril's Bistro 1397 debuted on Mardi Gras and Carnival Celebration, respectively. 
Circle C and Club O2 are the decided onboard lounges for preteens and teens where they can participate in activities like karaoke, play sports and video games, attend dance parties, and so much more. 
Plus, Carnival Cruise Line tends to be one of the more budget-friendly mainstream cruise lines at sea, as even if their base fare is higher, their add-ons are cheaper. 
If you want to take your teenager(s) on a Carnival cruise, take a look at some of the ships in these classes:
Vista Class
Image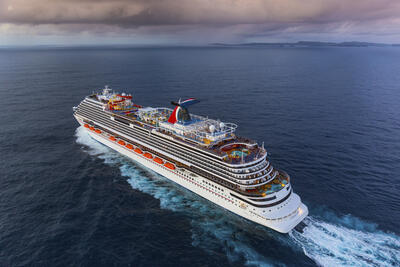 Carnival's Vista Class is made up of three ships ranging from 133,596 to 133,868 gross tons with the ability to carry between 3,934 and 4,008 passengers at double occupancy. 
Carnival Vista (launched in 2016)
Carnival Horizon (launched in 2018)
Carnival Panorama (launched in 2019)
All Vista Class ships have tons of activities that teenagers will enjoy, including mini-golf, ropes courses, Waterworks water parks, and a suspended pedal bike. 
On Carnival Vista and Horizon, there's an IMAX movie theatre and "Thrill Theatre." Along with 3D video effects, guests will experience sensations like wind and getting splashed with water. On Carnival Panorama, however, these venues were replaced with the first-ever Sky Zone trampoline park at sea. 
Families will also appreciate Carnival's Havana and Family Harbor cabins. When staying in one of these stateroom categories, guests unlock exclusive keycard-restricted areas.  
Excel Class
Image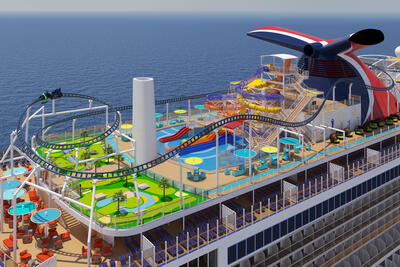 Even though many fan-favorites are present onboard Carnival's newest class of ships, like Guy's Burger Joint, Waterworks, and the Alchemy Bar, they are unlike anything that they've ever produced before. 
At over 181,500 gross tons each with a passenger capacity of 5,282, they are the biggest ships that Carnival's ever built.
Currently, there are two Excel Class ships are sailing the seas: Mardi Gras (2021) and Carnival Celebration (2022); however, a third vessel, Carnival Jubilee, is expected to launch at the end of 2023! 
Similar to the Vista Class, guests can find water slides at Waterworks and a ropes course, but the cruise line replaced the suspended bike with BOLT, the first-ever roller coaster at sea! You can, quite literally, bolt around the top deck at speeds up to 40 mph!
Additionally, the interior spaces have been completely redesigned to give them a much more stylish and modern feel compared to older Carnival vessels.
MSC Cruises
Image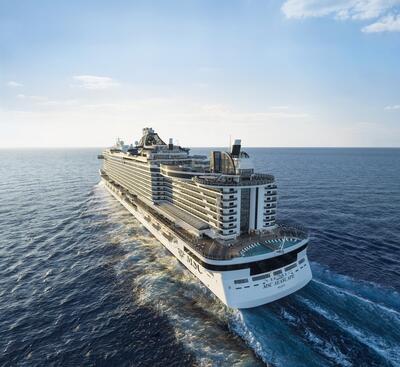 MSC Cruises is a European cruise line that has begun to break more and more into the American market, even going so far as to opening their own private island, MSC Ocean Cay Marine Reserve, in 2019. 
Compared to other mainstream cruise lines, they tend to have great deals on sailings, as you can often find 7-day itineraries for as low as $300 per person before taxes, port fees, and gratuities.  
Two separate venues are available for guests ages 12 to 14, as well as those 15 to 17. In the Young Club, preteens are exposed to a world of discovery, involvement, and interaction through activities like sports tournaments and high-tech games. 
Every night is a party in the Teen Club, with themed events like teen discos, karaoke, and flash mobs! Additionally, there are sports competitions, dance contests, and Wii, Xbox, and PS4 tournaments.
Here are some great classes of MSC ships for teenage passengers! 
Meraviglia and Meraviglia Plus Classes
Image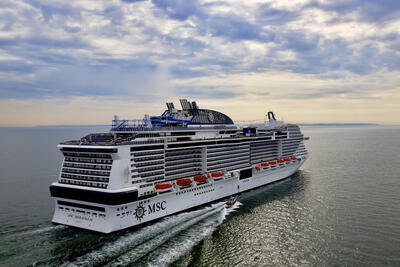 The four ships in the Meraviglia Class and its subset class. Meraviglia and Meraviglia Plus Classes are tied for 15th and 17th largest cruise ships in the world at 171,598 and 181,541 gross tons, respectively. 
MSC Meraviglia (launched in 2017)
MSC Bellissima (launched in 2019)
MSC Grandiosa (launched in 2019; Meraviglia Plus)
MSC Virtuosa (launched in 2021; Meraviglia Plus)
MSC Euribia (coming in 2023)
Meraviglia Plus vessels can hold approximately 6,340 guests at maximum capacity, or 11% more than Meraviglia Class ships, which can only hold around 5,700. 
Activities and attractions on Meraviglia and Meraviglia Plus-class ships vary and may include one-of-a-kind Carousel Productions at sea, which blend acrobatics, dance, and live music; three water slides; bowling; flight and F1 race car simulators; and interactive XD cinema. 
Seaside and Seaside EVO Classes
Image
Launched in 2017 with the debut of MSC Seaside, the Seaside Class introduced the longest zip lines at sea, running an impressive 345 feet from bow to stern!
By 2021, MSC Cruises improved the class and dubbed the subset "Seaside EVO." In fact, MSC claims that 65% of the public areas were reimagined, including the top decks. The pair of zip lines were replaced with a trio of water slides, sports court, ropes course, as well as a kids' aqua park.
In total, there are four ships in these two classes that range from 153,516 to 170,400 gross tons and hold between 5,336 and 5,877 guests at full capacity.
MSC Seaside (launched in 2017)
MSC Seaview (launched in 2018)
MSC Seashore (launched in 2021)
MSC Seascape (launched in 2022)
There are many attractions available on Seaside Class ships as on Meraviglia Class ships, such as the race car simulators, bowling, and XD cinema. 
MSC Seascape is the only ship to feature the Robotron, a robotic thrill ride that moves riders in all directions 175 feet above the sea.
World Class
Image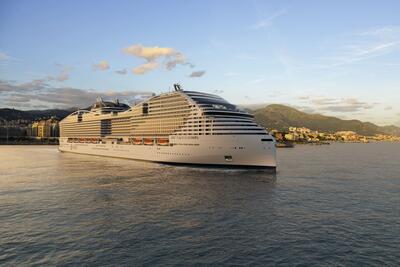 Following right behind Royal Caribbean's Oasis Class ships, MSC World Europa currently holds the title for sixth largest cruise ship in the world! It's 215,863 gross tons and can carry 6,762 passengers at maximum capacity.
MSC Cruises has three more World Class ships on order for delivery between 2025 and 2026, with MSC World America first in 2025. 
Onboard, you'll find MSC's largest water park with VR technology, bumper cars, an 11-deck dry slide, roller skating, and video arcades.
Plus, the children's area is the largest in the fleet, with over 8,200 square feet of space and seven rooms dedicated to different age groups from 0 to 17. 
Disney Cruise Line
Image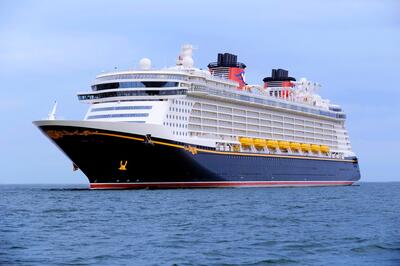 Disney Cruise Line brings the infamous Disney magic to sea that kids, teens, and adults alike are sure to enjoy!
Depending on the sailing, Disney may offer teens-only Port Adventures in various ports of call, as well as exclusive activities on their private island, Castaway Cay.
Back onboard, guests ages 11 to 14 can escape to Edge, an interactive play space that features the latest high-tech music, video and gaming systems, karaoke, scavenger hunts, and themed nights.
Those a little bit older -- 14 to 17 -- get to hang out at Vibe, the teens-only lounge, where they can watch TV on the big-screen, play video games, hit up the dance floor to show off their best moves, and, on certain ships, relax in a private pool. 
Additionally, select ships feature Chill Spa, an enclave inside the Senses Spa & Salon for those ages 13 to 17! 
Keep reading to see what classes of Disney Cruise Line ships are best for teens!
Dream Class
Image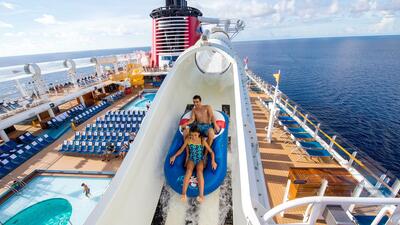 As mentioned earlier, certain ships within Disney's fleet feature an exclusive deck for teens. Both Vibe lounges onboard Disney Dream and Fantasy have their own entrances to a private deck where teens can kick back and relax in one of two hot tubs or a main pool. 
They'll also love the AquaDuck, a 765-foot water coaster that's located on deck 12 of the ships. It extends over the side of the ship and includes a four deck drop! And as part of Disney's rotational dining program, everyone will have the opportunity to create a character that's brought to life at Animator's Palate.
Both ships within this class are 129,690 gross tons and have a passenger capacity of 4,000.
Triton Class
Image
Disney Cruise Line's brand-new Triton Class currently only have one ship sailing, Disney Wish, who made her long-awaited debut in 2022. While her passenger capacity is roughly the same as the Disney Dream and Fantasy, her gross tonnage is 144,000. 
One key difference between the Disney Wish and Dream Class ships is the revamped water coaster, AquaMouse, which was dubbed the "first-ever Disney attraction at sea" by the cruise line. It is a two-minute immersive journey that includes video screens, sound effects, and a whooping sixty water nozzles that will spray you throughout the ride!
In addition to the Edge and Vibe, Disney Wish has a third venue called The Hideaway. It's located adjacent to Vibe and has a flex wall that can be opened to create a larger teen space, closed off for preteen events, and even reserved for guests 18 to 20 during special events. 
Thoughts on the best cruise for teens
Image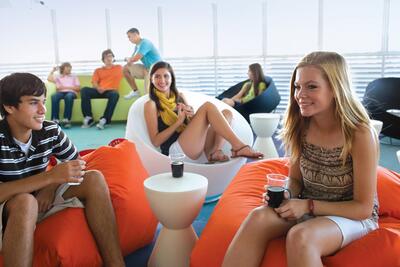 What are you thoughts on the best cruise for teens? Is there another class of ships that you have found to be a hit for your teenager(s)? 
Tell us what they loved (or didn't love) onboard their cruise, or tell us what they are looking forward to the most on any upcoming sailings!