A couple of weeks before your cruise vacation officially begins, you will be able to complete Royal Caribbean's online check-in process. Doing so prior to arriving at the terminal will help speed up the physical check-in, allowing you to board the ship faster! 
The multi-step online check-in process entails inputting your travel documentation (i.e., passport or birth certificate), credit card for onboard expenses, as well as selecting an arrival time at the terminal. The rest of your check-in will be completed by a port agent the day of the cruise, who will check your documentation either before or after a short security screening. 
Keep reading to learn everything that you need to know to about Royal Caribbean's check-in process.
Royal Caribbean's online check-in process
Image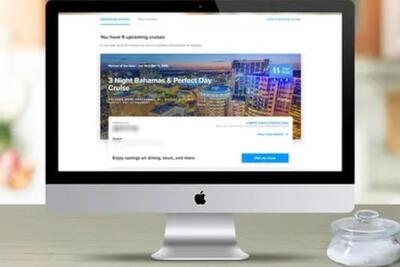 Before you can check in, you need to know when the online check-in portal opens! If you booked a cruise a year in advance, you will have to wait awhile, as it opens 45 days prior to your cruise's departure date. So, for example, a cruise that leaves on June 15 will have their online check-in process open up on May 2. 
If you are unsure of what this date might be, Royal Caribbean's app and website will tell you! All you have to do in sign in to your account and view your upcoming cruises. If this tab is empty, meaning that you do not see any upcoming sailings, you will need to link your cruise to your account by inputting your reservation number and surname. 
Next, there are certain documents that you will need in order to successfully complete the online-check in, such as: 
The legal name, birthday, and address of each guest; you will want to triple check that this information is correct before submitting. 
Travel documentation for each guest (here is why you should always cruise with a passport instead of a birth certificate). 
A picture of each guest for security purposes; make sure that you follow the guidelines, so the picture does not have to be retaken upon arrival. 
Crown & Anchor membership number, if applicable. 
The credit or debit card that you will link to your onboard account to cover your expenses on the ship. 
Read more: Can you go on a cruise without a passport?
Image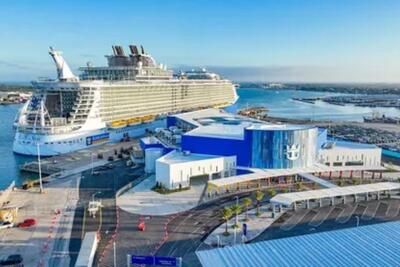 Finally, you will have to select an in-person arrival time. The earliest times are often somewhere around 10:30am, while the latest times are around 2:30pm. These, however, are subject to change depending on your sailing. 
Check-in times are not automatically assigned by Royal Caribbean and are reserved on a first come, first serve basis. If you are hoping for an earlier slot, we recommend setting a reminder on your phone or calendar to alert you the day check-in opens, as these times are the most desirable and go quickly!
In total, this portion of the check-in process should take you no more than fifteen minutes to complete. 
Read more: 12 reasons to get as early a check-in time as possible for your cruise
What happens if I forget to complete the online check-in prior to arriving at the terminal?
Image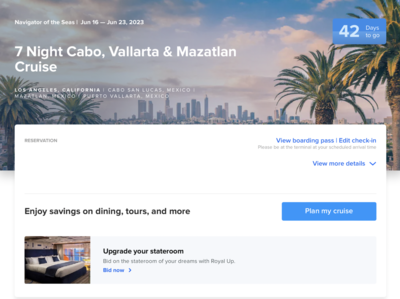 You can check-in for your cruise anytime between 45 days and 48 hours prior to your sailing. If you happen to forget to do so, you will be able to complete everything at the terminal; however, as mentioned earlier, this will delay your boarding. You do not want to be stuck in the terminal longer than you have to be when you could be enjoying a cocktail or getting acclimated to the ship as soon as possible! 
Royal Caribbean's embarkation day check-in process
Image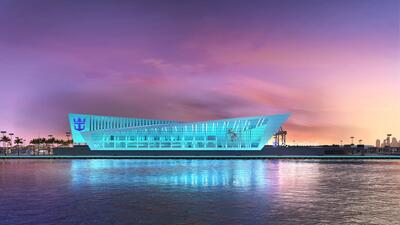 Even though you submitted information online ahead of time, you will need to finish checking in at the terminal on embarkation day. Within hours, Royal Caribbean checks in and boards thousands of eager passengers who are ready to begin their vacation, so it is helpful to understand how the in-person check in process works before arriving. 
Speaking of arriving, you will want to budget plenty of time to accommodate for any potential traffic of travel delays. If you are driving, get there a little bit earlier than your arrival time to secure a good parking spot and beat the later traffic. Those who are flying should make their travel arrangements for the day before the cruise departs. 
One flight delay the morning of the cruise could cause you to miss the ship, and that is not how you want to get your vacation started. It it best to arrive the evening prior and have a leisurely morning at your hotel for calling an  Uber or Lyft.
Read more: The 13 best cruise tips the pros use all the time
Before heading to the terminal, whether that is via personal vehicle or ride share service, you will want to ensure that you are going to the correct cruise terminal, as some cities have multiple different terminals! You can confirm the terminal address through Royal Caribbean's website or your electronic cruise documents. 
Image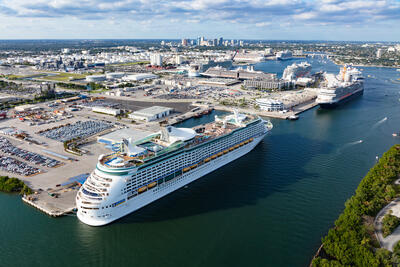 After arriving at the terminal, you will want to find a porter to assist you with larger suitcases prior to going inside. Since you will not have access to your luggage for awhile, you will want to pack a carry-on bag with essentials, such as travel documentation, medication, a swimsuit, and any other valuables. 
To be more prepared, pre-print your luggage tags before leaving for your cruise vacation and attach them to your suitcase. These tags inform crew members as to where your suitcases should be delivered once onboard.  While you can wait until you get to the terminal and have a porter fill out and attach a tag, coming prepared is always best. 
Health questionnaire
Image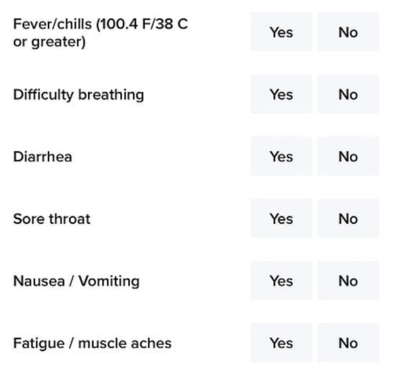 Another important step of the check-in process is completing a health questionnaire, which asks if you have had any symptoms of illness, including a fever, difficulty breathing, diarrhea, sore throat, nausea, or fatigue, within the past ten days. It cannot be completed until the day before the cruise, and you can find it in the Royal Caribbean app. 
Note that if you answer yes to any of the questions, you could possibly be denied boarding. 
The goal of the questionnaire is to ensure that all passengers are healthy. Royal Caribbean wants to reduce the risk of contagious viruses spreading onboard and ruining the trip for guests! 
If you forget to fill it out, you will be asked the questions in person by an agent upon arrival at the cruise terminal.
Keep your travel documenation and SetSail Pass handy while in the terminal
Image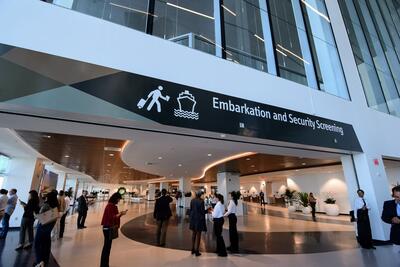 Once you have dropped off your luggage, you can enter the terminal and officially begin the final part of the check-in process. Keep your documentation handy, as you will need to show them several times in the terminal. You do not want to slow yourself -- or anyone else around you -- down by constantly digging for them. 
Unless you did for complete the online check-in process, the in-person portion will consist only of checking the documentation provided. It is a relatively painless process that does not take long at all, usually anywhere from thirty minutes to one hour. 
There will be a few different lines that you can join when entering the terminal (i.e., The Key, suites, and the general population), so you need to make sure that you enter the right one! 
Before boarding the ship, you will have to go through security. It is similar to TSA at the airport in which you have to put all of your belongings in a bin to send them through an x-ray scanner; however, you are able to keep your shoes on! That is always a plus. 
Image
After going through security and getting your documentation checked by port agents, you will either enter a brief holding period before being allowed to board the ship or be able to walk right on! Waiting is common for people with the earlier check-in times because the ship's gangway may not yet be open to passengers yet. 
If you do have to wait, just make sure that you keep your SetSail Pass, your cruise ship boarding pass, in hand, as you will want to be ready when your boarding group is called! 
Do not forget about the muster drill
Image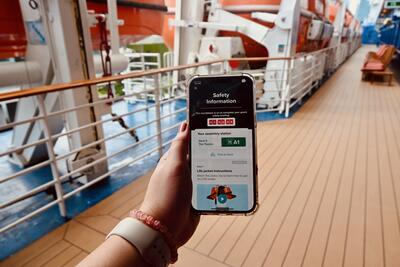 Before you can truly switch into vacation mode, you will need to finish your muster drill. This is mandatory for all passengers, even those who have cruised before, and must be completed prior to sail away. 
One result of the coronavirus pandemic is that Royal Caribbean, along with a few other mainstream cruise lines, switched to a virtual muster format, meaning that the days of being crammed together in the hot sun are over! 
The muster drill is a safety briefing that is meant to familiarize all passengers with their assigned assembly stations and other cruise ship protocols in the unlikely event of an emergency. Royal Caribbean's drill consists of three parts:
Watching a life jacket safety video
Listening to the emergency horn 
Visiting your muster station in-person once onboard 
The last step is the only one that you have to wait to do. The first two can be completed on the Royal Caribbean app prior to boarding. You can also wait until you are on the ship and watch them on your stateroom's television. If you are unsure of where your muster station is, simply look in the app or on the back of your cabin's door. 
Have a great vacation!
Image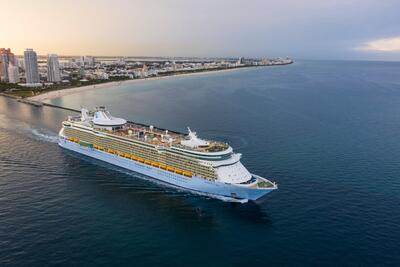 Check-in begins 45 days prior to your cruise vacation and is officially complete once you have done the ship's muster drill. You can switch your mindset to vacation mode and leave all of your troubles on land!
If you get to the terminal and feel overwhelmed, do no worry! There will be plenty of agents available to answer any and all questions that you may have. Before you know it, you will be on the ship with a cocktail in hand watching the coast disappear into the horizon. 
Hopefully this helped you gain a better idea of what to expect, regarding both the online and physical check-in process! 
Read more: 30 cruise ship embarkation tips and tricks