I recently returned from my first-ever European cruise onboard MSC Seashore. As someone who had only ever cruised to the Caribbean and Bahamas prior to this trip, I was intrigued to see how the experience would compare. 
I was excited to visit three different countries -- Italy, Spain, and France -- via cruise ship, two of which I had never been to before! Plus, MSC Cruises was a brand-new cruise line for me. What better way to sail the Mediterranean than on a European cruise line!
Despite hearing negative reviews about the quality of the food and service, I found everything to be above average. In fact, I loved some of my food in the main dining room more than on Royal Caribbean ships! On the other hand, I found the entertainment offerings to fall flat. The theatre productions were nothing special. 
Here is everything that I loved and hated about my European cruise with MSC Cruises. 
I loved the modern accommodations 
Image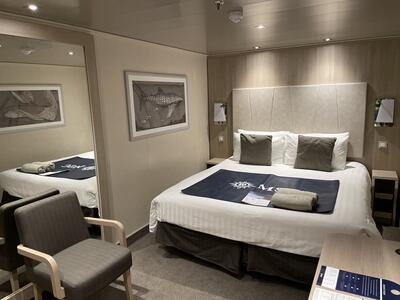 My stateroom onboard MSC Seashore was quaint but extremely comfortable! The light and neutral color scheme of the cabin made the 150 square food cabin feel more spacious than it would have with darker tones. 
I appreciated how many outlets there were in the room. In total, there were seven: two European plugs, three USB ports, and two American outlets. There was even a wireless charger on the desk! 
Being a newer ship (MSC Seashore was launched in 2021), it made sense that my stateroom felt more updated than cabins I have stayed in on older ships. Regardless, it was a great place to call home for the week!
Read more: I stayed in a $1,175 stateroom on MSC Seashore - see what my room on this cruise ship looked like
I hated the travel time 
Image
By the end of the cruise, I was exhausted and ready to be home! Since I was using travel credits to pay for my flight through American Airlines, I was limited in my departure times. This meant that I was unable to secure a flight the day of disembarkation and had to spend the night in Milan. 
I woke up at 6:00am to give myself plenty of time to get to Milano Centrale and catch the train to Malpensa and go through security for my 11:00am flight. Keep in mind that 6:00am was midnight at home. 
I had (an unfortunately long) layover in JFK before catching my connecting flight to Charlotte, meaning that I did not land in North Carolina until about 9:00pm. By the time I got my bags, caught an Uber home, and got into bed, it was close to 10:30pm! I had been up nearly twenty-four hours at that point. 
While there is nothing quite like a European vacation, the travel time is exhausting. 
I loved the port-intensive itinerary
Image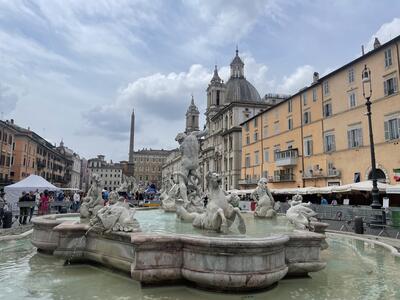 My cruise onboard MSC Seashore sailed from Genoa, Italy to Civitavecchia (Rome), Palermo, Ibiza, Valencia, and Marseille. There was only one sea day to relax and recharge!
The itinerary was exciting for me, as I had never been to any of the destinations before! In fact, this was only my third time in Europe. 
It was great to visit new culturally rich places. As much as I love the turquoise waters of the Caribbean, this was such a nice change of scenery. It was great not having to worry about repacking and dealing with the travel logistics, either. I simply woke up in a new European city each day!
Of course, one day in many places is not enough to fully experience it, so while I am now able to check Rome and Ibiza off of my bucket-list, I would like to return for extended land-based vacations one day. 
Read more: Everything I loved and hated about my European cruise with Royal Caribbean
I hated only having a few hours in each port
Image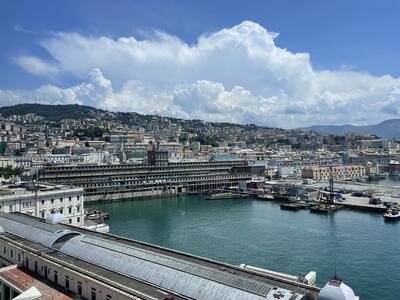 When I booked this cruise, I knew that I was going to have a limited amount of time in each place. In the Caribbean, however, I usually feel as though it is enough time. After a few hours on the beach, I am ready to return to the ship, shower, and enjoy the evening activities. 
In Europe, though, seven hours (or less) just was not enough time to fully experience what each city has to offer. I booked an excursion through MSC to go to Aix-en-Provence. In total, we only got to spend about three hours roaming the streets of the city. 
And in Rome, I went on a small-group tour of the city. While it was incredible to see so many iconic landmarks in a single day, my experiences were mostly limited to the outside. The lines for the Colosseum and Pantheon, for instance, were far too long, so I was unable to go inside either. While visiting the Pantheon, I grabbed some gelato and sat on a nearby wall after snapping some obligatory pictures to escape the large crowds. 
For the first time, I truly understood why people say that cruises are a great way to sample destinations. 
I loved the dining onboard
Image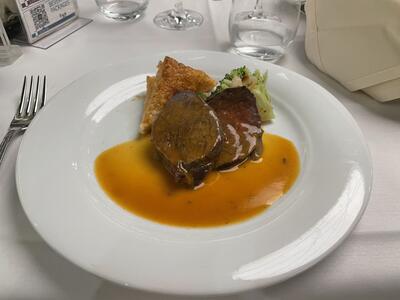 After taking so many cruises with Royal Caribbean, it was nice to experience a different cruise line's definition of dining. Personally, I found most of the options to be above average, especially the handmade pasta dishes in the main dining room. That was not a surprise, though, as MSC is an Italian-based cruise line. 
Since I was sailing alone, the wait staff in the main dining room was prompt and served me in a timely manner each of the three nights I dined there. I was in and out in less than an hour each time! I never felt as though my service was rushed or that this impacted the quality of the food, either. 
I also enjoyed the buffet. I will admit that it was not as large as other cruise ship buffets that I have seen, but it offered enough variety that I was always able to find something appealing, whether it was just some meat and cheeses, rice and lentils, a salad, or dessert!
I hated MSC's shore excursion offerings
Image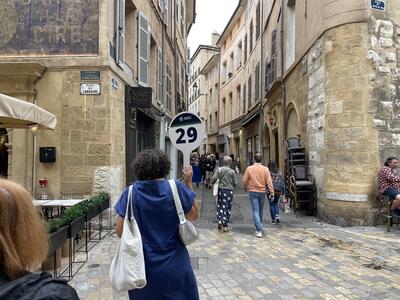 On my cruise, I only booked one ship-sponsored shore excursion, which was in the port of Marseille. I was loaded onto a bus and transferred to Aix-en-Provence! This city had been on my bucket-list for some time, so I appreciated MSC offering a tour that would allow me to cross this off. 
That being said, I found their excursions in other ports to be lacking. There were not many options to choose from. Compared to Royal Caribbean, which sometimes has ten or fifteen different tours in a single destination, I was not impressed. I think, though, that this is because they need to offer tours in multiple languages to account for their diverse passenger population. 
I ended up booking through third parties. In Rome, for instance, I booked a small-group tour through Get Your Guide, and this allowed me to see much more of the city than if I were to have booked something through MSC. 
Image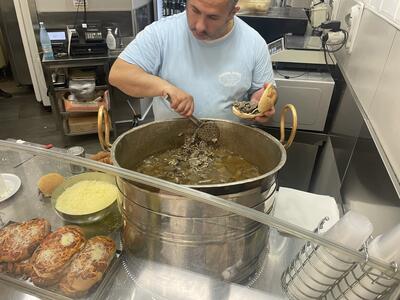 (Pani ca' meusa being prepared in Palmero)
And in Palermo, I found an interesting street food tour. Not only did I get to taste some of the local treats, but I learned a lot about the region's history and culture. While I did not try the dish, I got to see fresh pani ca' meusa being prepared! This is known as the Sicilian spleen sandwich and is prepared with spleen and lung. This sandwich also included the trachea; however, I was told that is not always the case.
It is important to research your cruise ports to get a better idea of what your ship offers, as well as what independent parties offer. You never know what you might miss out on if you settle for something through the cruise line just for convenience! 
Moreover, with the exception of Palermo and Genoa, the cruise ship terminal was not within walking distance of the towns. MSC did offer transportation, but it was a bit unorganized and costly! In Valencia, for instance, I had to pay €14 for a thirty-minute ride into the city, and when I got off the ship to catch the bus, I had to wait about twenty minutes for one to arrive. 
Read more: 12 cruise ship shore excursions you should skip
I loved the low-key atmosphere
Image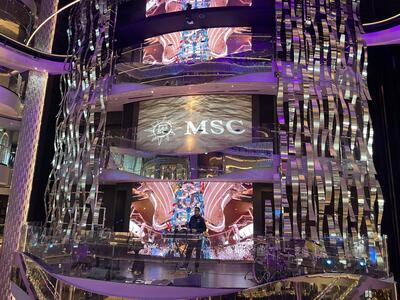 After spending a long day ashore, I enjoyed getting back on the ship and not being overwhelmed with activities. 
I was surprised that gala night was not as formal as I had envisioned it to be. I had assumed that Europeans would be more inclined to dress up, and while everyone was still looking their best, it was more casual-- think sundresses, button up shirts with slacks, etc. 
The theatre performances, while I found them to be lacking in entertainment value, only lasted thirty-five minutes each, meaning that you did not have to prepare yourself to sit through a full-length production.
Likewise, listening to live music in other venues was a pleasant experience, and many guests came and went as they pleased. Maybe they had late dinner reservations or were simply ready to retire for the evening. Regardless, I never felt as though I had to stay in one place for longer than I wanted to be. 
MSC hosted a couple of parties in the atrium a few nights. At first, I was worried that I would be able to hear the music from my stateroom, as it was located just down the hallway. I, however, was never kept awake once! The ship was lively for those who wanted to stay busy, but it was also relaxing for those who were tired and just wanted to enjoy the atmosphere of everything.