Since its inception in 1998, families around the world have experienced magical vacations onboard Disney Cruise Line. 
With five ships in service (and two more on the way), you will have a few options to choose from when deciding which ship to sail on. One of the considerations is the size of the ship, as they varies quite a bit. 
Disney Cruise Line's latest ship, Disney Wish, is their largest, while the first two ships (sister ships Disney Magic and Disney Wonder) are much smaller. 
Wondering what it's like to sail on both the biggest and smallest ships? While the magic of the cruise line is consistent, there are some definite differences that you will want to be aware of before booking. 
Read more: Disney Cruise Ships by Size
Overview of Disney Wish 
Image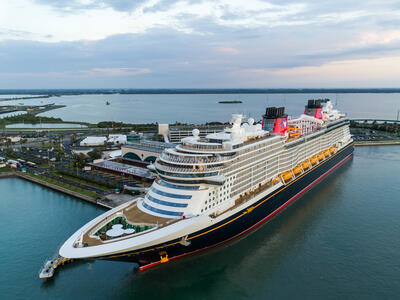 Disney Wish went into service in 2022, and I've sailed on it twice. The first sailing, originally planned as a four-day sailing, was extended to six days due to a hurricane in the Caribbean. Therefore, I had a great opportunity to really experience what this large ship is like, even as guests avoided the outdoor decks due to rain and wind. 
She is currently the only ship in the cruise line's Triton Class, although her sister ship -- Disney Treasure -- is planned for 2024.
She measures 144,000 gross registered tons and has a crew of 1,555. Plus, she can accommodate approximately 4,000 passengers in her 1,254 staterooms across 15 passenger decks. 
Overview of Disney Magic and Wonder 
Image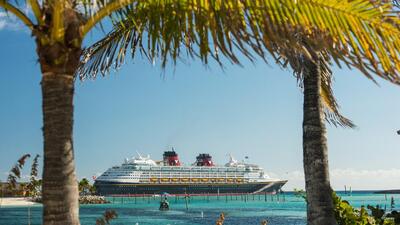 While Disney Magic and Disney Wonder are not exactly the same, they do have the same specifications with regard to size. 
Disney Magic is the cruise line's oldest ship, entering service in 1998. Disney Wonder followed one year later in 1999. Both vessels measure a smaller 84,000 gross tons, with only 11 passenger decks. 
Onboard, you will find a crew of 950 that serve a passenger capacity of 2,713 with 875 staterooms. Relatively speaking, these are fairly small ships, especially when compared to some of today's mega ships, such as the highly-anticipated Icon of the Seas. 
Amenities 
Image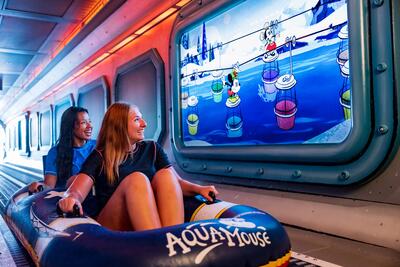 All of the Disney Cruise Line ships offer kid-friendly amenities that families will love. 
You'll find a greater assortment of these things on the larger Disney Wish. This includes a separate salon and barber, a larger spa, a game-zone area, and a Star Wars-themed bar. There are also two movie theaters, rather than the one on the other ships, so there are more movie options and times available to guests. 
Both sizes of ships have one main theater called the Walt Disney Theater, where larger-scale shows and Broadway-style musicals are performed. 
Image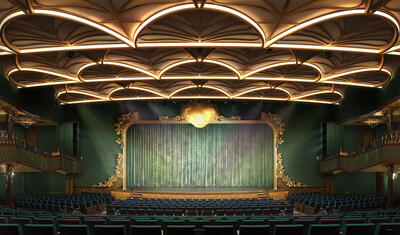 Each night, there is one of these types of shows held twice to accommodate both dining times. Although the Wish is larger, there is still only one show performed. 
On all of the ships, there are three Broadway-style shows, and smaller acts, like magicians and smaller-scale shows, fill in the other days for longer sailings. 
The kids' clubs are also larger on the Wish and has better, more contemporary themes. However, this is probably due more to the newness of the ship and not because of the size. 
Image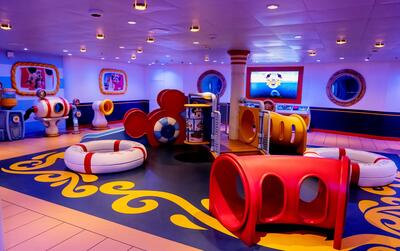 All of the ships' kids' clubs have fun programming and themes for kids, along with a wonderful staff. While the Wish kids' clubs are likely to be more full due to the larger passenger capacity, the bigger size makes up for that. 
While Disney Cruise Line is thought of as a family-friendly cruise line, there are some adult-only areas on all of the ships. Whether you are traveling without children or are enjoying some free time while your kids are in the youth clubs, there are some spaces you can visit. 
I personally prefer the adult-only areas on the smaller ships. They are more intimate and less crowded. The adult-only sections on the Wish were regularly crowded, and there are fewer nightclub and bar areas to enjoy in the evenings. Most of these bars on the Wish are co-mingled with the other parts of the ship, so they don't really feel like a separate adult area. 
Image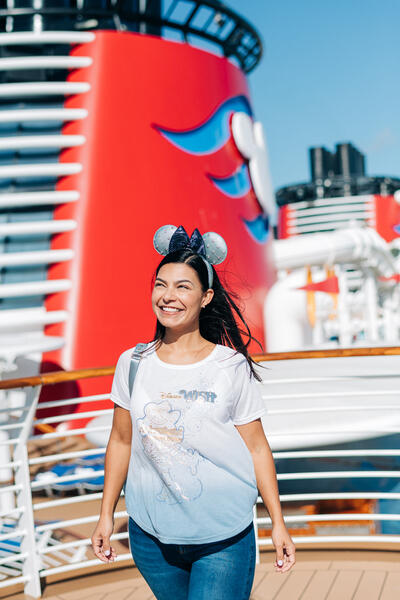 All three of the ships have a main pool deck. The one on the Wish has different levels reachable by stairs. I find that the pool decks on just about any ship can get crowded, especially during days at sea. Wish's pools were always busy when the weather was nice, and pool chairs were tough to get later in the morning. 
Disney Magic and Disney Wonder do differ with regard to thrill waterslides. While Disney Magic offers the AquaDunk, a three-story body slide, the Disney Wonder does not have this or any other feature thrill slides onboard. 
Image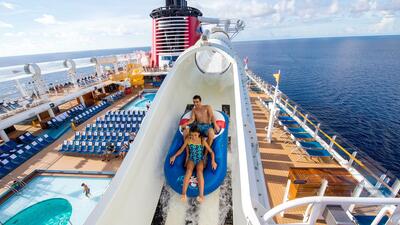 Disney Wish offers a brand-new concept, the AquaMouse. Called the first Disney attraction at sea, the AquaMouse utilizes screens at the beginning of the ride to showcase one of two storylines featuring Minnie and Mickey. It's a fun, smooth water ride, and is very popular with cruisers on the Wish, often leading to long lines, especially on sea days. 
All three of the ships have smaller, more traditional water slides. There's the Slide-a-Saurus Rex on the Wish and the Twist N' Spout water slide on the Disney Wonder and the Disney Magic.
Read more: Guide to the AquaDuck, AquaDunk, and AquaMouse on the Disney Cruise Line
Dining 
Image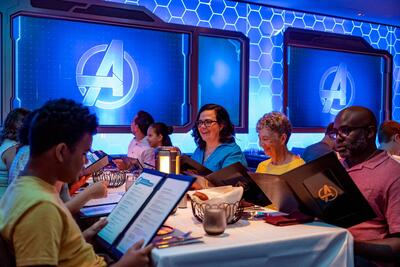 There are three main dining room restaurants on Disney Wish, Magic, and Wonder. 
Guests follow the rotational dining cycle where they visit a different restaurant of the three each night, with their service team following them. 
This does provide a level of consistency that makes the larger ship feel more intimate, something that has been lost overtime in the cruising industry as ships have been built bigger and bigger.
These main dining room restaurants do differ. Disney Wish has brand-new restaurant concepts including Arandelle: A Frozen Dining Adventure, 1923, and Worlds of Marvel. 
Disney Magic and Wonder both have Animator's Palate, but Disney Magic also has Rapunzel's Royal Table and Lumiere's, while Disney Wonder has Tiana's Place and Triton's.
Image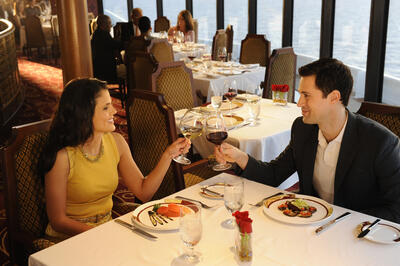 All three of these ships offer Palo, an adult-exclusive restaurant offered at an upcharge. Serving both brunch and dinner, this restaurant is especially popular because Platinum Castaway Club members receive a complimentary dinner at Palo. 
On the Wish, Palo is called Palo Steakhouse, although it still offers the Italian cuisine that it's known for. Disney Wish also has a second, higher-end adult-exclusive French restaurant called Enchante. This is a brand-new concept for the Disney Cruise Line. 
Both require advance reservations, and guests are only able to make one Palo reservation per sailing.
Service 
Image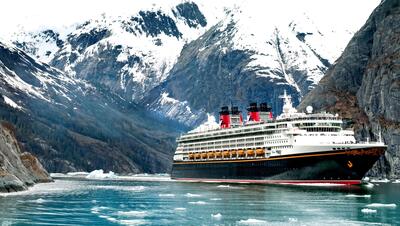 The service on all of the ships is excellent. 
Even with the larger Wish, I saw a bartender on my December sailing that I had seen in September, and he remembered me. Because Disney is known for their service, it's nice to know that it is excellent, even on the larger ship with more guests. The crew members (with the exception of the main dining rooms and buffet) are usually consistently assigned to a specific area, like the teen club, guest services, and specific bars. 
Guests on all of the ships are assigned a dining room head server, server, assistant server, and stateroom host. The dining room staff follows you each night to your assigned restaurant, so unless you skip a main dining room, you'll have the same servers for the entirety of your cruise. Typically, by the end of sailing on any of these three ships, you'll be familiar with these crew members, even for a three-day cruise.
Booking Activities 
Image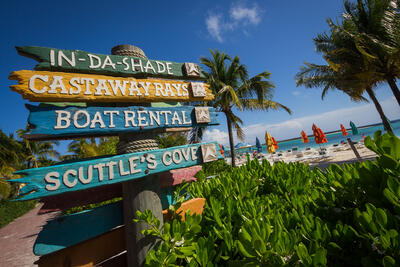 Guests on the Disney Cruise Line are able to book activities based on their Castaway Club status. Concierge guests are able to book first, followed by in order by Pearl, Platinum, Gold, and Silver Castaway Club members. First-time cruisers book last. 
In my experience, booking activities on the Wish is more difficult than on the smaller ships. The Wish is larger, and it also has a greater number of concierge staterooms and guests. That means that regular (non-concierge) guests will often have a tougher time booking popular activities and excursions, like cabanas at Castaway Cay and adult-only dinners and brunches at Palo. There aren't enough of these things to meet the demand on a ship the size of the Wish. 
While activities will still be popular on the smaller ships, you may have less difficulty booking. This is especially true for Castaway Cay cabanas since the quantity available is the same for the smaller and larger ships.
Overall 
Image
While the Wish is quite a bit larger than the original two ships, it doesn't necessarily feel overwhelming. Once you get your bearings, you'll be easily able to navigate it. 
However, the Wish does have a unique design where there are only two elevator banks, with none in the midship. Because of this, you may feel that you are walking around a little bit more than you should. 
While I do think the overall experience on the Magic and Wonder can be better, I still do enjoy sailing on the Wish. The newer amenities and experiences do make up for some of the challenges of the larger ship.