Did you know that Disney Cruise Line has an adults-only upscale restaurant, with a menu created by a world-class chef? 
On my recent sailing onboard Disney Fantasy, I was able to score a reservation at the most exclusive restaurant onboard the ship: Remy. This restaurant is known for being one of the most luxurious dining experiences onboard a cruise ship, and I was excited to test it out!
Unfortunately, this dining experience is not included in the base cost of a Disney cruise, meaning that to dine here, you have to be willing to pay for the cover charge. While steep, it may be worth it to some passengers looking for the ultimate dining experience onboard a Disney Cruise Line ship. 
Read more: 12 hidden details that can be found onboard Disney Fantasy
Here's what I thought about eating at one of Disney Cruise Line's most exclusive restaurants
Image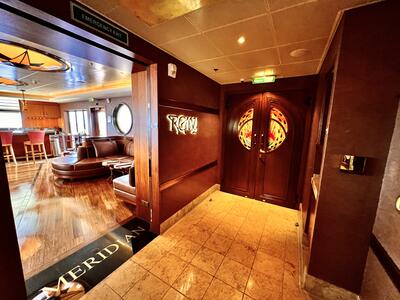 I enjoyed everything about my experience at Remy and recommend that everyone looking for an upscale dining experience on their next cruise onboard Disney Fantasy or Dream make a reservation!  
Of course, this dining experience is expensive, but for those looking to celebrate an occasion or wishing to sample the very best that Disney Cruise Line has to offer, I recommend Remy in a heartbeat! 
Currently, Remy is only available on the Disney Dream and Disney Fantasy ships. Onboard the newer ships (i.e., Disney Wish and Disney Treasure) guests will find different luxurious adult-only restaurants. And, of course, there's also Palo onboard Disney Magic, Wonder, Dream, and Fantasy. While a bit cheaper, it still aims to offer adults a delicious and kid-free meal. 
Here's how much it costs to dine at Remy
Image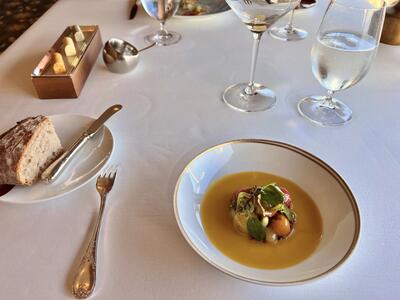 Remy is a specialty dining venue and experience onboard the Disney Fantasy and Disney Dream ships. This means that dining at this restaurant is an additional charge to all guests on top of their cruise fare. 
Currently, to enjoy dinner at Remy it will cost guests $135 each, or $270 for two plus taxes. For those passengers wishing to try out the Remy Brunch, it will cost $80 per person, or $160 for two plus taxes. 
Image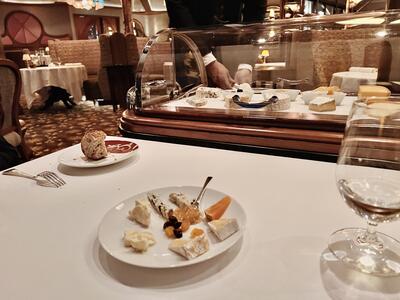 This is not a cheap meal by any means! Dining at Remy is not something that most people can do all the time. However, for those guests looking to celebrate something special or who want to experience a truly indulgent dining experience, then dining at Remy may be worth the additional charge. 
Atmosphere, aesthetics, and design
Image
Disney Cruise Line describes Remy as "offering the most luxurious dinner experience on board [that serves] fine French fare."Everything about the dining experience strives to surround guests with luxury at every turn!
Remy is elegantly themed after the beloved Disney film Ratatouille, which is all about a lovable rat that dreams of becoming a chef in Paris and is one of my favorite Disney films! Since the film takes place in Paris, the restaurant has a French theme. Everything about Remy makes guests feel as though they are being transported to beautiful Paris, France. 
Not only is the atmosphere classically and authentically French, guests will enjoy the spectacular floor-to-ceiling ocean views; the views from Remy are truly unrivaled! There really is nothing like enjoying a romantic meal alongside ocean views while sailing at sea on a cruise ship, and Disney does an amazing job at providing this experience to guests. 
Image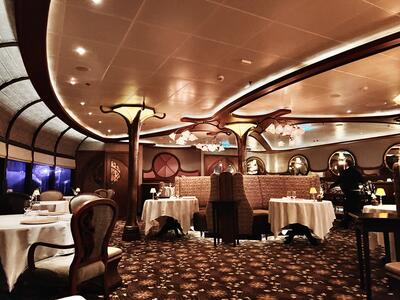 Remy is designed to be an intimate, romantic dining experience, meaning that almost all of the tables inside of the restaurant are designed to seat just two guests. 
Remy's menu, and largely the design of the restaurant itself, was created and influenced by the world-renowned chef, Chef Arnaud. "Reminiscent of the well-appointed dining rooms of Chef Arnaud's native Paris, Remy is softly lit and designed in a timeless art nouveau style featuring soft greens, rich reds, and gold tones," states Disney Cruise Line.
"Graceful, sinuous lines adorn the chairs, glass carvings, and wall etchings, as sweeping floral and leaf designs embellish the carpet lighting." 
Image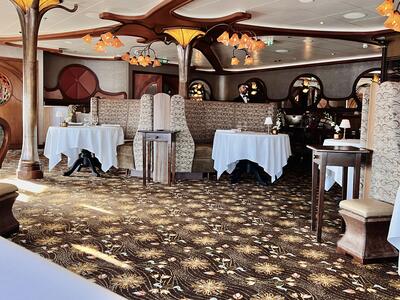 "Adding to the sophisticated ambiance, tables are set with Frette linens, Riedel glassware, Christofle silverware, and china created exclusively for the restaurant. For an added dollop of Disney magic, Remy - the character from the hit Disney and Pixar film Ratatouille - appears in artful ways throughout the restaurant's design." 
In addition to the design and atmosphere, something else that makes Remy truly wonderful are the crew members. I was very impressed with their skills and knowledge and felt that these exceptional crew members were a big part of the experience at Remy. 
Here's what I thought about the food at Remy
Image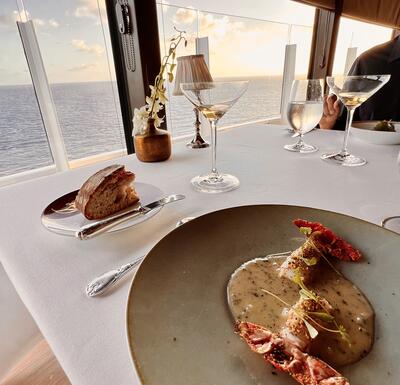 I thought the food at Remy was some of the very best I have ever had while on a cruise ship. 
The French-inspired menu features seasonal ingredients, with gourmet selections specially crafted by Chef Scott Hunnel and advising Chef Arnaud Lallement, who was named one of the world's 10 best chefs in a list complied by Le Chef. 
Image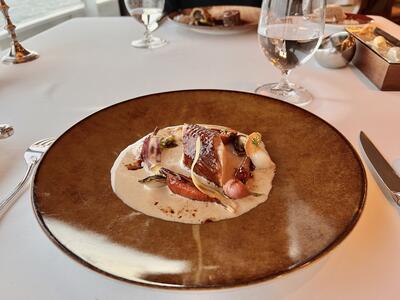 Every aspect of this meal was absolutely incredible. The burst of flavor with every bite is something that's truly unique and special, and the quality of the ingredients is unmatched. For us, it was well worth the upcharge!
In addition to a scrumptious meal, guests will also be able to enjoy a gourmet cheese trolley, an extensive wine menu, and after-dinner coffee service. We had a lot of fun sampling the cheese trolley, as we were able to try cheeses from all over France!
Image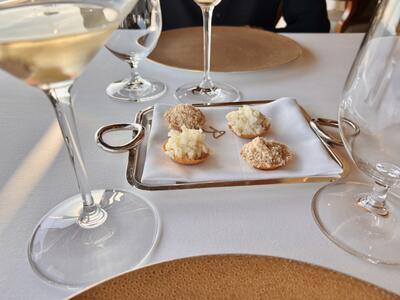 Remy offers multiple different experiences for guests, too, whether you want to celebrate a special occasion over brunch or sample some tasty treats during the dessert experience. During my cruise, I only ate at Remy for dinner; however, I'd love to try brunch at Remy one day!
Image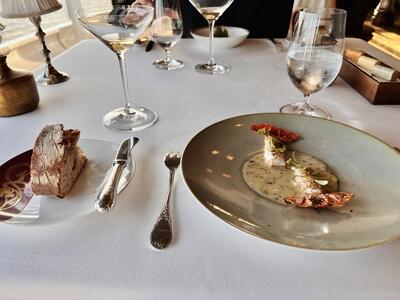 "Indulge your palate during an elegant Champagne brunch featuring a glass of bubbly and a French-inspired prix fixe meal that includes such delicacies as vegetable risotto, lobster cannelloni, sea bass, veal, gnocchi - and a decadent dessert," says Disney Cruise Line about the Remy Champagne Brunch experience. 
The dessert experience consists of a 5-course dessert menu that's served with coffee. It also features an in-depth discussion with Remy's Executive Chef and Pastry Chef, who will take turns explaining the history and evolution of each sweet selection. Like all other dining experiences at Remy, it's only available for adults. 
Image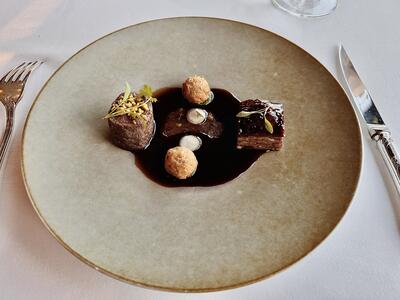 Something important to note about the Remy brunch and dessert experience is that they are only offered during cruising sailings that are 4-nights or longer. Guests can check the Disney Cruise Line Navigator app for specific dates and times for these dining experiences. 
Disney magic was evident in all the small details
Image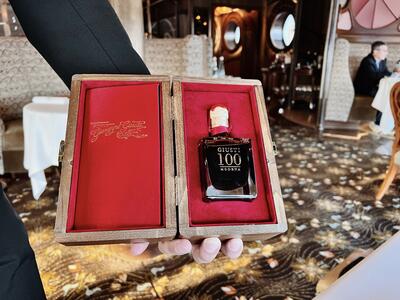 Due to its luxurious nature, there are many little details that go into the Remy dining experience that make it special. 
For example, in many luxury French restaurants, there's a small stool provided for lady patrons to place their handbags so that they do not get dirty on the floor. Harkening back to its French roots, Remy also provides a small stool for ladies to place their purses and belongings on! I brought along my clutch and Polaroid camera, and both rested safely next to me during dinner. 
Image
The chefs of Remy cook with many incredible ingredients from all over the world, many of which are extremely hard to come by and rare to see. If you ask politely and are kind to your wait staff they may even show you some of these ingredients. 
One of my favorite little facts was that the bread dough is actually made in France and then transported to the ships. 
Image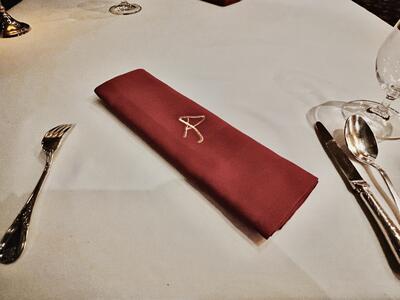 Keep an eye out for the many little details throughout the restaurant experience that make it special. 
One of my favorite things was the little glass figure of Remy that can be spotted as guests walk into the restaurant. If you are curious about anything in the restaurant, whether it be the food or the decor, make sure to ask the wait staff. They are incredibly helpful and passionate about what they do! 
Image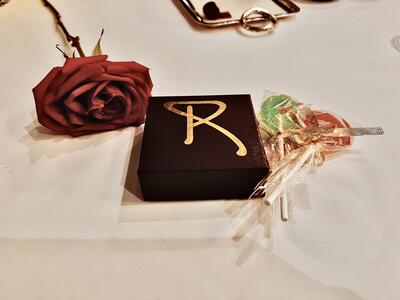 If you are someone looking to celebrate a special occasion, then dining at Remy is the perfect way to celebrate.
Let the wait staff know you are celebrating something such as an anniversary, birthday, or more, and they will go above and beyond to provide extra special touches to your dining experience. 
During our dinner, my husband and I celebrated our anniversary, and the staff at Remy gave us a box of chocolates, an extra dessert during the dinner, and a beautiful rose! 
What else should you know about dining at Remy onboard a Disney cruise ship?
Image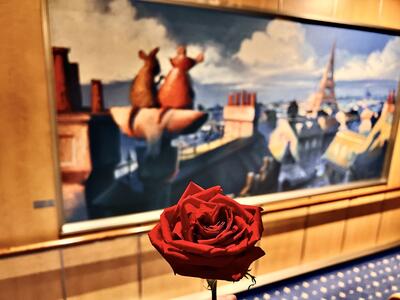 For those guests looking at an even more personalized dining experience, guests can make reservations to the Private Dining Room, known as the Gustaeu Room, or the Remy Wine Room, which features more than 900 bottles of Old and New World wines in a glass-enclosed wine room. 
Just as the French appreciate fine wines, so can guests dining at Remy. As patrons enter the restaurant, they will pass by many special and exceptional wine bottles and can dine surrounded by wine in the special Wine Room. 
Image
In addition to the Wine Room, Remy patrons can also choose to dine in the Gusteau Room. 
Inside this even more exclusive space within Remy, guests will be able to enjoy a unique multi-course menu; interactions with the head chef; and elegant Ratatouille-inspired decor that includes bold red chairs and drapes, shimmering chandeliers, and inviting scenes of Paris.
Image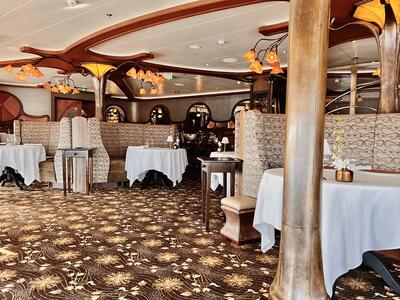 Guests who are interested in dining at Remy as well as trying out either the exclusive Wine Room or Gusteau Room will need to make a special request to Disney Cruise Line. You must download the private dining request form and email [email protected] 30 days prior to your cruise sailing. If you cancel less than 24 hours in advance, you will be subject to paying for the cover charge. 
Tips for dining at Remy
onboard a Disney cruise ship
Image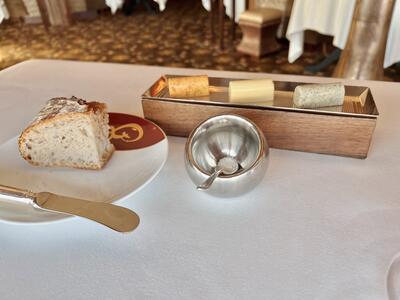 Because Remy is a special restaurant and one of the most luxurious on any Disney Cruise Line ship, it means that there are some things to know and consider before deciding to dine at this venue. 
First, Remy is a fine dining experience, meaning that there is a mandatory dress code and guest age requirement. Guests must be 18 years and over in order to dine at Remy, and those who wish to dine here must be dressed appropriately. 
Nice pants and a button-up shirt or even a suit will suffice for men. Women are encouraged to wear a nice dress or pantsuit. When it comes to choosing what to wear to Remy, guests should tend towards the more formal wear. For example, if it is something you would wear as a guest to a formal wedding, then it should be good to wear to Remy. 
Image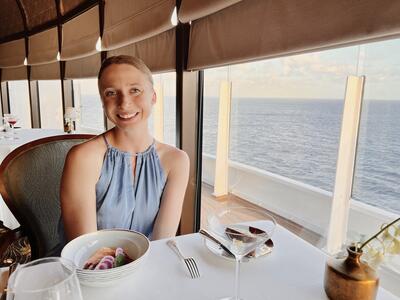 We originally chose to make our dining reservation at Remy for later in the evening at around 8:00pm. However, after speaking to several crew members and other guests, they all recommended to that we move our dining time to earlier in the evening. This is because dining at Remy is an experience to be enjoyed and savored, with the service lasting between two and four hours. 
I highly recommend not rushing this experience and advise making your Remy dinner reservation during an evening when you do not mind missing the show and have no plans for the rest of the night. 
Allow as much time as possible at Remy to fully enjoy and appreciate the experience! We ended up moving our reservation time to 6:00pm, and this ended up being perfect. For us, the dinner lasted almost 4 hours. Afterward, we chose to enjoy a drink at the Meridian adults-only bar right next to Remy to finish out the night. 
Image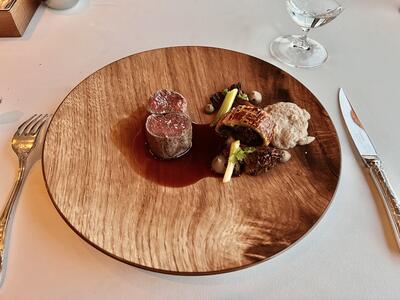 Moreover, guests can only dine at Remy with a reservation. This means you must book a reservation either online, in the Disney Cruise Navigator app, or by calling Disney Cruise Line. You should try to do this ahead of their cruise. However, if there are no available time slots prior to the cruise, guests can inquire at Guest Services to see if there's any availability later on during the sailing.
Our final tip is to enter your time at Remy with an open mind. This restaurant is quite unique in that guests do not order food and drink from a menu; everything is pre-fixed by the chef. Remy does have two menus: one inspired by the American chef Scott Hunnel and one by the French chef Arnaud Lallement. 
Our server recommended that we order one of each and we agreed. This was a great way to sample even more plates and dishes, and we recommend you take the advice of the waiters and waitresses as well!