Within the last month, Disney Cruise Line has launched a new and interesting feature onboard some of their ships: DisneyBand+, which is essentially a MagicBand+ at sea. 
DisneyBand+ is marketed as the most immersive and best way for guests to access areas around the ship, pay for items during their cruise, and interact with unique entertainment onboard, but is DisneyBand+ really worth the steep extra cost? 
I recently tested out DisneyBand+ while onboard Disney Fantasy, and there were some things that I loved and disliked about them!
What is the difference between DisneyBand+ and MagicBand+?
Image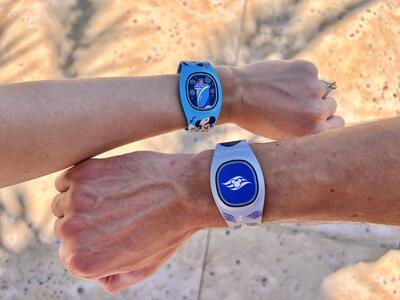 DisneyBand+ and MagicBand+ utilize the exact same technology, and there is essentially very little difference between the two!
Currently, DisneyBand+ is what Disney Cruise Line calls the bands onboard their ships, while MagicBand+ is what Disney's theme parks, such as Walt Disney World and Disneyland, call the bands. 
Both bands function exactly the same and can be linked to both any Disney Cruise Line and/or Walt Disney World account. 
Features and abilities
Image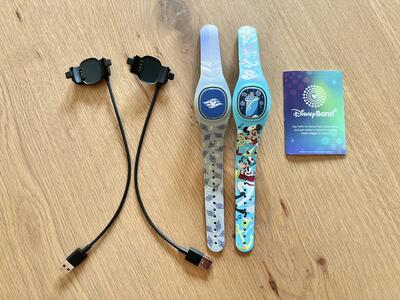 DisneyBand+ is a feature that was added to Disney Cruise Line during the summer of 2023 and has brought with it some new and interesting ways for guests to interact with the ship during their sailing, as they allow you to have a hands-free experience while onboard. 
Currently, Disney Cruise Line only has two ships in their fleet with DisneyBand+ onboard: Disney Wish and Disney Fantasy. 
Starting October 22, 2023, guests sailing onboard Disney Magic will be able to purchase DisneyBand+ bands, too. Eligible guests may place orders between 45 and 11 days prior to sailing. 
On October 18, 2023, Disney announced that guests sailing onboard Disney Dream will be able to use DisneyBand+ beginning on November 20, 2023. 
It is likely that when their newest ship, Disney Treasure, makes her debut next year, it will also have DisneyBand+ technology onboard.  
What exactly is DisneyBand+?
Image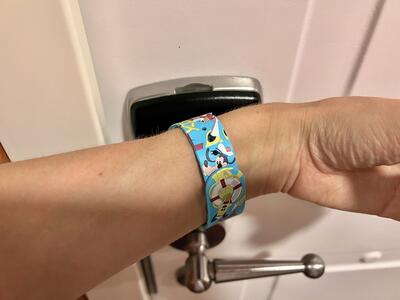 (Example of using a DisneyBand+ to unlock stateroom door onboard Disney Fantasy)
According to Disney Cruise Line, "DisneyBand+ is a waterproof wristband designed to enhance your Disney cruise experience. From boarding the ship on embarkation day and accessing your stateroom, to charging specialty food and merchandise to the payment card on your stateroom folio and beyond, DisneyBand+ adds convenience, fun, and more magic to your cruise." 
My personal favorite feature of the DisneyBand+ was its interactive ability during some of the shows, dinners, game shows, and more around the ship. For example, during dinner at Animator's Palette, the DisneyBand+ would light up occasionally with certain colors at various points during the show. The same happened during the firework show and performances during Pirate Night, as well as other times throughout the cruise during certain entertainment.
Image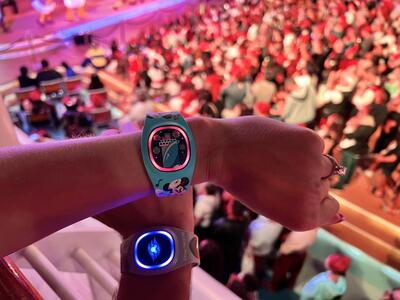 (Example of the DisneyBand+ lighting up and changing colors during the Pirate Night celebration onboard)
I also found the DisneyBand+ to be helpful when paying for extra items onboard such as merchandise and opening our stateroom door. Effectively I never needed to carry my Key to the World Card (Disney's term for their room keys) while I was onboard the Disney Fantasy ship.
DisneyBand+ is a rechargeable device, and we found that the charge lasted for about two days of use on a full charge, meaning that we only had to charge our DisneyBand+ a couple times throughout the 7-night cruise. 
It is important to note that guests do have to bring their Key to the World cards with them when disembarking at any port. DisneyBand+ are not a substitute for the physical card when disembarking during a port visit. Don't forget a photo ID, too.  
Styles and designs
Image
I quickly learned that one of the primary reasons that guests chose to purchase and use DisneyBand+ is for the accessory and style of the bands. 
Disney has come out with many different designs of DisneyBand+ featuring all sorts of characters, themes, and colors, as well as exclusive or limited release designs for Disney enthusiasts to collect. 
Perhaps the most popular designs we saw onboard were the two exclusive DisneyBand+ designs that guests can purchase prior to their cruise. These two Disney Cruise Line exclusive designs cannot be purchased at Walt Disney World, Disneyland, or online and are only available to guests who are booked on a cruise onboard Disney Wish, Fantasy, and Magic. 
Image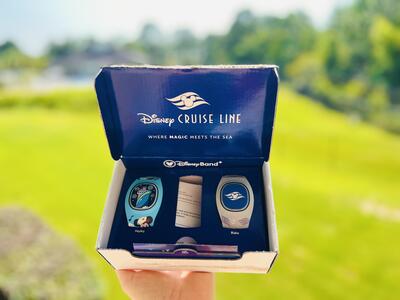 (Example of what the DisneyBand+ package looks like when it is shipped to Disney Cruise Line guests' homes)
I also saw several other Disney Cruise Line DisneyBand+ designs that could be purchased onboard as well. It is important to note, however, that it is a little cheaper to purchase the DisneyBand+ prior to a cruise, rather than once onboard. By purchasing the bands in advance, you will get about $10 off. Plus, the bands will be shipped to your home. 
Our DisneyBand+ package arrived a little over two weeks before our sailing onboard Disney Fantasy. 
Image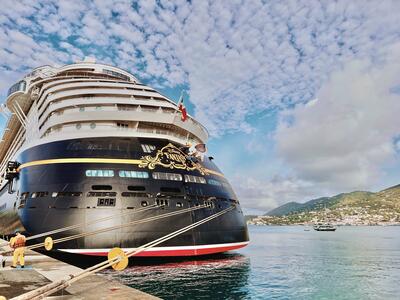 "Don't miss your chance to add these delightful nautical bands to your Disney collection, because these exclusive designs can only be purchases by guests sailing on a Disney cruise! DisneyBand+ designs may be limited on board - so be sure to purchase in advance to ship the full variety of available bands," states Disney Cruise Line.
Tips and tricks to DisneyBand+
Image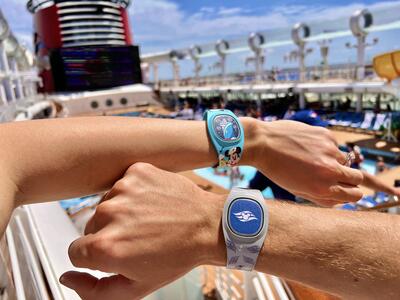 Guests who choose to bring a DisneyBand+ or MagicBand+ with them on their Disney cruise can use the band during embarkation day to check in for their cruise. Because of this feature, I recommend making sure that the DisneyBand+ is charged and ready to go the night before a Disney cruise. 
Something fun and unexpected that we discovered during our cruise onboard the Disney Fantasy was that whenever we clapped during a show or entertainment the DisneyBand+ would light up and change colors. This was a fun little detail we enjoyed! You'll want to make sure it's always charged and ready to go, so you do not miss any of these experiences. 
Image
If you would like to customize and edit the colors a DisneyBand+ lights up, this can be done through the Disney World app. Make sure to link your DisneyBand+ to your cruise account, as well as the Disney World app, ahead of your sailing. 
Plus, DisneyBand+ and MagicBand+ can be altered to fit different sizes of wrists, meaning that any band can be adjusted to fit either a child or an adult. 
They're also waterproof, so there is no need for guests to remove them when venturing for a ride on the AquaMouse or AquaDuck water slides. 
Image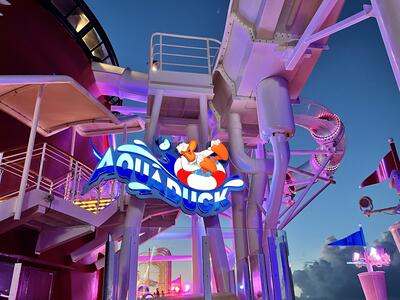 If future cruises have visited Walt Disney World or Disneyland previously and own a MagicBand+, they can bring these bands onboard a Disney Cruise ship, and they will function just the same as the Disney Cruise Line exclusive designs.
Extra cost
Image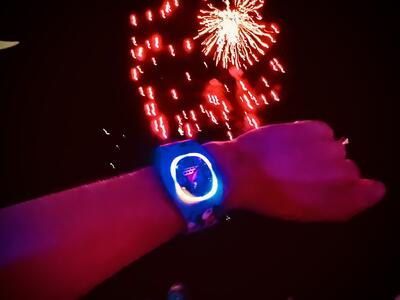 All DisneyBand+s come at an additional cost. Currently, they typically can be bought for anywhere in between $35 USD to $65 USD, depending on the design. These bands come with rechargeable batteries and a charger. There may also be a shipping cost to ship the DisneyBand+ to guests' home prior to a cruise.
For a family of four, the cost of purchasing a DisneyBand+ for everyone in the family will add up quickly. I highly recommend assessing beforehand if purchasing a DisneyBand+ is a must for you or not. These bands are definitely not necessary for a Disney cruise; they are only meant to enhance your experience onboard. 
Read more: 14 cruise ship extra charges you should know about
Is DisneyBand+ worth it or not?
Image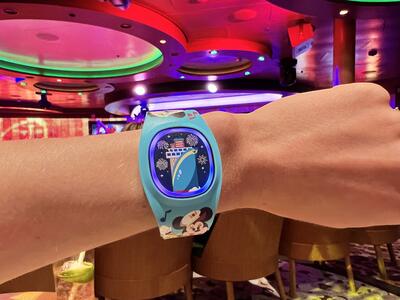 I will be honest, at first I was skeptical if I would like the DisneyBand+. At first glance, it appears that these bands do not have many features and are a rather pricey alternative to the complimentary keycard that is given to all guests once onboard. 
I was unsure if the cost could be justified for the simple and small convenience of being able to pay for things hands-free and accessing our stateroom. Before our cruise, I thought it was cool that the bands light up and interact occasionally with the ship, but once again I also felt it was a rather steep price to justify purchasing. 
Before our cruise, I found myself thinking that the technology in the band was interesting, but I did not really think it was necessary for our cruise experience. After our week-long cruise, I now understand that for most guests who purchase a DisneyBand+, it is a lot about the accessory of the item. 
Image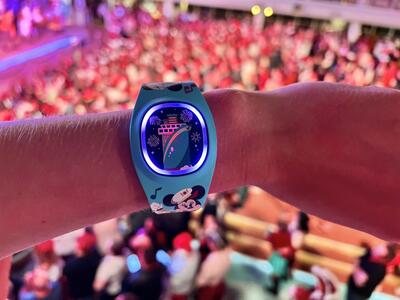 I wore my DisneyBand+ every day of the cruise, and I will have to admit I grew rather fond of the accessory. When it came to disembarkation day, I was sad to take it off! I now think of the DisneyBand+ as a fun accessory with some added technology as a bonus. 
I also appreciate that the DisneyBand+ are a rechargeable device that comes with a charger. This means that I can use and reuse my band on any future Disney cruises I choose to sail on!
Conclusion
Image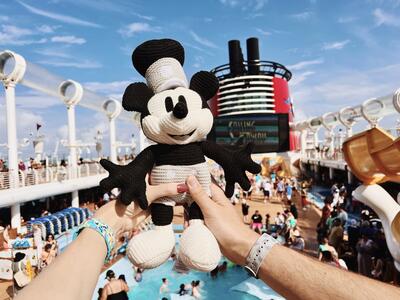 When it comes to deciding if a DisneyBand+ is right for you and your travel companions onboard a Disney cruise, I would take into consideration several factors. 
For myself personally, I now view the DisneyBand+ as a fun accessory to wear that has some added technology to enhance the cruise experience with Disney Cruise Line. I would caution guests from purchasing a band simply for the technology itself, as this aspect is limited. If you are looking for a fun, unique, and wearable Disney cruise souvenir, then perhaps a DisneyBand+ would be a good purchase for you. 
That being said, I do not think it is a necessary purchase by any means. The price is rather steep with the bands starting at $35. Most bands actually cost upwards of $45 or more. For exclusive and unique designs, guests could look at paying $50 or more. 
Image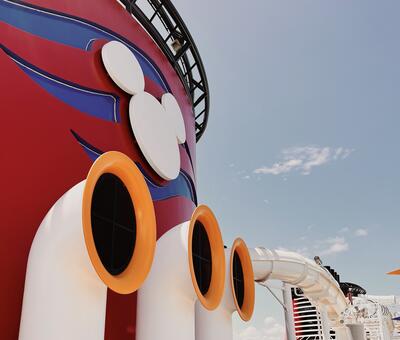 If you are someone who is perfectly content just using the Key to the World card for your Disney cruise and are not interested in the changing colors of the band, then I do not think it is necessary to purchase a DisneyBand+. 
We had a lot of fun exploring everything the DisneyBand+ brings to Disney Cruise Line and we are interested to see what new features and abilities will be incorporated into Disney's newest ship, the Disney Treasure, for DisneyBand+ users!