I am so excited to be planning my first Disney cruise! Disney Cruise Line is one of the biggest names in the cruise line industry, and I am thrilled to be checking out this popular cruise line for the first time as an adult. 
As a travel brand, Disney likes to market itself as being capable of providing truly magical vacations to its guests. I am looking forward to see how Disney Cruise Line compares to some of the other major cruise lines in the industry, as well as what makes it special and unique when compared to others. 
This is my first time planning a Disney Cruise as an adult, and I am looking forward to detailing everything that goes into the planning process for a Disney Cruise. Here is everything I need to do in order to make the most out of my upcoming Disney Cruise Line vacation this summer! 
Initial planning and choosing an itinerary
Image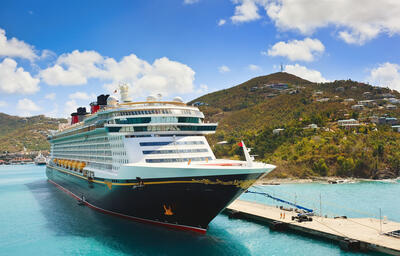 When it comes to planning any Disney cruise, arguably the most important part is choosing an itinerary. 
Disney Cruise Line sails all over the world, including regions such as the Caribbean, Bahamas, Mexico, Alaska, Europe, Bermuda, Canada, Hawaii, New Zealand and Australia, Panama Canal, and the South Pacific. 
Disney Cruise Line also offers transatlantic sailing itineraries, as well as Pacific Coast cruises. Due to the amount of places that Disney Cruise Line sails, passengers can really travel the whole globe with Disney, even though they have a limited number of ships compared to other mainstream cruise lines! 
Currently, Disney Cruise Line sails out of 18 different ports worldwide. These ports include Auckland, New Zealand; Barcelona, Spain; Brisbane, Australia; Civitavecchia, Italy; Copenhagen, Denmark; Fort Lauderdale, Florida; Galveston, Texas; Honolulu, Hawaii; Melbourne, Australia; Miami, Florida; New Orleans, Louisiana; New York, New York; Port Canaveral, Florida; San Diego, California; San Juan, Puerto Rico; Southampton, England; Sydney, Australia; and Vancouver, Canada. 
Image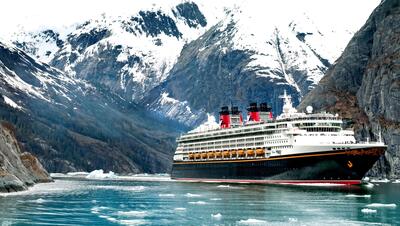 After choosing which itinerary to cruise with Disney, the next step is choosing a ship! Currently, Disney Cruise Line operates a rather small cruise ship fleet, with just five ships. The sixth and newest ship, Disney Treasure, is currently under construction and due to set sail sometime next year in 2024. 
Because Disney Cruise Line currently has such a small fleet of ships, it means that typically the same ships operate and conduct the same itineraries throughout the year and cruise seasons. 
For example, Disney's newest ship, Disney Wish, only sails in the Caribbean and Bahamas and does not currently visit Europe. Disney Wonder, on the other hand, frequents Alaska while on Alaska and Pacific Coast sailings. 
Disney Dream and Disney Magic are the ships to look at if you are someone interested in traveling Europe with Disney. And Disney Fantasy, Disney Cruise Line's second newest ship, travels only within the Caribbean and Bahamas as well, departing from ports such as Port Canaveral near Orlando, Florida. 
Image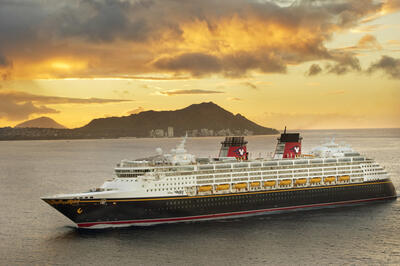 If you are someone interested in seeing Disney's private Island, Castaway Cay in the Bahamas, I would recommend sailing onboard Disney Fantasy or Disney Wish. These two ships make the most visits to Castaway Cay. Disney is also in the process of building up their second private island destination, Lighthouse Point, which is set to debut next year as well in summer 2024. 
My upcoming Disney cruise
Image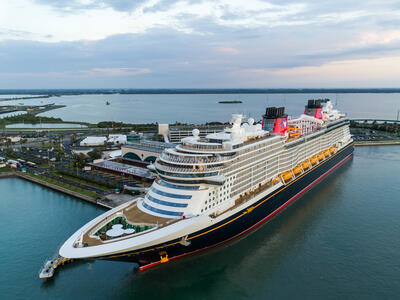 My upcoming Disney cruise will take place in August of this year, and I will be sailing onboard the Disney Fantasy! My itinerary will visit three ports: St. Thomas, U.S. Virgin Islands: Tortula, British Virgin Islands; and Disney's Castaway Cay. 
The sailing will be departing from Port Canaveral, in Florida, where Disney Cruise Line has its own designated cruise terminal. 
This will be my first Disney Cruise in over 10 years and my first time as an adult, so I am very excited! 
Download the Disney Cruise Line app right away
Image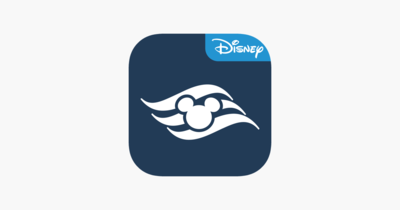 If you are someone in the process of planning a Disney Cruise Line vacation, the absolute first thing I recommend when it comes to planning is downloading the Disney Cruise Line app. 
Once a Disney Cruise is booked, guests can log in to the app using their cruise booking number. From there, guests can use the app for all sorts of preplanning necessities. I highly recommend downloading the app as soon as a cruise is booked, because it is the most convenient way to arrange port adventures and specialty adult-only dining for a Disney cruise vacation. 
Guests can also use the app to explore everything their particular Disney ship has onboard, such as all the amenities, entertainment, and dining options.
Something that has become popular in recent years onboard Disney Cruise Line ships is the adult alcohol tastings held onboard. Guests can participate in beer, wine, liquor, and other different kinds of tastings onboard most Disney ships. These tastings do come at an extra charge and must be pre-booked, which can be done through the mobile app.
Image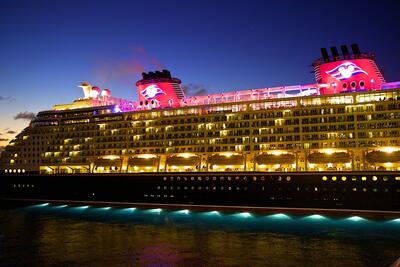 Additionally, the app is very handy for locating where onboard the ship various amenities and venues are located. Guests can find the ship map and deck plans in the app for easy navigation. 
Some important features of the app will not be available until passengers are onboard their cruise, so make sure to check the app frequently once embarkation day rolls around. You will not, for instance, be able to see the daily schedule that details all of the events and activities being held throughout the day until you board. 
The Disney Cruise Line app is also where guests will check-in for their cruise prior to their vacation. Again, I recommend having the app all set up as soon as possible so that when check-in day comes guests are prepared to check-in quickly. This will help ensure an early boarding time for the day of embarkation. 
Read more: 12 reasons to get as early a check-in time as possible for your cruise
Essentially, the Disney Cruise Line app has nearly everything that guests could want or need when it comes to planning, organizing, and enjoying their cruise vacation! 
Go through available port adventures for each port
Image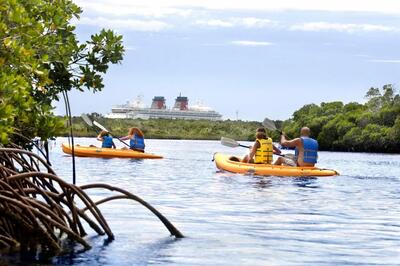 Once guests have booked their Disney Cruise, they can look at the available port adventures (what Disney calls their shore excursions) for their particular cruise sailing and itinerary. 
Some of these port adventures can fill up quickly. Therefore, I recommend pre-booking any and all port adventures prior to embarkation day. Once onboard, guests will find that many port adventures could be sold out. Again, all port adventures can be booked through the Disney Cruise Line app prior to the cruise. 
Port adventures all come at an additional cost to all guests. Because of this, I recommend making a budget beforehand of how much to spend on shore excursions and port adventures as well as a list of must-dos. 
Read more: 14 cruise ship extra charges you should know about
Decide if you want to book specialty dining
Image
(Rendering of Palo onboard the Disney Wish ship)
Disney Cruise Line's specialty dining may be the most challenging to get into out of all cruise lines! 
These exclusive restaurants exude luxury and sophistication. Plus, they are are adult-only venues.
Dining at either of these restaurants requires a reservation. Obtaining a reservation at these restaurants can be quite challenging; therefore, if you are someone who is interested in experiencing Disney fine dining at sea, I recommend booking a reservation as soon as possible. 
All guests can book a reservation at Palo or Remy in the Disney Cruise Line app or through the Disney Cruise Line website.
Image
(Photo of Remy onboard Disney Cruise Line)
Passengers can choose from either brunch or dinner at these two specialty restaurants. 
Typically, brunch is a little more affordable in price, while dinner is more expensive. Dinner at Palo will cost guests $45 U.S. dollars, while dinner at Remy will cost guests $125 USD. In comparison, brunch at Palo will cost $45, while brunch at Remy will cost $75. 
Due to the extremely popular nature of these specialty dining venues, I recommend pre-booking as soon as possible if you are someone who is interested. If you want until you board, you may find there to be no available reservations for your sailing.  
For my upcoming cruise, I made a reservation at Remy for the last night. 
Make any special requests online before the cruise
Image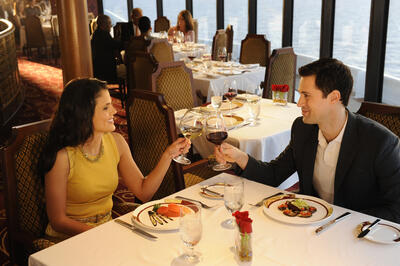 A neat little tip that I discovered when browsing and exploring the Disney Cruise Line website portal is that guests are able to make special requests and make a note if they are celebrating a special occasion while onboard.
Disney is popular for being great at celebrating special moments and memories, and their cruise line is no different. 
Once a cruise is booked, guests can log in to their account and make special requests for their upcoming vacation. Its important to note that as far as I can tell, these special requests can only be made through the Disney Cruise Line website and not on the mobile app. 
Image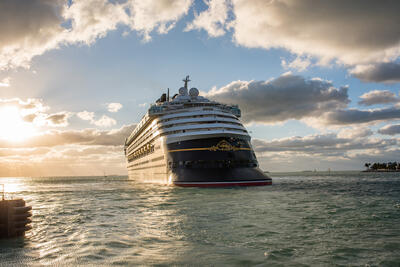 Some of these special requests include noting a celebration of a birthday, anniversary, graduation, as well as dietary restrictions or preferences. Additionally, this is where guests can make requests about their dining experiences, such as a request to be seated closer to the windows or in a quieter area of the dining room. 
For our cruise we noted that we will be celebrating our anniversary onboard! We are looking forward to seeing all of the Disney magic come to life once on our cruise. 
Make note of online check-in day
Image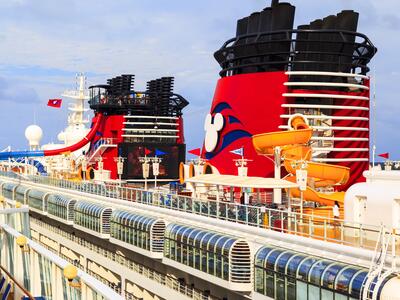 It is important to note that online check-in is required, and it must be completed prior to arriving at the embarkation port. Moreover, the reservation must also be paid in full prior to being allowed to check-in for their cruise. 
Passengers can begin the online checkin process 30 days prior to embarkation day. I highly recommend making a note of this date somewhere in a planner or on your phone calendar, so the date doesn't pass you by. 
Image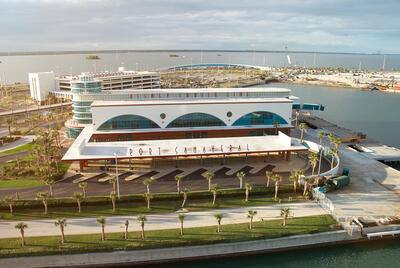 Checking in as early as possible for a Disney cruise is important because the earlier guests check-in, the earlier they are able to board the ship. The earliest that passengers are typically allowed to board is 11:00am on embarkation day. 
Remember to pack a small backpack or bag with afternoon essentials if you plan on checking your luggage onto the ship. Most checked bags cannot be accessed for several hours on embarkation day, and guests are typically not able to access their staterooms until around 2:00pm or later on embarkation day. You should always plan on bringing on a backpack or bag with a swim suit, sunscreen, and any other essentials for the first few hours onboard. 
Plan on getting onboard as early as possible
Image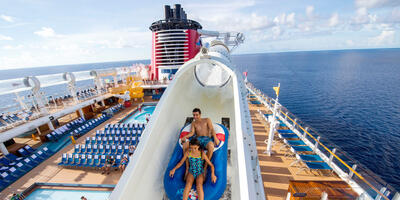 (AquaDuck slide onboard Disney Fantasy)
As I mentioned above, the earlier guests are able to get onboard their Disney cruise, the sooner they can begin their Disney vacation! 
From researching for my upcoming Disney cruise, I have discovered that some of the popular activities onboard are often quite busy during a sailing. 
For example, onboard Disney Fantasy, there is the unique AquaDuck water slide! This water slide wraps around almost the entire top deck of the ship and is a must-do for me that I am excited to experience. However, the AquaDuck often gets very long lines throughout a cruise sailing. If guests are able to get onboard early during embarkation day, they may have a chance to tryout the AquaDuck with little to no lines.
Read more: Guide to the AquaDuck, AquaDunk, and AquaMouse on the Disney Cruise Line 
The earlier guests are able to get onboard also means more time to explore the other parts of the ship with less people around as well. Arriving early and being able to board as soon as possible can be advantageous to passengers in many ways for any cruise vacation.
Take a look at the ship's layout
Image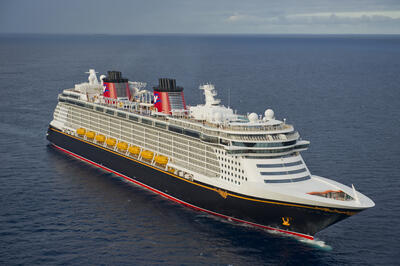 It may come as no surprise, but cruise ships today are huge! These large ships have been compared to floating cities by many. That means there is lots to explore onboard. 
I recommend taking a look at a map of the ship and a list of the onboard amenities prior to boarding your cruise. This will help in a multitude of ways. Knowing exactly what is onboard will help ensure that guests will not miss any fun features during their vacation. Having a good idea of the ship's layout will also help prevent guests from getting lost when navigating around the ship. 
When taking a look at what can be found on Disney Fantasy, I discovered that there are so many different things that I am looking forward to exploring! In particular, I am interested in checking out the adult only pool area. 
Take a look at amenities and activities on Castaway Cay
Image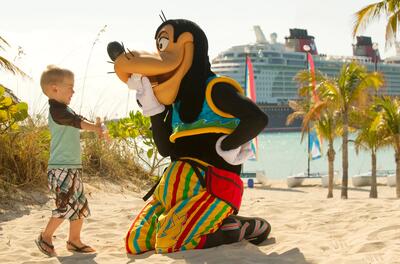 For my particular cruise sailing, I will be visiting Disney's private island for the first time! Castaway Cay is Disney Cruise Line's private island, which means that this destination can only be visited when traveling and sailing onboard Disney Cruise Line.
Because it will be my first time visiting this exclusive destination, I have done an extensive amount of research on exactly what is on the island, including activities, amenities, and dining locations-- there is so much to explore ashore!
Image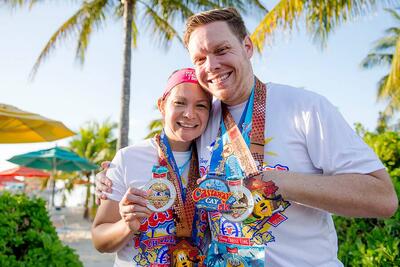 Something that I think is very unique to Castaway Cay that I have never seen on a cruise line private island is the 5k running and walking course. 
Read more: What is the Disney Castaway Cay 5K?
On Castaway Cay, there is a specific 5k running course that guests can follow. This race is very casual and done completely on guests' own time and schedule. All guests who complete the 5k, either running or walking, can pick up a complimentary and fun Disney rubber race medal at the end! 
I recommend getting off the ship as soon as possible and running the 5k early in the morning to avoid the afternoon heat! 
Image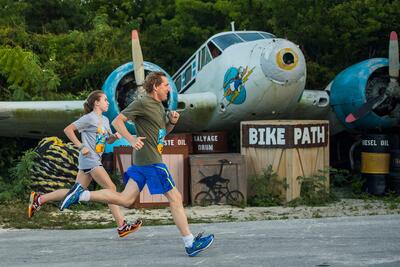 There is also an underwater snorkeling trail that guests can follow, where you will see fun Disney inspired things underwater. This activity looks very interesting to me and we also plan on snorkeling during our day at Castaway Cay!
I am looking forward to seeing this unique destination for the first time and comparing it to some of my other experiences from other cruise line private islands, such as Perfect Day at CocoCay and Great Stirrup Cay. 
Purchase any Items to take onboard
Image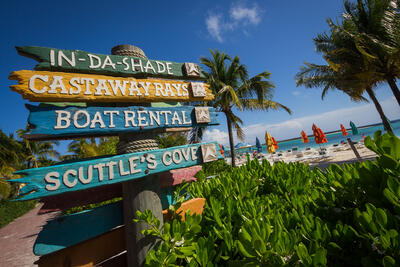 For this cruise, I have decided to purchase some particular items to bring onboard with me prior to our cruise. 
One of the biggest purchases I made in preparation for this cruise was snorkel gear. After researching how much it costs to rent snorkel gear on Castaway Cay (about $34 per person), I decided it was well worth it to me to purchase and bring my own snorkel gear on my cruise instead of renting. 
The gear purchased was about the same price as it would be to rent, so we now we have our very own snorkeling equipment that we can bring on future cruises! 
We will also be pre-buying some basic beach necessities such as sunscreen, aloe, and a reusable water bottle, as these items are often much more expensive to buy onboard a cruise ship. 
Set a budget
Image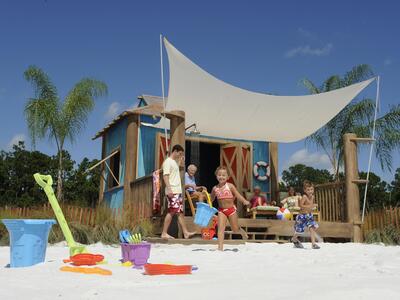 (Example of Cabanas available to rent on Castaway Cay)
Similar to a theme park Disney vacation, there will be many things onboard a Disney Cruise that guests will be tempted to spend their money on! 
Because of this, I plan on setting a budget for myself prior to embarkation day. Guests of Disney Cruise Line will find no shortage of cute and engaging souvenir shops onboard offering fun Disney Cruise Line exclusive merchandise. 
Additionally, there are several adult only lounges and bars onboard offering unique cocktails and tasty drinks. Currently, Disney Cruise Line does not offer an alcohol beverage package onboard any of their ships, which means adult guests will have to pay for their drinks a la carte style. It is important to note that soda is included in the cost of your cruise fare, though. 
Get excited!
Image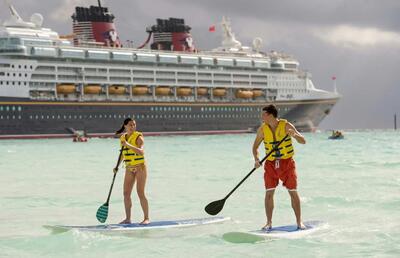 As with any cruise, once all the planning is done, it's time to celebrate and get excited! 
One of the most fun parts of a trip is the anticipation. I love planning out all of the activities we'll do each day and research the destinations we'll be visiting.
I highly recommend researching not just the cruise ship you'll be sailing on but also the destinations the ship will be visiting. After all, cruising is about traveling the world and seeing new and exciting things! 
Image
I am really looking forward to seeing what the Disney Fantasy has to offer its guests in 2023. This ship may be considered old by cruise ship standards, as she entered service in 2012, but it has been well maintained and has become a favorite by many Disney fans.  
This cruise will be my first time  sailing with Disney Cruise Line as an adult, and I am looking forward to exploring and reviewing the adult-only venues onboard.