This month on March 9th 2023, Disney Cruise Line officially announced that their newest private island paradise will open next year, in summer 2024! Along with this announcement Disney shared some concept art photos and revealed further details regarding the newest cruise line private island in the industry. 
Come along with me as explore more about this private island paradise and find out what this exclusive port of call will have in store for its visiting guests starting summer of 2024! 
Location
Image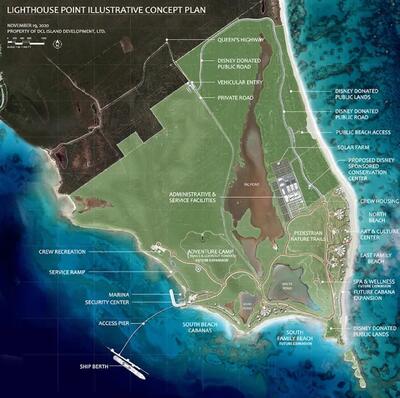 Disney's Lighthouse Point is located on the island of Eleuthera in The Bahamas. The acquisition of the island by Disney Cruise Line has been in the works for a while, and now the company can officially announce that the one-of-a-kind destination will be open to guests next year. 
"Disney Cruise Line is excited to introduce Lighthouse Point, our brand-new tropical retreat nestled on the southernmost tip of the island Eleuthera - where the deep-blue Atlantic Ocean meets the turquoise waters of The Bahamas. Opening summer 2024, Lighthouse Point is a unique celebration of Bahamian culture brought to life with the magic of Disney," states Disney Cruise Line. 
Design
Image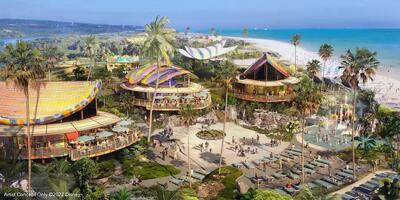 "Created in close collaboration with local artists and advisors, the vibrant island retreat at Lighthouse Point will be unique celebration of Bahamian culture brought to life with the quality and service of a Disney vacation," describes Disney Parks. 
Lighthouse Point will celebrate Bahamian culture, atmosphere, and design. Disney has committed to using inspiration of the Bahamian culture to create Lighthouse Point. Local island inspiration and vibrant experiences are at the heart of the design of Lighthouse Point. 
Many of the buildings on Lighthouse Point will evoke the design, beauty, and uniqueness of Bahamian seashells scattered across the sand. The shops, food locations, and venues ashore the island will be vibrant in color and will help to provide a wonderful vacation day in The Bahamas. 
"Community and collaboration are also a shaping force. Across the island and around The Bahamas, we've partnered with artists, historians and cultural ambassadors to bring Lighthouse Point to life. Recreational and water areas have been infused with the colors, music and festive spirit of the Bahamian street parade, Junkanoo. Murals, sculptures and other designs created by Bahamian artists, including some from Eleuthera, are integrated into gathering spaces and cabanas," states Disney Cruise Line about its important efforts to make sure that Lighthouse Point maintains its integrity to Bahamian culture. 
This means that guests visiting Lighthouse Point will be able to visit an exclusive paradise destination that has true roots to The Bahamas, while simultaneously offering classic Disney quality and magic. 
Family Friendly Activities and Areas
Image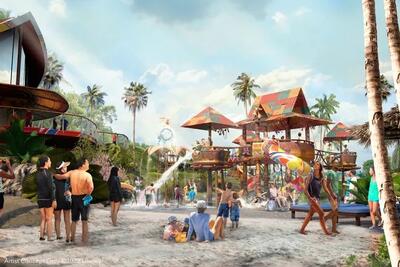 Aligned with Disney's values, Lighthouse Point will have many family friendly offerings. Including amenities such as a family beach where travelers can create memories together in the gorgeous white sand beaches of The Bahamas. 
There will also be a substantial water play area for young children and families to enjoy. This space will be made up of at least two slides, water drums, fountains, and fun music. 
For those wanting some friendly and family competition, Lighthouse Points guests can venture over to the gaming pavilion. Here guests will be able to participate in entertainment such as volleyball, a gaga ball pit, and a host of other fun games. 
With these family friendly offerings guests of any age are sure to enjoy their experience at Lighthouse Point. 
Activities and Areas Just for Adults
Image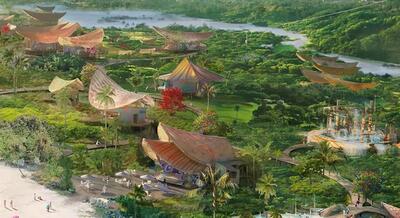 Not everyone realizes, but Disney Cruise Line provides many activities and exclusive spaces onboard just for adults. Lighthouse Point will not be any different, there will be several adult-only areas on the island that will be reserved for guests 18+ years and older. 
Among those adult reserved areas will be an Adult-Exclusive Beach. This beautiful beach will be a region of tranquility where guests can relax and take in the beauty of the Bahamian island. This area will be a great place for parents, young adults, and friends traveling together to take in the island without the excitement of children nearby. 
There will be three adult exclusive bars ashore. Meant to be fun watering holes for adults, these spaces will be great venues for adults 21+ years to explore on their visit to Lighthouse Point. The menus have not yet been released, but it is likely that these bars will have fun theming and exciting refreshments to try. 
For those guests looking for added luxury during their time ashore on Lighthouse Point, there will also be Beachside Cabanas. These private open-air cabanas will be conveniently located near the adult-only beach. 
Food
Image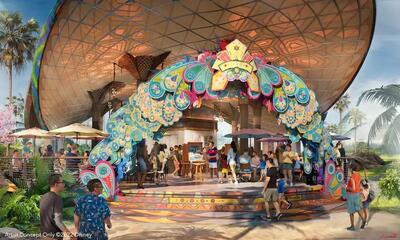 Something fun and very unique about Lighthouse Point's dining, is that there will be a kids-only dining venue ashore! There is not a lot of information about this space yet, but what we do know so far is that this venue will be reserved for kids only as their very own dedicated dining area. 
Simultaneously, there will be a more adult focused dining space. This more adult dining venue can be described as market-style. "When hunger strikes, make your way to the stylish dining area on the beach for refreshing sips and island-style bites," says Disney Cruise Line about this venue. 
Sustainability
Image
(Aerial view of Disney Cruise Line's Castaway Cay, Disney's first private island)
With Disney acquiring the use of this beautiful Bahamian island, the entertainment company has pledged to commit to serious measures of environmental sustainability regarding the development and construction that will undergo on the island. 
"Respect got the environment is at the heart of the design. At least 90 percent of the destination's electricity needs will be met by an onsite solar array, the pier was designed to avoid the need for dredging and elevated walkways will help limit impact on the landscape," states Disney Parks. 
Sustainability and the environment is something that is very important to the Disney Company and they have addressed the many concerns regarding maintaining the integrity of the Bahamian island. "Disney has long been committed to protecting the environment in The Bahamas, donating millions of dollars from the Disney Conservation Fund to important conservation projects. Several experts from Disney's Animals, Science and Environment team have been engaged in significant conservation work in The Bahamas in partnership with local organizations and scientists for more than a decade," Disney comments. 
Disney has been committed to the sustainability of The Bahamas since nearly the beginning of Disney Cruise line's sailing in the region. "This includes leading an initiative to rehabilitate coral reefs in The Bahamas that has been underway since 2007. Other examples include a new, five-acre solar facility on Castaway Cay that will generate approximately 70% of the island's power, as well as operating an animal care facility there, and a partnership to convert offloaded cooking oil into biodiesel, among other initiatives," Disney says about their sustainability efforts in The Bahamas. 
Disney has also committed to following the following rules and sustainability practices: 
"The construction of an innovative, open trestle pier that extends to deep water will prevent the dredging of a ship channel. The location of the proposed pier is based on a scientific assessment of the ocean floor to avoid areas where coral reefs are present. The viable individual corals within the pier's footprint will be expertly relocated to improve the health of struggling coral reefs in the area."

 

"A proposed elevated design for many walkways and structures will reduce impact to the natural environment."
"90% of the energy demand of the project will be from renewable sources."
"Zero waste to landfill with a commitment to explore waste to energy capture."

 

"The continuation of already established environmental monitoring programs throughout construction and into operation."

 

"A commitment to developing a multi-faceted program to educate employees, vendors and guests about the role they play in protecting the site, something Disney has been able to effectively do with its projects around the world."

 
In addition to the Disney company pledging a variety of sustainability efforts, the government of The Bahamas has given their clearance for the Lighthouse Point project. The Bahamas Department of Environmental Planning and Protection did issue a Certificate of Environmental Clearance for the project of Lighthouse Point to go underway in November 2021. 
"Disney Cruise Line has long said it will only move forward with a project at Lighthouse Point if it is able to do so in an environmentally responsible manner," states Disney Cruise line. "The Environmental Impact Assessment (EIA) confirmed this will be possible with the Environmental Management Plan that has been put in place."
It appears that the Disney company has dedicated a great deal of time and effort into researching how to best meet sustainability efforts on the island, while simultaneously bringing a beautiful new port of call to Disney Cruise Line. 
Disney Ships Visiting Lighthouse Point
Image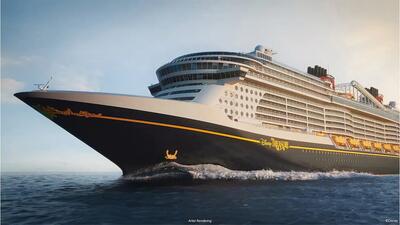 Currently it is theorized that Disney Cruise Line's newest ship the Disney Treasure will be among the Disney vessels to visit Lighthouse Point. The Disney Treasure will make its debut next year as well. This means that 2024 is about to be a very exciting year for Disney Cruise Line! 
There has been no confirmation as of yet on which of the other Disney Cruise Line ships will be visiting Lighthouse Point. However, it is likely that ships such as the Disney Wish and the Disney Fantasy could make stops at Disney's newest private island in the future as well. 
Project Status and Progress
Image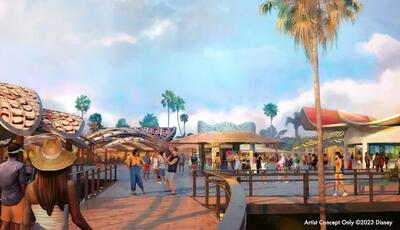 Disney has made significant progress towards completing its newest cruise project, stating the following as the most recent update; "Disney has toured construction sites and met with contractors across Eleuthera joined the Bahamian Contractors Association and engaged with other industry organizations." 
"Disney Cruise Line has selected American Bridge to oversee the design and construction for its project at Lighthouse Point. American Bridge is committed to working with Bahamian sub-contractors and previously attended information sessions and one-on-one meetings hosted by Disney that provided them the opportunity to meet directly with Bahamian contractors interested in working on the project," comments Disney about their work alongside residents and contractors of The Bahamas. 
Disney has also said that they have "toured local farms and met with representatives across the fishing community to build relationships in the agriculture community, and will begin to identify potential suppliers of Bahamian agricultural and seafood products." 
So far it appears that the construction and development of Lighthouse Point is right on schedule and will be completed on time. Come summer 2024 this exclusive destination will welcome its first Disney Cruise Line guests!
Conclusion
Image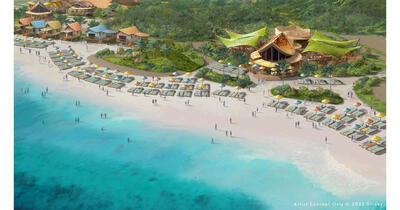 2024 is sure to be an exciting and game-changing year for Disney Cruise Line. With the debut of Disney's newest ship, the Disney Treasure, coinciding with the opening of the cruise line's newest private island, 2024 is guaranteed to be a revolutionary year for Disney Cruise Line! 
Stay tuned with us for more updates as Disney shares progress on both the Disney Treasure and Lighthouse Point. At Cruise Blog we will be sure to update our readers when there is more information about these thrilling additions to the cruise line industry!