When planning a summer cruise, most people default to searching for itineraries that visit warm destinations, like the Bahamas, Caribbean, or Mediterranean. It isn't a proper summer vacation if you don't get a little sunburnt, right? 
Yet, many families opt to sail to Alaska and trade in their swimsuits and flip flops for rain jackets and gloves. From the diverse history and culture, to breathtaking scenery, exciting port adventures, abundant wildlife, and delicious seafood, Alaska has something to offer everyone.
An Alaskan cruise aboard Disney Cruise Line will take you on a journey to visit some of the most picturesque natural wonders of the world while still experiencing the infamous and one-of-a-kind Disney magic! 
Image
The youth clubs will keep children as young as six-months-old to those as old as seventeen entertained while parents sneak away for an adults only evening, complete with dinner at Palo and drinks at the French Quarter Lounge.
There are also some Disney exclusives that you can only find onboard sailings to Alaska, like the Pixar Pals Party. Kids will love hanging out with characters from Toy Story, Up, Monsters, Inc., and more! Oh, and expect to see Mickey and his pals decked out in rain gear, lumberjack outfits, and even luxurious coats with matching boots!
Here's everything you need to know about 2023 Alaskan cruises aboard Disney Cruise Line to help you explore the Last Frontier by cruise ship and make memories that last a lifetime!  
When is the Alaska cruise season?
Image
The Alaska cruise season on Disney Cruise Line runs from May through September, with the first sailing departing from Vancouver, Canada on May 15, 2023. 
The season will conclude on September 19 after an 8-night sailing departing from Vancouver on September 11, 2023. 
Itineraries range from 5- to 9-nights. 
Best time to take a Disney Cruise to Alaska
Image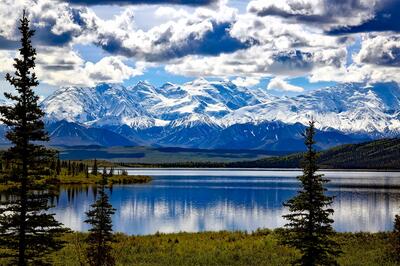 If you choose to sail during May, which is known as the early season, you might find a better deal and fewer people. It is also among one of the driest months of the year in Alaska, and you can expect to see daily temperatures with highs in the mid-50s and lows around 40 degrees. Bonus for fewer mosquitoes during this month!
Depending on how early you go, ships might have to adjust their routes when sailing through glaciers depending on how much ice has melted. If there is still abundant ice, you might not sail as close as you would prefer. 
The peak cruise season lasts from mid-June to August. This is often when the cruise ports are the busiest, temperatures are at their warmest, and daylight is the longest. The road to Denali National Park opens in June, and wildlife becomes more abundant since all the animals have had their young. 
As temperatures begin to rise in July, so do the chances for precipitation. Even though bears emerge from hibernation in March and April, the best time to try and spot them is from July through September. This coincides with the rivers running full of salmon. 
During September, the temperature starts to drop. Rain is more likely during the fall shoulder season, and wildlife is harder to spot. That being said, September presents cruisers with the possibility of seeing Alaska's Northern Lights; however, it is never guaranteed. 
What Disney ship sails to Alaska?
Image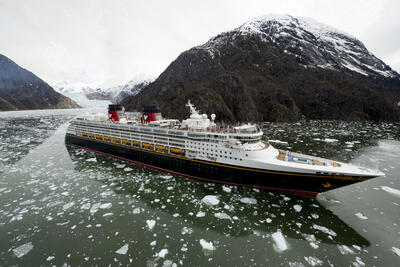 All 2023 Disney Cruises to Alaska will be onboard the Disney Wonder, a 83,000 gross ton vessel that was launched in 1999 and can accommodate a maximum of 2,713 passengers. 
Stateroom options
Image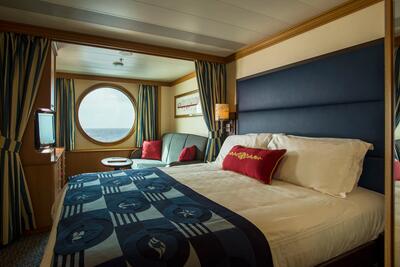 There are four different categories of staterooms onboard the Disney Wonder: inside, oceanview, verandah, and concierge. 
Staterooms begin at 184 square feet but can be as large as 1,029 square feet, if you're willing and able to splurge on a Concierge Royal Suite. 
Deluxe staterooms are a great option for families because of the split bathroom. One bathroom includes a toilet and sink, while the other includes an additional sink, as well as the shower. These are available in all categories of standard staterooms. 
Dining options
Image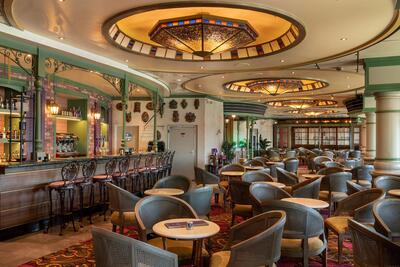 Disney Cruise Line is known for their rotational dining program, where guests and their servers rotate through each of the three themed main restaurants. Throughout your cruise, you'll rotate between Tiana's Place, Animator's Palate, and Triton's. 
Other complimentary dining options include the buffet Cabana's, Pinocchio's Pizzeria, Eye Scream Treats, Pete's Boiler Bites, and Daisy's De-Lites. 
Royal Court Royal Tea, a tea party with Disney characters, is offered to guests between the ages of 3 and 12 for $220 per child and $69 per adult. 
Finally, adults wishing to have a romantic meal alone may choose to dine at Palo for either brunch or dinner for an additional fee of $45 per adult. 
How much does it cost?
Image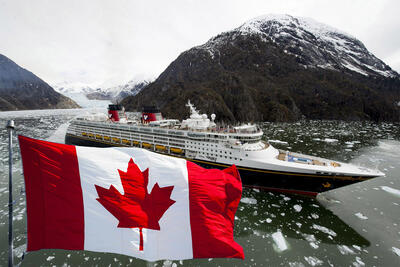 Naturally, you'll want to know how much an Alaska cruise costs.
Disney Cruise Line is known for being more expensive than other mainstream cruise lines, like Royal Caribbean, Carnival, and Norwegian (at least soda is included!). 
The cheapest sailing during the 2023 season is May 29-June 5, 2023. A family of four can expect to pay close to $5,100 for an interior stateroom for this 7-night itinerary. 
Veranda rooms for four can be as low as $7,200 for a 7-night sailing departing on May 22, or as expensive as $24,300 for the 9-night sailing departing on July 24. The average, however, tends to fall between $12,000 and $14,000.
Note that these prices do not include transportation, excursions, or other incidentals. 
How much do port adventures cost?
Image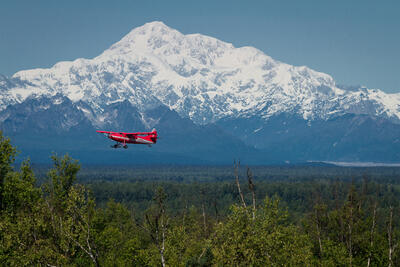 Disney Cruise Line only offers two port adventures in Alaska that are under $50 per person: the Goldbelt Tram in Juneau and tickets to The Great Alaskan Lumberjack Show in Ketchikan. 
Tours in Alaska are usually more expensive than those in the Caribbean due to their strenuous activity levels and/or duration, so it's important to set aside a generous budget in order to check off everything that you want to do.
Image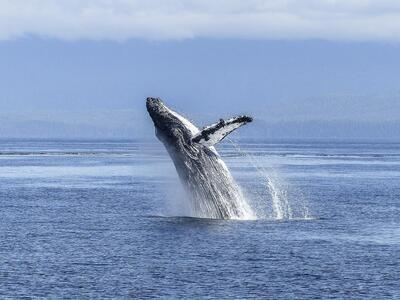 Here are some port adventure prices as of January 2023 (note they are subject to change at any time and may not be available on every sailing): 
Glacier Discovery by Helicopter in Skagway, Alaska ($479 per person ages 10+, $459 per person ages 2 to 9, and $0 per child below the age of 2). The duration of this tour is 2 to 2.5 hours.
Whale Watching, Salmon Bake, and Mendenhall Glacier in Juneau, Alaska ($244 per person ages 10+ and $159 per person ages 0 to 9). The duration of this tour is 5.5 to 6 hours. 
White Pass Scenic Railway in Skagway, Alaska ($152 per person ages 10+, $76 per person ages 3 to 9, and $0 per child below the age of 2). The duration of this tour is 2.5 to 3.5 hours. 
Rainforest Sanctuary and Totem Park in Ketchikan, Alaska ($149 per person ages 10+, $69 per person ages 3 to 9, and $0 per child below the age of 2). The duration of this tour is 2.5 to 3 hours. 
Sitka Culture, National Park, and Raptor Center in Sitka, Alaska ($89 per person ages 10+, $69 per person ages 3 to 9, and $0 per child below the age of 2). The duration of this tour is 3.5 to 4 hours.  
Read more: 20 Alaska cruise must-do excursions
Where does the Disney Wonder depart from?
Image
In 2023, the Disney Wonder is making roundtrip Alaska sailings from Vancouver (British Columbia), Canada. 
The airport (YVR) is about a thirty minute drive to the cruise terminal; however, we recommend flying in at least one day early and staying in Downtown Vancouver. Many hotels are within walking distance of the terminal! 
Spend the day before your cruise at the Vancouver Aquarium, Museum of Anthropology, roaming through the Granville Island Public Market, or hiking in the Pacific Spirit Regional Park.
Upon returning in Vancouver, Disney Cruise Line recommends that guests book a return flight home from the airport no earlier than 12:00pm, allowing for time to debark, go through customs, travel to the airport, check luggage, and go through airport security. 
Freezing the Night Away Deck Party
Image
If you've ever taken a Disney Cruise to the Caribbean, then you're probably familiar with the Pirates themed deck party that concludes with fireworks at sea. You won't find this party on a sailing to Alaska. Instead, Disney offers Freezing the Night Away, which features characters from Frozen, including Anna, Elsa, and Olaf. 
You can enjoy a special Frozen-themed menu at dinner with items such as Sven's Carrot Soup, Anna's Honey-Mustard Marinated Alaskan Sockeye Salmon, and Olaf's White Chocolate Floro Dome. 
Rather than ending with fireworks, Elsa makes it snow! Fitting for Alaska, right?
Ports of Call
Image
Disney Cruise Line is sailing to five different Alaska cruise ports throughout 2023: Skagway, Juneau, Ketchikan, Icy Strait Point, and Sitka. Certain itineraries also include viewing the Hubbard Glacier or Stikine Icecap. 
Skagway, Alaska
Image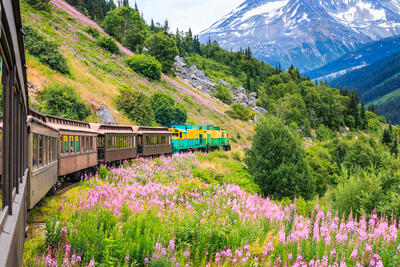 Skagway was the first incorporated city of Alaska and is most known for its Klondike Gold Rush history. Over 40,000 prospectors arrived in Skagway during the gold rush before heading north! Today, the town is home to a little over 1,200 people. 
You can do anything from zipline through the lush Alaskan canopy, horseback through the Klondike Gold Rush National Historical Park, travel to the Meade Glacier via helicopter, visit Canada's Yukon, or take a train ride on the infamous White Pass Railroad, which is referred to as the "Scenic Railway of the World." 
Juneau, Alaska
Image
You can't visit Alaska without making a stop in the state's capitol! The most popular attraction in Juneau is the Mendenhall Glacier, Alaska's only glacier accessible via road, and can be explored through the visitor's center, kayaking or rafting to the glacier's edge, hiking, or dog sledding. 
You can even pair a visit to the glacier with a whale watching cruise through Stephen's Passage and delicious salmon bake. 
Would you rather take a helicopter to Taku Glacier? What about panning for nuggets in a gold laden creek? You're sure to find a port adventure that suits you and your travel party, no matter your fitness level or personal interests.  
Ketchikan, Alaska
Image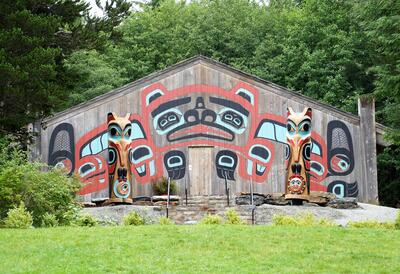 Ketchikan is the southernmost Alaskan cruise port and one of the rainiest cities in the country. It's surrounded by the Tongass National Forest, which is the largest national forest in the United States!
Here you can watch contestants throw chop and saw logs, climb trees, and throw axes during the Great Alaskan Lumberjack Show; go on a pub crawl; visit the Saxman Village Totem Park to learn about the Native Tlingit people's culture and traditions; kayak through the Tatoosh Islands; walk through Creek Street; or travel to the Misty Fjords via seaplane.
Icy Strait Point, Alaska
Image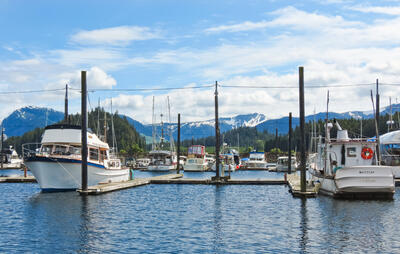 Icy Strait Point was originally built as a salmon cannery when the Hoonah Packing Company Cannery opened in 1912. The cruise port opened in 2004 and is Alaska Native owned-and-operated, with all profits supporting Alaska's largest Native Tlingit Village: the community of Hoonah.
This is a great place to get close to nature and wildlife, as whale watching, bear searches, and fishing are popular activities to book. You can also ride the ZipRider®. At 5,495 feet long, it's the largest zipline in the world and reaches speeds of 65 mph! 
Pay a visit to Icy Strait Point's Native Heritage Center Theatre if you want to learn more about the Huna Tlingit people through song and dance!
Sitka, Alaska
Image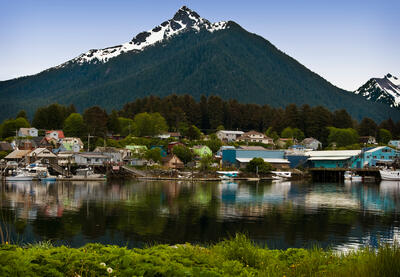 Before the United States purchased Alaska from Russia in 1867, Sitka was the colonial capital of Russian America. Once the signing of the Alaska Purchase was complete, Sitka became Alaska's first capital city. 
Today, the city is known for its Tlingit culture and remnants of Russian history. Baranof Castle State Historic Site, for instance, is where the formal transfer ceremony of Alaska from Russia to the United States occurred. And Sitka National Historical Park is home to the site of a battle that transpired between the Tlingit people and invading Russian merchants in 1804. 
Visitors can embark on a Sea Otter and Wildlife Quest, bike along Silver Bay, learn how to use a downrigger to lure for salmon in the Sitka Sound, or drop by the Alaska Raptor Center, a 17-acre campus that's dedicated to the rehabilitation of injured bald eagles and other birds of prey. 
Why should you take a Disney Cruise to Alaska?
Image
An Alaskan cruise aboard the Disney Wonder will take you on a journey that will allow you to experience some of the most magnificent natural beauty and local culture, all while enjoying Disney's renowned service and magic.   
Booking a cruise in advance is always a good idea, but since there's only one Disney Cruise Line ship that sails to Alaska, it is especially important in order to secure the stateroom category that suits your family's budget and preferences, especially if you want a verandah or concierge room.
Pack your rain jacket, jeans, and gloves! Mickey can't wait to "see ya real soon!"