Whether you need breakfast delivered to your room in the morning to save time before an early shore excursion, you love coffee or tea on your balcony in the afternoons, or you're craving late-night pizza in bed before you fall asleep, room service is one of those little luxuries that's easy to overlook on vacation.
Yes, almost all mainstream ships offer it at all hours of the day, but is room service free on cruises? Here's everything you need to know about which cruise lines have it and how much it'll cost you.
Unless otherwise noted, all lines below offer room service, including free Continental breakfast, which must be ordered the night prior by marking selections on a menu card and hanging it on the outside of your cabin door. Charges apply for most room service alcohol orders.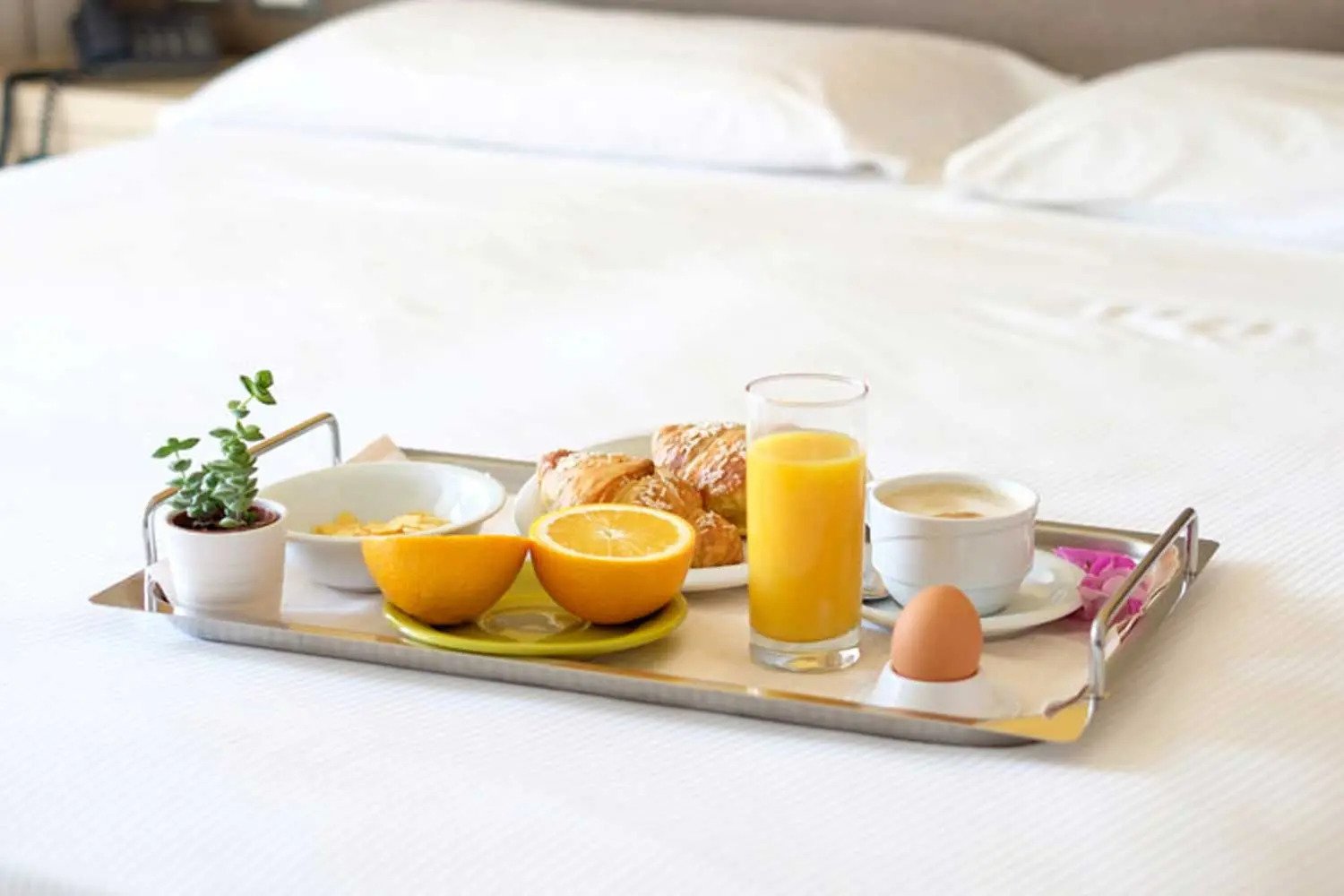 Carnival Cruise Line
Carnival offers 24/7 room service options. Continental breakfast is free, as are basic cold items like salads and sandwiches throughout the day. Other selections -- think omelets and chicken fingers -- carry a fee of $2 to $6 per item during the day. The line also levies per-item charges for anything ordered between 10 p.m. and 6 a.m.
Celebrity Cruises
Passengers can order from Celebrity's room service menu around the clock (except on the line's expedition ships). Hot and cold breakfast fare is available in the mornings, with a separate all-day menu kicking in at 11 a.m. Items are complimentary during the day, but orders placed between 11 p.m. and 6 a.m. come with a $4.95 service charge per order.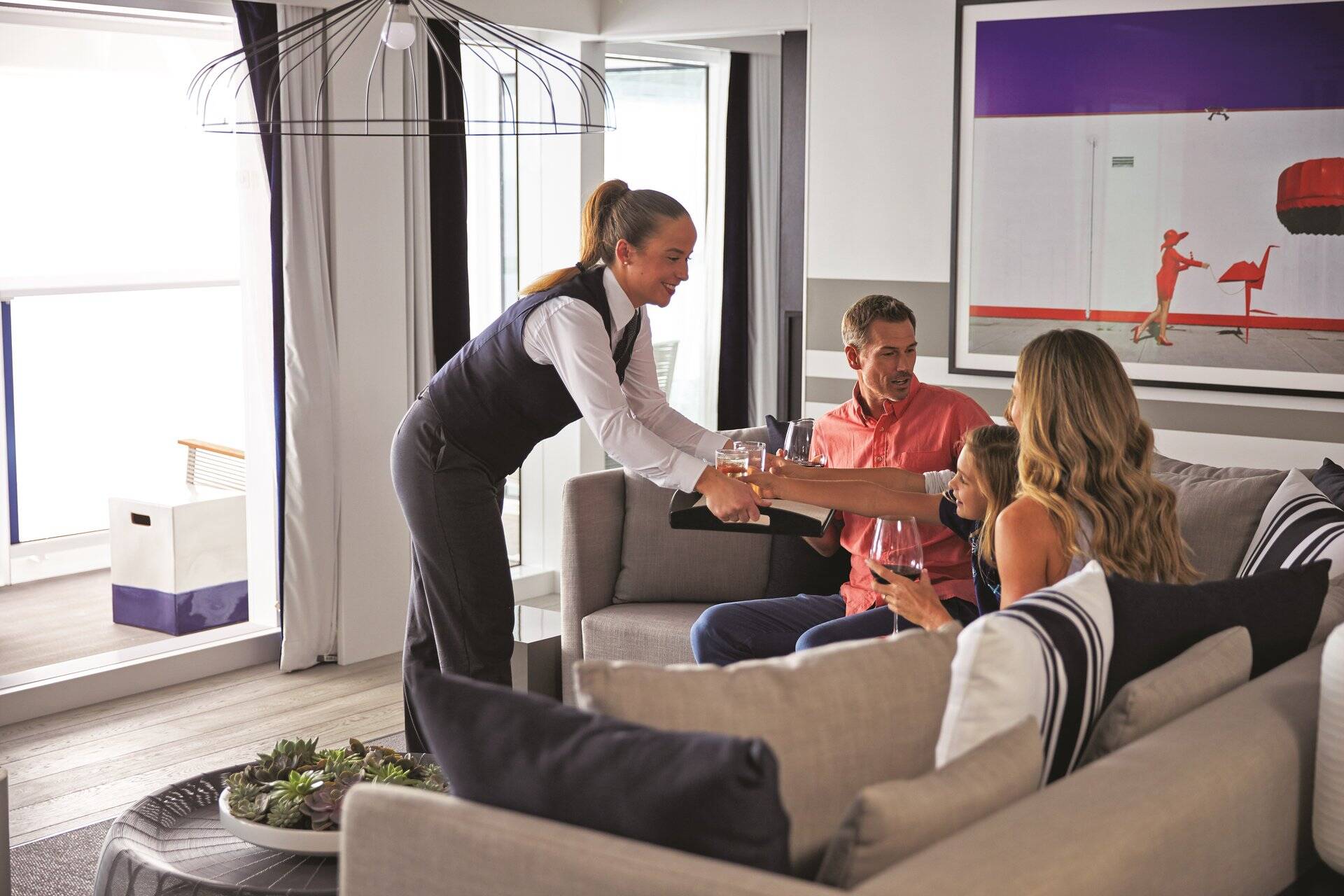 Disney Cruise Line
Disney's free room service is available 24 hours, with Continental breakfast offered from 7 a.m. to 10 a.m. The menu for the rest of the day features items such as pizza, burgers, hot dogs, salads, sandwiches, cookies and ice cream. There is no cost to passengers for overnight orders.
Holland America Line
Holland America offers all-day standard room service, most of which is free, including Continental breakfast and sandwiches. Other items, such as hot breakfast fare, come with a fee, but there is no additional charge for late-night orders.
However, the line is rare in that it allows passengers to order room service from its specialty restaurants for an extra cost.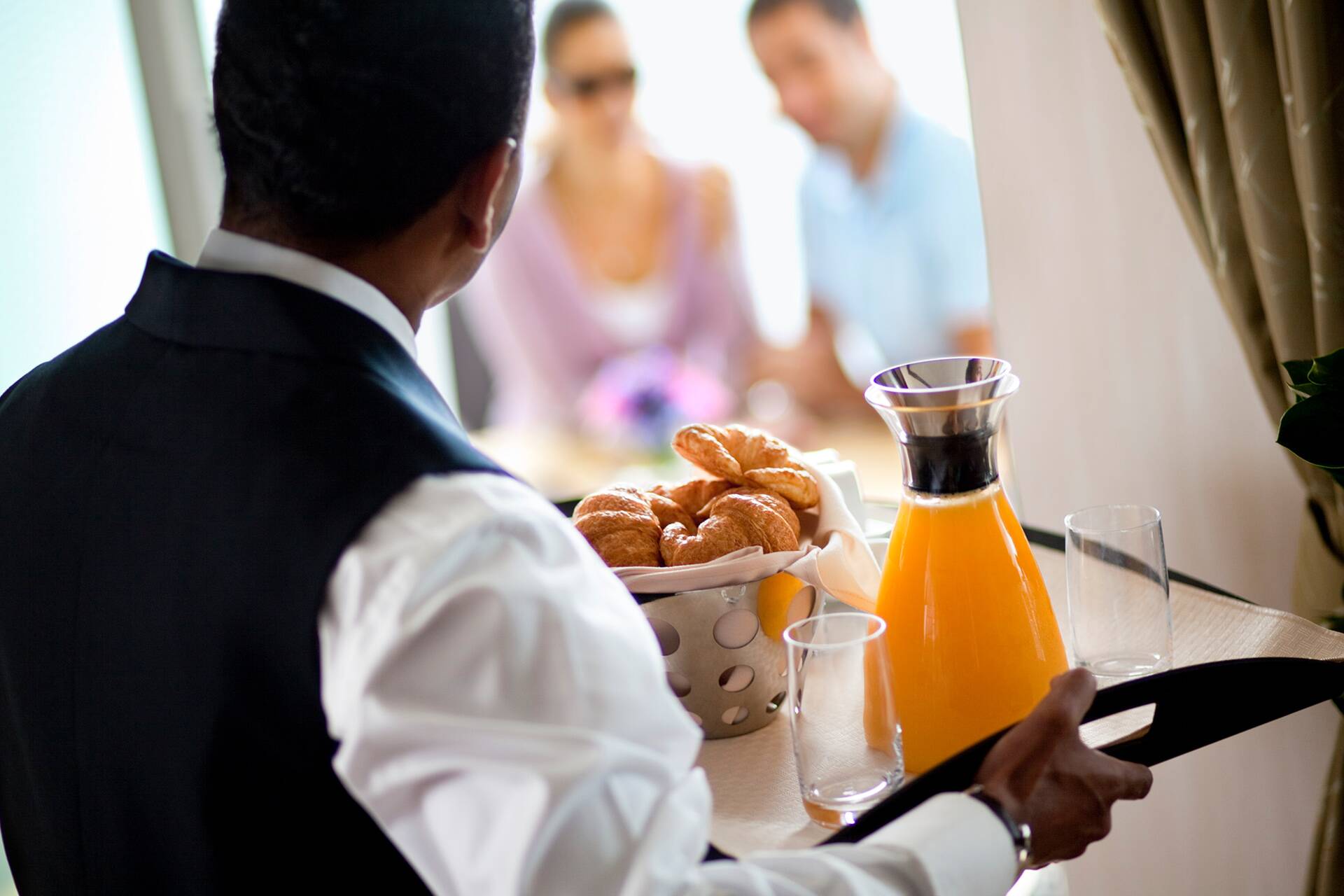 MSC Cruises
In addition to free Continental breakfast, hot breakfast items are available for purchase. Although cruisers can order food -- including sandwiches, salads, fruit, cheese plates, desserts and other selections -- to their cabins any time of day, a $3.95-per-order charge is levied for orders placed between 11 p.m. and 6 a.m.
Charges apply for in-cabin delivery of the line's exceptional, authentic Italian pizza. Note that fees may change based on where ships are sailing and which items are ordered.
Norwegian Cruise Line
NCL offers room service 24/7, but only Continental breakfast items are free. After that, the line charges a delivery fee of $9.95 per order for the rest of the day, regardless of the number of items selected. Cruisers booked in The Haven's suites always receive complimentary room service.
Princess Cruises
Cruisers can choose from Continental breakfast items, sandwiches, chocolate cake and more throughout the day -- all free -- when they sail with Princess. Selections are available at all hours, but a small handful of items, including pizza, do carry a fee. There is no upcharge for late-night orders.
Another in-cabin Princess specialty is Ultimate Balcony Dining, which is available to all balcony passengers for an added cost. Cruisers can choose from a romantic breakfast to start the day or a luxurious four-course dinner with a cocktail party and fresh flowers, all served by a dedicated waiter.
Royal Caribbean International
Room service is always available on Royal Caribbean ships, but Continental breakfast is the only in-room meal that's included in cruise fares. An expanded menu, available after breakfast, comes with a cost of $7.95 per order, regardless of how much is ordered. An 18% gratuity is also added -- something other lines generally don't tack on unless passengers order alcoholic beverages.
Although Royal Caribbean has the second-most expensive delivery service charge in the industry -- Norwegian's is the highest -- it does offer interesting menu options, such as Wagyu beef hamburgers and salmon with roasted asparagus.
Don't forget: although it's not required, a small tip of a dollar or two per delivery is a nice gesture. Service charges levied by cruise lines do not go to the crew member delivering your food. For more, check out our article on all things gratuity-related.