Guests visiting Great Stirrup Cay can enjoy a private island paradise completely complimentary with the price of their cruise!
Norwegian Cruise Line's Great Stirrup Cay is a resort-like, private island experience. Great Stirrup Cay is a popular stop and port of call for NCL itineraries visiting the Caribbean. The island is technically located in The Bahamas, and offers guests either a relaxing or adventurous day while at this port of call. "Welcome to Great Stirrup Cay, an idyllic private island paradise exclusive to Norwegian guests. Unwind on white-sand beaches and enjoy the many ways to explore paradise", says Norwegian Cruise Line about their exclusive island.
Once a NCL ship anchors alongside Great Stirrup Cay, guests will take tender boats over to the island. A tender is a smaller transport boat that takes guests over to a destination when the cruise ship is not able to dock directly to the port. The entire tender process at Great Stirrup Cay takes about 20 minutes, between boarding, the ride over, and disembarking. Transportation on the tender boats, over to the island, is complimentary and included in the price of your cruise.
Image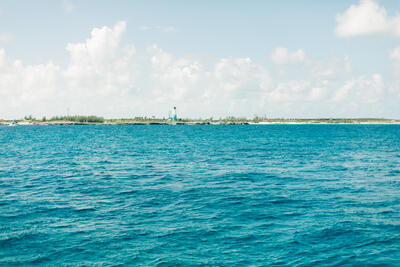 Guests can arrange their tender time over to Great Stirrup Cay onboard their NCL cruise ship during their first day onboard for their cruise. Guests can arrange their tender time at multiple locations onboard, but it is recommended that guests speak to a crew member working at the Box Office. The Box Office is located just outside the main theater on most NCL vessels.
Once guests step foot on NCL's private island, it will be easy to spend the day without spending any extra dollars. Great Stirrup Cay offers many complimentary amenities to its guests, meaning that even if you don't spend additional money on an excursion, you can still have a great day at this exclusive port of call!
The beaches
Image
Great Stirrup Cay offers a huge stretch of gorgeous beaches. On our trip to the island, we noticed that there was so much beach space, that it seemed not even our 3,000+ fellow passengers aboard the Norwegian Getaway, could fill the beach.
There are definitely areas of Great Stirrup Cay that appeared to be more popular than others. For example, the stretch of beach close to many of the palm trees offering shade, or close to the food and beverage locations, tend to fill up faster.
Access to the beaches on Great Stirrup Cay is complimentary, and all guests should take advantage of this! The water is a beautiful crystal-clear turquoise color, and warmer than a swimming pool! We noticed many fellow guests enjoying the afternoon in the water.
Lounge chairs and amenities
Image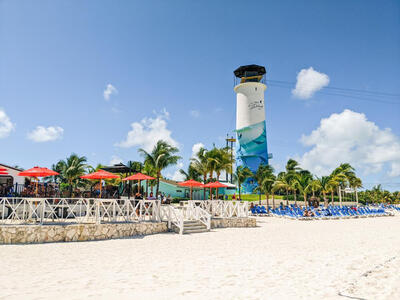 While on our visit to the island, I was pleasantly surprised to discover that using the lounge chairs was also included in our visit. I know from previous experiences that at location such as these, lounge chairs often are an additional cost. But not at Great Stirrup Cay! There was an abundance of lounge chairs, definitely enough for every guest on the day our ship visited.
However, there is a limited amount of lounge chairs in the shade. Because of this, I recommend getting off the ship, and onto the island, as early in the day as possible. This will help ensure that you are able to locate a lounge chair that's not in the direct sunlight.
While there are locations both onboard NCL ships and onshore at Great Stirrup Cay to purchase sunscreen, I recommend bringing some from home. As the sunscreen for sale can be quite expensive.
There are well maintained bathroom facilities located close to the food and bar locations. Once again, use of these facilities is complimentary. The bathrooms seemed to be clean and well kept.
Food and dining locations
Image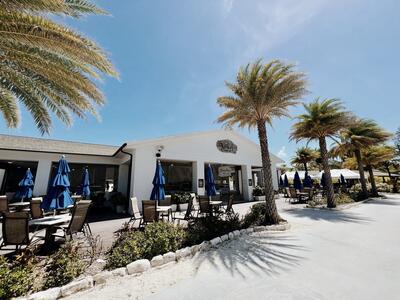 Great Stirrup Cay is not short of complimentary food options for NCL guests. There are three complimentary food locations on the island, Jumbey Beach Grill, Abaco Taco, and Tropic Like Its Hot.
The main buffet location is the Jumbey Beach Grill. This location serves up many classic favorites for lunch including burgers, but also has some more unique items such as jerk chicken, cooked fresh. This buffet also boasts other barbecue fare such as corn on the cob, tropical salads, and fruit.
Abaco Taco is the complimentary taco bar on the island. This fun location offers several types of tacos for guests to grab and enjoy throughout their afternoon visiting Great Stirrup Cay. This location is popular with NCL guests, as it is a build-you-own taco experience, that once again, is completely complimentary.
Tropic Like Its Hot is a smaller food truck, located further down the beach. This food location offers items such as ceviche, fish sandwiches, and spiced chicken.
With several complimentary food options on shore, guests are sure to find something appetizing during their afternoon at Great Stirrup Cay. It is nice, and convenient, that Norwegian Cruise Line offers multiple complimentary food options onshore the island, as this helps guests not feel like they need to rush back to the ship to enjoy a free lunch.
Photo opportunities
Image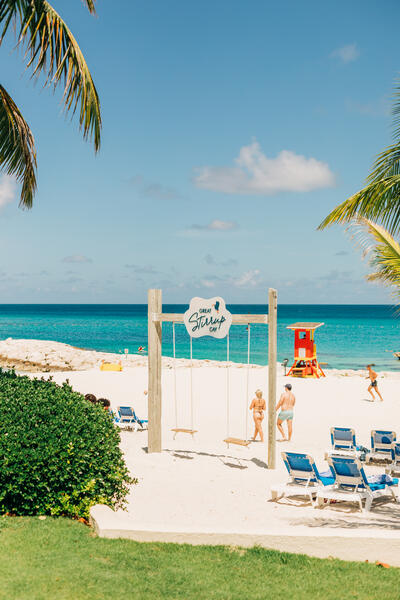 The island offers plenty of spectacular photo opportunities for guests. There are several over-the-water swings located along the beaches, and a lookout point that makes for a great view of the Norwegian Cruise Line ship off in the distance.
These photo locations make a great place to snap a picture or two while making memories with family or friends.
Dance parties
While on our visit to Great Stirrup Cay, we took note of two main bar areas near the center of the island. The Bacardi Bar and the Patron Bar. Drinks at these locations are not complimentary, however, the Bacardi Bar featured a DJ playing party and dance tunes, and we saw many guests enjoying the impromptu dance parties at this location.
Recommended Itinerary
Image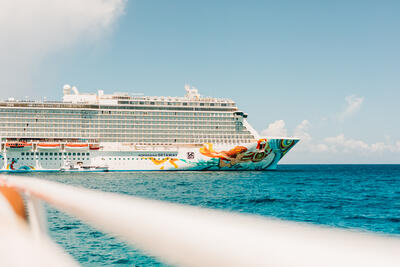 We were able to spend a great afternoon in the Bahamas while on Great Stirrup Cay, and it was absolutely possible to enjoy your day without spending any additional money while ashore. Here is a recommended itinerary for guests looking to save while making a stop to NCL's private island.
8:00am
You would have made your tender time the day before and now its time to wake up, and enjoy some breakfast onboard your Norwegian Cruise Line ship, at the Garden Cafe. This is the main buffet onboard, and offers plenty of complimentary options for breakfast.
9:00am
Its time to go down to Deck 4, and to board the tender boat over to Great Stirrup Cay. The boat ride is fun, and offers great views of both the NCL ship and of the island, I recommend getting your camera out for this experience. But make sure to hold on tight, you don't want to lose anything overboard!
9:30am
Image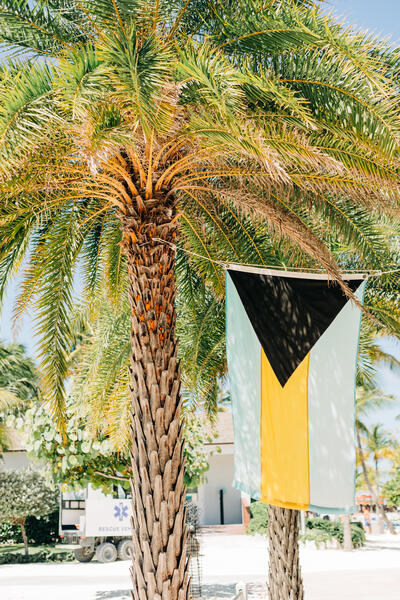 Now that you've made it onto the island, its time to locate your lounge chair for the day. You will have plenty of options, but for the best experience, I recommend finding a lounge chair in the shade of a palm tree. Most of these shaded lounge chairs are also near the food and beverage locations.
10:00am
On your walk over to the beaches, you will have noticed some of the over-the-water swings, I recommend taking any photos in the morning when the island is still relatively quiet. Additionally, take some time to enjoy the gorgeous water. This island has very clean beaches, and offers plenty of areas to swim and enjoy the crystal-clear water.
If you're looking for a little time to relax, bring a book with you ashore. Lounging by the Caribbean Sea offers a supreme opportunity for relaxation.
12:00am
Image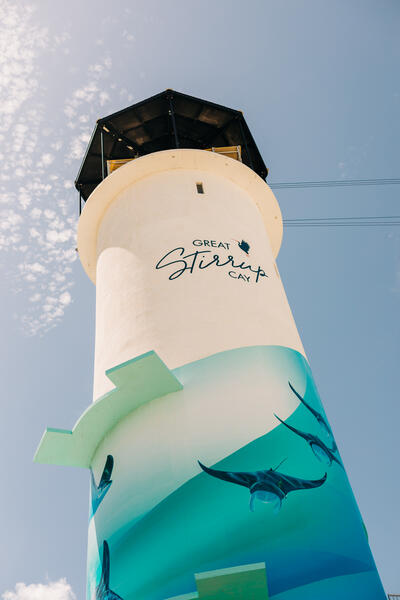 Its time for lunch! Make your way to the Jumbey Beach Grill, and select some classic favorites. However, don't fill up too quick, because a stop at the unique Abaco Taco is a must-do.
2:00pm
Now that you have finished with your lunch, take some time to explore the island. Walk the expanse of the beach, stroll the paved trails, or walk past the shops and live musicians at the center of the island. There is plenty to see and explore while on Great Stirrup Cay, so while you're visiting, take in the sights!
3:00pm
Image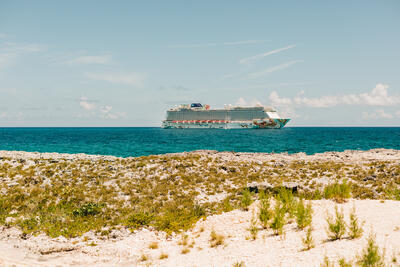 The middle of the afternoon, early evening, is typically when the all-aboard time will be at Great Stirrup Cay. For example, the last tender to leave the island and return to our NCL ship, was at 3:00pm on the day we visited. Don't worry, you won't forget. When its nearing the all-aboard time, the island will clear our relatively quickly, and there will be friendly and helpful staff gently reminding you its time to head back to the ship.
Great Stirrup Cay offers much to its guests. It makes for a fun afternoon enjoying time in the Caribbean sun, while making memories with loved ones and travel companions. It is absolutely possible to spend the day at Great Stirrup Cay without spending any extra money. While Norwegian Cruise Line does offer some fun and exciting shore excursions at this destination, guests should not feel pressured to spend any extra money unless they really want to. As there are an abundance of complimentary options ashore. While a resort-like experience may not appeal to every sort of traveler, don't dismiss this private island. It is beautiful, well maintained, and provides an afternoon of tropical fun to guests of Norwegian Cruise Line!