With five ships in service for the first time ever, the Disney Cruise Line has lots of itinerary options for 2023. Bookings are currently open through summer of 2023, and with this schedule, you'll find some new itineraries and ports to experience.
Disney's newest ship, the Disney Wish, will have its first full year of service in 2023. The Disney Wish will be sailing out of Port Canaveral, Florida. Like the other Disney Cruises departing a Florida port, these sailings will also stop at Disney's private island in the Caribbean, Castaway Cay.
Disney Dream
Image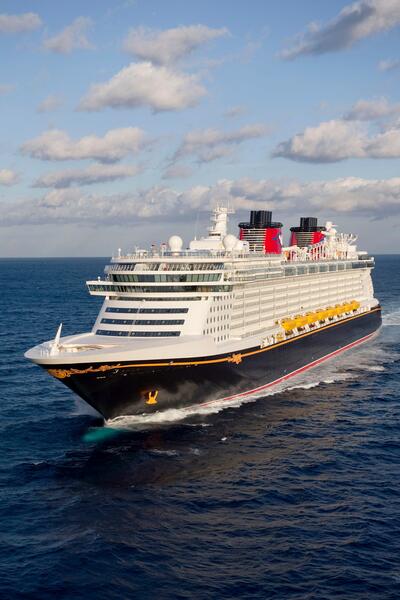 The Disney Dream recently departed its original home port of Port Canaveral to make room for the brand-new Disney Wish. It's now offering cruises departing out of Miami, and will start out 2023 by offering four and five night cruises to the Bahamas, the Eastern Caribbean and the Western Caribbean.
Stops on these trips will include Nassau, Grand Cayman, Tortola, St. Thomas, Cozumel, Falmouth, and Castaway Cay (varying depending on the specific itinerary). Some of these sailings will be Marvel Day at Sea cruises, a special themed experience offered on select dates.
In the spring, the ship will move to Europe for the first time ever, staying there until early fall. These itineraries will run from four to eleven nights. Home ports in late spring, early summer will include Barcelona and Rome, while destinations on these itineraries will include ports in France, Italy, and Spain. There will also be one seven-night sailing through the Greek Isles.
Later in the summer, the ship will move to Southampton England, where several different itinerary options will be offered. These include a four-night trip to Spain, a seven-night British Isles cruise, a four-night trip to France, and a seven-night Northern Europe and Norwegian Fjords Cruise.
Disney Wish
Image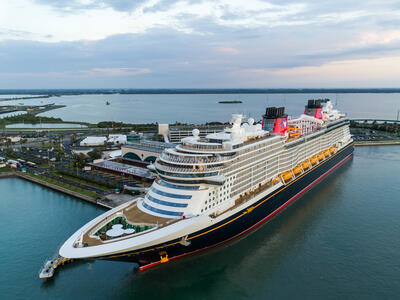 The brand-new Disney Wish will, like the Disney Dream before it, be based out of Port Canaveral, Florida. In 2023, it will offer three and four night itineraries to Nassau, Bahamas, and Castaway Cay, Disney's private island.
These shorter sailings are a great way to experience the new ship without a long commitment, and will also be the perfect option for a Disney Land and Sea trip.
Disney Fantasy
Image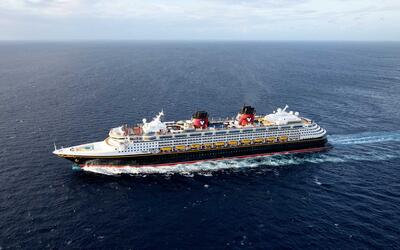 In 2023, the Disney Fantasy will continue to be based out of Port Canaveral, Florida, offering sailings to the Eastern and Western Caribbean. These sailings will range from six to ten days, with stops at various Caribbean ports including Cozumel, Grand Cayman, Costa Maya, Tortola, St. Thomas, St. Maarten, San Juan, Nassau, and Falmouth. Specific ports of call vary by itinerary.
There is also a ten-day Southern Caribbean trip offered in July 2023. This sailing will include stops at Oranjestad, Aruba, Kralendijk, Bonaire, St. John's, Antigua, St. Thomas, U.S. Virgin Islands, and Disney Castaway Cay.
Image
Two eight-night sailings, in April 2023 and September 2023, will travel from Port Canaveral to King's Wharf Bermuda. There, it will spend two days so guests can enjoy more time in Bermuda.
The Disney Fantasy will also be offering the brand-new Pixar Day at Sea themed cruises. There are nine date options, all on seven night Eastern and Western Caribbean itineraries. These sailings will include special character encounters, Pixar-themed entertainment, themed dining, and more.
Disney Magic
Image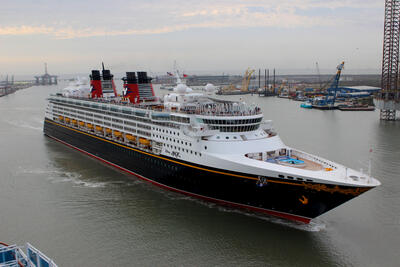 The Disney Magic will be traveling around the southern part of the United States in the first half of 2023. It will start 2023 in Galveston, Texas, for itineraries ranging from four to seven nights. These sailings go to various locations (based on itinerary), including Cozumel, Mexico, Progresso, Mexico, and George Town, Grand Cayman.
Next, in February and March, the ship will move to New Orleans. The itineraries from New Orleans include four, five, and six night sailings to locations such as Cozumel, Progresso, and George Town, depending on the itinerary.
For the summer, the Magic returns to Miami for Bahamian, Eastern Caribbean, and Western Caribbean itineraries. It starts in May with a four-night, one-way repositioning cruise departing from San Juan Puerto Rico, and traveling to St. Thomas and Castaway Cay before ending up in Miami. Ports of call on the Miami Disney Magic itineraries vary and may include Nassau, Cozumel, Grand Cayman, and Castaway Cay.
Disney Wonder
Image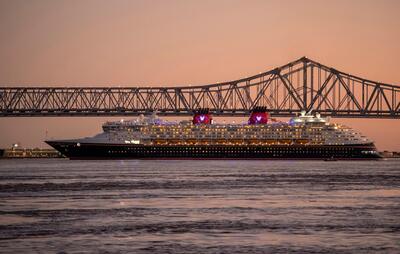 The Disney Wonder will start 2023 on the West Coast of the United States. In the beginning of the year, it will sail from San Diego on 3, 4, and 5 night Baja cruises, as well as several sailings to the Mexican Riviera. A one-way repositioning cruise in mid-May will go to Victoria, British Columbia before ending up in Vancouver for the summer.
From mid-May through September, the Disney Wonder will be sailing from Vancouver to Alaska. These itineraries range from five to nine nights and visit popular Alaskan ports.
With the addition of the Disney Wish, the Disney Cruise Line will have more options in 2023 than ever before. Regardless of the type of experience guests want to have, there is likely a great option.