Cruise anticipation is one of the greatest feelings ever, and there is no greater feeling than when the cruise countdown officially hits single digits and the embarkation jitters intensify. 
Like with any vacation, cruising offers you the ability to completely check out of reality. Regardless of whether the trip is 3-nights oe 14-nights, you can rest assured knowing that you will be taken care of by the hardworking crew members and come back with some incredible memories!
Here are the top 15 things that I can't wait to do on every cruise ship!
A variety of fun activities 
Image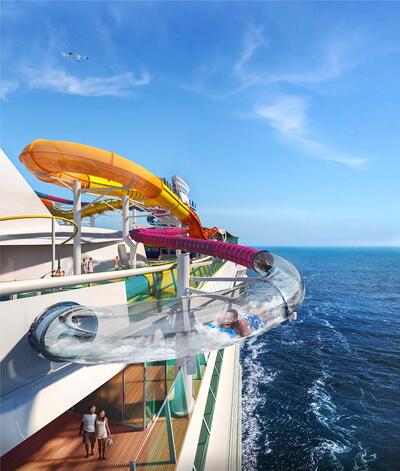 Being bored on a cruise ship is close to impossible, especially the newer mega ships that have dominated the cruising industry. 
From go-karts to water slides, rollercoasters and surfing simulators, ice skating rinks, Broadway-style entertainment, bumper cars, mini-golf, karaoke, zip lines, trivia, belly flop contests, and daily live music, there is something onboard a cruise ship that will satisfy everyone in your travel party. With so much to do, sometimes it is hard to make time for everything! 
The daily planner will become your best friend while onboard. It is important that you check it each morning, so you do not miss any activities!
Read more: 15 amazing activities on a cruise ship
Exploring different ports of call
Image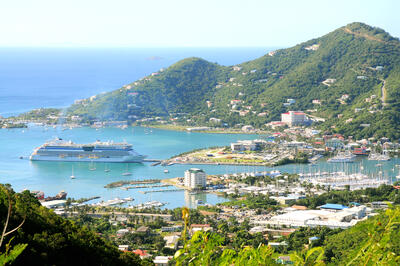 One of my favorite things about cruising is that I only have to unpack once; yet, I get to visit different destinations-- I do not have to worry about the hassle of lugging my suitcase through multiple train stations, airports, or hotels!
Even if you opt not to book a shore excursion through your cruise line, you can still have a great day exploring each port of call. The key, however, to making the most of your limited time is to do prior research. It is possible to plan your own shore excursion. 
Maybe you would like to take a cab to a nearby beach for awhile before returning to the cruise port for some souvenir shopping. Likewise, perhaps you are in a port that offers more adventurous activities and would like to book an ATV excursion with a third-party vendor. 
Read more: 11 common cruise shore excursion mistakes to avoid
Having everything I need (and more) onboard 
Image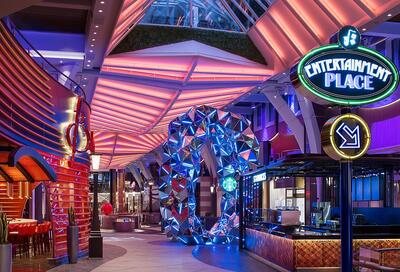 When people say that cruise ships are like floating cities, they mean it! Onboard, you will find a number of different dining venues, bars and lounges, live entertainment, a casino (on most ships), shopping, pools and hot tubs, and youth clubs. 
Everything you need to have an amazing vacation is all there within walking distance. You do not have to worry about allocating much travel time in between your stateroom and, for instance, the main dining rooms. Or if you forgot to buy a souvenir for somebody, you can easily make your way down to the ship's stores on the last evening. 
I love grabbing a late-night snack on the way back to my cabin. Oftentimes, doing so does not even require for me to go out of my way!
Sail away and ocean views 
Image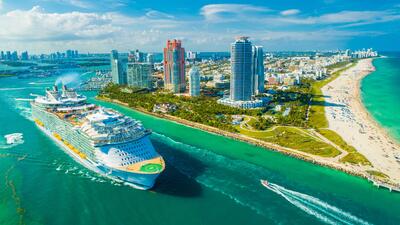 Whenever possible, I try to secure the earliest boarding time for my cruise. I love having time to acclimate before hitting the high seas. 
Even if I do not attend the main sail away party on the top deck, I love grabbing a fruity cocktail and finding a comfortable place to sit while watching the shore become smaller and smaller as you sail out to sea.
Once land is no long visible, you are sure to get some great ocean views. Sunsets at sea are one of my favorite views of all-time, and nothing compares to watching the fiery orange sun sink beneath the horizon. 
Read more: 24 quotes about the ocean for when you're missing sea life
Live entertainment 
Image
The variety of live entertainment onboard a cruise ship cannot be beat, and it is possible to attend something different every single night!
From one-of-a-kind productions to Broadway-style musicals, comedy shows, musicians, themed parties, and game shows, I love having a variety of nightly entertainment to choose from. 
Dining at a specialty restaurant 
Image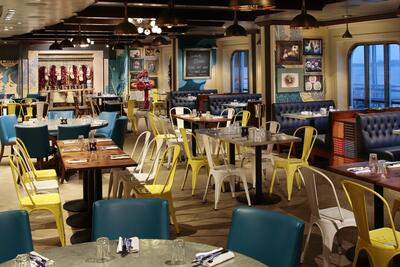 There is nothing wrong with the complimentary dining options, and eating in the main dining room is the best way to get the most value out of your cruise vacation; however, I love splurging on at least one specialty dining experience while onboard any cruise. 
Not only does the atmosphere feel more intimate, but I love being able to choose a specific cuisine. Am I feeling Italian? Sushi or hibachi? A nice cut of steak? 
The quality of the food is also higher in specialty restaurants, which makes sense. You are paying a premium to enjoy a better meal, so the cruise line and chefs are likely to invest in higher quality ingredients. 
Relaxing by the pool on a sea day
Image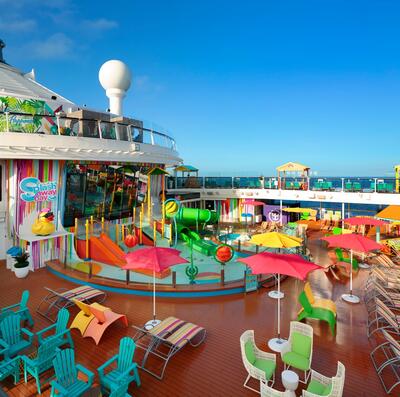 While sometimes securing a pool chair in a prime location can feel like the Hunger Games, I love hanging out on the pool deck during sea days! There is live music, dancing, and just all around good vibes. 
If I am in the mood for a more relaxed vibe, I will go to the adults-only area. To me, this is the perfect location to settle in and read a good book. 
If you want to enjoy the pool with minimal crowds, try going during dinner. While this may mean that you have to eat at the buffet, the relatively empty pool deck will make up for missing the three-course meal!
Read more: Top 40 Cruise Tips & Hacks
Trying my luck in the casino
Image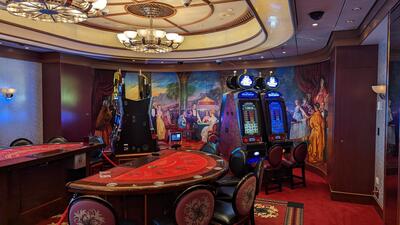 I love casinos onboard cruise ships because you can completely avoid them if you want to. I am able to gamble as much (or as little) as I choose. 
I always try to set aside a certain amount of money that I feel comfortable losing. On my last cruise on Symphony of the Seas, I ended up losing about $150. At one point, I was up $50. While that may not be a lot for serious gamblers, it was fun for me, even though I ended up losing everything. 
That being said, it is important that you know when to quit!
Grabbing a soft serve cone
Image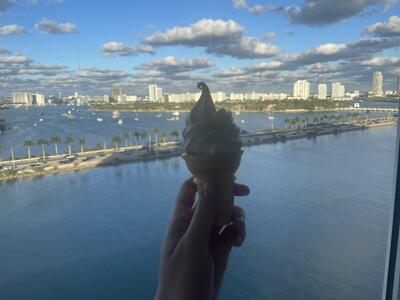 To be quite honest, I am not the biggest dessert person. If I have an option, I am going to get the fruiter dessert, rather than something chocolatey and heavy. 
Let me tell you, though, there is something different about getting soft serve while on a cruise. If you were to ask me to get ice cream any other time, the answer will probably be no. 
I try to make it one of the first things I do! If I am not in the mood for a cocktail during sail away, I find a nice soft serve cone to be my backup. 
Peace of mine knowing that I am getting my money's worth for my vacation 
Image
You can plan an incredible cruise on a budget or decide to go all out! I do not mind cutting back in some ways to be able to afford some neat excursions or specialty dining. 
Regardless of what cruise add-ons I choose to purchase, when I break down everything that comes included in my base fare, it is hard to imagine that I would get a better value elsewhere. Even if the daily cost of the cruise is around $150, I know that includes transportation between ports of call, accommodations, select food and beverages, and entertainment. That is just hard to beat. 
Read more: 18 free things to try on your next cruise
Dressing up for formal night
Image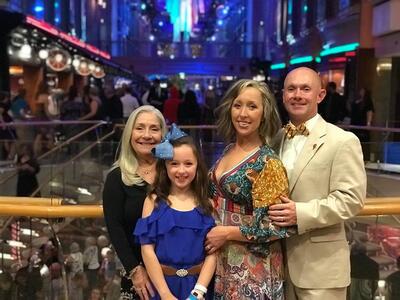 In my day-to-day life, I dress for comfort, so I love having an excuse to dress my best! It is so fun seeing everyone onboard dress up for photos with their loved ones, too. 
I enjoy putting on makeup after a day in port or by the pool. Oftentimes, foundation and concealer is essential to mask my sunburn! 
Of course, formal nights are not as fancy as they used to be. If you would like to mix comfort and fashion, you can do so! You do not have to dig though your closet for a tux or ballgown-- I certainly do not!
Getting to know the crew members
Image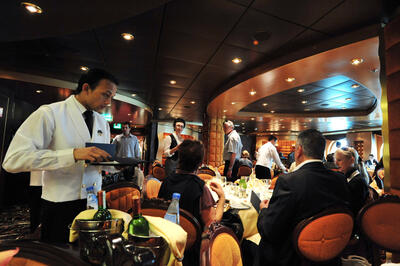 The crew members are part of what makes cruising so unique. I cannot recall a single poor customer service experience while onboard. Everyone will go out of their way to make sure you have a memorable trip!
If you are kind, you will be surprised at the relationships that you will build. Your dinner staff will get to know your drink order throughout the course of the cruise, and you may even find drinks to be waiting at your table when you arrive!
Returning to my stateroom to find a new towel animal
Image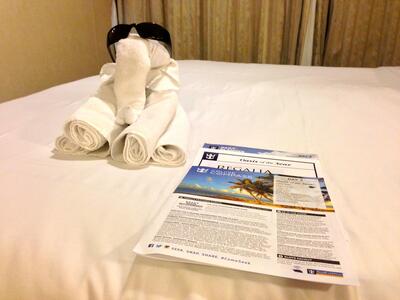 No matter how old I get, I will always look forward to coming back to my stateroom and finding a cute towel animal. 
You can tell the stateroom attendants have fun with them, too. They will often go the extra mile and often personalize the animals with accessories, such as sunglasses or baseball caps, that guests (including myself) leave lying around their room. I have even seen them with googly eyes before!
Trying new foods and drinks
Image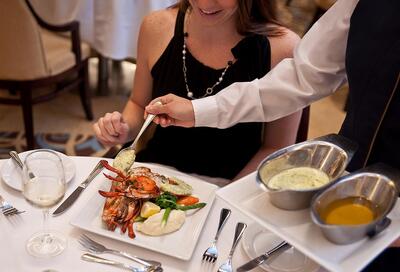 The first time I ever tried lobster was onboard a cruise ship when I was 11-years-old. At the time, I was not a fan, but my parents let me order it because they knew I could always get something else! I tried lobster again on a cruise a few years later, and now it is my go-to seafood option, other than shrimp, at any seafood restaurant!
Likewise, once I turned 21 and began getting Royal Caribbean's Deluxe Drink Package, I was able to be adventurous with my drinks. I found some wines that I like and dislike, as well as even tried making my own drinks at the Bionic Bar! 
In other words, traveling on a cruise ship allows me to step outside of my comfort zone in a safe way. I do not feel like I am being financially irresponsible by ordering the menu option that sounds like something I may not like. At traditional sit-down restaurants, I would never pay $20+ for an entree that did not sound like something I would enjoy. I can be just about as care-free as I want to be knowing that my vacation is (pretty much) paid for!
Making new friends
Image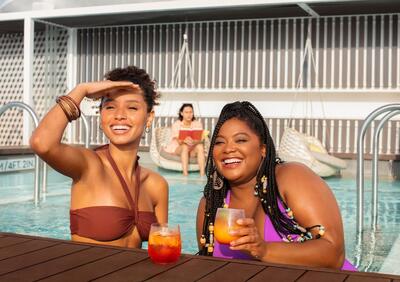 I went on my first-ever solo cruise in January 2023, and I was surprised at how easy it was to make new friends on a cruise! You never know what interesting and fun people you will meet during your vacation. 
You, of course, have to be willing to put yourself out there and attend social events that will allow you to connect with other passengers. You are unlikely to meet a new friend during a theatre show, but you might during a sporting event or trivia game! 
Read more: 40 Fun Things to Do on a Cruise Ship